Envii Terra RTA Review
Vaping technology is evolving at such a rapid pace that we see new and innovative things come out virtually every day. I have been fortunate enough to be able to try and test many of these new and amazing devices, but in all my years as a vaper, I don't think I've ever seen anything quite like the Envii Terra RTA. This beast of an atomizer has a completely new design, works with up to eight coils and can supposedly be used at 300W without any nasty dry hits. It's something special, to be sure, both in terms of looks and functionality, so when Heaven Gifts offered to send me a sample for review, I just jumped at the opportunity. Let's take a look at the new Terra RTA:
A Look at the Contents
Instead of the classic cardboard box that most manufacturers use for their gear these days, Envii went for a metallic tin-like case, colored in matte black and yellow, with the company logo embossed on the lid, and not much else. You have "designed in Los Angeles, California" on the side of the box, the company website, and some warnings regarding sales to minors. That's pretty much it, and unfortunately, you won't find much more information in the box, either,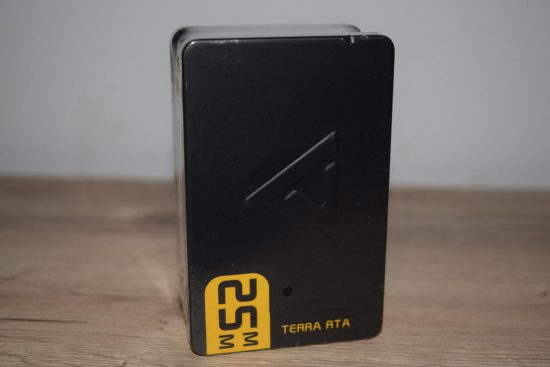 The Envii Terra RTA kit contains the assembled atomizer, a longer spare glass tube, a bag of cotton strips and another bag containing three spare Kanthal coils and eight rubber caps that you can use to block wicking slots when you use the tank with less than eight coils. You also have a small card warning  you not to dry fire the coils, because they may not make contact with the tank  afterwards, but more on that later.
As you've probably noticed, I din't mention an instruction manual. That's because there isn't one, and while I hardly ever open the manuals of most atomizers I test, the Terra RTA is not your typical RTA. This thing has a very steep learning curve, especially when it comes to installing the coils and wicking them, so an instruction manual would have been the bare minimum Envii could have included to give customers an idea of how the tank works. For some reason, they decided that it wasn't necessary, which doesn't make any sense to me. Luckily, you can find a tutorial video on the Envii website, and I highly suggest you check it out before going anywhere near the tank.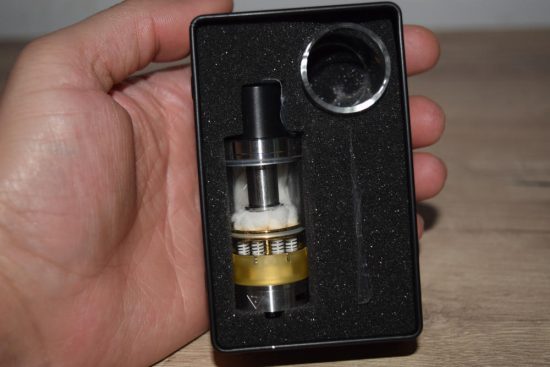 Design and Build Quality
The Envii Terra RTA is made of 304 stainless steel, glass and ultem (thermoplastic), and comes with a wide bore Delrin drip tip. The tank is 25 mm in diameter, and 70 mm tall, from the base all the way to the drip tip. It holds up to 5.5 ml of e-liquid, which sounds pretty decent, only you'll probably drain it dry in a matter of minutes, if you use it in the eight-coil configuration that it comes in. It's a large atomizer, so if you're looking for something stealthy and easy to carry in the pocket, this is definitely not it.
Envii is a U.S. company, but while the box that the Terra comes in says "designed in Los Angeles", I don't know if it is actually manufactured in the States, as well. All I can say is that the machining on this thing is top notch, the threads are nice and smooth, and I for one haven't seen any imperfections, like scratches, dents and such.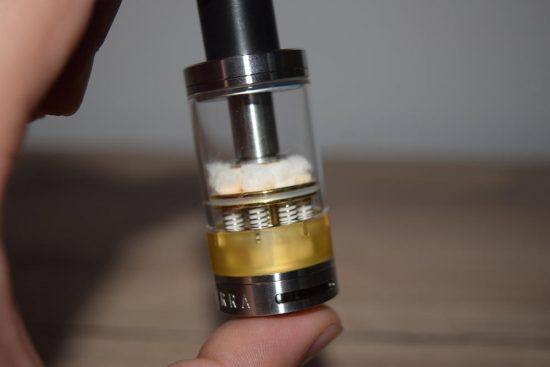 The Terra comes with a large Delrin Drip tip that screws on to the metallic top cap, but if you want to use your favorite 510 tip, you can. All you have to do is unscrew the drip that comes with the tank, and pop in your 510 tip in the protruding chimney. That doesn't look very good though, as the threading on the chimney remains exposed, but Envii have included a small Delrin adapter to conceal the threads. Just screw it on before inserting the drip tip and you're done.
The octa-coil tank features a top-fill system, which can be accessed by twisting off the top cap. Interestingly, this is doesn't actually screw on to the chimney as it does on most tank, instead, it has a quarter-twist system. At first, I thought that would open up the risk of it accidentally coming of in my pocket, but it never has, so I can't really say it's a con. The two fill slots are very large, and by that I mean long, because they could definitely be a bit wider. My 60 ml bottle dropper doesn't fit into the slots, so a gorilla bottle tip definitely won't either. But that's not such a big deal, if you're careful while refilling.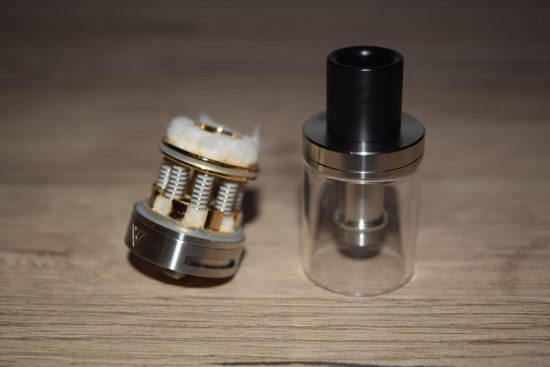 Further down, we have a wide stainless steel chimney and the juice tank, which holds up to 5.5 ml of e-liquid. How long that will last you depends on how many coils you're using and the power output of your mod.
Under the tank we have the most interesting part of the RTA, the build deck, if you can even call it that. This is unlike any other build deck I have ever seen. If I were to compare its design with something, it would have to be the barrels of a minigun, with the coils being the actual barrels. That's what it looks like to me, anyway.
The deck has no screws or clamps to keep the coils in place. They are just held in place by their springiness. There are eight small slots both on the top and bottom of the build deck, and the coils go in vertically, with cotton wicking going through the coils and coming out into the juice tank above, insulating the chamber. Or if you're using less than eight coils (which I have), you can use the included rubber caps to plug off empty slots. It's an interesting design, but one that requires a bit more refining, in my opinion. But more on that later.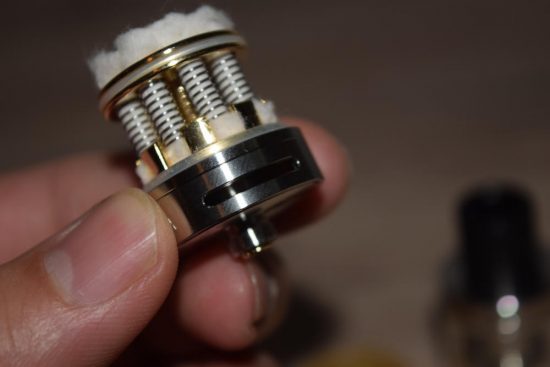 On the side of the build deck, right where the glass tube of the tank ends, the Terra RTA has an ultem ring with eight small air slots carved all around it. This is the side airflow system, which Envii recommends you use when vaping at over 180W. Just make sure that she air slots are aligned with the coils inside the RTA, so that the air hits them directly from the side, for maximum vapor production. I haven't been using this accessory, because I don't vape at 180W and over. For us lower wattage fans, the RTA comes with a longer glass tube that connects the top cap with the base of the atomizer, so you can remove the ultem ring. This only leaves the bottom airflow system. The air comes in through two large slots on the side of the RTA base and come out into the atomization chamber though eight small holes in the bottom of the build deck, right next to the coils.
One important thing I should mention her is that the 510 connection pin at the bottom of the Terra RTA is NOT adjustable. It may look like it is, but it isn't, so don't try to loosen it at all. Because the spaced-out coils are only kept in place by their natural springiness, you want to make sure that the top and bottom of the build deck are screwed together as tight as possible. So, if anything, you want to screw the bottom bin as tight as possible, not loosen it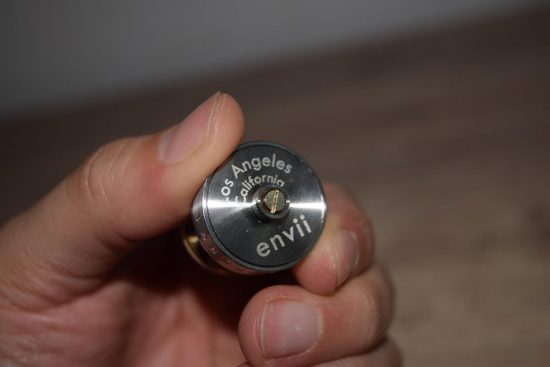 As far as build quality goes, the Terra RTA is a solid device, and its innovative design makes it nice to look at as well. It's an interesting tank, that's for sure, but let's see how easy it is to set up and, most importantly, how it performs.
Setting Up
Luckily, the Envii Terra RTA comes with eight coils all wicked and ready to vape, so all you need to do is add some juice. I recommend taking it a apart and give the components a good rinse first, just to make sure you wash off any excess machining oil. But other than that, you're all set to start vaping.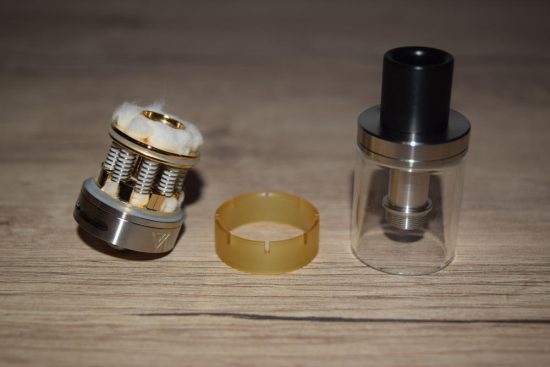 According to Envii, the coils are supposed to last you up to a month, but I think that is a very optimistic estimate, especially if you're using sweet, colored e-liquid. But let's say they do last a month, what do you do when they're finally too gunked-up to use? Well, one thing you certainly don't want to do is dry burn them. Once you do that, the coils lose their springiness, contract, and don't make contact with the top and bottom of the build deck anymore. You might want to try leaving them in alcohol to get rid of the gunk build-up, but I can't guarantee that that will work.
The Terra does come with three spare coils, although I can't see what good they will be, if you're using it with at least four at a time. But, if you need more, Envii offers a rebuilding kit, which contains 20 springy coils and enough cotton strips to wick them. To be honest, I think this would be your best choice, because building the coils yourself is a huge pain. I tried it a few times, but I could never get them to fit in the slots perfectly, and when they did, they didn't fire up properly. There might be people out there skilled and experienced enough to pull off perfect coils for the Terra, but I am not one of them. Getting the ends of the coils just right was a nightmare, and, at one point, I just gave up. It's just wasn't worth the trouble and frustration.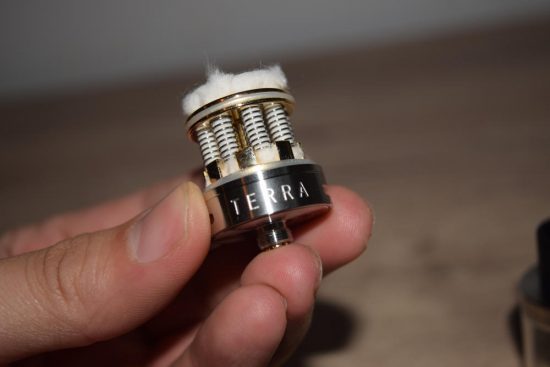 Wicking the coils is no walks in the park either. You have to pass the cotton strips through them, while making sure you don't stretch them out at all, otherwise they won't fit right in their slots on the build deck, and you'll have to throw them away. The wire is so flimsy that trying to fix a coil is doomed to failure, and, again, not worth the trouble and frustration. Just throw it away and use a new one, or better yet, take your time when inserting the cotton strips, so you don't ruin them.
Once you've successfully inserted the coils in their slots, make sure that the leads sticking up into the juice tank are just long enough to seal the atomization chamber. Leave them too long, and they won't wick the juice very well, which is pretty important when vaping at high wattage. Fortunately, the tank comes pre-built, so you get a pretty good idea of how the cotton should look when you're done.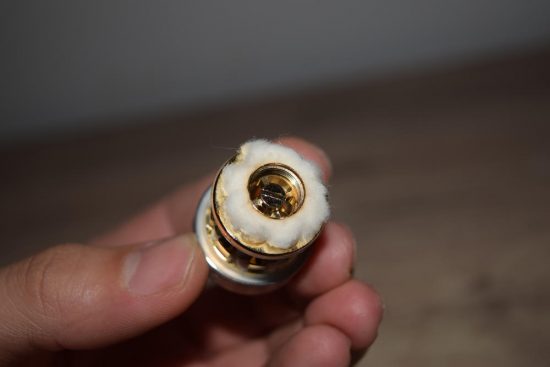 I think the vertical positioning of the coils inside the Terra RTA is a very interesting idea, but I'm not a big fan of the execution, particularly the lack of any system to hold them in place. If we actually had something of the sort, we wouldn't have to worry about the coils not making proper contact, or tiny imperfections that make installing them almost impossible, because the ends would be held in place by something. This way, you need perfect coils, steady hands and mountains of patience to replace the coils.
As it stands right now, the Envii Terra is incredibly difficult to set up, if you plan on building your own coils. But even when using the company's own coils, wicking them and inserting them into the build deck slots is still pretty tricky, so if you don't have plenty of experience with rebuildables, you should probably stay away from this atomizer.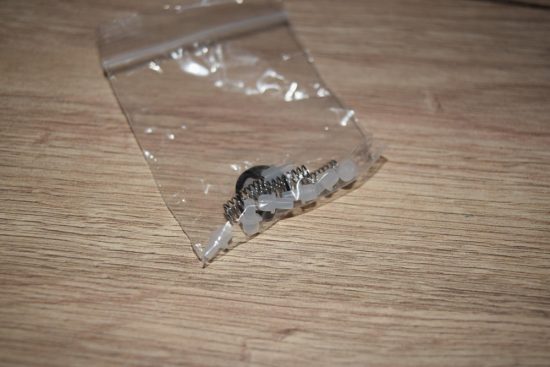 How It Vapes
The difficult rebuilding process would probably be worth it for an amazing vaping experience, but, sadly, that was not the case for me. I would probably describe it as lackluster, mediocre at best.
To be perfectly honest, I carry some of the blame for the unimpressive performance of the Terra RTA, because I didn't push it as much as I probably should have. Envii claims that you can use this atomizer at over 300W, which is an insane power output for most vapers, myself included. I can't even imagine how hot the vapor must be at that level, and I wasn't going to try it for the sake of this review. Which is why, before adding the juice, I took out four of the eight coils and replaced them with those rubber caps I mentioned. That doubled the combined resistance of the coils to about 0.37Ω, which doesn't seem very low, but actually requires a lot of power too.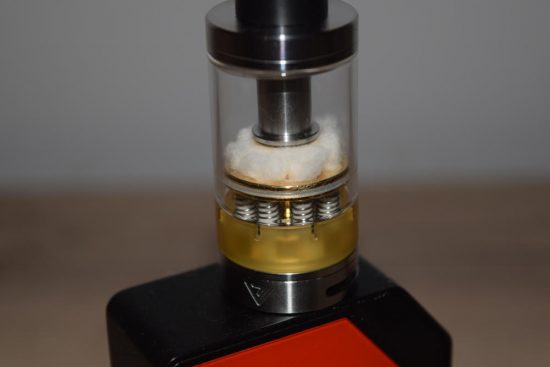 For my first draw, I set my Wismec Predator 228 to about 90W, but that barely generated any vapor at all, so I kept bumping up the wattage to 140W, which was about as high as I was willing to go. That definitely improved the vaping experience considerably, but it still felt like the Terra needed more power to actually reach peak performance. The vapor production was good, but it can definitely get better if you feed it enough power, but the flavor was not the greatest I ever got from a tank. I blame the airflow system design for that.
Knowing that I was going to use the Terra RTA at what Envii calls low wattage (around 130W), I took out the piece of ultem that supplied the side airflow, because both bottom and side airflow would have made the draw way to airy. However, the bottom airflow has what I would call a design flaw. The air holes on the bottom of the build deck are located right next to the vertical coils, so the air doesn't hit them directly, which I think affects the intensity of the flavor. It's the best they could do, under the circumstances, but I have a feeling that keeping the ultem piece and shutting off the bottom airflow instead gives you better flavor. I have yet to test that theory, though.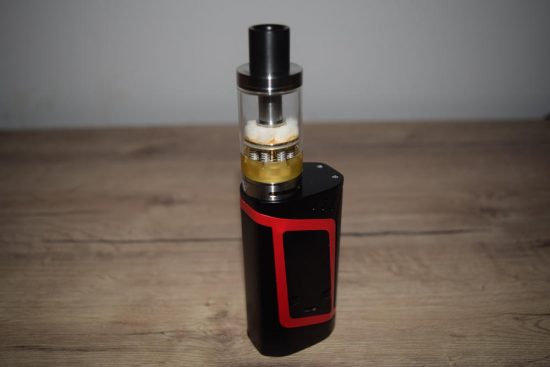 Even at 140W, the Terra is a very thirsty tank, and unfortunately, the only way around that shortcoming is to only use it with a couple of coils, which doesn't make any sense, because you have many more user-friendly tanks, RTAs, RDTAs that support dual-coils. If you plan on vaping in eight-coil mode, you better stock up on juice, or just save the Terra RTA for really special occasions.
One great thing I can say about this atomizer is that it doesn't leak at all! I even placed it back in its original case for a long trip, and despite being nearly full and in horizontal position, it did not leak one bit. That's a pretty big deal, considering that a lot of tanks still have serious leaking issues.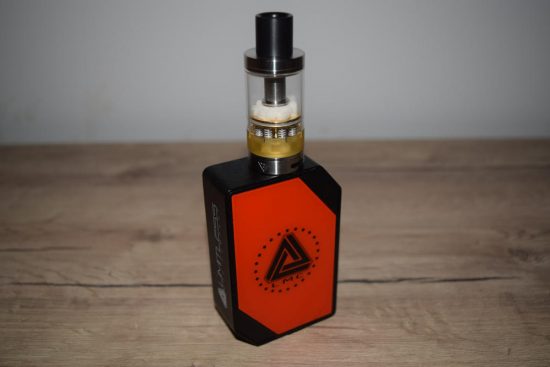 Conclusion 
Long story short, the Envii Terra RTA was just not the right atomizer for me. Vaping at 300W, or anywhere over 100W, for that matter, is not my cup of tea, so I guess I couldn't fully appreciate its vaping capabilities. That being said, the high difficulty of rebuilding this RTA is definitely an issue for all but the most experienced vapers, so I just don't see it being used on a daily basis. It's a nice looking device, it has an interesting build deck, but I don't see it as anything more than a cool showpiece. Maybe if Envii come up with a way to refine their system and make it more accessible to the everyday vaper, things will change, but as it stands right now, the Terra will only appeal to a very small group of vapers.
But, if you're interested in this original atomizer, you can currently pick it up for $50, either directly from the Envii website, or from Heaven Gifts. If you opt for the latter, you can use the discount code for 15% off, below.