The so-called "gateway theory" has already been debunked several times, but it still remains one of the main arguments of vaping opponents all around the world. Despite evidence showing the opposite, lawmakers, anti-smoking activists and even some scientists still claim that e-cigarette use pushes children and teenagers to smoking tobacco cigarettes.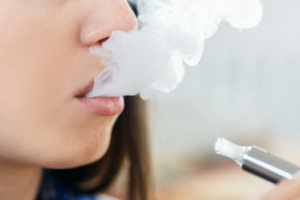 The largest survey of young people's use of e-cigarettes and tobacco cigarettes ever undertaken in the UK recently confirmed what many of us have known for years – warnings that vaping lures kids to smoking tobacco are unfounded. Conducted by Public Health England, the study found no evidence that young people who experiment with vaping go on to smoke cigarettes.
"Recent studies have generated alarming headlines that e-cigarettes are leading to smoking. Our analysis of the latest surveys from all parts of the United Kingdom, involving thousands of teenagers shows clearly that for those teens who don't smoke, e-cigg experimentation is simply not translating into regular use," said Linda Bauld, professor of health policy at the University of Stirling. "Our study also shows that smoking rates in young people are continuing to decline."
The major study involved 60,000 11 to 16-year-olds, making it the largest of its kind ever undertaken in the UK. Data analysis showed that while "tenth to a fifth" of participants had experimented with electronic cigarettes at some point, only 3% of them used them regularly, and most of them were already tobacco smokers. The authors add that among young never-smokers, regular e-cigarette use was negligible, at 0.1% and 0.5%.
"This pattern was consistent across different surveys from around the UK and suggests that, for now, experimentation with e-cigarettes does not necessarily translate into regular use, particularly among never smokers," study authors write.
Deborah Arnott, of English non-profit Action on Smoking and Health (ASH), said "ASH will continue to monitor the potential impact of e-cigarettes on young people, however this study provides reassurance that to date fears that they are a gateway into smoking are just not born out by the facts on the ground. A small proportion of young people do experiment with e-cigs, but this does not appear to be leading to regular vaping or smoking in any numbers, indeed smoking rates in young people are continuing to decline."
Interestingly, ASH surveys have repeatedly showed that vaping does not act as a gateway to smoking for kids, as have several other studies, like this research from Tobacco-Free Paris and Paris Academy.
Do the findings of this major study mean that we can finally put this issue to rest and focus on other important things? Of course not, scaremongering is a very effective tool, and using kids works even better, so we'll definitely be seeing more of the gateway theory moving forward. In fact, a small study from the University of Waterloo and the Wake Forest School of Medicine just came out the other day, and it warns that vaping does push kids to smoking. Their findings – almost 10 per cent of students in grades 7 to 12 reported ever having used e-cigarettes during the Canadian Student Tobacco, Alcohol and Drugs Survey.
Funny thing is that the Public Health England study found pretty much the same thing, only they went further and were able to show that most of these teenagers were already smoking when they started experimenting with e-cigarettes. The rest were doing just that, experimenting, which in the vast majority of cases did not lead to regular e-cig use. But in this smaller study, ever use is apparently equivalent to a habit and it most definitely always precedes smoking, not the other way around.
No wonder so many people are so confused when it comes to vaping. With so many studies coming up with completely different results, you just don't know what to believe anymore.