Philip Morris International, has recently received its patent for a smart electronic cigarette that can communicate with a host computer/tablet in order to upload or download data.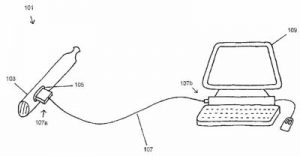 The concept of 'smart e-cigarettes' that can connect to the internet is not entirely new. Last year, the guys at R/GA, a New York-based creative agency, unveiled the TweetingCiggy, a concept e-cig that could collect data about the user's vaping habits and post it on Twitter. Smokio, the world's first connected e-cigarette, was launched in February 2014. It can synchronize with Android and iOS devices via Bluetooth that have a native app installed and display all kinds of interesting data about the user's vaping activity. The Supersmoker Bluetooth added even more functionality, allowing users to take phone calls and listen to music.
Tobacco giant Philip Morris seems to think this kind of smart e-cigarettes may indeed be the future of vaping, so they've recently filed a patent for a connected e-cigarette of their own. And they are introducing some new features that would separate their device from the growing competition.
Hooking up the electronic cigarette to a computer or tablet via USB can apparently do much more than recharge the battery. "Information may be uploaded from the device to the PC," the recently published patent mentions. "For example, for acquiring smoking behavior information during clinical trials, the user can simply connect the device to the PC to upload data".
As strange as it sounds, Philip Morris is also considering therapeutic features for its smart e-cig. "The Internet application hosted on the PC could be an approved support group Internet site for assistance with smoking cessation," the patent says, "The Internet application could offer a controlled amount of smoking time whilst monitoring the smoking behavior." Now, if Philip Morris wasn't the world's largest cigarette company, and if they didn't spend millions on marketing to promote their death sticks, I might actually commend them for their thoughtfulness, but, as things stand right now, it just makes them look like hypocrites.
However, the most intriguing feature of this Philip Morris smart e-cigarette is the 'pay-as-you-smoke' app. How does that work, you ask? "For example, the user buys daily or weekly or monthly smoking time from the Internet application supported on the PC, or the user obtains smoking time credits based on cigarettes and other smoking articles bought via the Internet application," the patent suggests. The accompanying app could also monitor when the user is about to run short on nicotine-containing products and "automatically pre-order additional smoking articles".
But before we get ahead of ourselves here, it's important to note that just because Philip Morris received their patent for such a device doesn't meant that it will ever see the light of day. I personally think it might, though, considering the potential it holds for the company. Even though the pay-as-you-smoke doesn't seem feasible, just the fact that Philip Morris can monitor your vaping activity, what you consume and how much of it is a gold mine for them.