777 (Triple Seven) Bullet Review
Sick of the same old electronic cigarette design? I sure am! While the size and quality of all the cigarette-like e-cigs available today may vary, they all look pretty much the same. However, 777 (Triple Seven) is trying to change that with their Bullet tank vaporizer. Inspired by the world's two most popular e-cigarette models – the KR808D and the eGo – the 777 Bullet is a very interesting middle range device that tries to combine the advantages of a tank vaporizer with the size of a cigalike. But "new" isn't always synonymous with "good" and trying to improve on already popular designs involves a certain degree of risk. Is the 777 Bullet the e-cigarette you're looking for? Read our review and judge for yourself.
A Look at the Contents
Like most other e-cigarette companies, Triple Seven offers a variety of starter kits to fit every budget. I was sent the Essentials package, which comes with one 320 mAh battery, one 1.3 ml mini-tank, a USB charger and a wall adapter. It costs just $29.95, which is pretty darn decent, but in case you haven't noticed, it's missing something very important – the e-liquid. That means you can't use the device unless you pay extra for a bottle of juice or a pack of cartomizers. Not exactly idea, an to make things worse, the next $49.94 Standard kit doesn't come with e-liquid either. For a Bullet that you can use out of the box, customers have to spend at least $69.95 on the Deluxe kit, which includes a 15 ml bottle of e-liquid. Luckily, the guys at 777 were kind enough to send me a few bottles of their best juice for me to use during the review, but if you plan on getting the Bullet yourself, check out the contents of the different kits before making the purchase.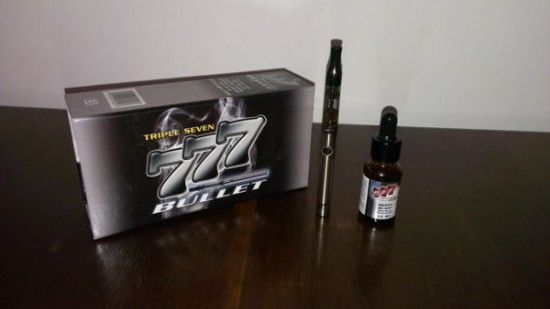 In terms of packaging, the 777 Bullet starter kits are nothing special. They come in the same magnet-top boxes used by the majority of electronic cigarette companies, feature the brand's name and logo on top and some nicotine-related warnings on the bottom. I wouldn't label the 777's packaging as a negative, as it's on par with most of the other brands I've reviewed, but I'd love to see companies get more creative when it comes to presentation. But, let's be fair, it's what's inside the box that really matters, and that's where this company sets itself apart from the competition. While it shares the same KR808D threading as most cigalikes on the market, the Bullet battery is different than everything I've reviewed in the past. It's slightly larger in diameter than regular KR808's, but much smaller than a standard eGo battery. Instead of the glowing LED tip, manufacturers opted to place the lighting as a ring around the sleek manual activation button. The large curved button sits flush with the battery body giving it a cool look and making it harder to accidentally activate the device in tight places like the pockets of your jeans. In terms of aesthetics, the Bullet battery is better than any of the similar-sized e-cigs I've tried so far.  The mini-clearomizers can hold up to 1.3 ml of e-liquid, about twice as much as regular cartomizers, and are easy to refill thanks to the plastic screw-on drip tips.
Although this is not a review of the Essentials Starter Kit, but of the 777 Bullet in general, I do feel I should warn you that this particular package comes with just on battery, which just isn't enough if you're looking for a real alternative to smoking. To me, the Essentials kit is just a presentation kit for people who want to try out the Bullet before buying a more complete package, because you need at least 2 rechargeable batteries to make vaping work. Otherwise, when your battery needs recharging, you can't vape for about two hours.
I personally think the 777 Bullet Deluxe Starter Kit is the best deal. For $69.95 you get two batteries, four mini-clearomizers and a bottle of e-liquid.
Battery Life and Overall Performance
Triple Seven's Bullet electronic cigarette is different not only in terms of size and looks. 320 mAh cigalike batteries are not uncommon, but usually they are so long that using them can be uncomfortable and even embarrassing. That's not the case with the Bullet. It's no longer than the standard mini e-cigarette battery and will last you at least 5 hours, if you're a heavy smoker. To be honest, I have been using mine for the most part of a day, but it all depends on how often you use it. In any case, it will last much longer than most KR808D batteries, and if you have two of them, you don't have to worry about battery life. They take about as long as a regular mini-style battery to fully recharge, which is about two hours. Surprisingly, according to the user manual, the 777 Bullet batteries are regulated at 3.4 volts, lower than the industry standard of 3.7 volts, but I for one did not notice any difference in vapor production.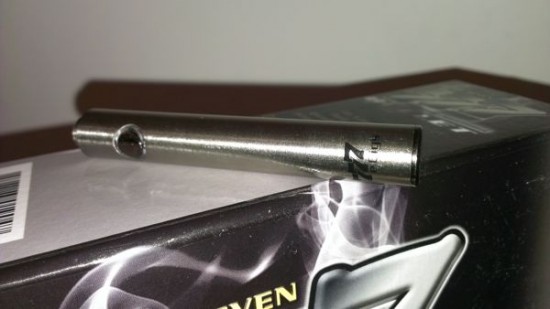 Unfortunately for automatic battery fans, the Bullet only comes with manual batteries, which means you have to push a button to activate the device before inhaling. An automatic version would have been nice, maybe we'll see one in the not so distant future. On the other hand, the Bullet does borrow the useful on/off feature from the eGo. Just press the button five times within two seconds to turn on the battery and another five times to shut it off when you need to store it in a tight place, to avoid it activating accidentally. Another useful security feature is the automatic shut off after 15 seconds of use, to prevent overheating and excessive nicotine intake.
In terms of performance, the Bullet is on a par with the best mini electronic cigarettes I have ever tested. In the three weeks I've used the device exclusively, I've never felt the need for a more powerful unit, so I can definitely recommend it for both beginner and intermediate vapers. If you love your eGo, but wish you had something smaller for a night on the town, the Triple Seven Bullet is probably the best alternative.
Vapor Production
Although considerably smaller in size, the Bullet's vapor production is comparable to that of the eGo, which is one of the things that surprised me both about this e-cigarette. Sure, the fact that it has a manual battery which gives the user more control, the amount of vapor this thing puts out is nothing short of impressive. Triple Seven uses a mix of propylene glycol and vegetable glycerin for its e-liquid, but from what I could tell, the concoction is heavier on the PG, which, theoretically, enhances the throat hit but takes its toll on the vapor production. Still, the thick plumes of vapor that filled my mouth with every draw left nothing to be desired.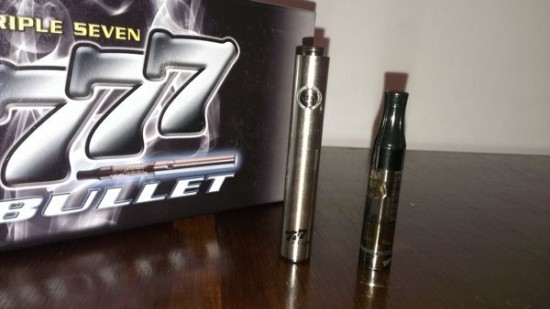 The above-average vapor production capabilities are linked not only to the e-liquid and battery, but also to the choice of clearomizers over cartomizers. Although I'll always be a fan of the simple, easy-to-use cartridges, there's no denying the superiority of tank systems. Sure, you will go through your juice much faster, as these things wick like crazy, but you'll definitely get more vapor and a much cleaner flavor.
E-Liquid, Flavors and Clearomizers
Although the Essentials kit I was sent doesn't usually come with e-liquid, I did get the chance to test some of the 42 different flavors sold by Triple Seven. That's a lot of flavors to choose from, believe me, some companies offer as few as 7. One of the coolest things about their juices is they come in amber glass dropper bottles, which is very rare, and sure to sit well with anti-plastic vapers. The dropper head is slightly curved to make refilling clearomizers and cartomizers less messy, and I have to admit this seemingly unimportant detail makes things a lot easier.
As far as flavor variety goes, 777 has a very good line, offering everything from several blends of tobacco, to fruity combinations, and mouthwatering sweets, so you're bound to find something you like. I myself love forest fruits, and their Berry Burst and Very Berry juices have become some of my favorite, but I'm also on the lookout for great tobacco flavors, which you probably already know are very hard to get right. I can't say I'm a fan of their Classic and Traditional tobaccos, not because they taste bad, but because, to me, they didn't taste anything like tobacco. The 777 Blend, on the other hand, with its discrete hints of caramel, was actually delicious. Please remember that taste is subjective, and you should try these flavors for yourself to decide what it is you like. Luckily, Triple Seven has a great cartomizer variety pack (16 different flavors) compatible with the Bullet.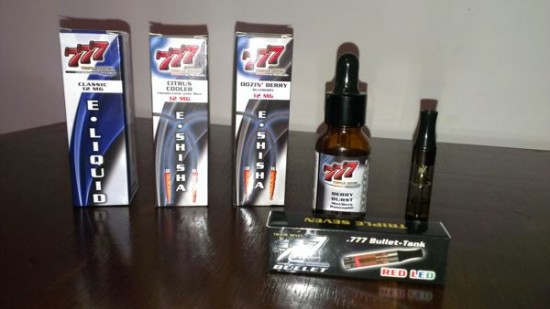 The mini clearomizers, or minimizers, as they're sometimes called, were a very nice surprise. Top-coiled and short-wicked, they performed beautifully throughout the testing period. Unfortunately, the built-in atomizers are not interchangeable, so when they go, you have to throw away the whole tank, but I've been using them for three weeks now, and they still work great. They hold double the amount of e-liquid as regular cartomizers and leaking was never an issue.
Conclusion
The Bullet from 777 E-Cigs is most likely the next big thing in the vaping world. Combining the best features of the KR808D mini e-cigarette and the popular eGo vaporizer, it's a perfect compromise between the two. The 320 mAh rating offers a longer battery life, the small clearomizers allow newbies to experiment with more advanced accessories, and make a great alternative to the common cartomizer, and its reduced size makes it perfect for for outings. Kit prices are reasonable, but you should be very careful when choosing which one fits your needs, because the cheaper ones don't come with any kind of e-liquid.
The Good:
great battery life for its size
refreshing new design
affordable
flavor diversity
The Bad:
weak throat hit
cheap starter kits with no e-liquid