Uwell Crown III Tank Review
The original Uwell Crown was one of the most well-received sub-ohm tanks in vaping history, and for good reason. The build quality was excellent and in terms of performance it was on a whole other level from everything else on the market at the time of its launch. The Crown II was meant to build on the success of its predecessor, but due to some serious design faults it ended up being a total failure. With the third generation Crown tank, Uwell was either going to redeem themselves and prove to everyone that they are not just a one-trick-pony , or most likely lose their reputation as a top atomizer manufacturer for good. So which one is? Find out in my review of the new Uwell Crown III sub-ohm tank.
A Look at the Contents
The Uwell Crown III comes in a transparent plastic case, similar to the type used by Geek Vape for their tanks. We have a clear view of the contents on the front, and a list of everything included, as well as specifications and company information, on the back. One thing I particularly liked about the packaging was that it was perfectly sealed with a sticky tape that goes all around the box, ensuring that the contents have not been tampered with.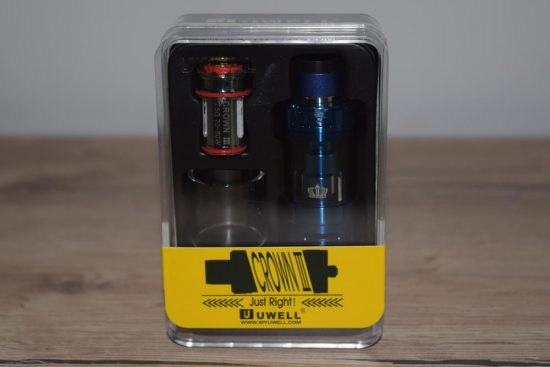 Inside the box, we have the assembled Crown III tank, a spare coil-head and a spare glass tube sitting in a plastic holder, and underneath that, we have a bag of spare o-rings, the user manual, a rubber cap for the drip tip and a crown-shaped metal key. I would have loved to see an RBA section included as well, but I remember that the first generation Uwell Crown also had that sold separately, so I'm not surprised they went the same route with this one. I'm glad they included the spare glass though, that's much more important as far as I'm concerned.
Overall, the kit contents are decent, not perfect, but in line with what most other manufacturers offer these days.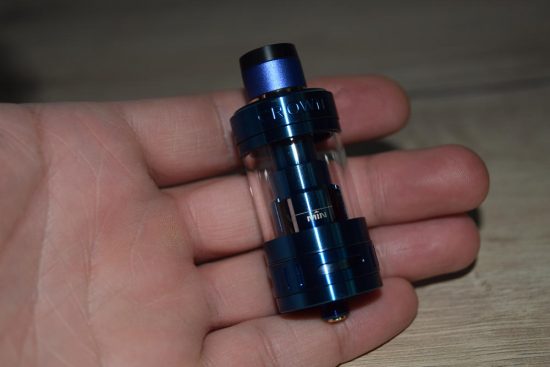 Design and Build Quality
I've never really been a big fan of the Uwell Crown, in terms of design, but I have to admit that the Crown III is quite the looker. At least the one I received for this review is. That's the thing, the stainless steel version still looks pretty bland in my opinion, but you now have five color options to choose from (stainless steel, black, matte black, iridescent and sapphire blue) and nine differently colored drip tips to pair them with. I have the sapphire blue variant with the matching sapphire blue drip tip, which is actually a combination of blue, black and gold. They look stunning together, but that is also thanks to the flawless machining and paint job, so kudos to Uwell on a job well done.
The Uwell Crown III is made of stainless steel and quartz glass, measures 62.7 mm in length, with a diameter or 24.5 mm, and holds up to 5 ml of e-liquid. That puts it in the large tank category, and if you're not a big fan of long atomizers that tend to stick out of your jeans pocket, you'll probably want to go for something smaller, like the Wismec Elabo, or the iJoy EXO RTA. However, if you're willing to trade "pocketability" for performance and juice capacity, the Crown III will likely appeal to you.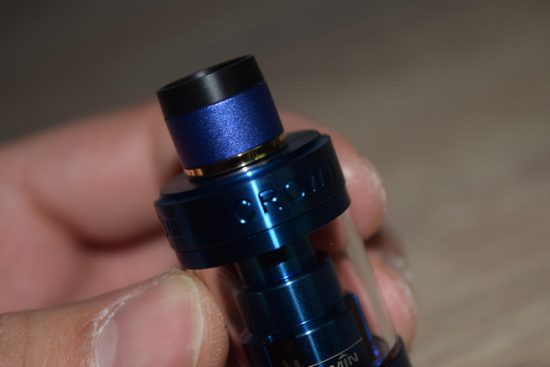 The Crown III comes with a gorgeous removable 510 drip tip – although I can't imagine why you'd want to replace it – that sits snug into the top-cap of the tank thanks to a couple of small o-rings. The top cap features a "Uwell Crown III" logo finely engraved on its edges, and can be removed to access the top fill ports, which are a bit smaller than I would have liked. They fit my dropper bottles just fine, but I have to be very careful when using 60 ml unicorn bottles, because their nozzle is too thick to fin into the holes. It's not a huge con, but Uwell could have made them a tad larger.
Instead of the common Pyrex glass, the Chinese manufacturer went with the same quartz glass that it has been using since the original Crown tank. I, for one don't see any difference between the two, but many people say they prefer this to the Pyrex. The inner chimney has a totally different design this time around, to accommodate the all new Crown III coil-heads and features a helpful 'Min' marking letting you know when you need to refill the tank, and finally, the removable base features three large airflow control slots, which can be opened and closed with an adjustable metal ring. The connection pin is not adjustable, so you shouldn't even think about using this tank on a hybrid mod. And why are you even using a hybrid to begin with, those things are dangerous!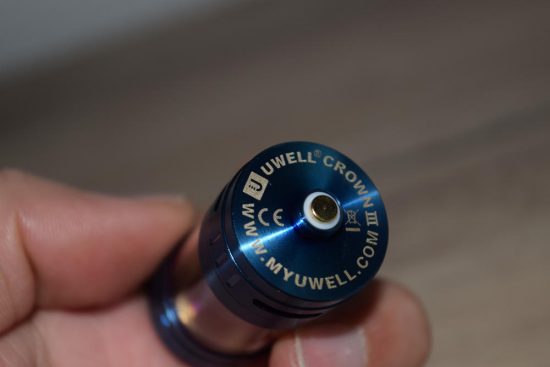 The machining on the Uwell Crown III is top notch. All the threading is smooth as butter, the airflow control ring has just the right degree of restrictiveness, and everything fits perfectly when putting the tank together. I've only had one sample to test, but if it's anything to go by, Uwell have really done an amazing job as far as build quality goes.
Setting Up
Getting the tank ready for your first vaping experience is a pretty simple process, except for one minor detail that had me scratching my head about how to take the tank apart to wash it thoroughly. Remember that crown-shaped key I mentioned earlier? Well, it's not just a nice souvenir, it actually serves a purpose.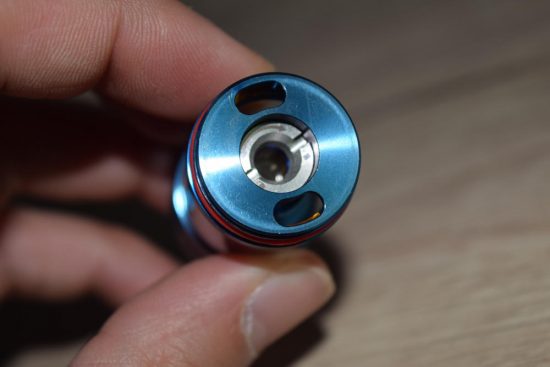 While unscrewing the base of the tank and removing the massive pre-installed coil-head is about as simple as it gets, the same cannot be said about the top section of the tank. I tried unscrewing it, and almost ended up breaking the damned thing, before deciding that maybe reading the user manual was not a complete waste of time. That's how I found out that you first ave to use the crown-shaped key to unscrew a small bolt keeping the fill port and the chimney attached to each other.
Why Uwell felt that having this bolt included in the design of the tank was a good idea, I honestly do not know. Some claim that it keeps the tank together better and that it helps keep everything nice and pressurized, but I've never had a tank break down in my hands because they lacked this precious little bolt, and as far as tank pressure goes, other brands seem to be handling pressure just fine without it. Having to use a key – a flat head screwdriver works fine too – to be able to take the tank apart is just over-complicating things in my opinion, and I just don't see the point.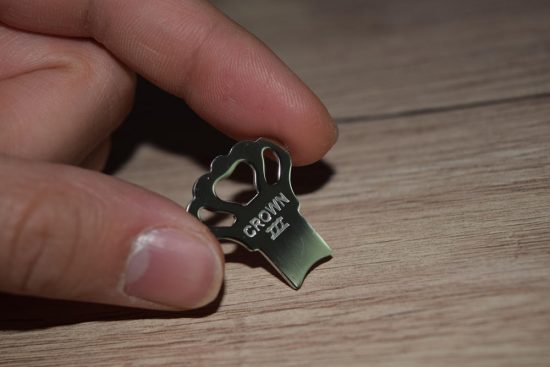 Now, you can use the Uwell Crown III without the bolt, and the tank won't fall apart, but you'll probably feel a difference in the way it vapes. It's subtle, but it's there, trust me. Without the bolt, the shaft just opens up more than it should and the draw feels airier than it does with the bolt in. You may not have a problem with that, but I feel it makes the vaping experience less enjoyable, and I wished they would have just removed the bolt altogether and just made the shaft connect to the top-fill port with regular threading instead.
Anyway, once you figure out how to detach the fill port from the shaft, you can also remove the glass tube, and give all the parts a good rinse to get rid of any leftover machining oil. Then put the whole thing back together and install the coil head. That last part is actually a bit different than with most tanks. Different is not always bad, and in this case, it's actually simpler. Most tank bases have threadings for the coil-heads, and you have to screw them into place, but the Uwell Crown III coils have to be press-fitted directly into the chimney instead. There are no threadings whatsoever, you just take the coil-head and stick into the shaft, where it will stay nice and snug thanks to a couple of red o-rings. You'll notice that the coils have two notches that have to be aligned with two other metal notches inside the base. This reminded me of the frustrating system of the OBS Engine, where you had to align notches on the shaft with those on the base. With the Crown III, things are much less cumbersome, you just have to keep turning the base and they'll fall into place automatically.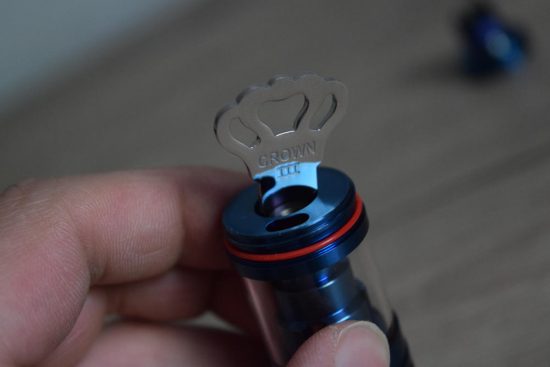 One thing you should keep in mind is that you have to put a few drops of e-liquid into the coil-head before inserting it into the shaft, to avoid getting a dry hit and burning the cotton wicking.
Lastly, fill your tank with e-liquid, give the coil-head a good 15 minutes to soak up the juice and you're good to go.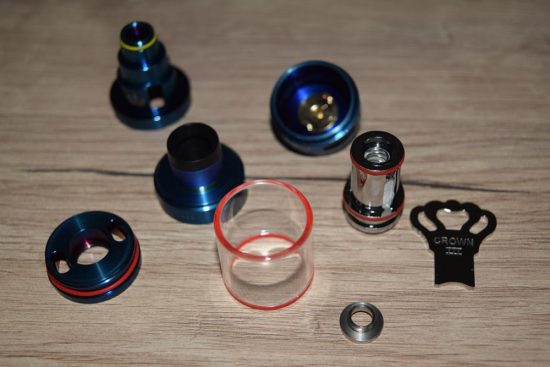 How It Vapes
Despite a few minor design flaws, I was pretty impressed with the Uwell Crown III sub-ohm tank up to this point. But its performance, both in terms of vapor production and flavor intensity, just blew me away. The Chinese manufacturer has definitely learned from the failure of the second generation Crown, and its third iteration of the famous tank is probably the best one yet. As far as I'm concerned, it all comes down to its new coil-heads and the improved bottom airflow system.
The Crown III comes with two coil-heads, one rated at 0.5Ω and another at o.25Ω. They are both massive, maybe not as large as those of the SMOK TFV8 Cloud Beast, but definitely comparable in size. They both feature large-diameter vertical parallel coils made of stainless steel wire, and have three massive wicking holes that keep the cotton nice and moist even when vaping at very high wattage.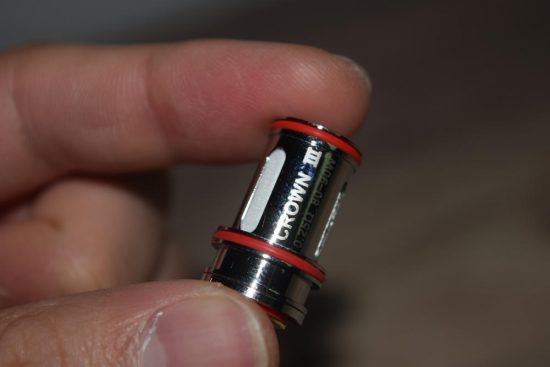 Now, both coils perform great, but I have to say Uwell are very conservative with their wattage recommendations. The 0.25Ω coil-head supposedly works best at 80W – 90W, but I've been using it at about 100W and it's been performing like a boss. I don't feel the need for more power, but it definitely seems able to handle even more than that. The 0.5Ω one is rated at 70W- 80W, but it too seems able to handle much more power. I recommend going over their specifications a little bit to really get the best out of these massive coils.
Vapor production is ok at the recommended wattage for both coils, but, again, going 10W – 20W over makes a big difference. The vapor is warmer, denser, and obviously, there's more of it. Now, if you care more about the flavor, the Uwel Crown III actually delivers some the most intense flavor I have ever enjoyed from a sub-ohm tank. Just make sure to leave the bottom airflow slots about halfway open to really get the best flavor possible. For a more restrictive mouth-to-lung vape, you can close the sloths about three-quarters, leaving just a tiny opening on all three sides.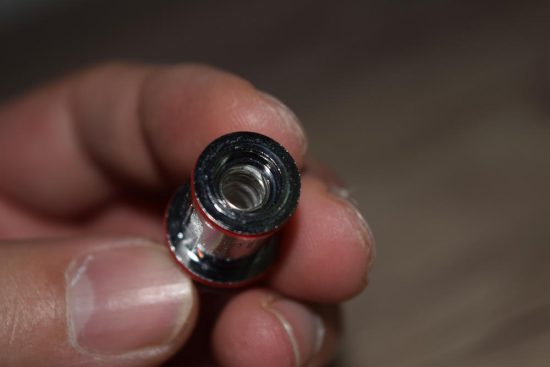 To get the best vaping experience with the Uwell Crown III, I suggest leaving that pesky lock bolt on. You can try vaping without it, but as I mentioned above, you will most likely notice a difference.
The Crown III sub-ohm tank not only vapes great, but it's also problem-free. I've had no issues with leaking, in fact the bottom air lots don't even have any condensation drops on them, the wicking is very efficient, even at high wattage, and the e-liquid consumption is actually very decent, compared to similar-size tanks like the SMOK TFV8 or the older TFV4.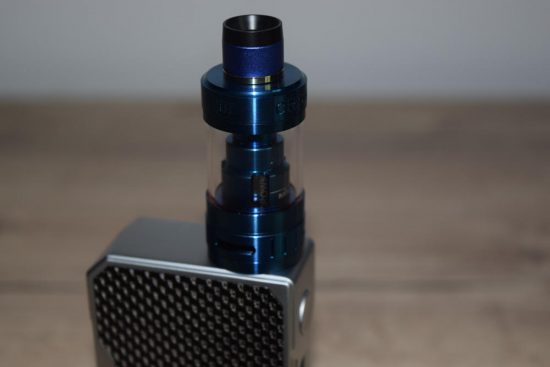 Conclusion
The Crown III tank was a huge test for Uwell, as with the degree of competition in the vaping industry right now, they just couldn't afford another mistake. Luckily, their new tank is definitely a winner in every way that matters. The design is nice on the eye, it features lots of customization options and the build quality is about as good as it gets. But, most importantly, it vapes like a dream! The new coils are outstanding, as is the improved airflow system, and together they deliver huge amounts of vapor and intense flavor at a low e-liquid cost.
Is the Uwell Crown III sub-ohm tank perfect? No, definitely not. I'm not a fan of the locking mechanism that requires you to have the key or a screwdriver on hand every time you want to clean it, and the fill slots could be a bit larger, but the numerous pros of this tank heavily outweigh the cons.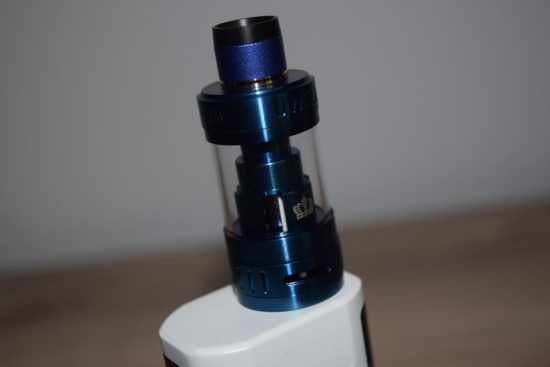 If you're looking for a new sub-ohm tank to add to your collection and you're considering the Uwell Crown III, I definitely recommend you go for it. It will surprise you, in a nice way.
The Uwell Crown III tested for this review was provided by Elegomall. They offer the tank at an ultra-low price of $17.50 (after login) and have loads of other cool vaping gear at discounts of up to 60%.