Wismec Trough Tank Review
I never thought I'd see a tank named after the thing animals eat out of. Well, apparently the word "trough" has multiple meanings, one of which is "a channel used to convey a liquid". I'm guessing that's what Wismec was going for, but still, not the most inspired name for a sub-ohm tank. Anyway, let's check out the Wismec Trough and see if there's more to it than the funky name.
A Look at the Contents
The Wismec Trough sub-ohm tank comes in a cylindrical plastic case that offers a clear view of the product inside. We've seen this style of packaging recently, on the FreeMax Fireluke 2, and I personally like it. There's nothing wrong with good ol' cardboard boxes, but it's nice to see companies trying something new.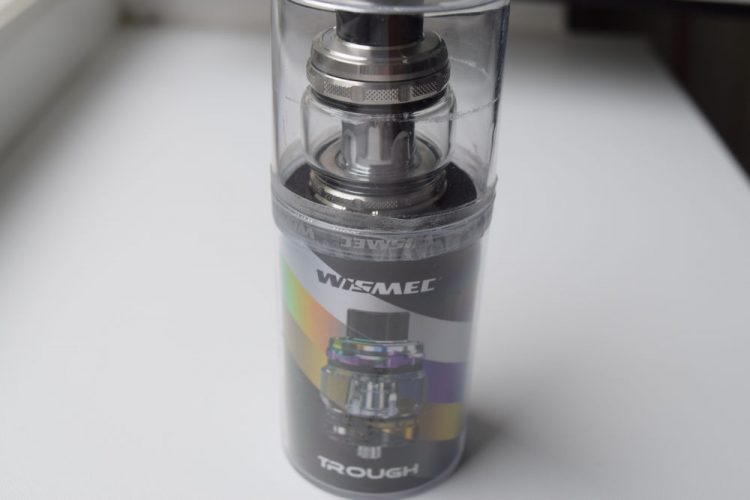 Inside the case we have the Trough tank sitting on top of a Styrofoam holder, the likes of which we've seen used in Augvape atomizer kits. It's inside this holder that you'll find all the different accessories included with the tank. We have a spare bubble glass section, a spare coil-head (one comes pre-installed in the tank), as well as a bag of spare o-rings and a gasket for the fill-port, and a user manual. There's also a bag of organic cotton on the bottom of the plastic case, but I haven't figured out what you're supposed to do with it. Its inclusion leads me to believe that there is/will be an RBA base for the tank, but there's no information about it on the Wismec website.
Design and Build Quality
The first thing you'll notice about the Wismec Trough tank is its size. Measuring 50mm from the drip-tip to the connection pin and 28mm in diameter around the base, the Trough definitely qualifies as a big boy. Even if you have no problem with large tanks, you should make sure it fits on top of your mod, preferably without any overhang. There are some benefits to having a large tank, though, not the least important being e-liquid capacity. The Trough can hold up to 6.5ml of juice, which should last you a while, even if you vape at high wattage.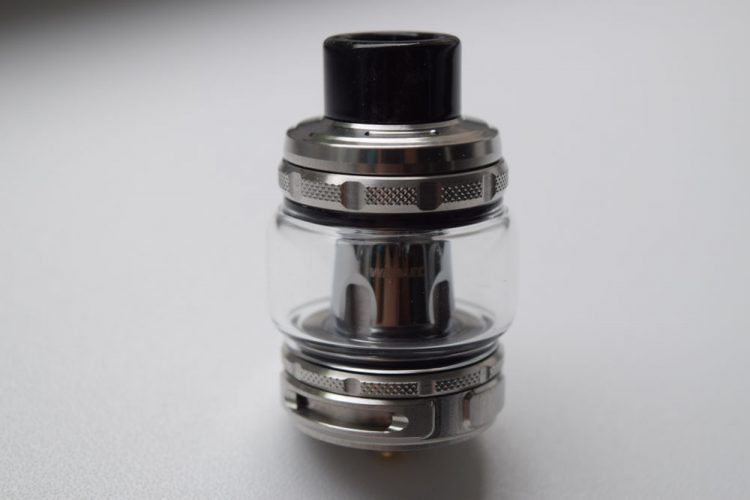 Design-wise, the Trough doesn't really stand out. It comes with a classic resin drip tip, a push-to-slide top cap that we've seen on numerous other sub-ohm tanks before (Freemax Mesh Pro or VooPoo MAAT, for example) and a two-slot airflow adjustment ring on the bottom. There's really nothing new to talk about really, which isn't necessarily a bad thing. As long as it vapes well, I'm not going to fault a tank for keeping things simple.
The Trough tank comes with two mesh coil-heads, an 0.35Ω single-coil rated at 30W – 50W, and an 0.20Ω dual-coil one with a recommended wattage range of 30W – 70W. Wismec also offers an 0.15Ω triple-coil version (50W – 90W), but you'll have to buy that one separately. This is a brand new coil-head line, so I'm pretty sure we'll see even more configurations, maybe even an RBA base, in the near future. I do wish they would state what kind of metal the mesh is made of, though.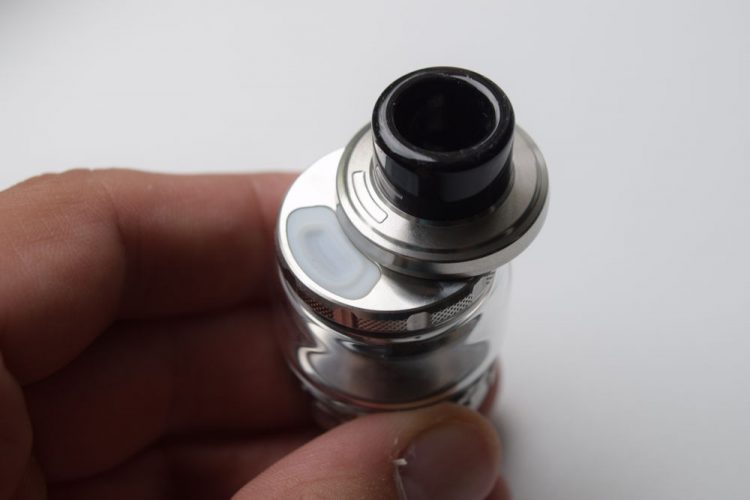 All in all, a pretty solid looking tank featuring some of the nicest machining I've ever seen on a budget, Chinese-made atomizer. I don't really pay attention to machining to be honest, but this one did stand out to me, as apart from some visible sloppy work on the base knurling, it looks very clean.
How It Vapes
Your vaping experience with the Wismec Trough will vary according to the coil you are using. I can say that I haven't experienced any leaking with either coil-head so far – I've used them for about three days each – which is always a big pro, especially with sub-ohm tanks. I'm not saying that the Trough doesn't leak. It's always  possibility with such devices, but most often than not it's a coil-head defect. If you swap out the coil-head and still having leaking issues, then you can start blaming the tank.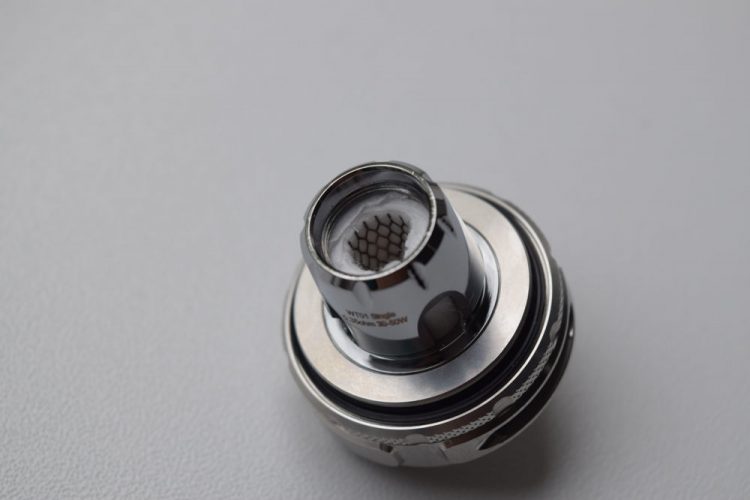 I started using the Trough tank with the single mesh coil-head that came pre-installed and I was actually pretty surprised by both the vapor production and the flavor. Wismec claims that it has changed the "formula" for its wicking, going for 30% wood pulp and 70% cotton, and also reconfigured the design of its coil-heads. Each coil has its own wicking slot now as well as additional wicking slots that should theoretically prevent dry hits and boost flavor. I'm not sure if these changes really affect the performance as advertised by the manufacturer, but I for one was very pleased with the flavor I got using this tank.
50W isn't really my preferred power level for direct-lung vaping, and even though the single-coil felt like it could handle a bit more power than its maximum recommended level, I decided to go with  the dual-coil version, just to be sure. The extra power brought out the flavor in the juice even more, and even though the draw was noticeably airier, it was nothing I couldn't fix by tweaking the airflow at the bottom. Leaving the airflow slots about quarter open and bumping the power to 65W turned out to be my sweet spot. Excellent flavor, satisfying vapor production, I really couldn't ask for more. I didn't really feel the need to take the coil-head to its maximum 70W or above, but I think it can definitely handle a bit more power. Or you could just get that triple mesh coil-head and vape at around 100W if that's what you're into.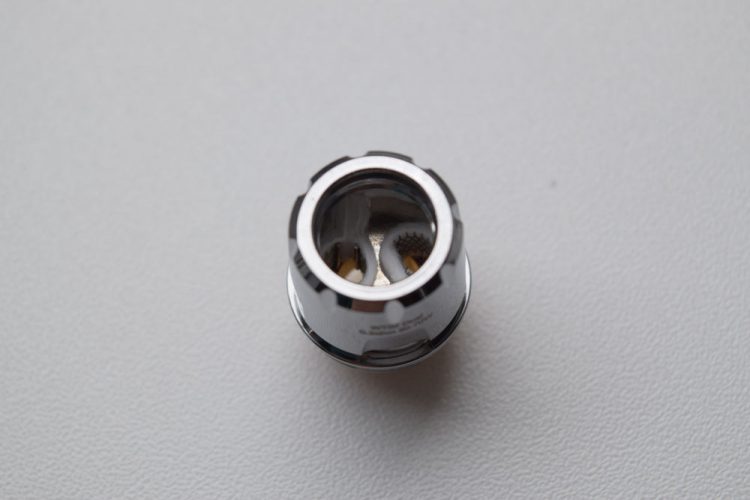 One thing I was kind of worried about with this tank was e-liquid consumption. I was thinking there was a reason why this thing holds up to 6.5ml of juice, it must burn through it like crazy. Turns out that's not the case at all. Sure, the dual-coil head in particular tends to suck up juice faster, especially at higher wattage levels, which is normal, but if anything I thought the coil-heads were rather efficient. They're definitely not as thirsty as those SMOK TFV12 beasts of old, anyway.
Conclusion
I wasn't expecting too much from the Wismec Trough, to be honest. It looked like  just another generic sub-ohm tank that companies often put out just so people don't forget they exist. Apart for its size, there certainly wasn't anything special about it at first glance, but that just goes to show that you should never judge a book by its covers. The Trough turned out to be a pleasant surprise, and earned itself a spot in my daily rotation as my new go-to sub-ohm tank. Hopefully I can get my hands on some new coil-heads before the dual-coil one gets clogged by all the dessert juice I'm pumping through it.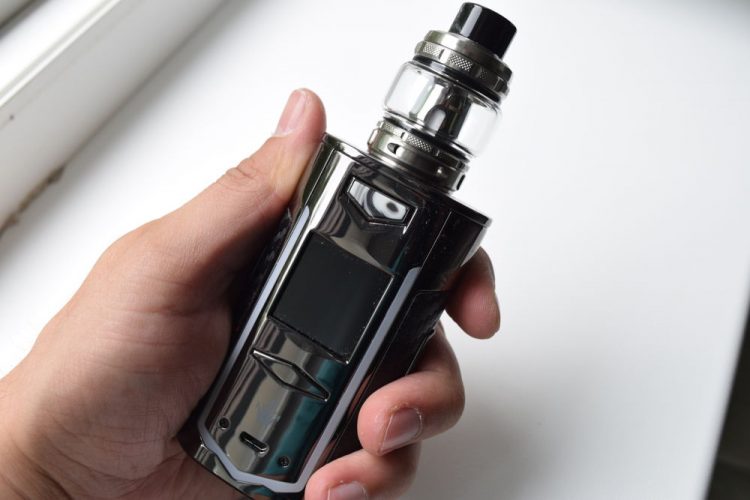 The Wismec Trough was sent to me by Vapesourcing, for the purpose of this review. They currently have it in stock for $24.39. It's definitely worth the price, in my opinion.