Augvape Occula RDA Review
If you're an RDA enthusiast, you've probably heard of Kent Hill, aka Twisted Messes, one of the world's most respected independent RDA manufacturers. He has legions of loyal fans and some of his creations, like the TM24 and the TM30 drippers are rightfully considered among the best ever. The problem with Twisted Messes products has always been the price. Because of low volumes, the cost of production has always been rather high, with the end consumer having to pay around $60 for a TM24, for example, if they could even find one.
Luckily, Twisted Messes has come up with solution to the cost issue. By teaming up with reputable Chinese manufacturer Augvape, he was able to get his innovative design produced at a reasonable cost and also make it available to as many people as possible. And that's how the Occula RDA by Augvape and Twisted Messes came to be. Let's check it out:
A Look at the Contents
The Occula RDA comes in a small plastic box with a big OCCULA branding and logo, as well as a transparent visor offering a view of the device, on the front, and a short description of the RDA and an authenticity sticker, on the back.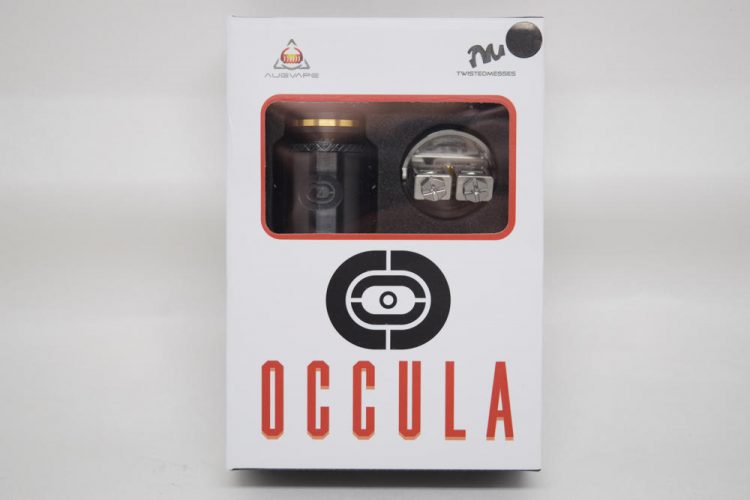 Inside the box we have the Occula dripper and a small bag of accessories, which includes some spare o-rings, a hollow 510 pin that makes the RDA squonking-compatible, and an Allen key to help you detach those 510 pins. Now for what you're NOT going to find in this kit: it doesn't come with spare screws for the build deck, not even a screwdriver for the two pre-installed screws, and no pre-made coils. That last one really bugs me, to be honest. Everyone has a screwdriver somewhere in their home, but I constantly run out of coils, and those found in a kit like this have actually come in handy more times than I can remember. I don't need high-end stuff, just a couple of generic coils that I can throw on an RDA when I need to.
Design and Build Quality
The Occula RDA is made primarily of stainless steel, measures 33mm x 24mm and comes in two colors – stainless steel and black. It features a very low-profile Delrin 810 drip tip, some knurling on the rotating top cap, for improved grip, and down-facing air holes on opposite sides of the barrel. There's also an Occula logo etched into the barrel, if  you care about branding. The barrel itself seems pretty standard at first glance, but if you really stare at it for a bit, you notice that's it'a bit deformed, concave even. That's actually by design, to make it stand out, but I've seen some reviewers complain about it and blame Augvape for the machining. You may not like it, but know that it was intentional. The bottom of this dripper features more branding, as well as a screw holding the positive post of the build deck in place, and a gold-plated 510 pin.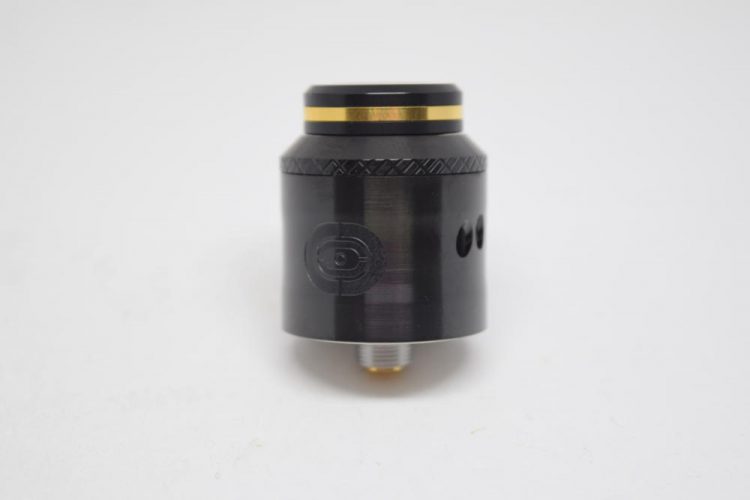 The thing that really makes the Occula stand out from the plethora of other 24mm drippers available on the market right now is the design of the build deck. This is where Twisted Messes' design really comes into play. You have two beefy posts that both feature perhaps the largest clamp systems I've ever seen on an RDA and two massive screws holding the adjustable blocks of metal down from the top. They're apparently called M3 screws  and they are permanently attached to those blocks of metal in the posts, which is why there weren't any spare screws included in the kit. If they don't detach, you can't lose them.
When fully open the slots in the two deck posts of the Augvape Occula measure a whopping 6mm x 2.5mm, which means you can use whatever kind of wire you can think of and not worry whether it fits. That's probably the main feature of this device, and it's one that's bound to appeal to cloud-chasers and vapers who like to experiment with different coil types.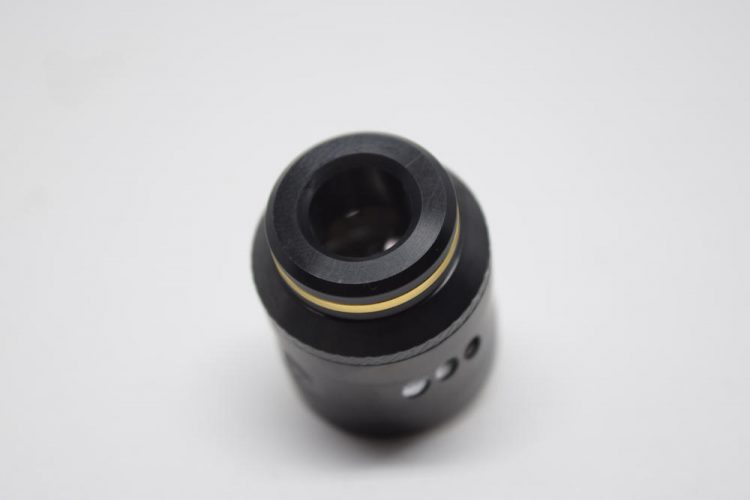 The juice well isn't the deepest I've ever seen on an RDA – just 5mm – but since those massive posts actually have very thin bases towards the sides of the deck, you can get lots of juice in there without worrying about it spilling through the airflow slots on the barrel. Also those downward-facing slots reminiscent of snake bites aren't positioned that low, so unless you really overfill the Occula, or keep it tilted for a long time, the chances of leaks are pretty low.
By rotating the top cap of the Occula RDA you can close up the airflow slots on one side completely, while leaving the ones on the opposite open, for single-coil vaping. Also, you can close up one or two of the three slots on each side to restrict the airflow. And this thing has a ton of airflow, let me tell you, so unless you're getting ready for a cloud-chasing competition or you just have lungs of steel, you'll most likely want to turn down the airflow a bit. Twisted Messes definitely designed the Occula RDA for huge cloud production, but I just can't vape it with all airflow slots wide open. I tend to leave just one hole on each side with my regular builds, and two at most for my lowest builds, because the vapor is so hot.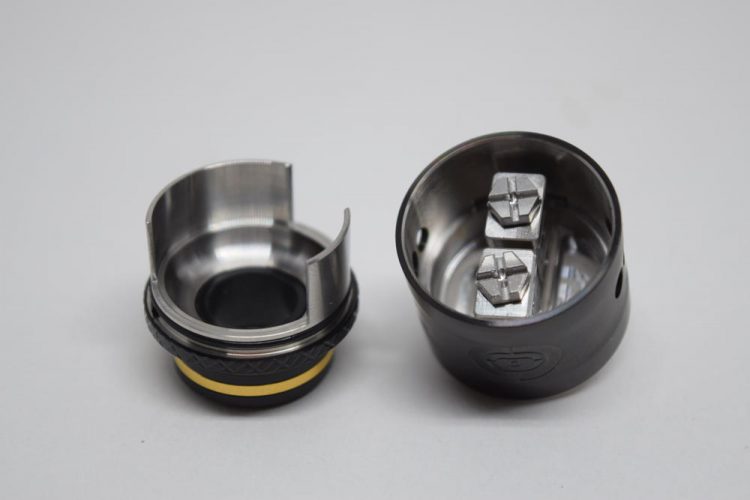 The Occula also two small metal notches on the edge of the build deck, which align with these fine dents on the inside of the barrel, allowing the user to turn the barrel side to side and align the airflow slots with the coils perfectly. This system has stoppers on each side, so you don't have to worry about the barrel rotating too much. It's really clever design.
One thing I found problematic was the low-profile drip. It looks cool, especially with that gold metallic line passing through the middle of it, which really makes the Occula look great on my lovely Druga Foxy mod, but in terms of practicality, it's not the optimal choice. When you're using low builds, and if you tend to chain vape, the dripper tends to get hot, even near the top, and because of how little space there is for your lips on the drip tip, they sometimes touch the metallic top cap as well, and that's not the most pleasant sensation to experience. It's not that big of a deal, but I personally replaced that drip tip with a slightly taller one.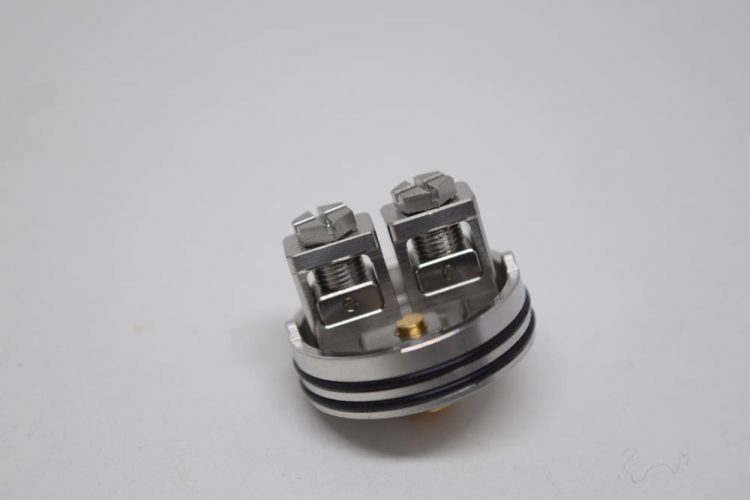 How It Vapes
While testing the Occula I realized that I really haven't used drippers as much as I used to. I don't know if it was all the pod systems I've reviewed in the last year, but I've just gotten used to the comfort and convenience of sub-ohm tanks. They don't leak, they don't have to be topped off with juice every few puffs, and ever since mesh-coils became mainstream the flavor has gotten really good as well. Maybe I've just gotten lazier, I don't know.
Anyway, back to the Occula. It's an interesting device that allows you to use just about any coils you want. No need to worry about wire gauges, flat wire versus round wire, none of that. Just put your coil leads in those humongous clamps, tighten up the screws and you're good to go. It's definitely an innovative and convenient build deck design that's also extremely easy to use.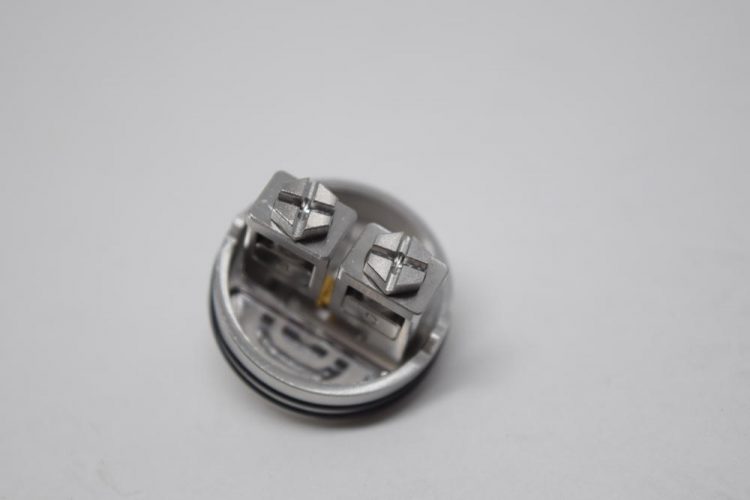 As far as performance goes, it depends a lot on your experience with drippers. You may have some beefy coils that you think are perfect for it, but if you don't line them up with the airflow slots just right, or of you don't adjust the power to get the best flavor and vapor production out of them, you're probably not going to get the best vaping experience. That said, the Augvape Occula is probably the best RDA the Chinese manufacturer has ever produced, and that's thanks to Twisted Messes' contribution.
I would say that the Occula is primarily designed to chug clouds. The amount of airflow you get with all slots wide open is insane, and quite frankly too much for my personal taste, but I'm sure there are vapers out there who love it just the way it is. Luckily, you can adjust the airflow any way you like, and you can actually get a restrictive lung hit as well, and because you can adjust the barrel to position any of the airflow slots directly over the coil, you actually get decent flavor as well. It's not the best flavor I've gotten out of a dripper, but, as I said, I don't think flavor intensity was ever meant to be the main strength of this device.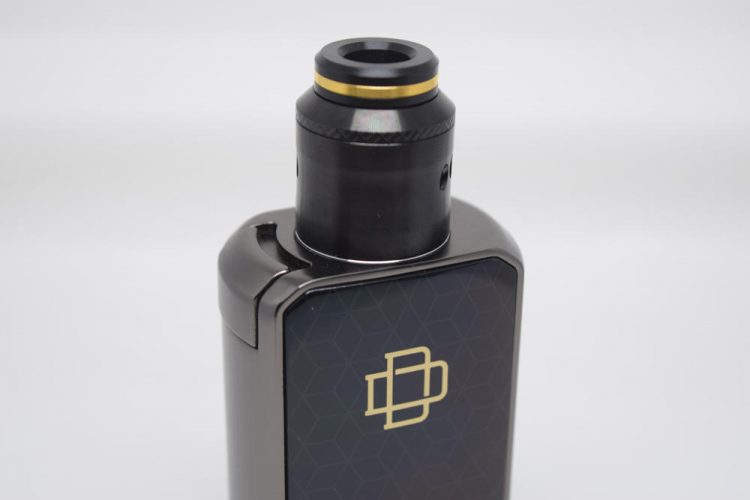 Conclusion
If you've always wanted to get your hands on a Twisted Messes dripper but couldn't afford it, or could never find one available anywhere, the Augvape Occula is a pretty good alternative. I don't know how it compares to the TM24, because I've never tried that one, but they are both designed by the same brilliant mind, so that should give you an indication of the quality of Augvape's device. It's a versatile and well functioning RDA, and best of all, it's affordable. What's not to like?