Greenville-based e-cigarette company Mistic recently announced it has shipped production from China to the US, making it the first independent electronic cigarette company to so.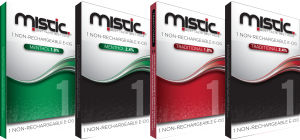 The move, first announced in April 2014, comes in response to growing quality concerns and the prospect of tighter federal regulations. Following the official announcement of proposed FDA regulations, Mistic devised a plan to shift the production and assembly of its e-cigarettes from China to a local space shared with e-liquid maker Purilum. The company was already producing the e-liquid in Greenville and shipping it to China, which delayed its supply chain by about 60 to 90 days.
But in order to make the move possible, Mistic had to find an alternative to the 300 Chinese workers that handled the production and assembly of its electronic cigarettes. Luckily, their partner company, Purilum, owns machines that assembles the cartomizers in a completely automated process that eliminates human error. Although Mistic will still be importing some components from China, like the lithium batteries and other electronic components, the assembly will now be done at its Greenville plant. The new factory standards include separate nicotine and non-nicotine mixing rooms, automated bottle filling and cartomizer assembly.
"This landmark deal will further streamline our production process and make Mistic the standard-bearer in the e-cig industry for world-class quality and supply chain management," said John Wiesehan Jr., CEO of Mistic. "Our e-liquid is already made in the U.S. for both Haus and Mistic and the relocation of our automated product assembly to the U.S. from China will provide us with a highly skilled workforce, more oversight and increased operational efficiencies, making this a game-changing business decision that's in line with our long-term strategy."
The production shift will allegedly improve the vaping experience as well. Wiesehan believes the quality of the quality of the e-liquid deteriorated within the long time it took to ship it to China and back again. Now, the product will be fresher and will reach convenience store shelves within a week of production.
Strangely enough, Mistic's CEO says production cost has gone down following the move, despite China's notoriously cheap workforce. "Quite frankly, we have a pickup in our (profit) margin," he told the press.