VaporFi Rebel 3 Review
Buy the VaporFi Rebel 3
You can find the VaporFi Rebel 3 kit and lots of other great vaping products on Vaporfi.com
The VaporFi Rebel 3 is one of the most confusing vaping devices I have ever seen – it looks like a compact mechanical mod, but it's actually a beginner-friendly all-in-one device that comes with all the built-in protections of a regulated vaporizer. That's not a bad thing at all, in fact, it's this appealing design that helps the newest Rebel stand out from the plethora of AIO devices currently flooding the market. In this review, we'll be looking at all the features of the VaporFi Rebel 3 to see if it has anything else going for it apart from the intriguing tubular design.
A Look at the Contents
The Rebel 3 comes in the usual VaporFi packaging – a cardboard box in the company's now famous white and green color combination. Inside, we have the Rebel 3 unit, a USB charging cable, a handy wall adapter, a spare coil-head and a user manual. It's a fairly standard package, although I really appreciate throwing in that wall adapter. Not a lot of companies do that nowadays, but I still find it useful when I'm not at the computer.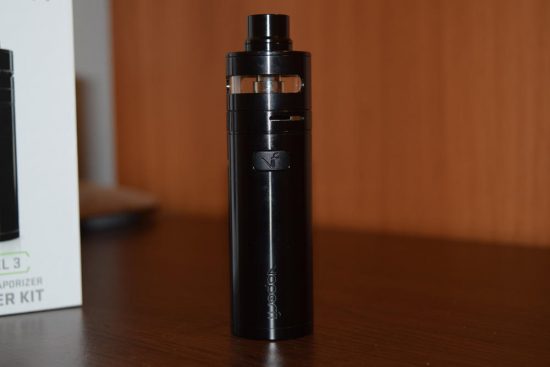 Design
As the name suggests, this is the third iteration of the VaporFi Rebel, and while the previous two generations had a very similar design, this newest one looks completely different. I've not had the chance to use the other Rebels, but judging from old photos of them, the Rebel 3 is a giant leap forward. I have been fortunate enough to try over one hundred different vaping devices over the last few years, and I can honestly say this is one of the best-looking ones. That might have something to do with the fact that I love tubular mech-mods, even though I try to stay away from them for safety reasons.
The first word that comes into my head when I think of the Rebel 3 is 'sturdy'. This thing looks and feels like a piece of solid steel, with only a bit of glass cut into the giant 5.8ml tank. It feels like the kind of mod that could take a serious beating and still work perfectly, and, although I have resisted the urge to put it to the test, I bet it can handle pretty much anything you can throw at it. I see it as the vaping equivalent of those durable, shock-resistant phones that people working in constructions or other hazardous environments love so much. The weight of it, and the way it fits in your hand just scream quality and endurance.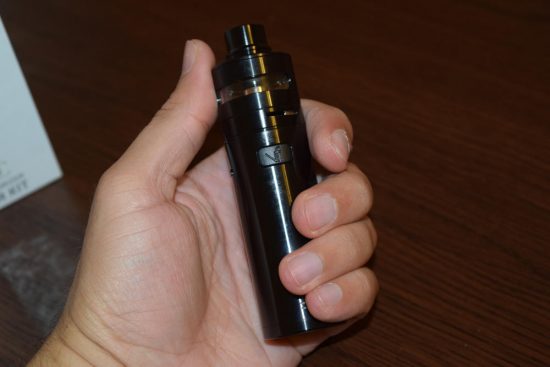 The Rebel 3 has a very simple, tubular design that adds to its rugged charm. As I mentioned, the detachable battery looks and feels like a piece of metal, even though beneath that fairly thick shell of stainless steel lies a big 3000mAh battery. There aren't many other things to talk about when it comes to design features. You have a slightly raised plastic fire button near the top of the battery, a micro-USB charging port opposite this button, and a tiny LED battery indicator. I love the fact that VaporFi decided to keep the design simple and clean, but if there was one thing I could change, it would have to be that little plastic button. It works great and doesn't have the slightest bit of rattle, even when you shake the device, but I just don't feel it fits with the whole indestructible theme of the Rebel 3. A metallic button, or at least a bit of metallic paint would have been much better, in my opinion.
The tank connects to the battery via a classic 510 connection, and is just as bulky and sturdy-looking. It has two wide glass window that allow you to keep an eye on the level of e-liquid inside, but the metal frame hangs over the glass, so even if you were to drop it, there is very low chance that it would break or even crack. This is something that high-quality sub-ohm tank manufacturers might want to look into as well, as this kind of design would surely make their products more durable and even save them money by rendering spare glass tubes unnecessary.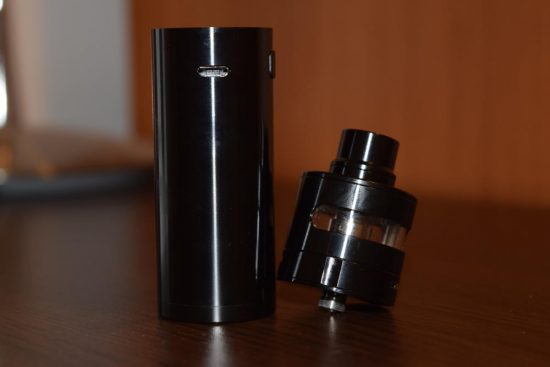 The wide bore drip tip of the Rebel 3 is metallic, which I would normally consider a bit of a con. Steel is a very good heat conductor, which becomes a problem when vaping at high wattage, because the drip tip gets so hot that it burns your lips. However, the VaporFi Rebel 3 has max power output of around 40W (with the 0.5Ω coil-head) – enough to produce a satisfying amount of vapor, but not to overheat the drip tip. Anyway, if you're sill worried about this, the drip tip is detachable, so you can replace it with one made of delrin.
Battery Life
One of the major strong points of the VaporFi Rebel 3 is the 3000mAh battery. All-in-one vaping devices are simple to use and perform reasonably well for their size, but they usually have an unimpressive battery capacity. The similarly-sized SMOK Stick One Plus, for example, has a 2000 mAh battery, while the very popular Joyetech eGo AIO only 1,500mAh. The Rebel is definitely the best all-in-one vaporizer I know of when it comes to battery capacity.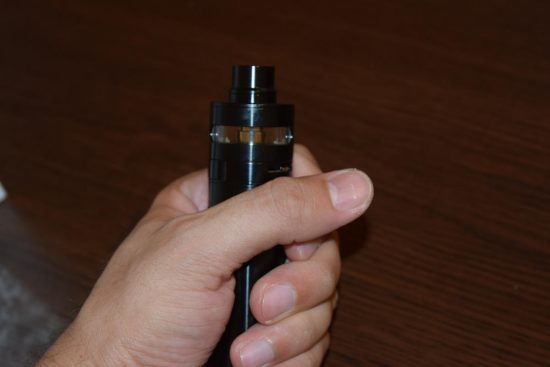 During the two weeks I spent testing the Rebel 3, I got around 7-8 hours of use out of it (with the 0.5Ω coil head), which was great, considering that I'm what you would call a heavy vaper. I'm pretty sure a casual vaper or an ex-smoker just getting into vaping could get a full day's use out of it without needing a recharge. So if you don't mind the bulky frame of the Rebel, you can be sure you'll get a lot more vape time than from most other devices in this category.
Better yet, the VaporFi rebel 3 has a passthrough feature that allows you to use the device while it is charging. Just plug it into a USB power source and you can vape without worrying about battery life.
The Tank
Apart from its durable build, the other impressive thing about the VaporFi Rebel 3 tank is the e-liquid capacity. It can hold up to 5.8ml of juice, which is just unheard of in the realm of all-in-one devices, and more than most any stand-alone tanks. So if you're the kind of vaper who hates having to top off juice every few hours, you'll be glad to know that you won't have to refill the Rebel 3 more than once a day.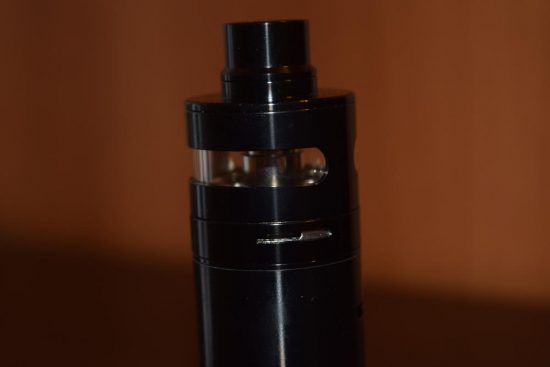 Judging from the bulky frame of this device, I was expecting the coil heads to be equally large, maybe about the size of the SMOK TFV4 or even TFV8 coils, but I was in for a surprise. This thing uses some of the tiniest coil heads I've ever seen, although the actual heating element inside is actually pretty decent in size. To tell you the truth, I was a bit worried about this, especially after seeing that the wicking holes were. I wasn't sure that the cotton around the coil could become saturated enough to prevent dry hits. Luckily, the coils performed surprisingly well, putting out a decent amount of vaper without any burnt taste, even when chain vaping.
The only minor let down was the old-fashioned bottom filling system of the Rebel 3 tank. So basically, you have to unscrew the base of the tank, hold the top part upside down while you fill it with e-liquid, and then screw the base back on. It works, but it's certainly inferior to modern top filling systems like that of SMOK tanks or all-in-one devices like the XEO VOID.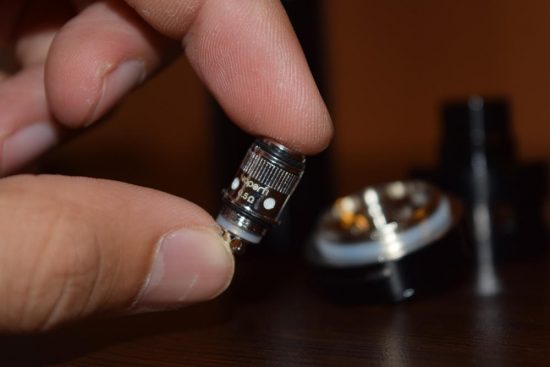 How It Vapes
When it comes to the actual vaping experience, the VaporFi Rebel doesn't disappoint. The 0.5Ω coil head, although deceptively small, performs remarkably well. Vapor production is above average, even when taking shorter draws, and as long as you allow the cotton a good 15 minutes to wick properly before using it for the first time, you should have absolutely no problems with dry hits. I have been using a Max VG e-liquid, which are notorious for being more difficult to wick, and I've had no dry hit issues.
If you're an ex-smoker trying to give vaping a chance, or if you're upgrading from an inferior device, like a cigalike, you're probably going to be overwhelmed by the volume of vapor the VaporFi Rebel 3 produces. Advanced vapers looking for a decent device that's easy to carry around should definitely consider it for vaping on the go. The Rebel 3 is on par with the best all-in-one vaping devices out there right now, in terms of vapor production.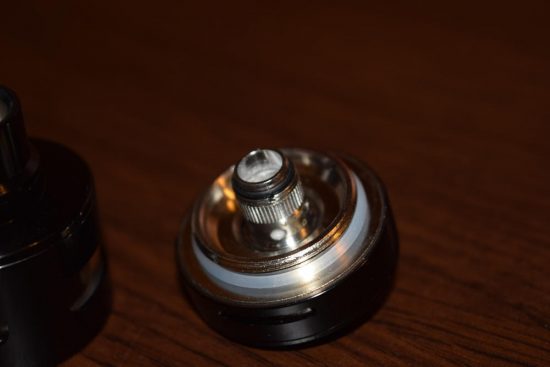 When it comes to flavor intensity, the VaporFi Rebel is decent, but certainly not the best. Seeing as it has no variable voltage/wattage feature, it's impossible to get the best out of every e-liquid, as they all have different sweet spots. That might be considered a con by advanced vapers, but for casual users who value simplicity and are willing to make a compromise, it shouldn't be a big deal.
Lastly, one of the things I loved most about this device, is that it doesn't leak, at all. As I mentioned, I've been using it for two weeks, and it's been as dry as a bone throughout this period. If you've ever used a sub-ohm tank before, you know what a pain in the behind leaking juice can be.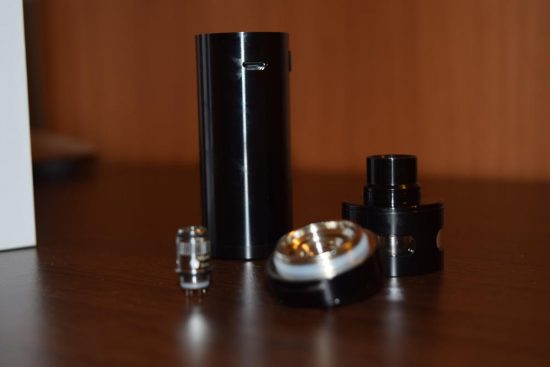 Conclusion
The VaporFi Rebel 3 is one of the coolest vaping devices I've ever reviewed. I love the mech-mod design and the durable vibe I get when holding it in my hand, the battery life and e-liquid capacity are fantastic for an all-in-one vaporizers, and when it comes to performance, it can hold its own against the best devices in this category. It has a lot of things going for it, and, to be honest, you're going to have hard time finding a better beginner-friendly mod. There's just one thing I really hate about it, though – the price.
VaporFi is currently selling the Rebel 3 for $119.99, which is outrageously expensive when compared to other Chinese all-in-one vaping products. You could buy at least two eGo AIOs for that price, and that's a great device as well. The high price is somewhat justified by the fact that VaporFi offers a variety of perks you won't get from any Chinese brand, like full customer support, a 30-day money back guarantee, and a simple product replacement policy, but it still feels a bit more expensive that it should be.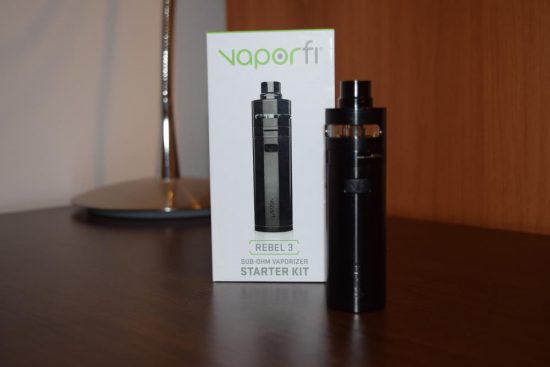 The price is the only thing preventing me from wholeheartedly recommending the VaporFi Rebel 3, so you'll have to decide if it's worth buying on your own.
Buy the VaporFi Rebel 3
You can find the VaporFi Rebel 3 kit and lots of other great vaping products on Vaporfi.com