Firebrand Liquitine E-Liquid Review
Like most respectable e-cigarette companies in the US, Firebrand has switched from sourcing its e-liquids from China to making its own, in a sterile laboratory, using only USP-certified ingredients and L-Grade nicotine. They also have some interesting flavors that you can't find anywhere else, and that's really what got me interested in the Liquitine line.
Firebrand e-cigarettes have been around for a while now, and even though they're nowhere near as popular as bigger brands like V2 Cigs or Blu, they've managed to build a decent online presence. The company's range of electronic cigarettes is clearly targeting intermediate and advanced users, featuring various eGo style vaporizers and variable voltage mods, but as Firebrand's CEO, Brian Gage, told me, the company's main focus right now is the Liquitine e-liquid line. Let's take a look at what makes it special:
According to the Firebrand website, they have "reinvented the way e-liquid is created from top-to-bottom and consider e-liquid to be a generic term for a variety of means and methods of liquid creation. Liquitine is Firebrand's special mixture & methodologies that go into creating the perfect blend from top-to-bottom." But what does that really mean? Well, first of all, Liquitine e-liquid is made in the USA, which is a big plus. Only USP-certified ingredients and L-Grade ultra-pure organic nicotine are used in the mixing process, which is done by what Firebrand calls its proprietary machine system, "Magnetic Vortex technology". That's basically a special stirring method that relies on magnets and doesn't require anything coming into contact with the e-liquid itself. The juice is then machine bottled, pre-steeped and refrigerated until delivery. Pretty impressive stuff, but enough about the manufacturing process, let's see what Liquitine juice actually tastes like.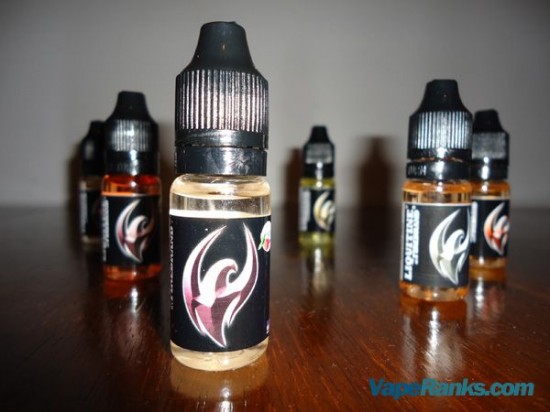 Brian and the Firebrand team were kind enough to send me ten of their most popular e-liquid flavors for this review, so i'm going to talk a bit about every one of them.
MRX (Menthol Red X) – I wanted to start this review with the Liquitine flavor I loved the most, and that is without a doubt the MRX. This divine combination of menthol and raspberry is both refreshing and flavorful, making it a great all day vape. It's not too minty, but enough to cool your throat as it goes down, and the clear raspberry flavor delights your taste buds with every puff. At 12 mg/ml nicotine strength, the throat hit was just right, not too strong, but definitely there. This is by far the best raspberry juice I've ever tried, so I highly recommend it.
Cinnaswirl – Or as I like to call it, bottled cinnamon rolls. I have a bit of a sweet tooth, and the popular pastry dessert is pretty high up on my favorites list, so I was really excited about this particular Liquitine flavor. The good news is it tastes a lot like cinnamon rolls, but, just like the real thing, you can only have so much before you start feeling sick to your stomach. It wasn't the cinnamon, but the general bread-like taste that was too much for me after only a few puffs, so even though I enjoyed it, I gave up on it after a while. Definitely worth a try, though, especially if you're Cinnabon regular.
Peppermint Patty – The contrasting flavors of the original peppermint patty – refreshing mint and a dash of dark chocolate – are also the main notes of this Liquitine e-liquid. This combo never really did it for me, but if you grew up with York Peppermint Patties this juice is sure to take you on a trip down memory lane.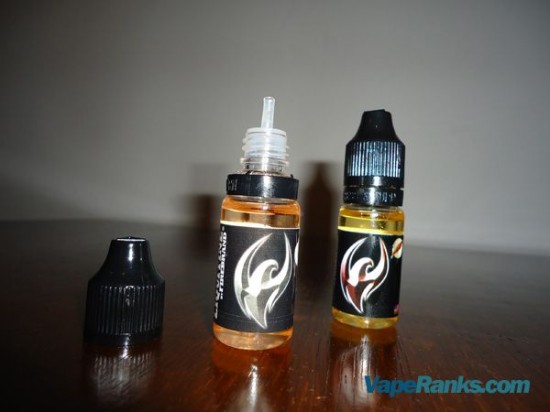 Elvis – What do you reckon an e-liquid named after the King of Rock'n Roll tastes like? No clue? Well, I'll tell you – peanuts. Yeah, i was a bit surprised myself, but according to the description on Firebrand's website, the King's favorite sandwich was peanut butter, bacon and banana, so I guess that kind of clears things up a bit. Anyway, the peanut butter taste was so strong I got no hints of bacon or banana whatsoever. Unfortunately, just a couple of puffs left me nauseous, so I'm not a fan. That's pretty ironic, because who doesn't love Elvis?
Special Blend Tobacco – I'm always excited when trying new tobacco flavors. I guess you can say I'm on a never-ending search for the Holy Grail, that e-liquid that mimics cigarette taste so well you never want to think about smoking again. I've been using e-cigs exclusively for over three years now, but I still crave tobacco from time to time, and hat's when good e-liquids really come in handy. I was really hoping this Special Blend Tobacco was my next big discovery, but sadly, it wasn't meant to be. The tobacco flavor is simply overwhelmed by unnecessary maple and creamy rum notes, to the point where you're struggling to feel the little tobacco that's in it. Plus, the creaminess of it was too much for me.
Piña Colada – Nothing washes away the winter blues like a refreshing piña colada, but if you can't get one, this Liquitine e-liquid is probably the next best thing. Although not as flavorful as the real tropical cocktail, Firebrand's juice really is as "crazy delicious" as its creators claim. The juicy pineapple, smooth coconut and sweet rum complement each other to give you a shot of Carribean goodness. This is actually one of the few piña colada e-liquids I genuinely liked, as most of the others I had tried had a distinct chemical taste to them.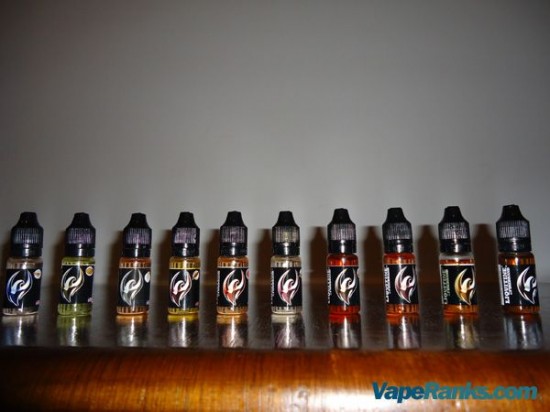 Super Fuzz – Peach is one of the most popular fruity e-liquid flavors on the market, so it made sense that Firebrand created one of their own. Although it has the most positive user reviews on the company site, it failed to impress me. It did taste like peach, but it wasn't that full, juicy flavor I was expecting, but more like canned peaches with a diluted flavor. It's not bad, but I've had better.
Tobacco Royale – The name alone got my taste buds all excited, but again, it didn't proved to be the tasty tobacco flavor I was expecting. The Tobacco Royale, like the Special Blend Tobacco, had its base tobacco taste muted by added flavorings, in this case hazelnuts and almonds. The combination might sound interesting, but the nutty notes are so strong, you barely get a hint of tobacco when vaping it. It's a shame that both tobacco juices I received proved to be something completely different than what I expected. They are indeed unique flavors, but they have little to to with tobacco, in my humble opinion.
Mango Lassi – Who knew mango and yogurt went so well together? I sure didn't but if this Mango Lassi e-liquid is any proof, they were meant for each other. Fruity and creamy at the same time, this Liquiting e-liquid is positively delicious. I'm a huge, huge fan of mango so I may be a bit subjective, but I highly recommend you give it a try. If there's one negative thing I could point out about this particular juice is that the throat hit is noticeably weaker than the others, for some reason. Maybe its the yogurt…
Apple Pie – Just like grandma used to make. Ok, maybe not that good, but this was definitely one of the tastiest Liquitine juices I tried. It's got a very strong apple flavor, but you can also taste the discrete cinnamon and crust undertones. There are lots of apple flavors to choose from these days, but you'll have a tough time finding one as tasty and complex as Firebrand's.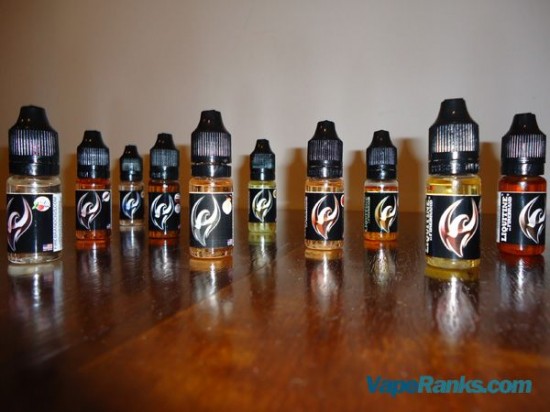 As you cans see, I enjoyed most Liquitine flavors, others not so much, but overall I would have to recommend their line as high quality. Their experiments might not all be as successful as they would have liked, but they have come up with a few delicious concoctions (MRX and Apple Pie especially). So if you're looking to try some new juices, make sure you keep Firebrand Liquitine in mind.