Jam Monster E-Liquid Review
Jam Monster is one of the most popular e-liquid lines on the market these days. People just can't stop talking about it, virtually every vape shop is carrying at least one of their three flavors, so I've been wanting to get my hands on this stuff for a while. Luckily, the guys at Vapor4Life recently offered to send me the entire line for review, so I was able to vape these juices for about a week, to really get a good idea about what makes them so darn popular.
Before we talk about the actual juice, I do want to mention a few details about packaging, because Fresh Juice Company, the guys behind the Juice Monster brand, are doing things a bit differently. First of all, they are only offering this juice in 100 ml gorilla bottles, which come in large, artistically-designed cardboard boxes. They all look really good, and if I were a new vaper trying to pick out some juice, I'd probably go for Jam Monster just because their packaging is so appealing. Just check out the pics I posted throughout this review and you'll get an idea of what I'm saying.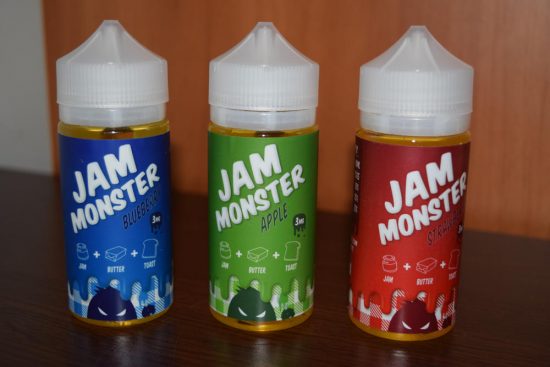 The boxes feature all the necessary info, like nicotine strength, PG/VG ratio, as well as the legally required warnings, but they also have these nice pictograms, a cartoony monster creeping up at the base of the box, and even a cute rhyme about the Jam Monster. Marketing-wise, this is definitely one of the nicer packaging designs I've ever seen, and judging by the popularity of the line, it seems to be paying off.
But the most impressive thing about the Jam Monster juice boxes is that they come with a nice bonus. Ever box contains a 100 ml bottle of juice, as well as a bag of Cotton Bacon cotton bits, which you can never have enough if you're an RDA user. The way I see it, this is the company's way of saying "thank you" for choosing their product, but also a subtle suggestion that their juice is best vaped in an RDA, something I would most definitely agree with. So just keep that in mind, Jam Monster, like most other juices for that matter, tastes best in a high quality RDA with some premium cotton, which they are happy to supply.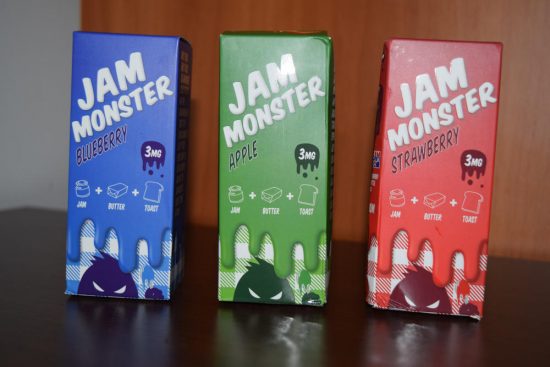 One thing to note about these large gorilla bottle is that they are kind of tough to open the first time, because of the plastic seals. You really have to put a lot of effort into it, but if you can't manage it, you can also just cut those seals with a knife or something sharp. What I like about them is that have a very thin unicorn tup that can fit into the tiniest of fill ports, so you don't have to worry about spilling.
Now for the juice, it comes in three flavors – Strawberry, Blueberry and Apple – and three nicotine strengths, 0, 3 and 6 mg/ml. All three flavors come in the same VG/PG ratio (75VG/25PG), and I only recommend you vape them in sub ohm tanks or RDAs, as they are pretty thick. All of them are clear juices, and even though they are on the sweet side, they don't seem to kill coils as fast as other darker color juices I've vaped.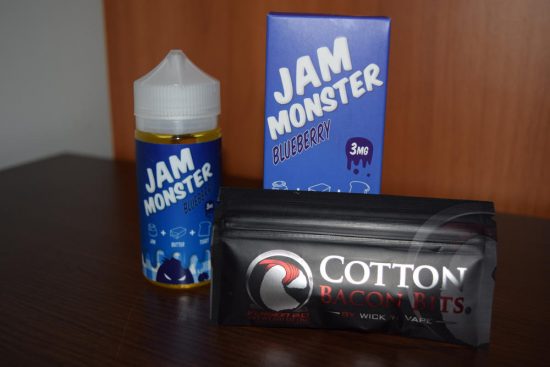 Let's check out the flavors:
Jam Monster Strawberry – The name pretty much says it all, right? Well, not really, because Jam Monster isn't only about the jam, it strives to offer he full breakfast experience. This juice is supposed to be a combination of strawberry jam and butter, with a hint of toast. That sounds positively delicious, and after haring enjoyed ""Just Jam on Toast", an English e-liquid with the same flavor profile, I was dying to try this one. It was completely different, but that's not necessarily a bad thing.
I blame the huge difference in flavor on the fact that UK or European jam in general is pretty different than American jam. It sounds a bit weird, but they're actually very different things. I for one would categorize American jam as a jelly, in terms of taste and consistency, whereas European jams are more realistic tasting. I just didn't get that familiar jam vibe from Jam Monster Strawberry. Instead, it had more of a sweet strawberry filling taste to it, with a buttery undertone, which was nice too.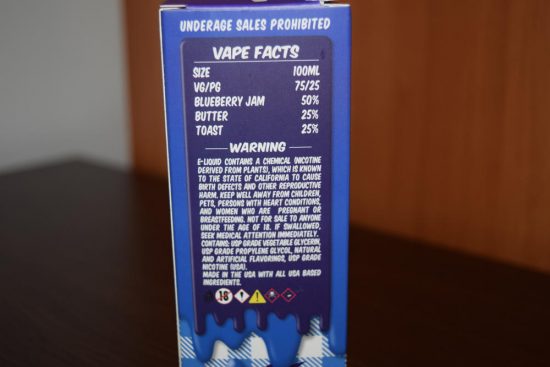 This stuff is on the sweet side, but I found it to be the least sweet of the three Jam Monster flavors, which makes it the most suitable as an all day vape.
I didn't get any toast while vaping this, which was a little disappointing, and that applies to all three flavors. They all should have a hint of toast, but it's apparently so subtle that I missed it completely.
Jam Monster Blueberry – This one is very similar to the strawberry Jam Monster, only it' s supposed to be blueberry jam. For some reason, this tasted a little more like an actual jam, especially right after topping off my RDA with juice. The first few hits, when the coils are dripping with juice are pretty darn amazing, but the blueberry jam flavor starts to die off after that, and the butter gets a bit stronger. I think they may have overdone it with the butter on this one. Maybe its's just me, but sometimes the vapor just feels a bit greasy in my mouth, for some reason.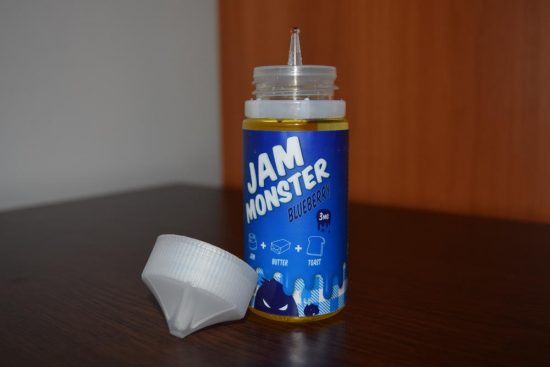 I definitely liked Blueberry Jam Monster more than the strawberry flavor, simply because it had a more authentic blueberry jam flavor – at least the jam I'm used to – but i with they'd just kept it fruity and held back on the butter flavoring. It's still one of the better blueberry I've ever tasted, though.
Jam Monster Apple – The latest flavor released by Fresh Juice Company, this apple jam e-liquid also appears to be the most polarizing of the bunch. Judging by the user reviews I've read online, some people love it for its apple butter flavor, while others just hate it for its "earthy" taste. The reviews are pretty much split, so I was really curious to try this stuff.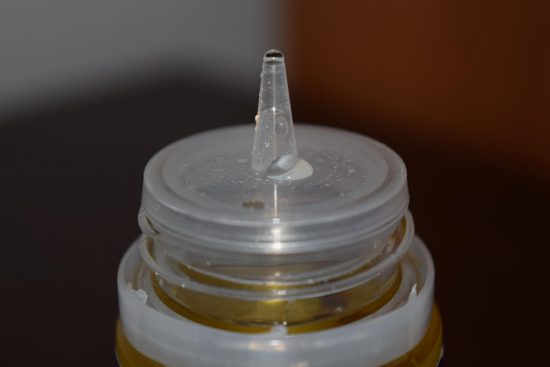 I love it! It's definitely different from other apple e-liquids I've tried, like Liquid State Apple Butter or Vaporfi Grandma's Dutch Apple Pie, but in a good way. Don't get me wrong, I loved those two apple flavors too, but there's just something about this juice that makes it stand out. Maybe it does have an earthy taste to it, but it's not something I would complain about. On the contrary, I applaud the mixologists for it, as it gives the e-liquid a more natural flavor.
Apple was undoubtedly my favorite of the three Jam Monster flavors, so if you're looking for a sweet, but naturally-tasting apple jam vape, I highly recommend giving this stuff a try.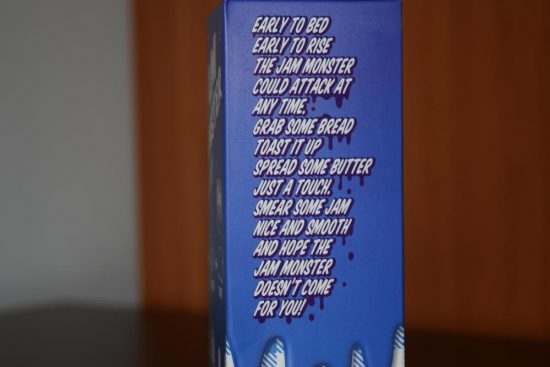 Before wrapping up, I want to mention that the throat hit on these Jam Monster flavors is on the soft side. I vaped them all in 3mg/ml nicotine strength and I barely felt any throat hit. And keep in mind I vaped them in the GeekVape Peerless RDA and the Medusa Reborn. If you plan on using a tank, the throat hit is probably going to be even weaker. I'd recommend the 6mg/ml strength, but that might be a bit too much.
Overall, Jam Monster juice is pretty good, especially at the price of $29.99 per 100 ml, but considering the hype surrounding this brand online, I was expecting something more, especially from the hugely popular strawberry jam flavor. However, the apple jam was a pleasant surprise, so overall, I would definitely say go for it, if you're into sweet, fruity vapes.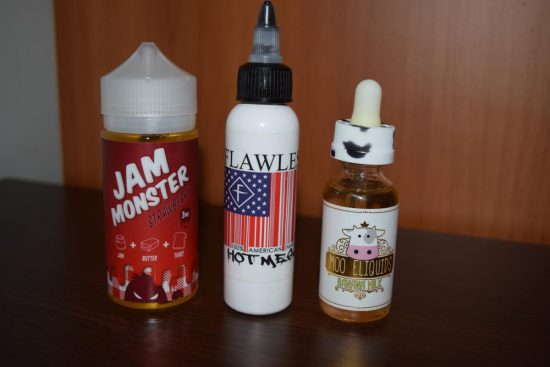 The Jam Monster e-liquid line was provided to me by Vapor4Life for the purpose of this review.