Joyetech Espion Silk Review
The new Joyetech Espion Silk seems like the perfect solution for vapers looking to transition to advanced vaping setups. It's relatively cheap to buy and promises to save you a lot of money thanks to the included Notch Coils, but at the same time features most of the features you find on most advanced vape mods these days. It does have some particularities that some people may not be very happy about – like the plastic body – but as a whole, the Joyetech Silk is definitely interesting.
A Look at the Contents
The Joyetech Silk isn't a particularly large device, but it comes in one of the largest cardboard boxes I have ever seen. On the front of the box we have a picture of the mod and NotchCore tank in the color variant you opted for, on the front, and a list of contents, some technical specifications, company information, and a scratch and check authenticity sticker on the back.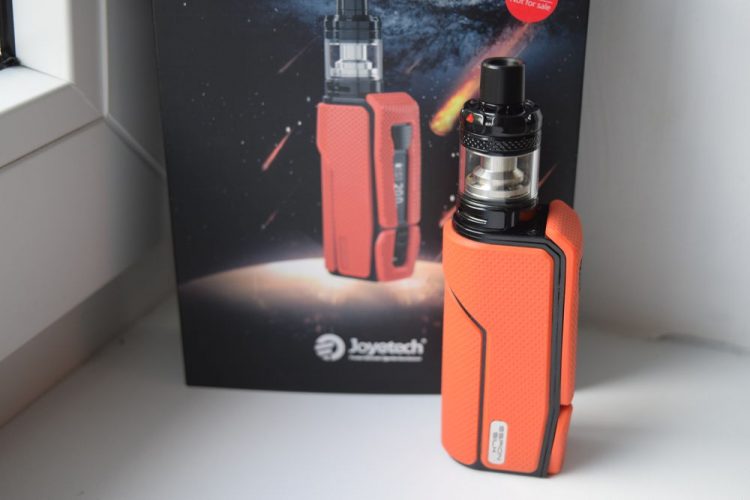 Inside the box, we have a lot of wasted space, as all the included items could have definitely been packaged in a smaller package. I'm sure most people don't even care about this, but I think Joyetech could have used a box have this size and still included everything.
Anyway, we have the Joyetech Silk mod, the NotchCore sub-ohm tank, a large box containing the micro-USB cable for charging and firmware upgrading and a spare glass section for the tank. We also get a box of not one, not two, but a whopping five spare Notch coils, which also come with the added benefit of being reusable coils. This is a huge pro, and, depending on how well this kit sells, it may also be a game changer.
The kit also contains a user manual, warranty, and an instruction card for using the Notch coils.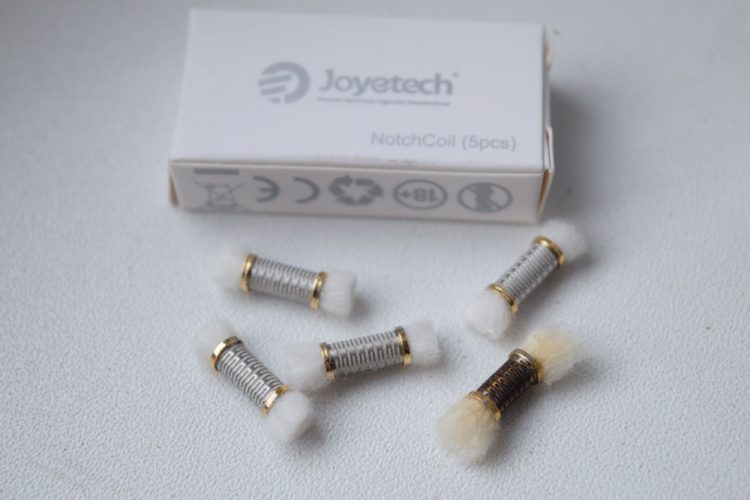 Design and Build Quality
The Joyetech Espion Silk vape mod measures 80mm x 40mm x 29.5mm and comes in three different color combinations. It's also one of the lightest vape mods I have ever used, which is due to the fact that it's made primarily of plastic with some hard rubber padding that is supposed to be both hypoallergenic and act as a cushion in case of accidents.
I for one am a bit disappointed about the plastic body of the Espion SIlk. Yes, it does lower the weight of the mod quite a bit, making it very portable, but at the same time, it does give it a cheap feel that I'm sure experienced vapers will be disappointed by. There's also the risk of dropping it straight on the bottom, where it doesn't have any of that rubberized padding, and the plastic cracking. I haven't had any issues with it, personally, but I'm just not liking the light, cheap feel at all.
We have a classic 510 connection on the top, which features a gold-plated, spring-loaded pin. It looks solid enough, even though it's the only visible metallic component on this mod, but only takes atomizers up to 25mm in diameter without any overhang. Anything larger than that won't look optimal.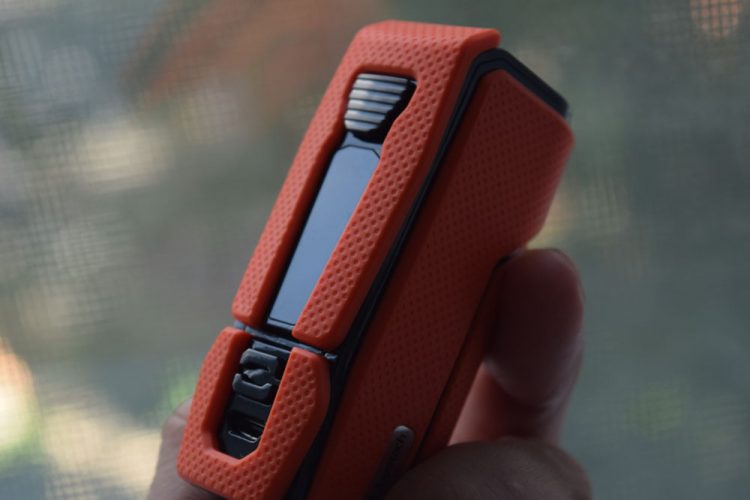 The fire button and the '-' and '+' buttons are all made of hard plastic, but they're all very clicky and responsive, and actually match the general look of the mod. The display is located between the fire button and the adjustment buttons, and it's really not the most impressive one I've seen, quite the opposite. It's small, black and white, and frankly outdated in every way. Yes, it works, if you're looking for the bare minimum, but there are so much better options available nowadays.
The Joyetech Espion Silk doesn't have a battery door, because it actually features a non-removable 2,800mAh battery. It doesn't sound like a lot, and if you plan on using it at the max power output of 80W, you'll probably have to recharge it at least once a day, but that's not how it's designed to be used. The Notch coils of the included tank are rated at 0.45Ω and Joyetech recommends
The rubber padding is definitely original – at least I haven't seen anything quite like it – and it does improve your grip quite a bit, but I don't really get the hypoallergenic qualities. I didn't even know there was a need for something like that in the world of vape mods, but maybe I've just been living under a rock. Ultimately, it's a matter of taste, I guess, you either like it or you don't, but it's important to note that it does have some practical benefits.
Menu System and Navigation
The Joyetech Espion Silk doesn't have the most complex menu system of any advanced vape mods I've tested, but it's definitely a step forward from pod systems or other all-in-one type devices like the eGo AIO, for example.
To turn the mod on/off, all you have to do is press the fire button 5 times in rapid succession. The home screen has a classic layout, with the wattage.temperature on the left, subparameters like coil resistance, puff counter or voltage in the center of the screen, and a battery icon on the left.
To access the operating mode menu, simply press the fire button three times. Here, you will be able to choose from several available modes – Wattage, Temperature Control for three supported materials (stainless steel, titanium and nickel), Bypass (power pulled straight from the battery, and three customizable Memory modes.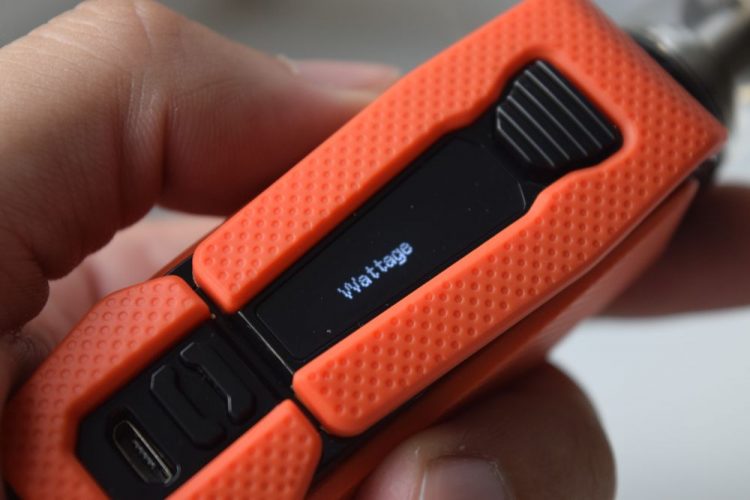 There is also a secondary menu that you can access by holding the fire button and the '+' button pressed for a couple of seconds. Here, you will be presented with a list of icons, each representing a different submenu or feature. The first icon lets you select what subparameter you want displayed on the home screen (puff counter, puff timer or voltage), the second lets you switch stealth mode on/off, the third is a pre-heat option which lets you set the power output and the duration of the pre-heat, the forth lets you set the mod's cutoff time, and the last two icons let you check the versions of your current hardware and software, as well as the voltage of the built-in battery.
Except for the pre-heat option, all the other features in the secondary menu are just that, secondary. You will be able to use the mod just fine without even checking this menu, but if you're curious about it, check it out, there's nothing you can do to screw up. And if you somehow manage to do that, the Espion Silk has a small Reset button on the bottom which will return the mod to its factory settings.
The Tank
Normally with this kind of starter kits, the tank takes a back seat. It's just an atomizer that's thrown in with the vape mod for convenience, but it's almost never the star of the show. But the Espion Silk kit is different. It might be named after the mod, but it's the NotchCore tank that really makes it special.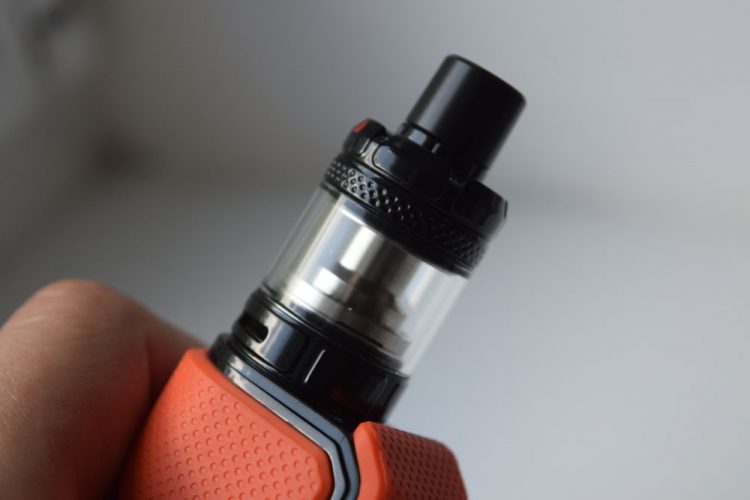 At first glance, the NotchCore looks like your usual 22mm sub-ohm tank. It comes with a classic 510 drip tip, top fill-port featuring a ball bearing that allows you to push the top cap outward to reveal the fill hole, as well as adjustable airflow control.
But it's on the inside that this tank shines, particularly its nifty build-deck. In a sense, this tank is like an RTA, because the Joyetech Notch coils actually look and work a lot like the coils so many of us roll out of various wires. Only they are not rolled, but rather laser cut out of a thin tubular piece of metal. The result is reminiscent of those mesh coils that are becoming so popular today.
Notch coils come pre-wicked, but what's really great about them is that they can be re-wicked. Let's say you've been vaping for about two-three wicks and the cotton is all gunked up. All you have to do is remove the strip of cotton, put the Notch coil back in the deck by itself and fire it up to burn all the juice buildup and then rewick it and use it again. Now that's a huge step forward from disposable coil-heads, and one that can save vapers a lot of money.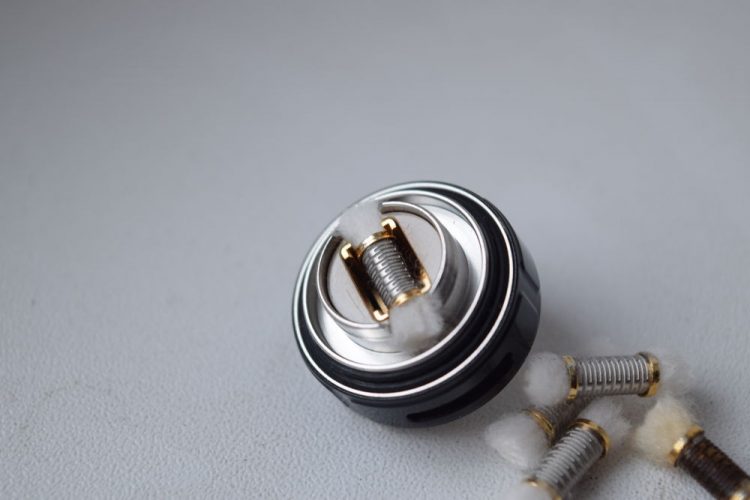 You will have to change the Notch coil eventually, but even if you get to use one twice or three times is already a lot better than just throwing them away because the cotton is all gunked-up. Plus, you get a box of 5 Notch coils with the kit, which should last you a few months, which is another big pro.
Installing and removing the Notch coils from the deck of the NotchCore tank is very easy to do, but I recommend using some tweezers for optimal results. The spring like coils can bend, so you want to make sure they are installed properly and that no part of them touches the insulator around the base, as that will cause it to melt.
The only potential downside to this tank is that it only holds 2.5ml of e-liquid. It's not a lot, but if you consider that the 0.45Ω  Notch coils have a recommended wattage range of 20W – 30W, one full tank can last you a whole day.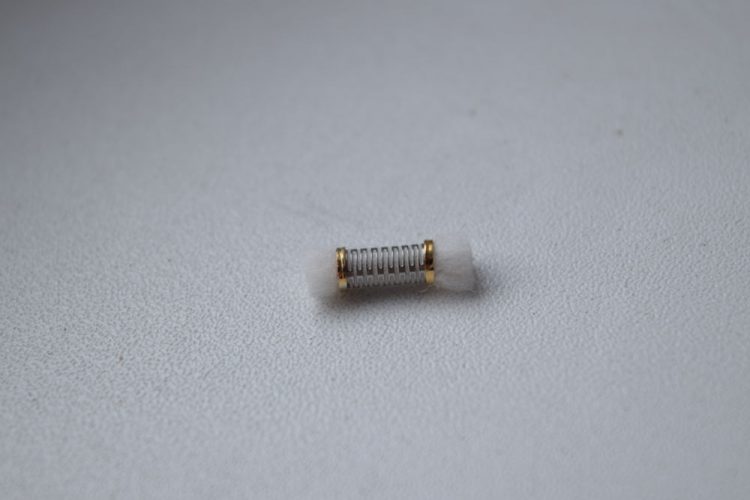 Battery Life and Overall Performance
2,800mAh may not sound very impressive, but it's actually on par, if not slightly better than what you get out of single-battery vape mods, like the Joyetech Espion Solo, for example. And the Silk is actually smaller and considerably lighter than Joyetech's previous entry in the Espion series, so this battery capacity is decent enough.
Now, as far as how long this battery life will last you, it all depends on how you use it. If you plan on using  it with the NotchCore tank -which would make sense since you're buying them as a kit – it will last likely you a whole day without requiring any charging, but if you want to use it with other atomizers, at higher wattages, you will need to think about getting a backup mod, or at least charging the Espion Silk on the go.
Luckily, the Joyetech Espion Silk features passthrough technology, meaning you can use it while it is charging, as well as fast 2A charging, which means the depleted battery should take about an hour to fully charge.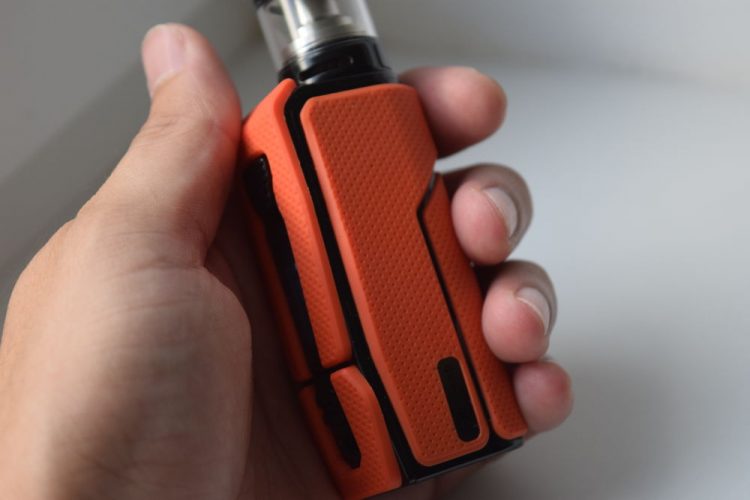 Regarding performance, the mod has been performing pretty good. It's not as fast firing as other advanced mods I've tested recently, and the power doesn't really ramp up as fast either – although the pre-heat option can make quite a difference – but for a mid-range vape mod with a really attractive price tag, I really can't complain to much. Most vapers aren't even going to notice these differences, and they probably don't care about them anyway.
The NotchCore tank is prone to spit-back, but you can prevent it by making sure that you don't over do it when priming the cotton for your first vape. If any juice drips from the coil onto the deck, it may by find its way through the chimney and into your mouth. Also, when rewicking the Notch coils, make sure that the cotton leads prevent juice from the tank flooding the atomization chamber.
Vapor production is not what you would call stellar, but that's to be expected from an atomizer that uses 0.45Ω coils. You're not going to win cloudchasing competition with the NotchCore tank, but vapor production is definitely satisfying for the vast majority of vapers, especially those coming from rudimentary devices, like pod systems.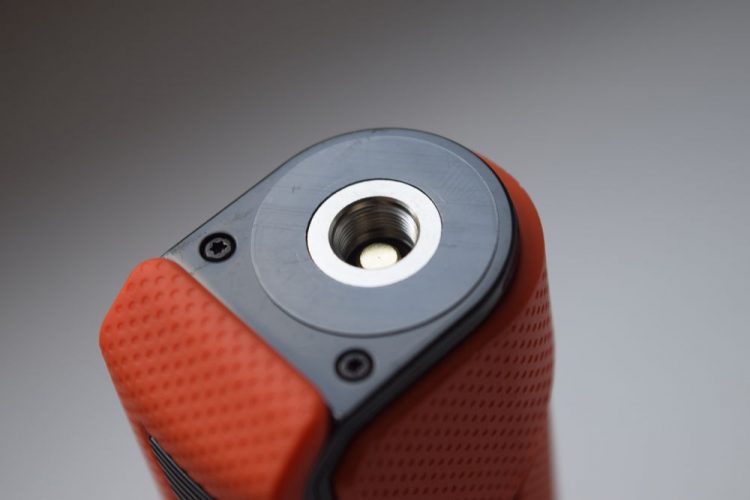 Flavor is surprisingly good for a tank, which I'm guessing has to do a lot with the fact that Notch coils, like mesh coils, come in contact with the wicking over a large surface. Whether that is enhancing the flavor, or there's another factor I haven't identified, the fact remains that the NotchCore actually delivers in the flavor department.
Conclusion
The Joyetech Espion Silk turned out to be quite a surprising little kit. At first, I was disappointed by the built-in battery and plastic body of the mod, but then I realized that this device had quite a few things going for it, from the unconventional design, to the re-usable coils. I would rate its performance as average, both in the vapor production and flavor intensity, bu that's comparing it with the best vaping setups I've ever used. However, in its price range and for the market it is aimed at, this is a very solid kit.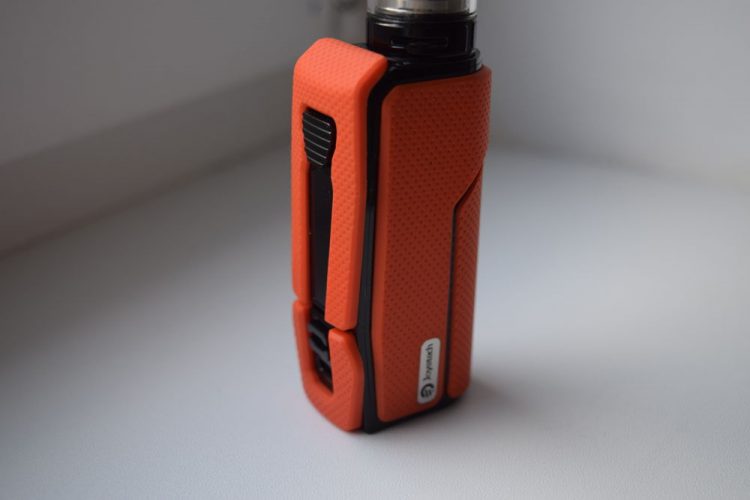 The Joyetech Espion Silk was sent to me for the purpose of this review by Vapesourcing. They currently have it in stock for the price of $74.26. It may not seem like the cheapest kit, but just remember that you're getting no less than five reusable Notch coils. That alone will save you a lot of money in the long run.
Pros
lightweight and compact
5 included Notch coils
re-usable coils
hypoallergenic
good performance
firmware upgradable
Cons
plastic body (cheap feel)
outdated display