Joyetech Espion Kit Review
The Joyetech Espion is being marketed as an elegant dual-18650 box mod, but don't let its small size and classy look fool you, as this little guy has quite a lot of power under the hood. With a max power output of 200W and a centered 510 connection able to accommodate atomizers up to 27mm in diameter with no overhang, the Espion is suitable for extreme sub-ohm vaping, it just doesn't like to show it. Think of it as a beast in disguise.
A Look at the Content
The Joyetech Espion kit comes in the classic Joyetech packaging – a white cardboard box with a picture of the device on the front, and a list of contents and company information on the back.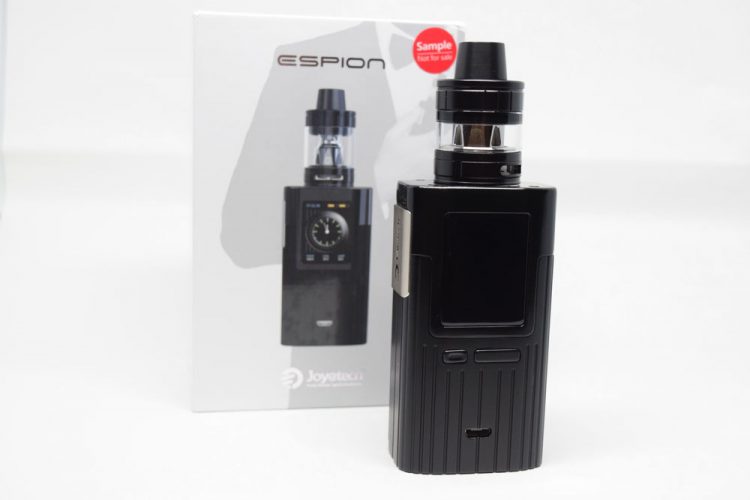 Inside the box, we have the 200W Espion mod sitting snug in a Styrofoam holder, and a smaller box containing the new Joyetech Procore X tank, a micro-USB cable for charging and firmware upgrades, a user manual, a larger glass tube and a metal extension adapter for the tank, some spare o-rings, an extra coil-head, and an informative card about the various compatible Joyetech coil-heads.
This is pretty much an all-in-one kit, so all you need to start vaping is some e-liquid. I for one was particularly pleased to see the extra glass tube which increases the capacity of the Procore X from 2ml to 4ml.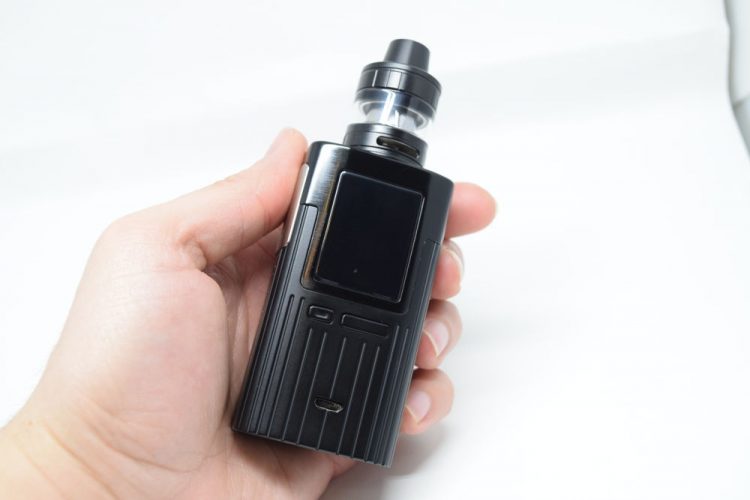 Design and Build Quality
Measuring just 43mm x 28mm x 82.5 mm, the Joyetech Espion mod is one of the smallest dual-18650 devices I've ever used. It's slightly shorter than a SMOK Alien, so pretty darn small, making it a very good option for vapers with small hands, myself included. At around 238 grams with two 18650 batteries inserted, it's also a bit lighter than most mods in its category.
But, as I mentioned in the opening paragraph, the elegant look and small size of the Espion can be deceiving. Thanks to a centered 510 connection, this mod can be paired with tanks and RDAs up to 27mm in diameter without any overhang, which can't be said about the Alien or many other larger dual-18650 vaping devices. I for one am glad to see companies changing the placement of their connections, as it essentially makes overhang a non-issue, at least in most cases.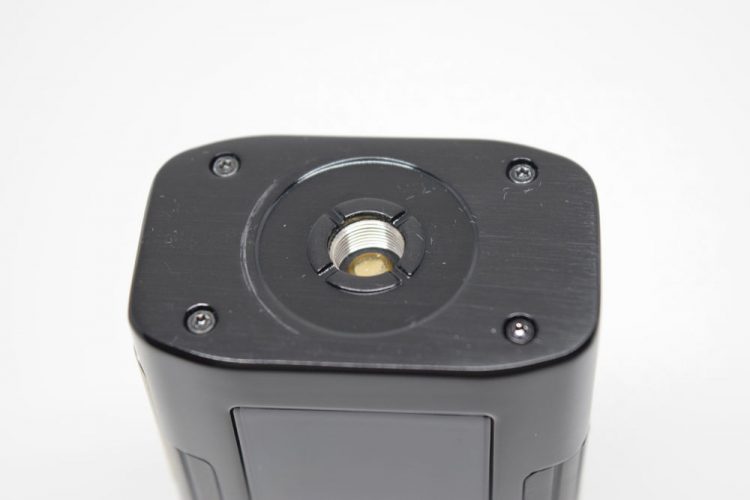 The connection is buried under the metal body of the mod, so there's no chance of it coming loose, even if you pull on your atomizer like a madman, which I don't recommend you do anyway. It has a spring-loaded, gold-plated pin and a lot of travel, so you can expect most attys to sit perfectly flush.
With the Espion, Joyetech jumped on the colored display bandwagon, equipping its newest mod with a 1.45-inch TFT colored screen. It's not as impressive looking as other colored displays we've seen recently, like that of the Smoant Cylon or Wismec Ravage230, but it's definitely an improvement over the generic black-and-white screens of old. The size of the display is more than decent for this mod, but I just wish the resolution was a bit higher and the colors more vibrant. Some of the details, like the two battery icons and the hands of the analog clock are pixelated, and some of the colors look bland. I think that may be due to the tinted protective screen.
The battery door on the bottom of the device is very easy to open and close and feels rock solid when locked. It's a classic hinged battery door with vent holes for each of the two batteries, and pops up whenever you slide it outwards. After you're done changing the batteries, you just press down on it, slide it inwards and it locks into place. It's a simple and very effective system. The mod has battery polarity indicators on both the inside of the battery door and the bottom of each battery compartment, so it's virtually impossible to put the batteries in the wrong way. Even if you do, though, the Espion has reverse battery protection, so it won't turn on.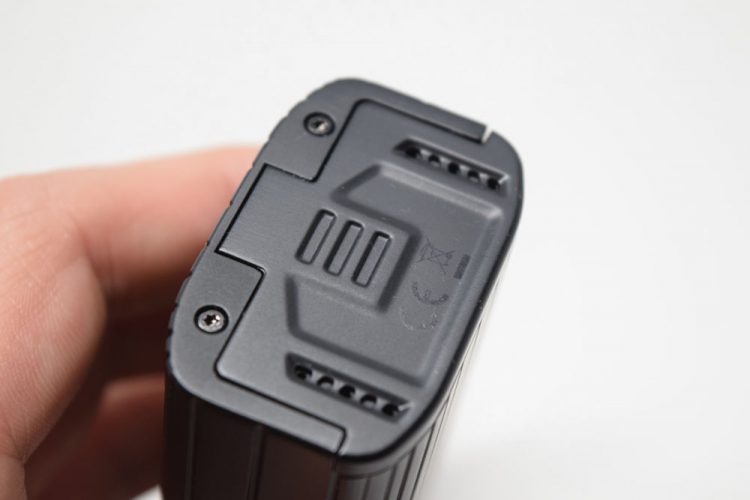 The button configuration on the Espion is a bit different than what we've seen from Joyetech in the past. The fire button on the side of the mod is basically a large stainless steel plate with the Joyetech logo etched into it, and we also have two more buttons under the display. The larger one is a '+' and '-' rocker, and the smaller one is the selection button. It's somewhat similar to the system on the Wismec Ravager230, only instead of a small 'back' button, we have a selection button. In the menu, you use this small button to select the various option, and the fire button becomes the 'back' button.
Overall, the mod seems very solid. The zinc alloy body is very well machined – mine had absolutely no visible flaws – there's no button rattle whatsoever, and despite being lightweight, it has a quality feel. One thing I'm worried about is the paint finish. It's been holding up very well so far, but I've only had it for about two weeks, so I can't really say how it will hold up in the long-run. It reminds me of the old SMOK Alien, though, and we all know that used to peel off after a while. Hopefully that won't be the case with the Espion.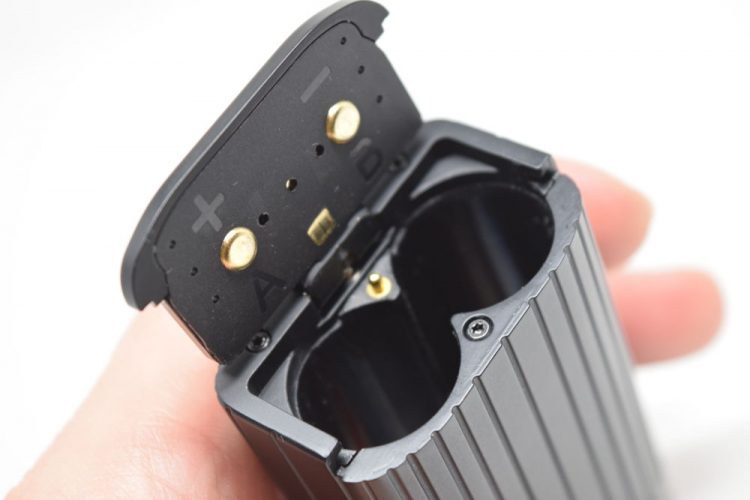 Normally, the design is the first thing I talk about, but this time, I just couldn't decide what to say about it. I can understand how some people could consider the Espion as elegant, but it's really not my type of mod.The first thing that comes to mind when I look at it is my old Nokia phone. It was a sturdy little thing, had great battery life too, but it looked boring, and I'm afraid the Espion is kind of the same. Again, it's just a subjective opinion, if you like how it looks, my opinion doesn't matter.
Menu System and Navigation
I've never been a big fan of the Joyetech menu and navigation system. I remember complaining about it every time I had to review one of their mods, like the old eGrip 2 or Cuboid 150W, but with the addition of the new selection button, things have gotten much better.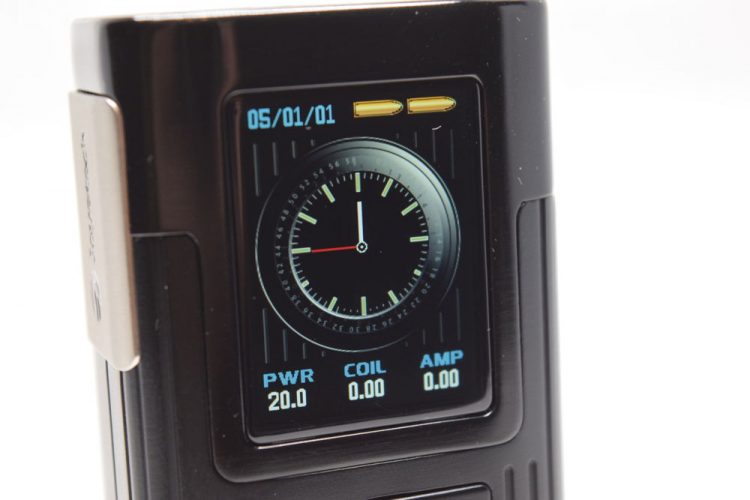 Gone are the days when you had to memorize a series of button presses in a precise order in order to change the settings, only to have to start over if you messed a button press along the way. With the addition of that little selection button under the display, everything is so much easier. All you have to remember is that this time around the fire button is used a 'back' button, and you should be good.
To access the menu, you have to press the fire button three times in rapid succession.  You are then presented with four icons on screen, each representing a sub-menu. In 'Mode' you can set the mode you want the device to operate in (power mode, temp.control for stainless steel, nickel and titanium, as well as three TCR memory modes). There is also a RTC option, which basically lets you choose from two home-screen layouts.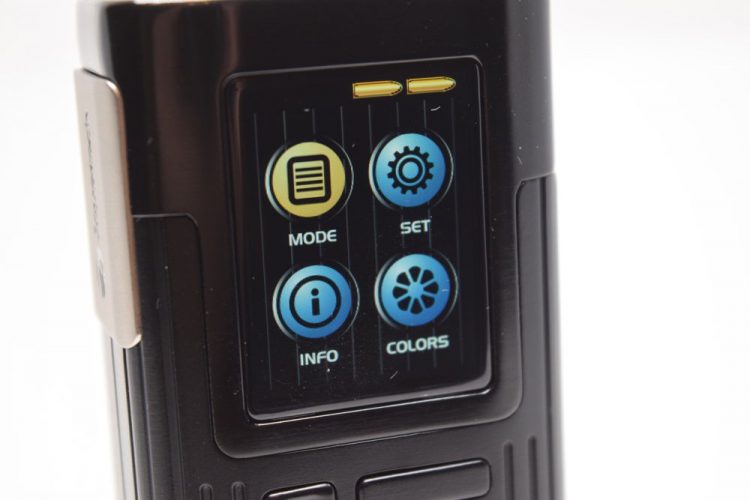 In the 'Set' sub-menu, you can lock and unlock your resistance, set the wattage for temp-control mode, select what sub-parameters are shown on the home-screen (amperage, puff time or puff counter), set your preferred pre-heat power and duration, set the time and date, and select your preferred cutoff time (5s, 10s, or 15 seconds).
In 'Info', you can check the voltage of the two batteries, as well as the hardware and firmware versions.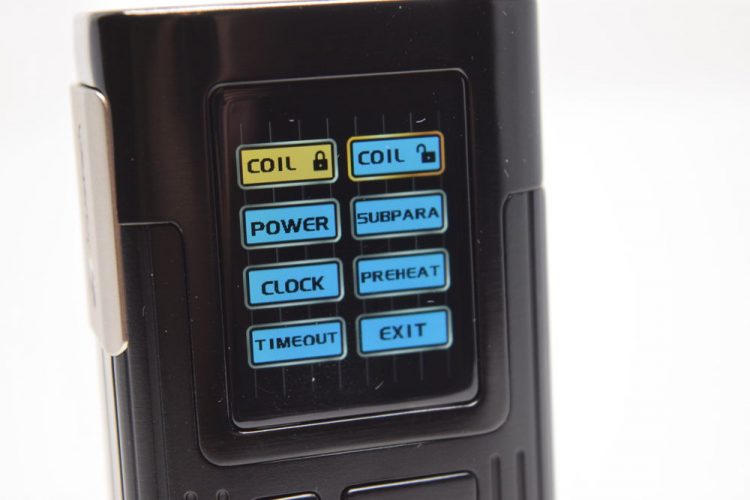 Finally, in 'Colors', you can select the background color of the home screen, but the options you can choose from are so bland and uninspired that you can hardly notice any difference between them. Joyetech could have done a much better job with this, and even though it doesn't affect the performance of the Espion mod, it still feels like a missed opportunity.
That's about all there is to the menu. I would have liked to see a "curves" option, where you could customize your vape in 1-2 second increments, but I guess Joyetech didn't think it was that important. I would have to disagree, especially since most of its serious competitors have implemented curves mode in all their advanced mods.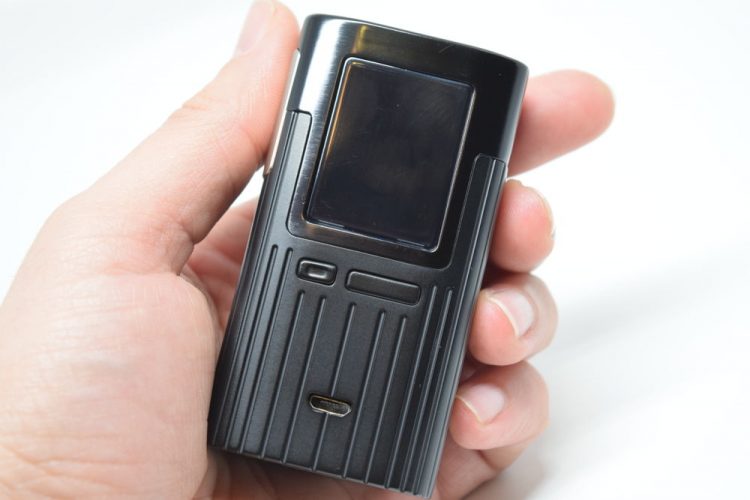 However, I do have to give the Chinese company props for coming up with a simpler, more user-friendly navigation menu, and I for one hope they stick to it from now on.
Battery Life and Performance
The Joyetech Espion is powered by two 18650 batteries running in series. Battery life depends on a series of factors, such as the battery capacity, power output and how much you vape, so it's virtually impossible for me to offer a fair estimate. I can tell you that I've been using it with a couple of LG HG2 3,000 mAh batteries, at around 55W, and I've gotten a whole day's use out of them. That's actually a bit better than average for me, as with most other mods, I get the "low battery" warning before going to bed. That hasn't happened at all with the Espion, but I don't know if it's just my style of vaping, or if the mod just has a lower voltage threshold before cutting power. All I can tell you is that I am very pleased with the battery life I get using it.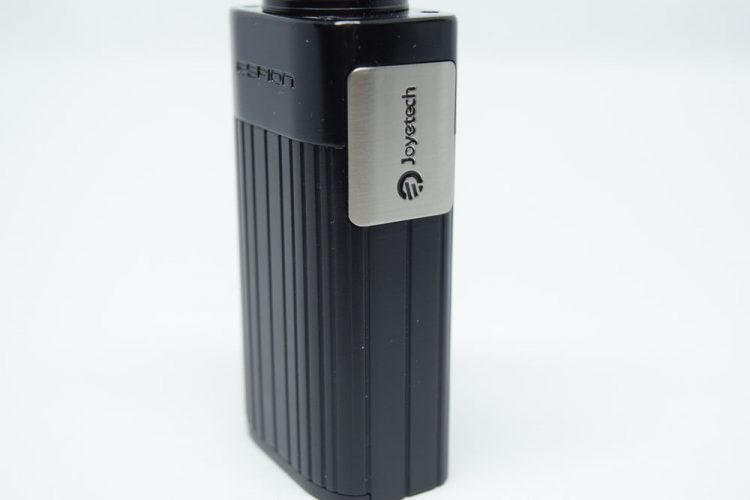 In terms of performance, I've encountered no major issues in the two weeks that I've been using the Joyetech Espion for. I don't know what chip Joyetech used this time around, but it has to be a new model, because it fires instantly. As soon as you press that power button, you can hear the coil in your atomizer start to sizzle.
The power output feels very accurate as well, so even though I don't have the tools or the know-how to properly test this, I don't mind going out on a limb and saying that the Joyetech chip does a very good job or regulating the output. I for one never felt that the mod was underpowered or overpowering, and that's always a good thing.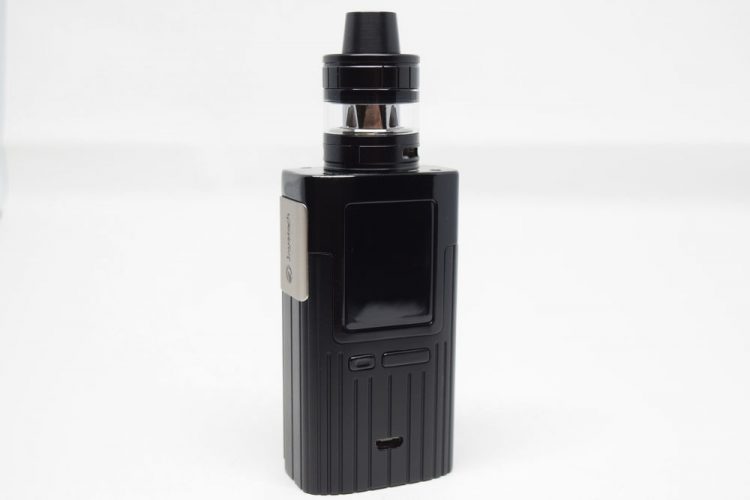 Even though the bottom section of the fire button is a bit harder to press, it's so huge that you can always find a pressable spot with your finger, so I definitely don't see that as an issue.
The only thing I am a bit worried about is how the display is going to hold up. Sometimes, when I press the fire button, I can see a short glitch on the screen, for a fraction of a second, just before the home screen pops up. It's not a big deal, but I just hope that it doesn't get worse over time.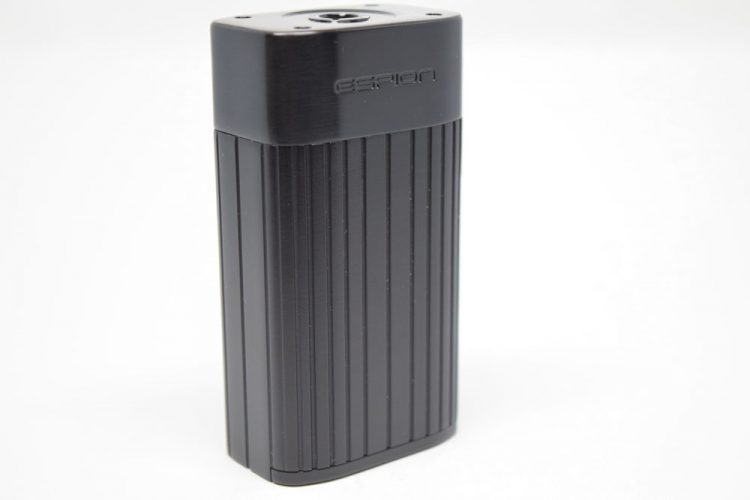 The Tank
As with most of these starter kits, the tank is rarely the start of the show, and in this case, it's no different. Don't get me wrong, the Procore X is a very good atomizer to have in your arsenal, it just doesn't stand out in the sea of other tanks on the market right now.
If you're familiar with the Joyetech Procore tank, this 'X' version is just more of the same. It uses the same ProC style coils, but it's also compatible with SMOK's Big Baby Beast coilheads, as well as other similar style coils from companies like Vaporesso, for example. It also has the same slick top-filling system with the hinged cap that slides out and over the glass tube to reveal the fill ports. The only real difference is that the Procore X also comes with a larger glass tube and an extension adapter that increases e-liquid capacity from 2ml to 4.5ml.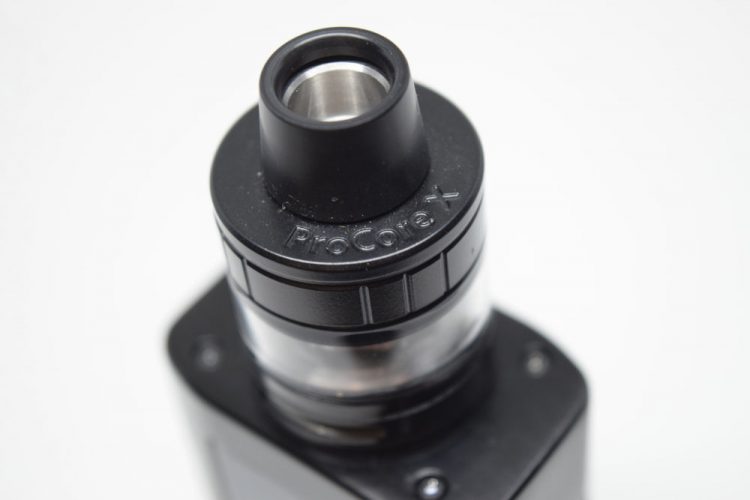 The kit comes with two coilheads, one 0.4Ω ProC1 coilheads, and one 0.25Ω ProC1-S coilhead. The first one offers a bit more restrictive lung hit, I would say it's on the border between mouth to lung and lung inhale, especially if you shut off the airflow on the tank, while the second one is a lot airier, clearly designed for lung inhale. They both worked well, but even if you don't like them, Joyetech offers a variety of coilheads to meet your needs.
So yeah, the tank works great. It's not the best tank I've ever used, there are better options out there, but if you're buying this kit as an all-in-one vaping solution, you'll be glad to have it.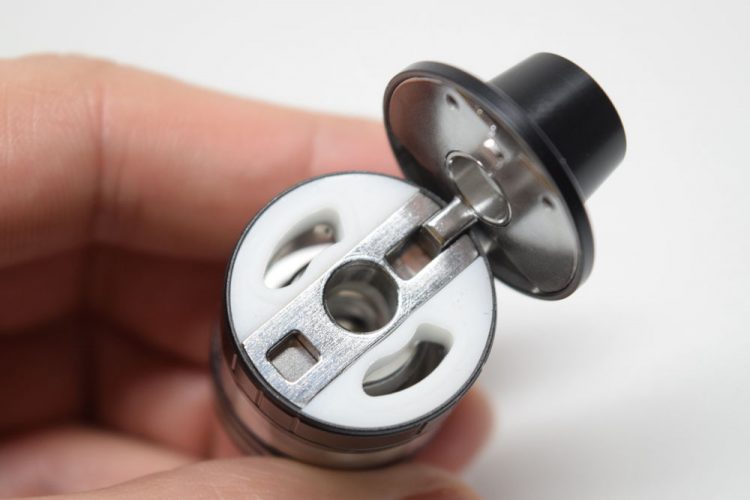 Conclusion
All in all, the Joyetech Espion is an interesting vaping starter kit. I'm not a big fan of the mod's design, I think it looks more like an outdated mobile phone, but taste is subjective, so I'm not going to fault it too much for that. I love the addition of the selection button to make navigation easier, and the central connection is a big plus. Build quality is ok too, as is the performance of the mod, although I would have liked to see a curves mode as an extra customization option. The colored TFT display is a nice touch, but Joyetech has some work to do in this department to catch up to its rivals. It's not bad, but there is definitely room for improvement.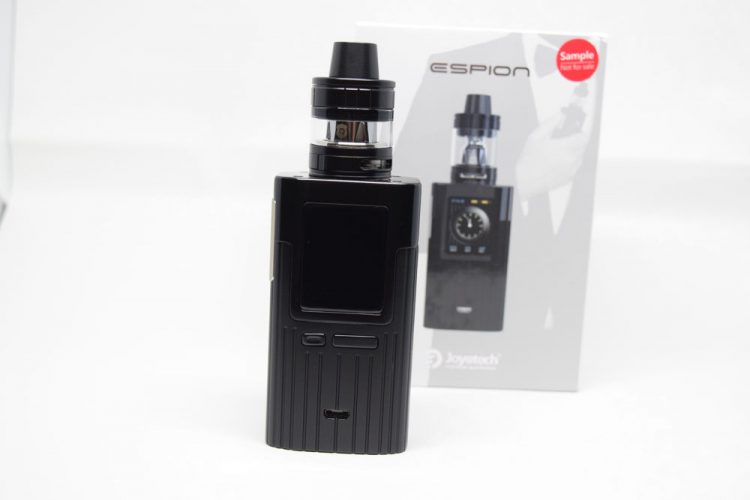 In terms of price, Vapesourcing has the Joyetech Espion on sale for just $43.90, which I think is an insanely good value for money. You're getting a new generation advanced mod and a high-quality sub-ohm tank, so I definitely recommend you check it out if you're looking for an affordable all-in-one kit.
Pros
compact and lightweight
centered 510 connection
colored display
improved menu and navigation
instant firing
very affordable
Cons
Nokia phone design (subjective)
bland display colors