Jvapes Exclusive E-Liquid Review
Jvapes is a popular e-liquid company based in Prescott, Arizona that's been growing steadily over the last three years, establishing a good online presence, while also setting up a small network of physical stores in Arizona, Colorado and Oklahoma. Jvapes sells a variety of vaping products, from mods to replacement coils and batteries, but it is primarily known for its  collection of complex e-liquid flavors. I have been curious about some of them for a really long time, so when I was contacted by Chuck at Jvapes about doing a review of their Exclusive Line, I just jumped at the opportunity.
Even before the recent FDA regulations imposed standards for e-liquids, Jvapes had already gone to great lengths to ensure that their products were of the highest possible quality. The company's mixing lab is AEMSA certified, which means that they only use USP certified nicotine, US food grade flavorings and US Pharmacopeia grade vegetable glycerin and propylene glycol. Their facility also ensures a clean, sanitary and safe mixing environment and allows the precise measurement of nicotine levels.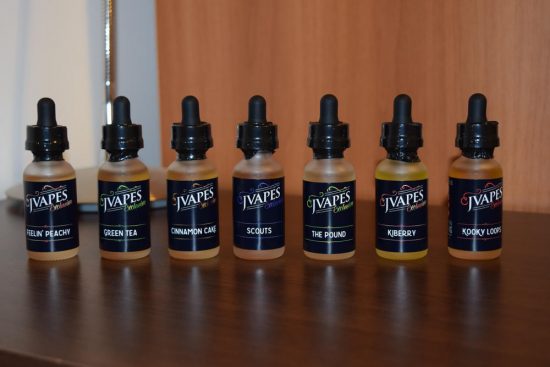 Jvapes also pays great attention to the packaging and labeling of its e-liquids. They come in 30ml or 60ml glass bottles with childproof dropper caps, and have a plastic seal that guarantees they have not been tampered with after leaving the lab. The labels are not the most well designed I've ever seen, but they do contain all the necessary information. Apart from the Jvapes logo, you have the name of the flavor, the ingredients, nicotine concentration, batch number and all the necessary age restriction and health warnings.
One thing I particularly like about the Jvapes juice bottles is that you can actually see the e-liquid inside. With the majority of companies switching to cooler-looking opaque containers, these frosted glass bottle are a breath of fresh air, at least for me.
Before we discuss the Jvapes flavors individually, I just want to mention that I received my samples in 3mg/ml nicotine strength and tested them in three different setups: my SMOK Alien 220W with the Baby Beast tank (0.5Ω stainless steel coil), the SMOK OSUB with a Brit Tank (0.5Ω SS coil) and the iJoy/Limitless Lux with the Nixon RDA (0.2Ω dual Kanthal coil).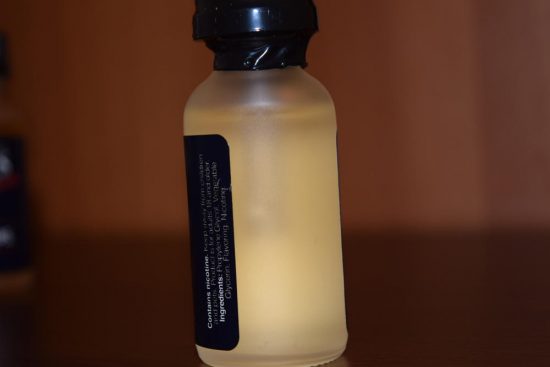 Right, let's get to the chopper flavors:
Scouts: I'm a huge fan of dessert vapes, especially those that taste of caramel or butter cookies, and Scouts has both of them, as well as toasted coconut and a chocolate drizzle. That sounds delicious to me ans this juice actually tastes as good as I expected. The sweet, rich caramel is very strong on the inhale, but you can also taste the delicious cookie as well, and that latter flavor intensifies on the exhale, blending with the toasted coconut to leave you feeling like you just took a bite out of a real cookie.The chocolate is what Jvapes describes it to be, a drizzle, so even though you get hints of it from time to time, it's just there to compliment the other flavors
Scouts may be a bit too sweet for some people, but there's no such thing as too sweet for me, so it's currently my all-day vape. I just love everything about ot, the sweetness, the rich flavors and especially the aftertaste. It lingers in your mouth for a long time and has no nasty chemical notes.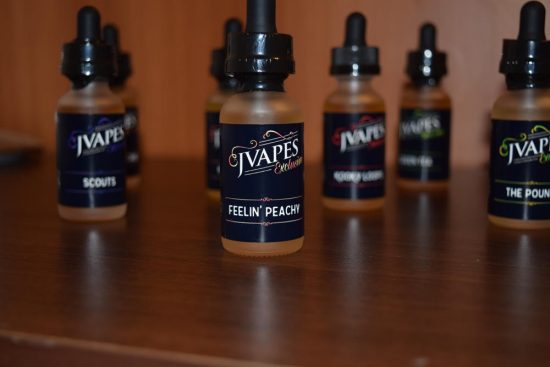 Kiberry: This one is a lot simpler that Scouts in terms of complexity, but as far as fruity vapes goes, it's about as good as it gets, especially if you like kiwi. As the name suggests, Kiberry is a juicy combination of kiwi and strawberry, and it's a really well executed one. Summer may be over, but if you're still craving something cool and refreshing, this will do the trick. The flavors, again, are very rich and surprisingly balanced, which hints at the time these guys spent perfecting the formula. This isn't the first kiwi and strawberry e-liquid I've tried, but in most of them, the citrus overpowered the strawberry to the point where you could barely taste it. That's not the case with Kiberry, as both fruits are very equally strong.
Overall, a great fruity vape, so I recommend you give it a try.
The Pound: This is definitely the weirdest of all seven Jvapes flavors I've tried. I usually take a sniff of the bottles before vaping the juice, but after doing that with The Pound, I didn't really get a clear idea of what it was supposed to be. There was a slight fruity aroma to it, but other than that I was drawing a blank.
The fruitiness turned out to be mango, but even after taking a few draws of The Pound, I still couldn't put my finger on that mysterious taste. I don't like to check out the official flavor profile of an e-liquid before I get a chance to try it, but this time I was really curious. It turns out I had missed a huge hint – the very name of the e-liquid – because that other flavor was pound cake. I guess it makes sense, because that's not a very popular dessert in my neck of the woods.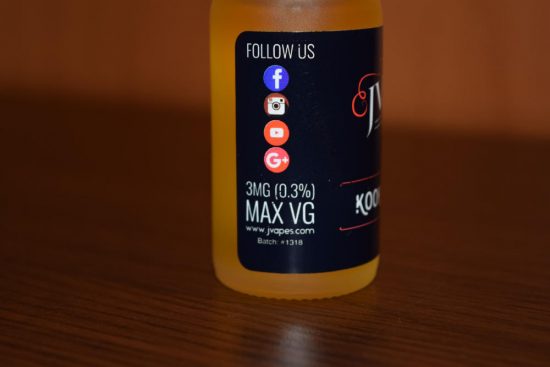 I didn't like The Pound as much as the other flavors, and, to be honest, I don't think it was because of not recognizing the pound cake, but rather because both it and the mango were rather bland. While the previous two juices I reviewed were rich and bold, this was virtually tasteless in comparison.
Cinnamon Cake: Over the last few years, I've had mixed experiences with cinnamon vapes. There were some really good ones, but also some pretty terrible ones, which has led me to believe that cinnamon-based e-liquids are probably the hardest to get just right. It's easy to get carried away and drop just a little bit more of this strong spice than necessary, which most often than not results in the overpowering of all other flavors. Thankfully, that is not the case with Cinnamon Cake.
If you're a fan of spongy, delicate bakery-made cinnamon cake, you simply must give this juice a try. The cake tastes divine and the cinnamon is just strong enough for you to know it's there, but definitely not overpowering. To be perfectly honest, after taking a hit of Cinnamon Cake, I feel like I've just taken a bite of one.
Did I mention it goes great with a cup of coffee?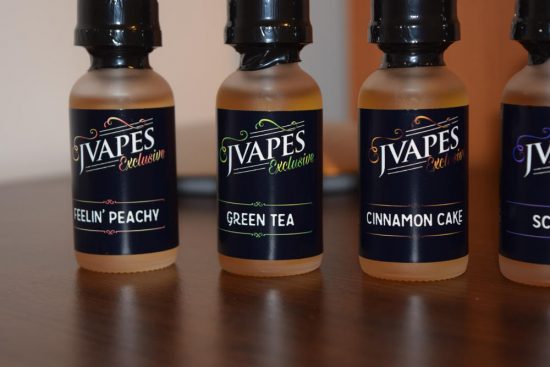 Kooky Loops: I was a bit confused by this one. The juice itself smells like a fruit cocktail with a distinct citrus punch, and vaping it, I got clear candy notes as well, which led me to believe that it was inspired by those fruity jelly beans I used to love as a kid. But after checking the Jvapes website, I noticed a bottle of Kooky Loops with a bowl of fruit cereal in the background. Their description says "Satisfy your craving for a balanced breakfast of a sugarcoated assortment of fruits.  Lemon-lime and fresh berries pair up in a splash of cream to amuse your appetite.
If this juice is supposed to taste like fruit cereal, then it must be a brand that I've never tried, because doesn't taste like that at all. I've tried fruit cereal vapes before, like the awesome Cuttwood Bird Brains, and they have that distinct cereal undertone as well as a clear milky taste. Kooky Loops is not like that at all. It just taste like delicious fruit candy, with blueberry and lime being the strongest notes. So if you're into that, I'd definitely suggest you try it.
Feelin Peachy: Here's how Jvapes describes this juice: "Vanilla yogurt and perfectly ripened peaches are classically layered in this creamy fusion topped with fresh blueberries." That sounds positively delicious, but that's not what I got from vaping it. It's not a bad peach e-liquid, to be honest, but that's all it is, a peach-flavored e-liquid. I got no vanilla, no fresh blueberry and definitely no yogurt taste. I've tried good yogurt vapes before, like The Schwartz line, and this tastes nothing like that.
All I got was a strong, slightly sour peach taste.
Green Tea: Luckily, I didn't have to guess what this flavor was supposed to taste like. It was actually my very first green tea vape, so I didn't really know what to expect. I love green tea, and I drink at least one cup of the stuff every week, but having never tried it in vapor form before, I didn't really have high expectations. Luckily, this Jvapes juice turned out to be a very nice surprise. It actually tastes a lot like honey-sweetened green tea.
The official flavor profile also mentions honeysuckle notes, and while I have never tried in my tea before, this vape does have some strong floral notes, particularly on the inhale, so I guess that must be it. It's not that disgusting "perfumy" taste that ruins a lot of juices, just a discreet floral aroma that compliments the green tea.
It's a great juice, if you like green tea.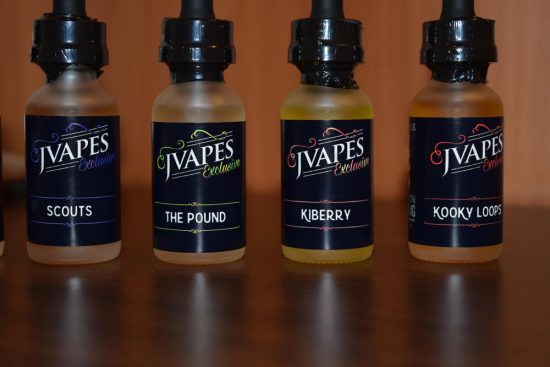 Overall, the Jvapes Exclusive Line turned out to be better that I expected. There were a couple of flavors I didn't find particularly tasty, but most of them were very, very good. And I really have to mention that the price made me appreciate the quality of these e-liquids even more. The 30ml bottles sell for just $16. That's about $4 – $6 bellow the market average for premium e-liquids. With that in mind, I wholeheartedly recommend you give Jvapes a try, especially Cinnamon Cake and Scouts. Those were my favorite.