FIN Disposable E-Cigarette Review
I have probably tried around 50 different brands of electronic cigarettes and e-liquids ever since I started vaping, but only one of them has been a disposable (and that one came as a bonus with a starter kit I ordered). I've always found the battery&cartomizer formula hassle-free and cost-effective, so I never felt the need to try disposables. But I was recently asked to review a couple of disposables and I jumped at the opportunity to share my thoughts about them with you. One of the two brands I got was the FIN disposable e-cigarette, one of the most popular brands in the US.
Formerly known as "Finity", FIN is a family owned and operated American company with an established presence especially in conveniences stores and gas stations across the US. You can find there products online, but they seem to be focusing mostly on the offline market. The FIN website and packaging have a retro theme, reminiscent of the 1930's and 1940's, also known as the golden age of smoking.
The FIN disposable electronic cigarette comes in a small but good looking cardboard box, featuring the FIN logo, the nicotine strength, and the now common "equals nearly 2 packs of cigarettes" claim. On the back, you'll notice FIN makes it very clear the e-cigarette is not a cessation device, to avoid any legal problems, and mentions all the usual nicotine warnings. It also has a list of ingredients which happens to be more detailed than what what I am used to. Apart from the nicotine, propylene glycol and vegetable glycerin,  it adds hard-to-pronounce stuff like "methyl cyclopentenelone" and "acetyl pyrazine". They may sound scary, but they are just two of the most common artificial flavorings. The first is a sweet, caramel-like flavor used in the food, beverage and pharmaceutical industries, while the second is responsible for the nutty notes in popular tobacco e-liquids like 555. They could have just said "flavorings", but they decided to be specific, which in my book qualifies as commendable. Inside the box you'll the e-cig sealed in a "reusable plastic tube" that keeps the e-liquid from evaporating.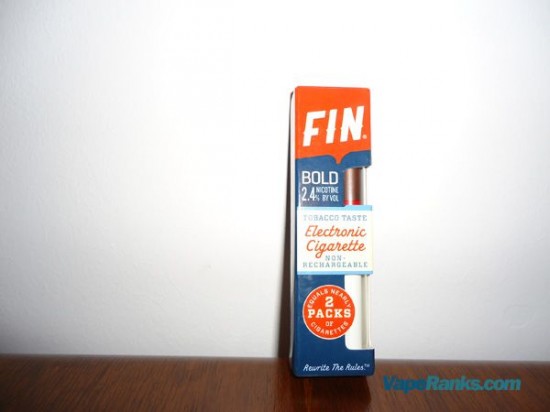 The e-cig itself is only slightly longer and heavier than a tobacco cigarette, which is sure to make fresh ex-smokers more comfortable. The battery, cartomizer and LED tip are all built in a cardboard tube, so they can't be replaced, but other than that the e-cigarette looks like a rechargeable cigalike.
Battery life on the FIN disposable e-cig is nothing to write home about, but it's pretty decent considering its size. That claim about it being the equivalent of almost two packs of conventional cigarettes is a slight exaggeration, as I only used it for about eight hours before the battery died. I remember one pack of smoke lasting me more than that, but I guess it all depends on how often you use it. The battery life of the FIN isn't very impressive, but I don't think it's meant to be either. As far as I'm concerned, these disposable models are meant for emergencies and trying out new e-cigs brands before spending some real money on a starter kit. FIN also sells rechargeable e-cigarettes, so if you like them I suggest you get one of those in the long run.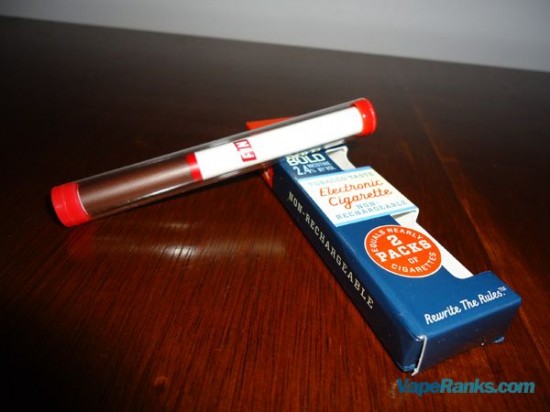 The automatic switch works remarkably well for a disposable, as you only have to draw on it very lightly to activate the battery. The vapor volume didn't blow me away, but I must admit I found it was satisfying, especially after a few short primer puffs. Again, this is hardly the most advanced e-cig on the market, but if you're just getting started with vaping, or if you left your usual e-cig at hand, the FIN works pretty well.
I can't say I'm a big fan of the FIN's tobacco flavor, and unfortunately there isn't much else to choose from. The company currently only sells tobacco and menthol flavored e-cigarettes, and judging by the statement on its official site, that's not going to change anytime soon. The "About Us" section of the website reads "FIN electronic cigarette products are marketed to existing adult smokers only. We take all necessary precautions to ensure our customer is an existing smoker of traditional cigarettes. We do not manufacture sweet flavors that would appeal to children, nor do we encourage them to smoke. We strongly believe that if you don't smoke, you shouldn't smoke FIN." Apparently FIN agrees with the many electronic cigarette opponents who claim sweet and fruity flavors appeal to children and would have all flavors except tobacco and menthol banned. I can't say I support their approach, especially since I personally could not go on vaping without my fruit e-liquids. As an adult, I should be allowed access to my favorite flavors, especially since there are other efficient ways of keeping e-cigarettes out of the hands of children. If flavored alcoholic drinks can be sold without them being marketed to children, I don't see why we can't take the same approach with e-cigs.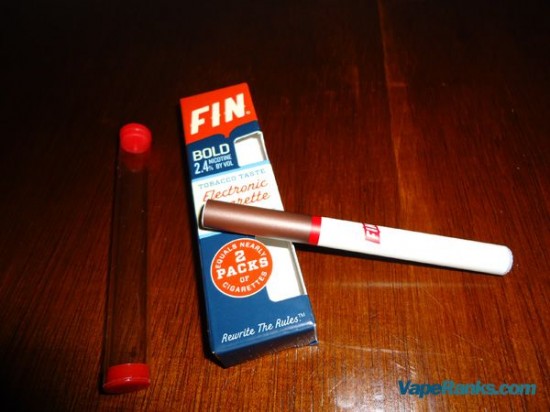 Another thing worth mentioning is the FIN's weak throat hit. Although I received the Bold (2.4% nicotine by volume) strength, and the vapor volume was decent, the throat hit was barely noticeable. Ultra-light smokers may not have a problem with that, but for smokers used to feeling a strong hit in the back of their throat, it could prove an issue.
Overall, I found the FIN disposable e-cigarette pretty average. The battery life was pretty much what I expected from a device this small, the vapor was there, although I was used to much more, and the flavor was…let's just say I've tried worse, but it could also be a lot better. If you're curious about the brand, or if you just need a few puffs and don't have a more advanced unit at hand, the FIN works. Otherwise, I'd suggest you get a rechargeable starter kit.
The e-cigarette for this review was provided by ElectricTobacconsist.com