SMOK OSUB Plus Kit Review
The OSUB Plus 80W starter kit is the second entry in SMOK's OSUB series. It improves on the popular OSUB 40W pocket mod, featuring an extra 40 Watts in the power output department and a significantly larger battery, while still remaining easy to carry around. The new Brit Beast tank is also advertised as one of the best SMOK has ever built, and comes with powerful V8 Baby-Q2 coil heads that guarantee stellar vapor production . In this review we're going to find out if the OSUB Plus kit has what it takes to become another SMOK best seller.
A Look at the Contents
The SMOK OSUB Plus starter kit includes the 80W OSUB plus mod, a Brit Beast tank, two V8 Baby-Q2 dual-coil heads (0.4Ω), a replacement glass tube for the tank, a USB charging/updating cable, a bag of spare o-rings and a user manual. It basically has everything you need to start vaping, minus the e-liquid. As someone who has accidentally cracked several tanks, I particularly like the inclusion of a spare glass tube, and I think this is a good value-for-money package overall.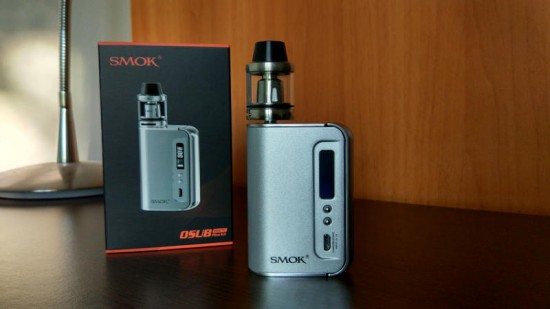 Measuring 75 x 25 x 54.5 mm,  the OSUB Plus mod is slightly bulkier that the 40W OSUB – most likely to accommodate the larger 3300mAh battery – but otherwise retains the same design as its older sibling. It is made out of the same zinc alloy that SMOK has been using on the vast majority of its products for a while now, features the characteristic OSUB shape, with its elegant rounded corners, the same button and LED display positioning, and the classy firing bar. Basically, if you liked the design of the original OSUB, this is pretty much more of the same, but with an extra 40W of power and improved battery life.
The SMOK OSUB Plus comes in two color variants – black and stainless steel. The Shenzen-based company was kind enough to send me samples of both for this review, and I can't decide which one I like more. The machining and workmanship is impeccable on both, but that's something I've come to expect after trying so many SMOK mods and tanks. This was always one of their strong points and I'm glad to see them keeping the bar way up when it comes to the look and feel of their devices. Thanks to its reduced size, the OSUB Plus feels very nice in your hand and fits comfortably even in smaller pockets, making it ideal for vaping on the go. There are definitely smaller alternatives out there, like the Eleaf iStick PICO or the Kimsun TC40W Mini, but if you're not comfortable using external batteries and/or need more power under the hood, the OSUB is probably the better choice. It's not as light as other devices I've reviewed recently, but I wouldn't call it heavy either. I'd say it has enough weight to give it a high-quality feel.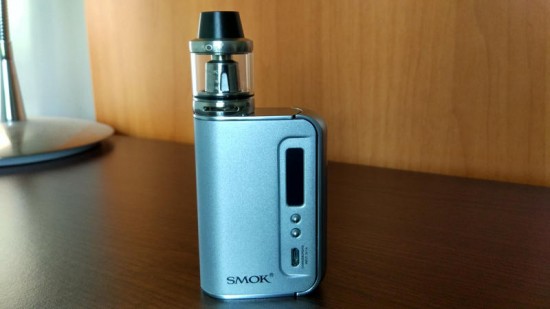 Probably the most intriguing feature of the OSUB Plus is the shiny firing bar that SMOK introduced as an alternative to the classic power button on the X Cube 2. It definitely fits great with the rounded design of the mod, is easy to press either with the palm of your hand or your fingers, and is very responsive, but it does makes accidental firing more of an issue than it should be. Just like when testing the SMOK X CUBE 2, I sometimes found myself holding the mod and having to use my hands to grab something or pick it up, and whenever I squeezed just a little bit, I accidentally pressed the firing bar. Ideally, I would just lock the device by pressing the bar five times in rapid succession and put in my pocket before using my hands, but in case of emergencies or accidents, there's just no time for that. SMOK are probably aware of this potential issue as well, and they've tried to improve things a little bit on the OSUB Plus. Unlike on the X Cube 2, where the whole bar acted as a button, on this newer mod, only the top half of the bar is active, so squeezing the lower section will not result in battery activation. It's an improvement, but unless your very careful, you're still going to experience accidental firing from time to time.
Other notable features of the SMOK OSUB Plus include a micro USB port that can be used for both charging and updating the firmware, battery venting holes and reset button on the bottom of the device, a spring-loaded 510 connection and a fairly large LED display that is surprisingly bright for a SMOK mod. Most devices made by the Shenzhen-based company that I've reviewed in the past had generous screens that were a bit too dim to be visible in strong sunlight. The two settings-adjustment buttons on the OSUB have been reduced to a couple of metallic dots that don't rattle at all. My only complain about these buttons is that they are too close together, so someone with larger fingers might find it problematic to press one without pressing the other as well.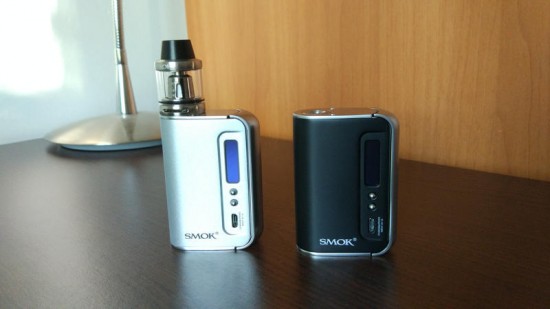 Battery Life and Overall Performance
One of the major improvements that the OSUB Plus brings over the original SMOK OSUB is the larger battery capacity – 3300 mAh, which is about as good as it gets for a non-removable battery device of this size. For example, the SMOK R80, another reliable device aimed at intermediate vapers, has a 4000mAh capacity but is also a good 15mm taller and 20mm wider than the OSUB Plus. So if you're looking for a decent compromise between size and battery life, the OSUB Plus might be the mod for you.
I was able to get a good eight hours of vaping at about 50W on the OSUB Plus, on average, but I'm pretty sure beginners and intermediate vapers could get a full day without having to recharge. I've become what you would call a "heavy vaper" these days, and sometimes not even two rechargeable 18650 batteries will last me a whole day, but for most users 3300mAh should be more than enough. At the end of the day battery life varies on how often you vape and what wattage you're vaping at.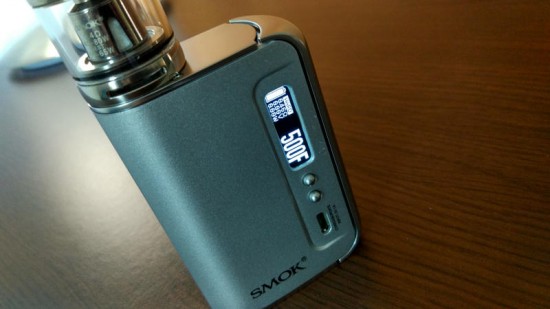 The problem with this type of non-removable battery mods is that when you run out of battery, you have to either have a backup device for use while it's recharging, or you're going to have to go without nicotine for 2-3 hours. Those can be some very long hours> Luckily, there's a third option. The USB cable included in the kit also allows you to use the device while it's charging, so if you spend most of your time at the office or somewhere where there's a USB port available, you shouldn't have any problems.
I have been using the OSUB Plus for over a week now, and I've had no problems with it performance-wise. The buttons work flawlessly, the firing bar is very responsive, and best of all, that huge delay in firing that used to plague SMOK devices in the past is no longer a problem. The battery activates almost immediately after you press the bar, which is a huge improvement in my book.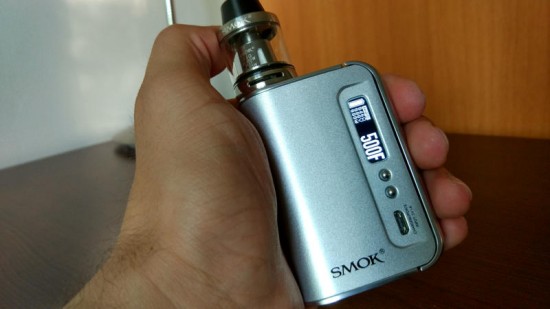 The OSUB Plus features the classic SMOK menu, which can be accessed by pressing the firing bar three times in rapid succession. It's not the simplest menu I've ever had to work with, especially since it includes advanced options like TCR and initial atomizer resistance adjustment, so it might be a bit too overwhelming for complete beginners or vapers just getting into temperature control. the good news is that you don't need to use these features to enjoy a pleasant vaping experience. I, for one, mostly use wattage mode, and don't usually fiddle with anything but wattage levels.
But if you're a curious person who likes to toy with all the different features of a device, the OSUB Plus menu lets you choose between wattage and temperature mode, five different firing modes (Min., Soft, Normal, Hard and Max.) and choose from three different supported material for temp. control (Ni200, titanium and stainless steel). There's also a helpful puff counter, the possibility to rotate the orientation of the display, adjust brightness and contrast, set the time that the display stays on, and activate stealth mode. It's a fairly complex menu, but keep in mind that you don't need to mess with all its features.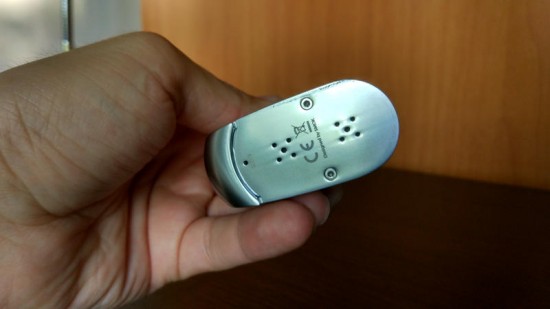 Vapor Production
This is what most vapers are really interested in when choosing a new mod. Sure, build quality, design and features matter, but at the end of the day it comes down to "does it chug vapor?" For what can be considered a small size device, the SMOK OSUB Plus is definitely an impressive vapor machine. With a maximum power output of 80W, this little guy can be used for some serious sub-ohm vaping, but thanks to the equally impressive V8 Baby-Q2 coils that come with the kit, even at 40W-50W, you'll be blowing monster clouds of vapor.
But while the 80W of power is above average for a mod this size, I think the real MVP of the OSUB Plus kit has to be the pair of V8 Baby-Q2 coil heads. SMOK has a reputation for building some of the best -albeit expensive – coil heads in the industry, and the V8 Baby is a worthy addition to their extensive lineup. They were originally created for the TFV8 Baby, a smaller version of the TFV8 Cloud Beast tank, but are also compatible with the Brit Beast tank. They are a lot smaller than the original TFV8 coil heads, but in terms of performance, I would say they are very close.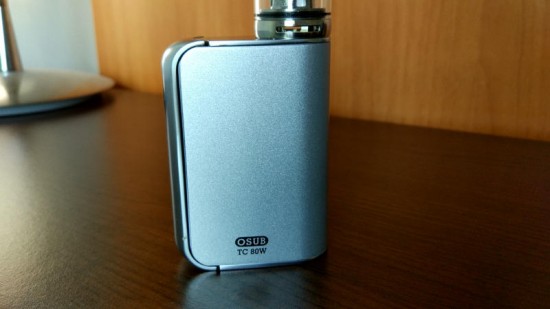 The Tank
The Brit Beast is the one of the latest tanks revealed by SMOK. It has fairly standard cylindrical design, with a top-filling system, a wide bore delrin drip tip and two large adjustable airflow slots at the bottom. It has an e-liquid capacity of 3.5ml, which puts it in the range of mid-sized tanks. There's really nothing too impressive to talk about when it comes to the design and features of the Brit Beast, but when it comes to performance, it's simply amazing.
Again, the V8 Baby-Q2 coils play a big part in the overall performance of the OSUB Plus kit, but the design of the Brit Beast tank definitely deserves some of the credit. The large cyclops slots provide excellent airflow and the short and bulky design of the tank means that the vapor has to travel a very short way from the coil head to your mouth, so provided you're using a sub-ohm coil, you're going to get rewarded with thick warm clouds of goodness.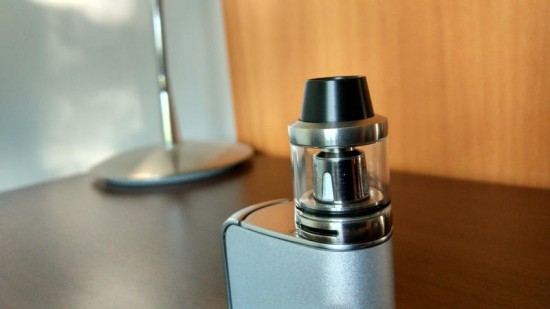 But vapor production aside, the thing I loved most about the SMOK Brit Beast tank was the fact that in over a week of heavy use, I've had no leaking problems. If you've ever used tanks, and SMOK tanks especially, you know leaking is a big problem, but this little guy is as dry as a bone. I mean it doesn't even have drops of condensation on the airflow slots, nothing. I've used it with coil heads included in the kit and haven't encountered any leaking problems whatsoever.
And, as I mentioned at the beginning of this review, the inclusion of a spare glass tube for the tank is definitely a great bonus for butter fingers like me.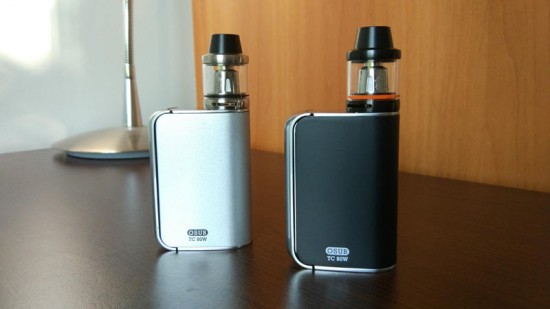 Conclusion
The SMOK OSUB Plus kit is a winner in my book. Apart from a few minor design flaws that will probably be overlooked by most vapers anyway, I couldn't find anything to pick on. The design and build-quality of the mod are amazing, the battery life is great for its size, and the Brit Beast tank and V8 Baby-Q2 coil heads work great together. You get great portability, decent battery life and stellar performance, what else can you ask for an average price of $70?
Buy the SMOK OSUB Kit
You can find the SMOK OSUB kit as well as other authentic SMOK vaping products on DirectVapor.com