Kizoku Techmod 80W Review
Side by side mods are not exactly mainstream, but they are definitely growing in popularity, and there's no denying their appeal, at least design-wise. Generally, they are much slicker and more elegant than traditional single-battery mods, and tend to go very nicely with MTL atomizers. Most of them also command a premium price, but some really nice budget side by side mods have hit the market this year, and the new Kizoku Techmod is definitely one of them.
Kizoku Techmod Packaging and Presentation
The 80W Techmod by Kizoku comes in the standard packaging – a rectangular carboard box with a picture of the device on the front, and some technical specifications, presentation of its main features, a list of kit contents and company information, on the back of the box.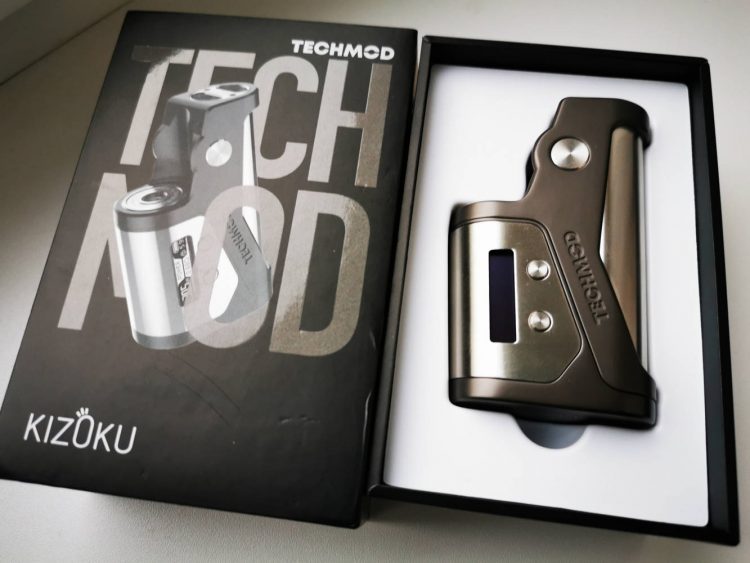 Inside, we have the Kizoku Techmod in a plastic tray, and the usual accessories for this kind of product – a USB-C charging cable, user manual, and warranty card. It doesn't seem like much, but that's usually what you get when buying a vape mod.
Kizoku Techmod Design and Build Quality
As I mentioned in the introduction, side by side mods tend to be premium products. Devices like the Easy Side Box by Ambition Mods, or the SunBox Zero Nega usually sell for hundreds of dollars, but the quality of materials and the machining are worth it for vapers who can afford them. I wasn't expecting the same type of quality from newcomer Kizoku, but i have to say that I was quite impressed by the look and feel of their Techmod 80w mod.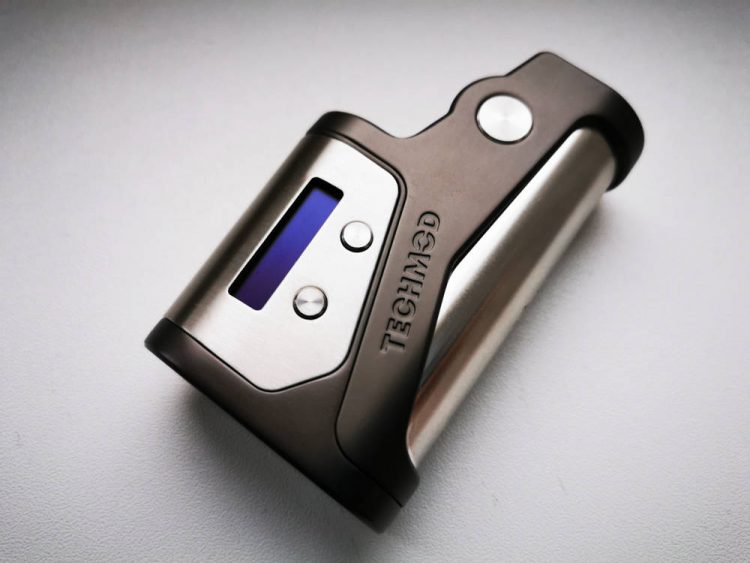 With a body made primarily of zinc alloy and SS304 stainless steel, the Kizoky Techmod feels very solid in the hand, yet the beveled design makes it very comfortable to hold as well. It definitely feels like a premium mod to me, even though some of the machining, like the threading of the battery tube, isn't as buttery smooth as I would have liked. The stainless steel parts also have some annoying smudges, but nothing too bad. Overall, I think Kizoku did a wonderful hob with this device.
The Kizoku Techmod measures 79mm x 49mm x 24mm, and comes in four possible color combinations – white, black, gunmetal, and a black and gunmetal combinations. I received the gunmetal version for this review, and I have to say that this color, in combination with the stainless steel parts and the stainless steel Intake MTL RTA looks awesome. That has been my daily MTL setup for the last week, and it's not changing anytime soon.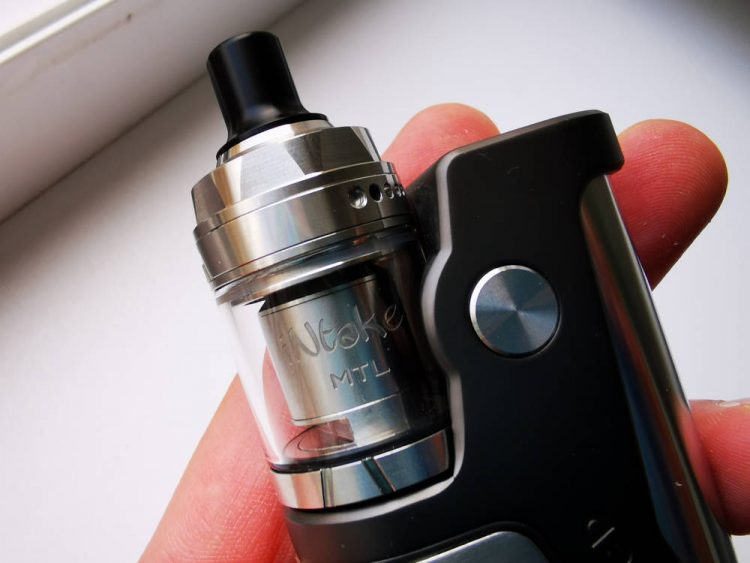 Starting at the top, we have a stainless steel battery tube, with a somewhat strange metal cap. It's not a solid cap, it has large cutouts which leave the battery inside exposed. You can actually touch it with your fingers, and while that's perfectly ok, I'm guessing that spilling liquid on the the mod and having it get into the battery compartment is not ok. It looks cool, but I would have preferred a solid metal cap.
The 510 connection features a spring-loaded, gold-plated pin, and accommodates atomizers up to 24mm in diameter. With regular vape mods, you only had overhang to worry about with larger diameter attys, but with side by side mods, you can't use larger atomizers at all, as they won't fit on the mod. That's a minor drawback, though, as I don't know anyone who would use attys that don't match with their mod anyway.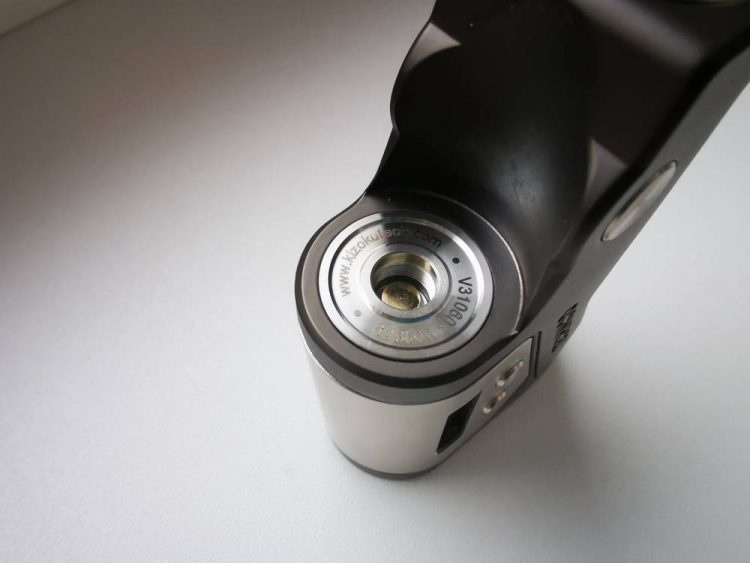 The buttons are metallic, and almost flush with the body of the Kizoku Techmod, which gives them a vert elegant look. They are all on the side of the device, with the fire button located near the top, for easy thumb access, and the two power adjustment buttons near the bottom, next to the small but very bright LED display. The buttons all have that satisfying 'click' when pressed, and have absolutely no rattle at all.
On the other side of the Kizoku Techmod, we have the USB Type-C charging port. I love when manufacturers position the charging port on the side rather than the bottom, as you can place the mod upright when it's charging and not have to unscrew the atomizer, to avoid accidental leaking.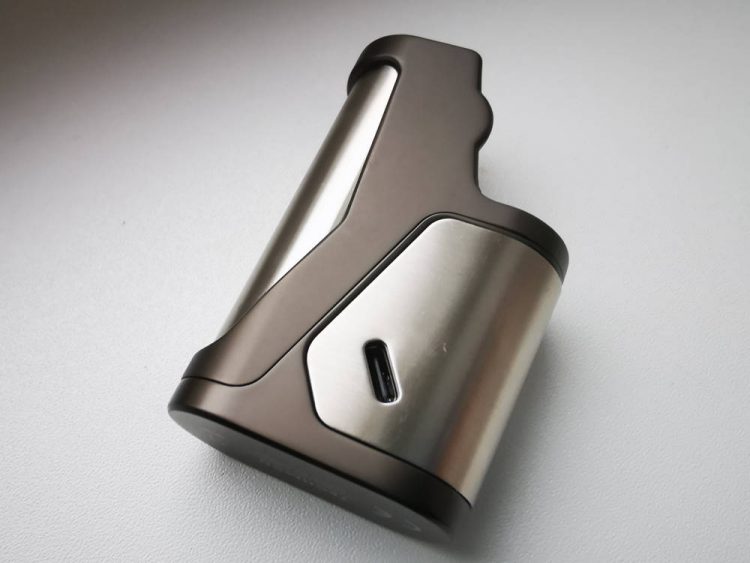 I don't have that much experience with side by side mods – the Aspire Mixx was the only one I ever owned – but the Kizoku Techmod seems like a very solid entry. It's compact, the build quality is above average, and there's no beating the price ($59 on Heaven Gifts)
Kizoku Techmod Menu System and Navigation
The Kizoku Techmod has one of the most user-friendly menu systems I've ever seen on a mod. All you have to do is press the fire button five times to turn the mod on or off, and press the fire button three times rapidly to go into the menu. Technically, there is no menu, as that basically allows you to scroll through the available modes, using the + and – buttons, and confirm your selection with the fire button. That's basically all there is to it, and for most vapers, that's more than enough.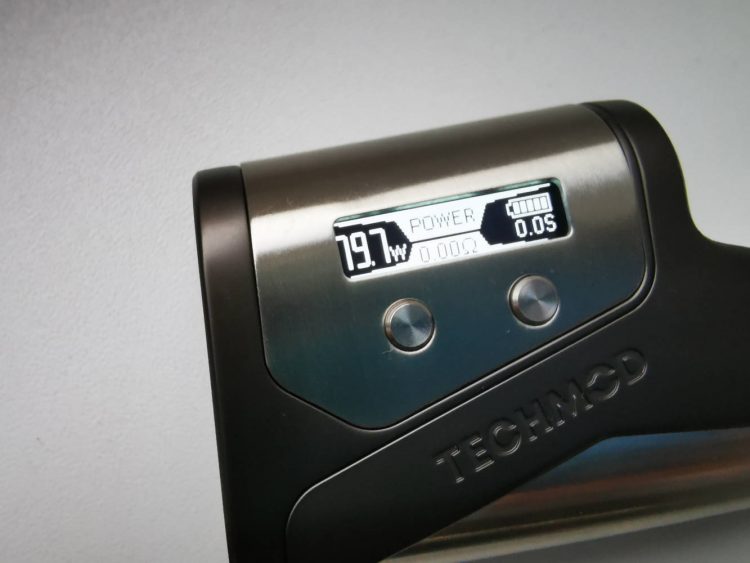 Apart from the variable wattage, the Techmod also offers variable voltage, bypass mode, and temperature control for three supported coil materials (stainless steel, nickel and titanium).
You can also lock the – and + buttons by keeping them pressed simultaneously for a couple of seconds, but other than that, there aren't any settings to mess with.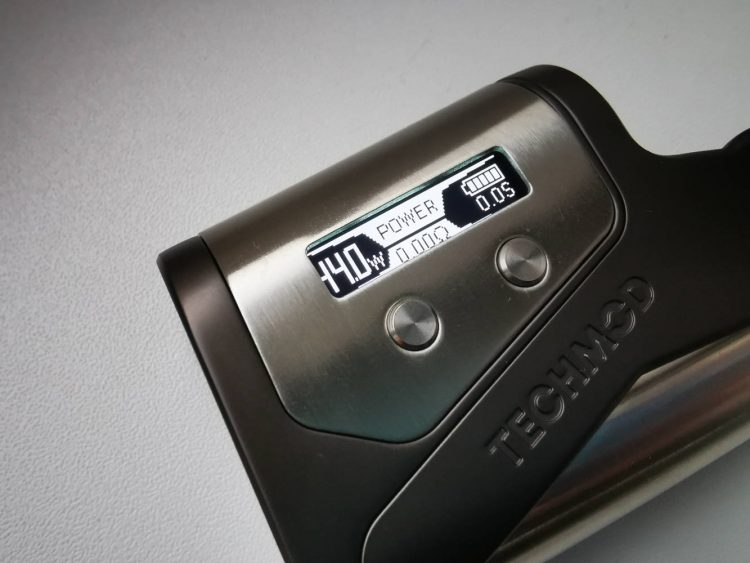 The display is on the small side, but that's to be expected on such a compact vape mod. Still, it's one of the brightest screens I've ever seen on a vape mod, and features all the necessary information (battery level, power output, selected vape mode, atomizer resistance and puff counter).
Kizoku Techmod Battery Life and Performance 
The 80W Techmod is powered by a single 18650 battery (not included). I've been using it with one of my trusty Sony VTC5A batteries, and I've been getting over a day of use, vaping at about 18W. But if you plan on ramping up the power output to the full 80W, or close to that, you won't get more than four-five hours, if that, out of it.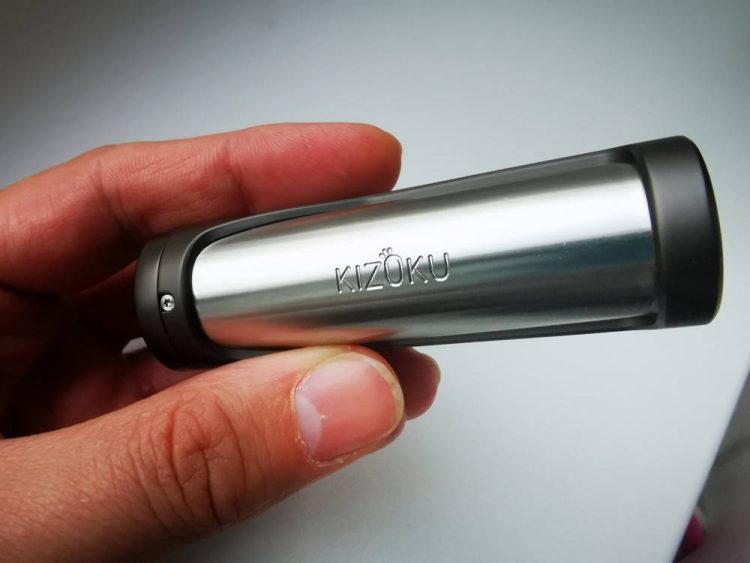 Battery life depends on a variety of factors, like battery capacity, power output, and how much you vape, so every user's experience will be different, but because this is an external battery device, battery life needn't be an issue. If you can invest in a spare battery, all you have to do is swap the depleted one for a freshly charged one, and just keep on vaping.
I love that it comes with USB-C, even though I personally never charge my batteries in a mod. For those users who do use their mods as chargers, the newer standard comes with an improved charging rate (2A), which means faster charging times.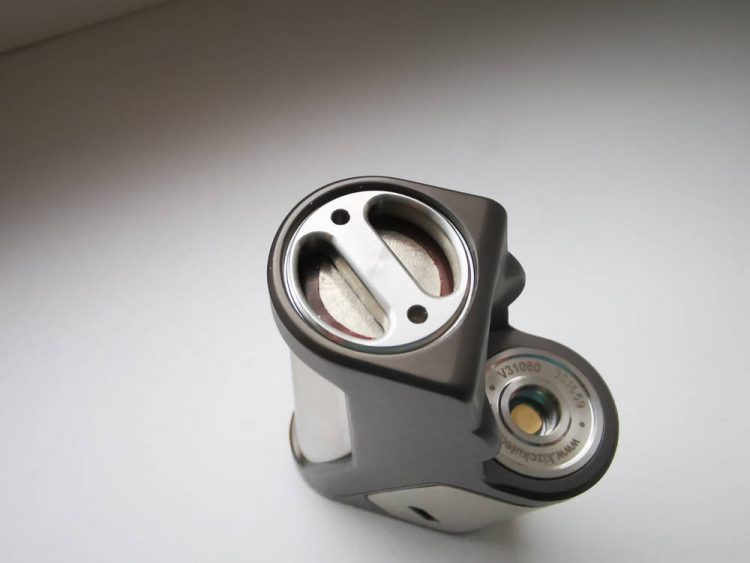 All of the above means little, if the Kizoku Techmod side by side mod doesn't deliver in terms of performance. To be honest, I was a bit worried, as I did come across some complaints from users of these device. Some claimed that it just wouldn't power on after a few weeks of use, others that it kept trying to read the resistance of the atomizer while they were trying to vape, and one person said that it just went into sleep mode randomly.
I read about all these issues while doing some research on the mod before my sample arrived, as I really didn't know much about Kizoku as a brand, even though I did have a chance to test the Kirin tube mod, and the Unlimit RTA a while back.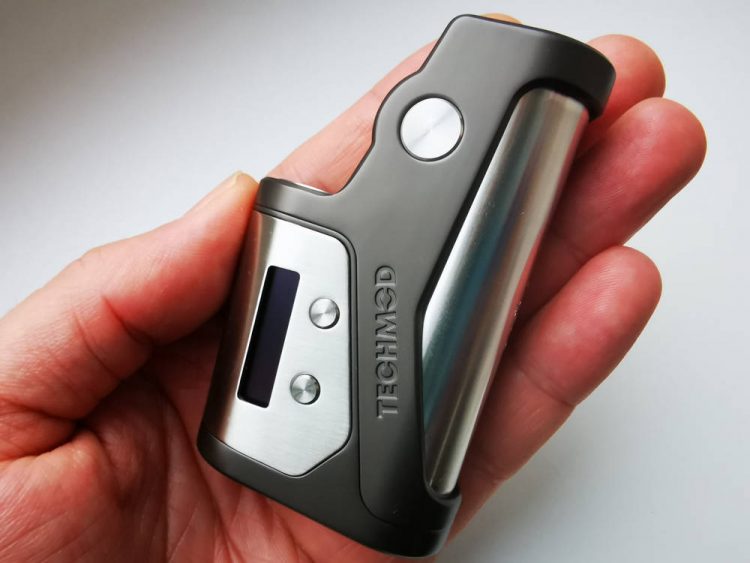 Personally, I've been using the Techmod on a daily basis for about 8 days now, and I have no issues to report. That said, I felt it necessary to mention that there are some concerns regarding performance of this device within the vaping community.
My review sample has been going strong. It fires super fast, the power ramp-up is quite impressive, and the power output seems fairly accurate. Resistance reading is accurate as well, and even though I did not mess with the temperature control mode at all, I hear it works pretty well. I don't know how well this device will hold up in te long run, but for now, I couldn't be happier with it.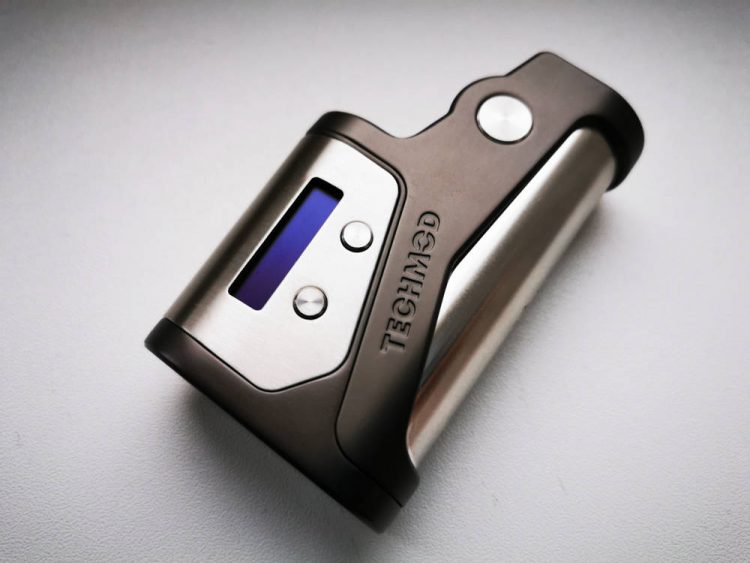 Conclusion
Side by side mods were once a status symbol among vapers, sort of how squonk mods were before the VandyVape Pulse hit the market. Well, think of the Kizoku Techmod as the Pulse of side by side mods. It's slick, has a premium look and feel, but it's several times cheaper than most of its competitors. It's definitely one of the nicest devices in my collection, and despite some of the complaints going around on social media, my experience has been very different, so I think it's at least worth considering, especially if you're on a tighter budget.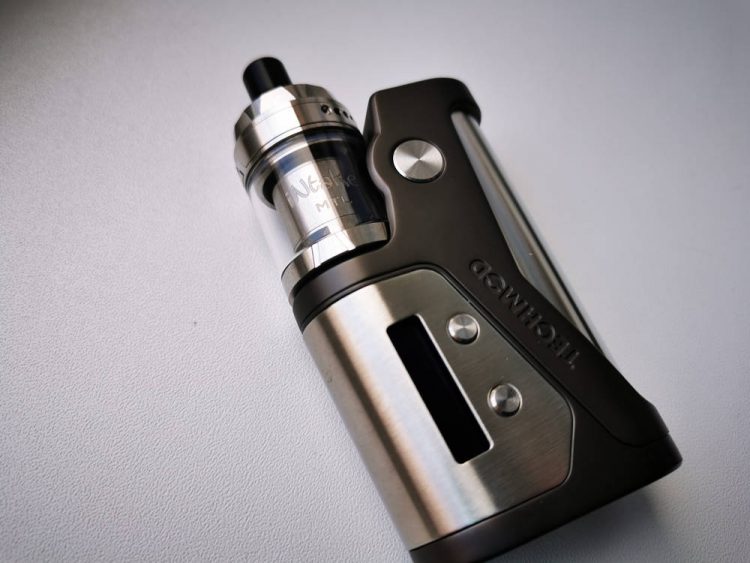 The Kizoku Techmod 80W was sent to me by Health Cabin, for the purpose of this review. They currently have it in stock for $59.
Pros
eye-catching design
compact and ergonomic
great build quality
bright display
intuitive menu system
affordable
Cons
exposed battery compartment
minor machining flaws