Kizoku Kirin Tube Mod Review
The Kizoku Kirin tube mod has to be one of the most interesting vaping devices I've had the chance to test in recent months. Not only is the sleek, modular design eye-catching, but it's also a very versatile vape mod that can be used with Kizoku disposable tanks or whatever other atomizer you like. Let's check it out:
A Look at the Contents
The Kizoku Kirin protected mech mod comes in a red cardboard box with a see-through window to the device inside on the front, and technical specifications, a list of contents, as well as manufacturer contact information on the back.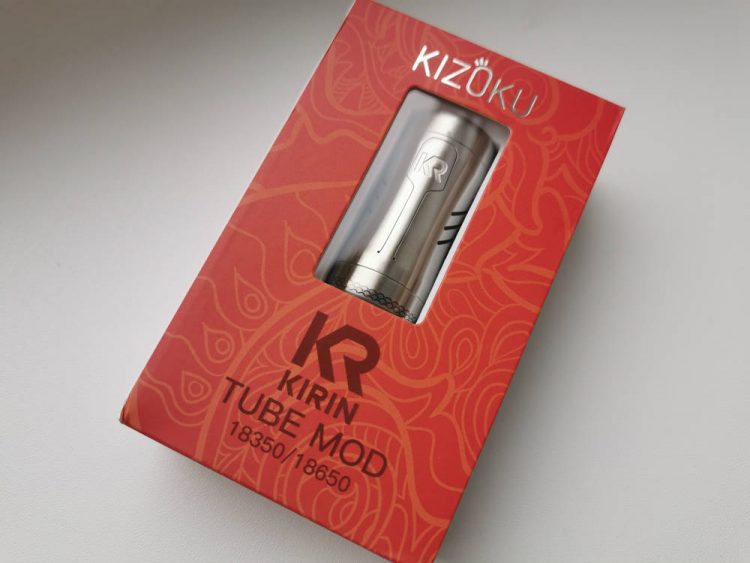 Inside the box, depending on what part of the world you live in, you'll find either the Kizoku Kirin tubular mod and an extension for use with an 18650 battery, or the mod, extension as well as an included 18350 battery. I live in the European Union and shipping batteries here isn't permitted, so I received the former variant.
The Kizoku MTL disposable tanks I mentioned in the opening paragraph are sold separately and come in the same style of packaging as the mod. They are designed to be used together, but you can definitely use either of them with other vaping products as well.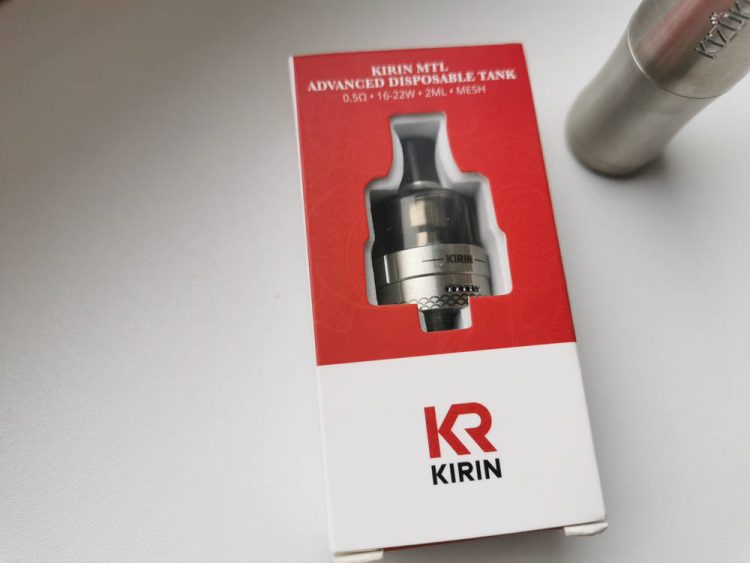 Design and Build Quality
Design is definitely one of the strong points of this device. I've always been a fan of sleek tubular mech mods, but I could never get over the fear of vaping with no protection, so I sort of admired them from afar. Well, the Kizoku Kirin has that sleek look and also comes with a built-in MOSFET system for added protection.
The Kirin tube mod is made primarily out of stainless steel, measures 50mm x 24mm, and comes in three different finishes: stainless steel, gold and black. It also features a modular design, allowing the user to screw on an extension tube that makes 18650 battery use possible. I personally didn't even have an 18350 battery anymore, so I would have had to get one just to test the device, if not for the included extension tube.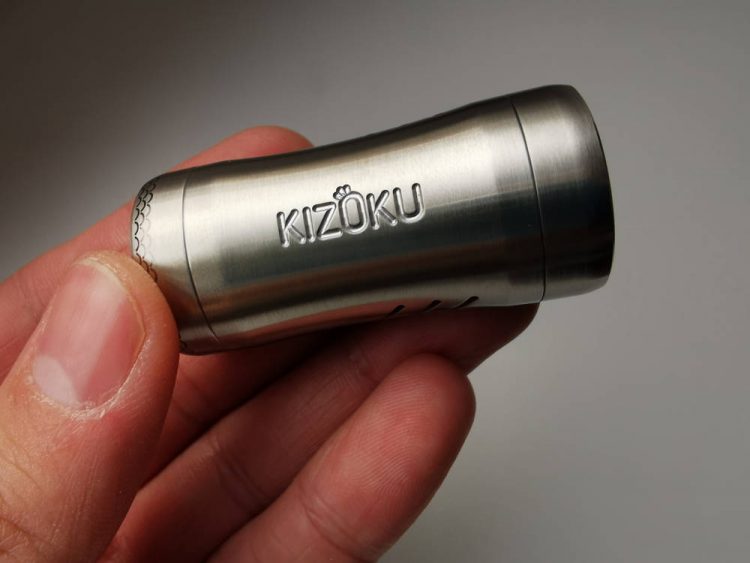 As I mentioned, my hand-on experience with tubular mech mods is very limited, so I can't really compare the build quality of the Kizoku Kirin to that of other similar mechanical mods. I will say that the machining looks nice at first glance; I like the slightly warped look of the tube, the way the button is cut into the tube itself and sits perfectly flush, but once you take a close look at it, you start to notice some gross imperfections.
First, the threading is not what you would call buttery smooth, and it tends to squeak a lot. Then the edges of the air vent cutouts on the tube are so freaking sharp that you can literally cut your thumb if you press down on them and try to slide up and down. Then there's that cool power button, which requires the slightest bit of force to activate, which means you'll most likely press it down by mistake a lot, and it's also very hard to find with your thumb without looking, because it is literally cut into the tube.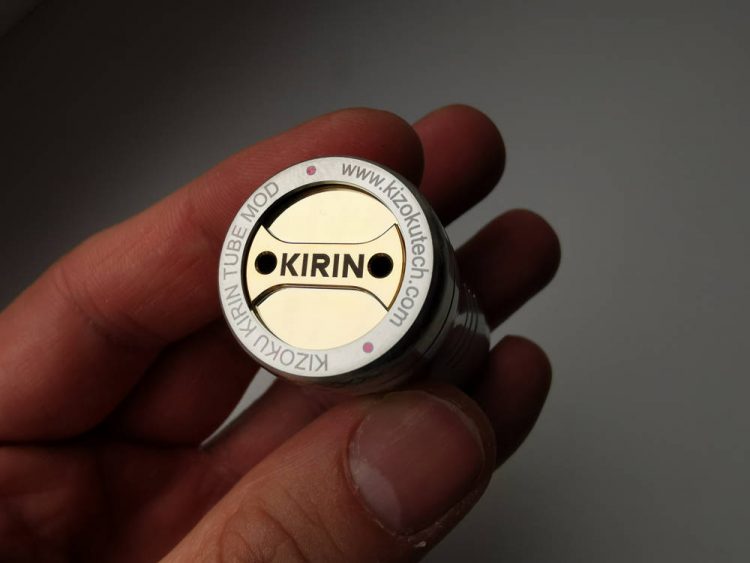 Still, I won't fault Kizoku for the design and machining flaws too much, because this is a relatively cheap tubular mod, so there's only so much you can expect in terms of quality. Plus, it remains a very good-looking vape mod, despite its problems.
On top of the Kizoku Kirin mod we have a fixed 510 connection placed over a MOSFET system that is supposed to cut power to the battery in case of a short circuit, overheating or any other malfunction, which is something you don't normally see on mechanical tube mods. Keep in mind that this is not a spring-loaded connection, so if your atomizer has a longer 510 pin, it's going to create a big gap between the mod and the atty.
At the bottom, the Kirin has a gold knob that I personally couldn't figure out the use of before inserting a battery. It was rattling inside the tube, but turning that knob fixed the issue instantly. That's basically meant to adjust the tension inside the mod, allowing you to use various types of 18350 or 18650 batteries, without any rattling.
One of the most useful part of this device is the extension tube, which attaches to the tiny Kizoku Kirin mod, allowing you to use it with an 18650 battery. In its tiniest form, the Kirin can only be used with an 18350 battery, which, while incredibly small, doesn't have the most impressive capacity. So if you want better battery life, the 18650 is the way to go. Plus, even with the extension, the Kirin is still very compact.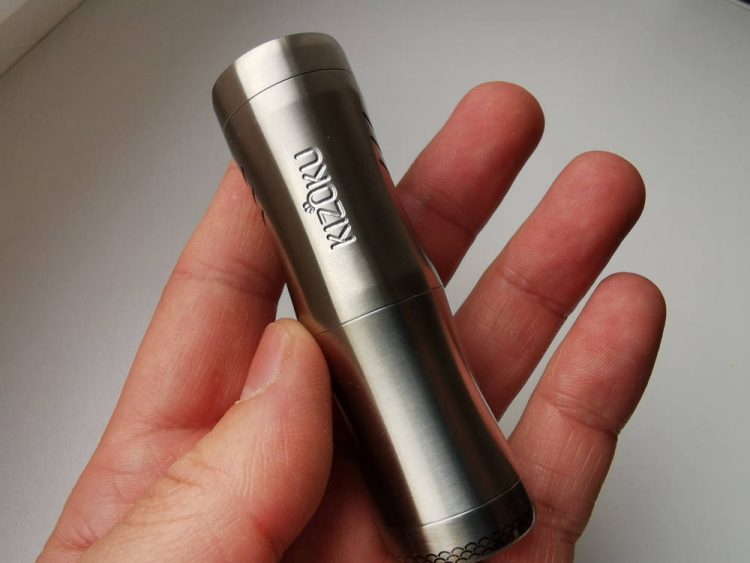 All in all, the design of the Kizoku may not be perfect, but I still think it is its main asset. It's sleek, it's compact, and it feels great in the hand.
The Kirin MTL Disposable Tank
While the Kirin mechanical mod and the MTL disposable tanks can be bought and used separately, I think you'll get best the best experience out of both when you use them in tandem. Plus, Heaven Gifts sent me both, so I had to test them.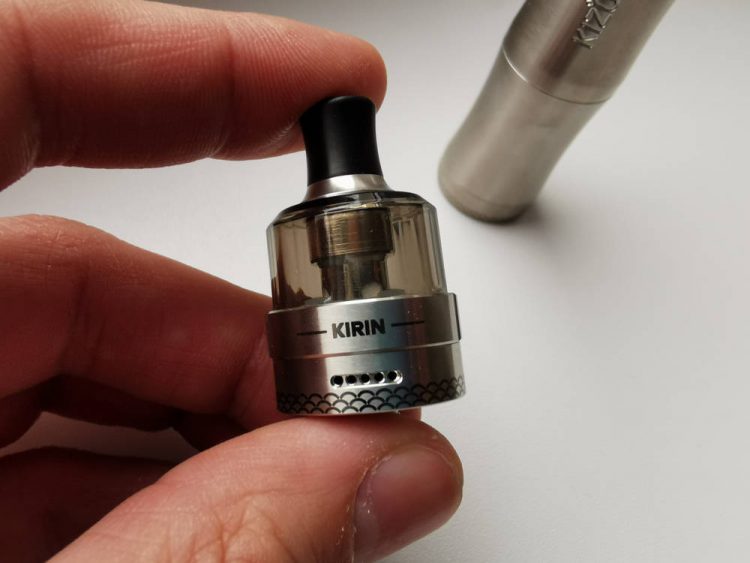 A lot of people hate disposable tanks and pods because of their environmental impact, and that criticism is somewhat justified, but there is no denying the convenience of a disposable vape. No need to get your hands dirty trying to replace the coil, just throw out the atty and attach another. That is essentially how the Kirin disposable tank works as well.
The tank is basically made up of two components, a stainless steel base and a plastic pod that attaches to the base. You can buy the ensemble the first time, and then you can opt for the plastic pods alone, which sell as a three-pack and cost about as much as the base plus 1 disposable pod.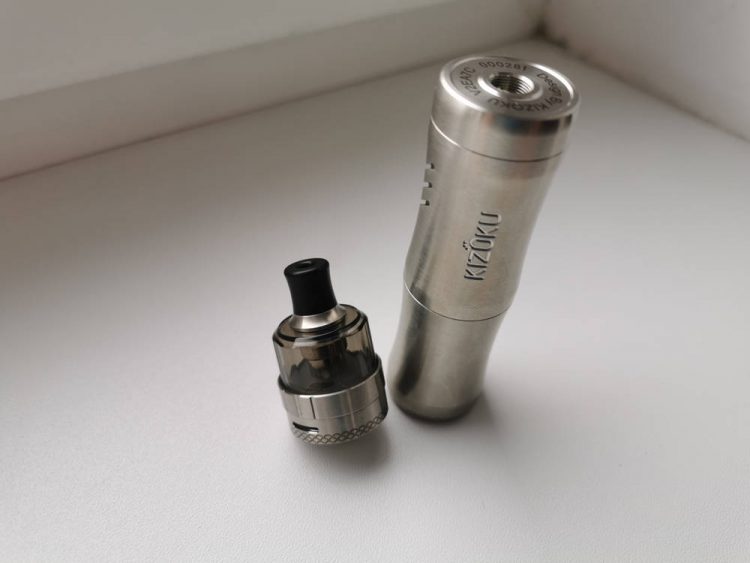 The Kizoku Kirin pods come in two variants: with an 0.5Ω mesh coil-head designed for very restrictive direct lung vaping, or a very loose mouth-to-lung (MTL) experience, however you want to call it, and an 1.2Ω round wire coil for a more authentic MTL vape. I received both for this review, but I suggest you opt for the one that most suits your vaping tastes.
The disposable pods hold up to 2ml of e-liquid, and can be refilled through a port located at the bottom. It's a bit hard to access, as you first hard to unscrew the pod from the base, and then struggle to unplug the fill port, because it's so close to that 510 pin, but it's not that big of a deal. I've had no issues with leaking, and I've already filled each pod several times.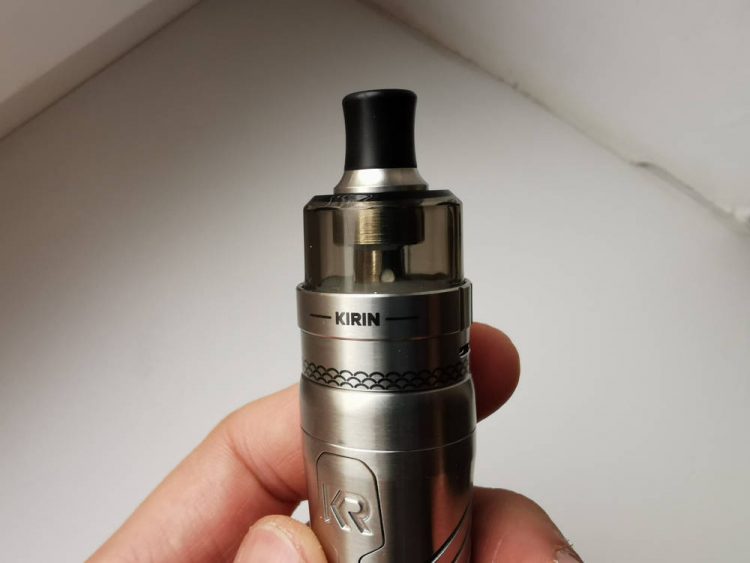 The metallic base that the plastic pods screw into feature an airflow control system, which allows you to adjust the amount of air hitting the coil. You can opt for two relatively large cyclops style slots, or a system of smaller holes (up to five), depending on your preference. For a direct lung experience, you'd want to keep both those large slots wide open, while those looking for a very tight, cigarette-like draw will want to turn airflow down to one, maybe even half a hole.
One important thing you should keep in mind is that 3-pack replacement pods don't come with a drip tip, so be sure to always be sure to keep yours when throwing out a used pod. Neither the drip tip nor the metallic base are disposable, so don't throw them out by mistake.
Battery Life and Performance
The Kizoku Kirin mechanical mod can be used with both an 18350 or an 18650 battery. If you're looking for the tiniest tubular mod available, I suggest going for the former, but know that it has a very limited capacity. I personally didn't have an 18350, and didn't feel like buying one specifically for this review, especially knowing that I would most likely never use it again. It's just too small for my taste, so I stuck to my trusty Sony VTC5A battery.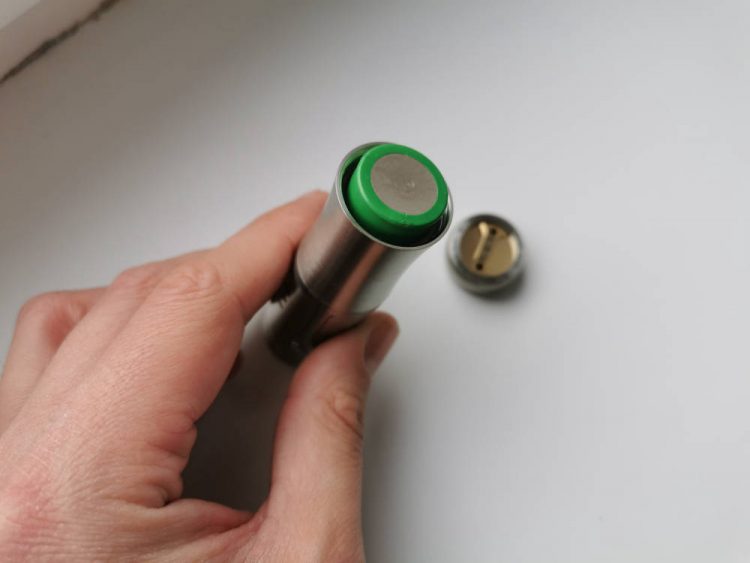 Even in 18650 mode, with the extension tube, the Kizoku Kirin doesn't offer a super impressive battery life. It's much better than one 18350, that's for sure, but you still should pack a spare battery, just to be sure. If you use it with that 1.2Ω tank and don't vape it constantly, it may last you for the better part of a day, but I'd be surprised if you got a full day of use out of a single battery.
Keep in mind that this is a very compact device, and battery life isn't its strong point. If you want to vape without worrying about battery life, get yourself a dual-battery mod, or even a triple battery one, like the Wismec Reuleaux Tinker.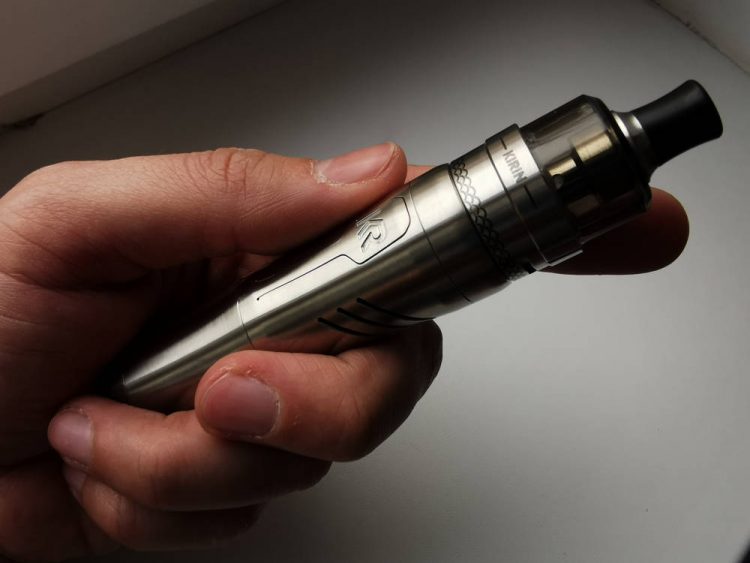 Performance-wise, you should know that the Kizoku Kirin mech mod operates at a constant 3.5V output, and hits pretty strong for such a tiny device. You do start to feel a dip in power as the voltage of the battery drops, but even if you opt not to change the battery when that happens, the mod will stop firing when the battery voltage gets too low, and a red light will be visible through the vents on the tubular mod.
Both disposable Kirin tanks have been performing surprisingly well for me so far. I've only been using them for a week now, so I don't know how long they'll last, but so far I haven't noticed any changes in vapor, despite using them basically exclusively.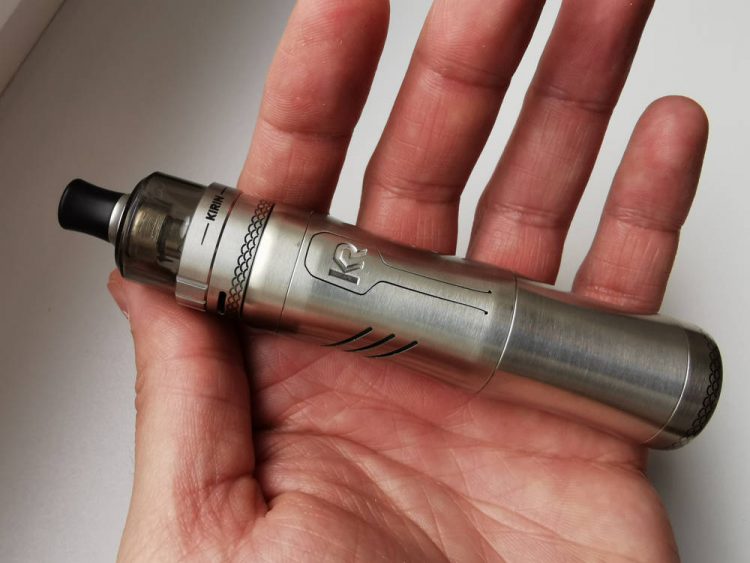 The 1.2Ω ohm coil pod was my favorite, simply because, with the right airflow adjustment, it offers a very tight MTL vape, just the way I like it. Throw in some fine tobacco juice and a cup of cappuccino and I'm guaranteed a perfect morning. The flavor is pretty good for a round wire coil, and the vapor is just hot enough for my taste.
If you prefer a looser MTL or a restrictive direct lung hit, the 0.5Ω coil version is the right one for you. The flavor is significantly better thanks to the mesh coil inside, and the vapor production is obviously much more impressive as well. That said, I still think that the Kizoku Kirin, as a package, is much better suited for mouth-to-lung vaping. Not that I mind its versatile nature, don't get me wrong.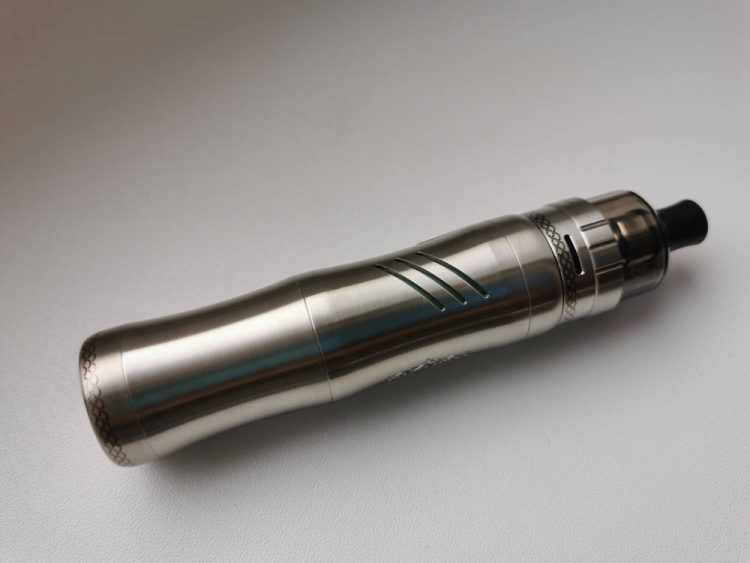 Conclusion
The Kizoku Kirin (not to be mistaken with the Vandy Vape Kylin) turned out to be much better than I expected. Having only reviewed a single other Kizoku product in the past – the Kizoku Limit MTL RTA – I wasn't expecting very much from it, but it surprised me. Sure, the build quality and machining could be a lot better, and some design choices are questionable, but overall I think it's a device worth having in your collection.
It's a good looking mod, it's versatile, both in the battery department and the other devices it can be used with, and it offers MOSFET protection, which I for one appreciate a great deal. I honestly don't feel comfortable using fully mechanical mods, so this is a perfect compromise.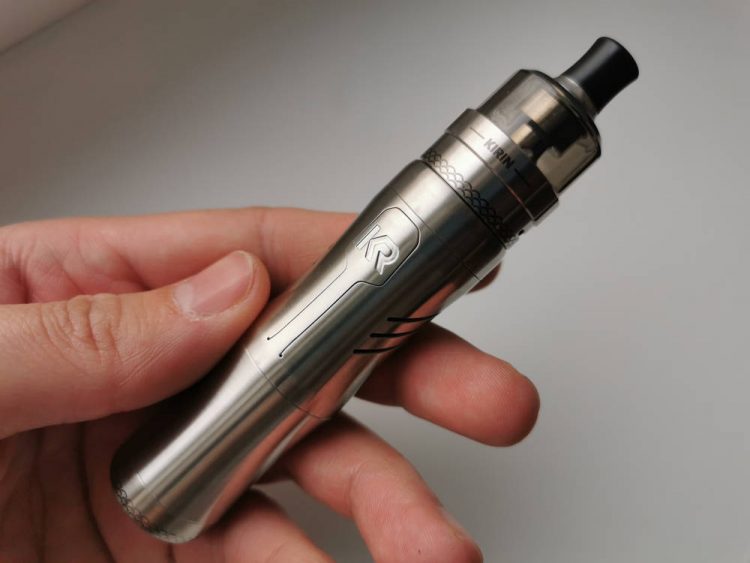 The Kizoku Kirin mech mod and disposable tanks were sent to me by Heaven Gifts, for the purpose of this review.