SMOK TFV12 Tank Review
Following the massive success of its TFV4 and TFV8 sub-ohm tanks, SMOK decided to go even bigger and this year launched the mother of all cloud-chasing tanks, the SMOK TFV12 Cloud Beast King. I think the name pretty much says it all, but if this is you're unfamiliar with the TFV family of tanks, they are all about big clouds of vapor so dense that you can cut them with a knife. In this review, I'll basically try to find out what SMOK could have possibly done to make this better than the stellar TFV8.
A Look at the Contents
The TFV12 Cloud Beast King comes in the usual SMOK packaging – a rectangular cardboard box, with a picture of the massive tank on the front, and a short but flattering description of the device, a list of contents and the mandatory warnings, on the back. If you've ever used any SMOK products before, you probably already know what to expect, as the company has been following this line for the last couple of years.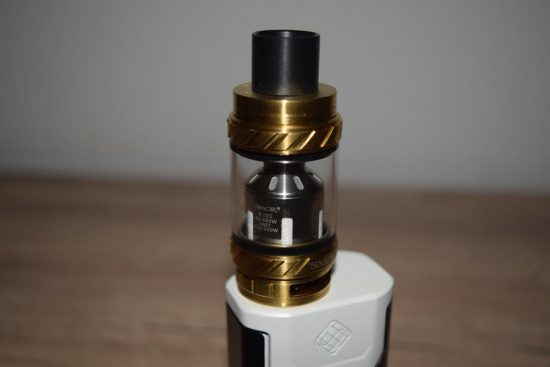 Inside the box, we have the massive TFV12 tank placed in a Styrofoam holder, and, underneath it, we have two spare coil heads, a backup glass tube, a couple of vape bands and a bag of spare o-rings and gaskets. There's also a user manual, but it's pretty basic, so if this is your first advanced sub-ohm tank, I definitely suggest buying something else, because this atomizers is aimed at experienced vapers only.
I was surprised and disappointed to see that SMOK hadn't included an RBA base in the kit, but I later found out that the Chinese company offers two kit variants, one that only comes with two RBA bases, and one with three different types of disposable coil-heads. I got the latter for this review, but the good news is that you can purchase both the dual-coil RBA or the triple-coil one, separately.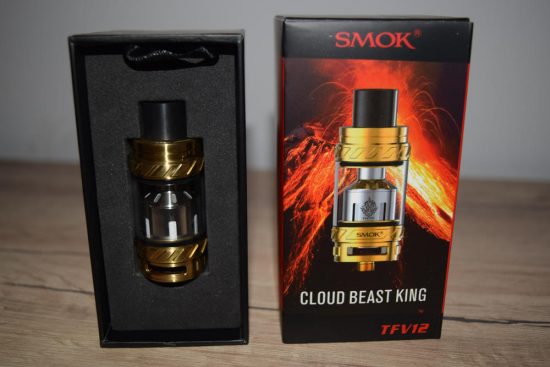 I would have loved to have just one RBA included in the kit, but other than that, it's a pretty sweet package.
Design and Build Quality
SMOK has been making its TFV sub-ohm tanks bigger with each new release, and the TFV12 is no different. This is a huge tank, so if you like them small and stealthy and don't care too much for giant plumes of warm vapor, this is probably not for you. The TFV12 tank has a diameter of 25 mm at the base, but it balloons to 27 mm in the glass portion, in order to accommodate the gigantic coil-heads, as well as 6 ml of e-liquid. It's also 70 mm tall from the base to the top of the drip tip, and weighs 91 grams. Overall, it's taller and has a larger diameter than the SMOK TFV8, which makes it the largest tank I have ever used.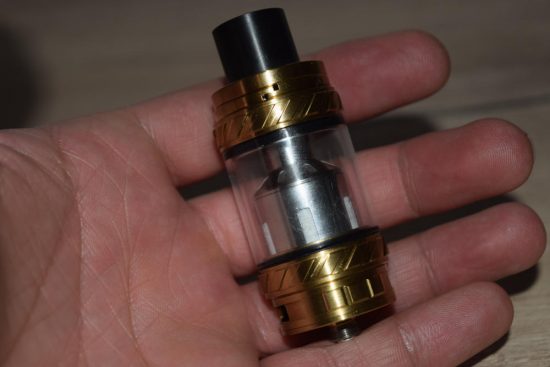 Design-wise, the SMOK TFV12 looks virtually the same as the TFV8, apart from some aggressive knurling on both the top and bottom parts. It has the same three piece design, same two-slot bottom airflow system, only this time the holes are even bigger, the now classic swivel-top filling system and a wide bore Delrin drip tip. If you've ever used a TFV8 tank, you can expect pretty much the same thing, only bigger, more power hungry and a lot thirstier.
But what really caught my attention while going through the SMOK TFV12 kit were the coils. I think it's safe to say that these are the largest tank coil-heads on the market right now. When reviewing the TFV8 Cloud Beast, last year, I remember comparing them to those of the SMOK TFV4 and thinking that they couldn't possibly make them any bigger. I was so wrong, because these new coil-heads make those of the TFV8 look like mere toys. The photos I took definitely don't do them justice, but trust me when I say that they are humongous. To give you an idea how big these things are, the TFV12 has the same e-liquid capacity as the TFV8 (6 ml), but they had to make it 2.5 mm wider just so the coils could fit.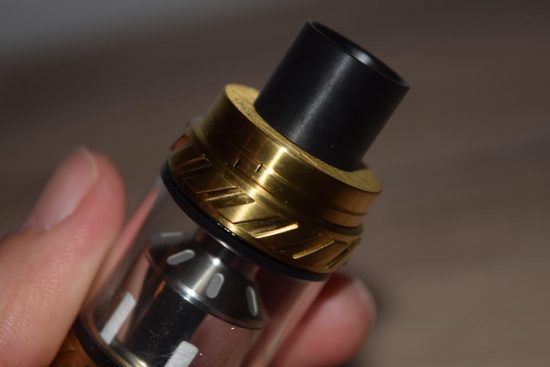 The build quality is stellar in my opinion, which I can't say was a surprise after reviewing so many SMOK devices in the past few years. Their machining is always on point, the paint-job is flawless – at least I couldn't see a single spot or scratch on mine – and the threads are nice and smooth. I definitely have nothing to complain about in this department.
Setting Up
Getting the SMOK TFV12 ready for vaping is relatively simple. I suggest you start by taking the tank apart and giving it a nice rinse with warm water, to remove any leftover machining oil and to make sure it's as clean as possible. Once you've let it dry and removed water droplets with a paper napkin, you're ready to put the tank back together and decide which of the three coil-heads you want to use. The kit includes a V12-T12 coil, which looks a lot like the cylinder of a six-shooter revolver and features 6 duodenary coils with a combined resistance of 0.12Ω, a V12-X4 coil-head with two large quadruple coils and a resistance of 0.15Ω, and a V12-Q4 coil-head with one massive quadruple coil right in the middle. It also has a resistance of 0.15Ω. As you can imagine, they both require massive power to work as intended, but SMOK advertises the V12-T12 as a cloud-chaser's dream, the Q4 as more of a flavor coil, and the X4 as a compromise between the two.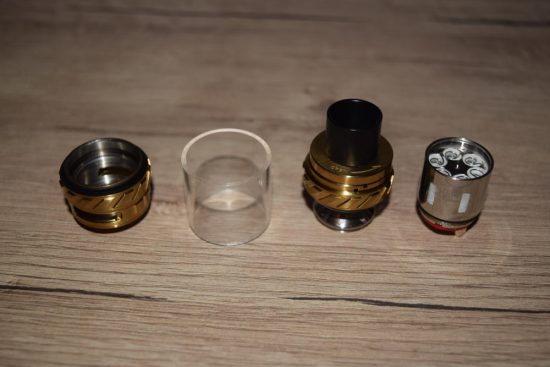 Once you've chosen the preferred coil, screw it on to the base of the tank and drop a bit of liquid into the coil to saturate the cotton wick and put the tank back together. When adding e-liquid, you want to close up the airflow slots on the bottom of the tank to prevent leaking. Opening the swivel top cap for the first may be a bit harder, but once the juice is in the tank and starts to lubricate the metal and rubber parts, it becomes easier. Now, all you have to do is wait for the coil head to soak up some e-liquid – I'd say 15 minutes, for good measure – and you're ready to vape.
How It Vapes
This is what it all comes down to. A nice design and excellent build quality don't mean  anything if an atomizer doesn't vape well, but after having used both the TFV4 and TFV8 I knew that this tank was going to be pretty impressive. SMOK have plenty of experience with extreme sub-ohm tanks so if they say that this thing is a cloud-chaser's dream, I'm inclined to believe them.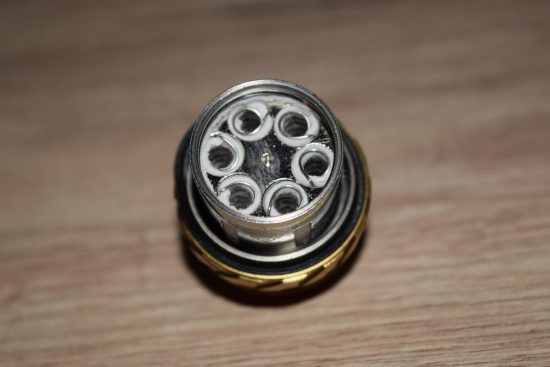 True to its name, the TFV12 tank is the Cloud Beast King! If you're into high-wattage vaping and blowing gynormous clouds of vapor, you're going to have a hard time finding a better tank. Those massive coil-heads are capable of turning a room into a steam-filled sauna in a matter of minutes and are said to have a very long life even when using thick, sweet e-liquid. However, you should know beforehand that you will pay for those impressive plumes of warm vapor in both e-liquid and battery life. All three coils included in the kit are rated 60W – 350W, but the recommended range starts at 90W for the X4 and Q4, and at 130W for the V12-T12. Personally, I think that anything under 120W for the first two coil-heads, and 180W for the latter will result in an underwhelming vaping experience.
Those massive coil-heads are hungry for power, and the more if it you feed them, the better they work. I did not test the V12-T12 at 350W, I was way out of my league at 180W anyway, but if you enjoy extreme high-power vaping, I think that coil-head performs best at over 200W. That's uncharted territory for most vapers, but then again, this is not a tank for the regular vaper. It's a special kind of "beast".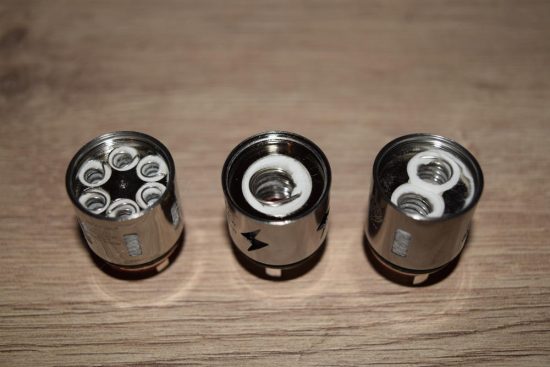 Because it requires so much power in order to perform as intended, the TFV12 doesn't pair well with just any vaporizer. First of all, your mod needs to have a maximum power output of at least 150W, and, personally, i wouldn't recommend dual-18650 batteries, unless you're cool with having to change them every few hours. Vaping at over 120W will drain your batteries pretty fast, so I suggest quadruple-battery devices like the iJoy MAXO or SMOK GX2/4 to maybe get a full day of vaping without worrying about battery life.
Another thing you'll need to stock up on if you plan on using the TFV12 regularly is e-liquid. This may seem like an exaggeration, and it is, kind of, but you'll need gallons of juice to keep this monster of a tank happy. That 6 ml juice capacity may sound impressive, but you'll be surprised how fast you can go through a full tank. At around 150W – 180W, you can drain it in a matter of minutes, which is pretty insane. This is kind of a deal-breaker for me, personally, because I mainly vape premium e-liquids, and with the TFV12 it gets crazy expensive. If I were to mix my own juice, that would be a whole different story, though.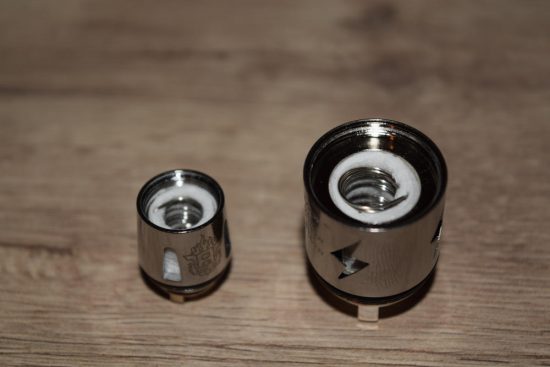 Just to clarify, the rapid battery draining and high juice consumption are NOT cons. I just want to make sure that people know that the TFV12's amazing vapor production does have its costs, and if you're willing to pay them, that's fine. If you're not, that's fine too, but it's important to know what you're getting into before buying it.
However, I do have one big con to talk about. You probably noticed that at one point I said that the coil-heads "are said to have a very long life". That's because I didn't get to use them for very long. Unfortunately, all three coil-heads that came with the kit started leaking at some point, and after a while, I just got tired of having juice flowing down my mod and hand when I least expected it.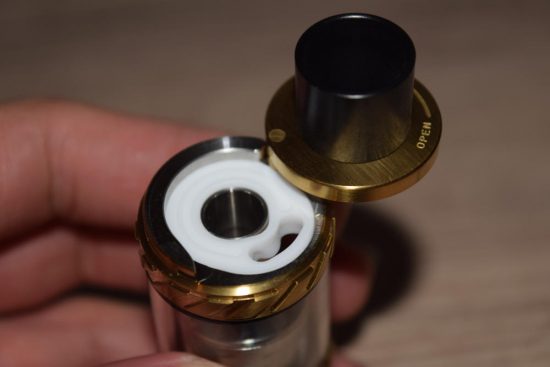 To be honest, after trying my best to prevent leaks, I looked online to see if anyone reported similar issues, and I couldn't find very many complaints. There were a few, but that's common for virtually any tank on the market, so I can't really say that the TFV12 tanks leak, but mine did, and it was a nightmare to deal with.
The first coil I tried, the V12-Q4, started leaking on the second day. I had filled it for the first time the evening before, left it for a whole night, and worked fine until about noon the second day, when I felt a sticky stream of juice flowing on my fingers after tilting the SMOK GX2/4 mod to take a vape. I think juice must have been building up in the base for a while, because when it started leaking, it wasn't just a few drops. Anyway, I wiped off the tank and mod, making sure I got all of it out of the base and continued vaping. Everything was great until I tried refilling it. In a matter of minutes, the three-quarters full tank was virtually empty and my mod had received a juice bath that it definitely did not need. After losing about 6 ml of delicious Mr Macaron Salty Caramel, I just didn't dare use that coil again.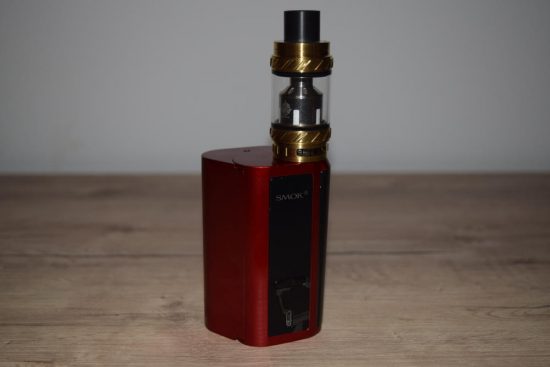 Sadly, the other two coils weren't better either. The V12-T12, made a gurgling sound from the very beginning, and started leaking soon after that, and my experience with the X4 was similar to the Q4. Bottom line, they all leaked. I don't know if it was the tank or the coils, but I did do everything I could to stop it. I filled the tank with the airflow closed. made sure that the coils were screwed on properly, and even tried to tuck the wires sticking out at the bottom of some of the coils, so that the o-rings insulated properly. Nothing work, and I ultimately just gave up.
I've never had leaking problems with the TFV4 and TFV8, so I was really surprised and disappointed with the TFV12. Again, it looks like this isn't a general issue with the tank, which leads me to believe that I was just incredibly unlucky to get a defective product for this review. I don't know if it was the tank or the coils, but something was definitely not working properly. It's a shame, because with the exception of the SMOK Big Baby Beast, I didn't really have any leaking issues with SMOK tanks. I currently have three Baby Beast tanks in my daily rotation, and they are as dry as a bone.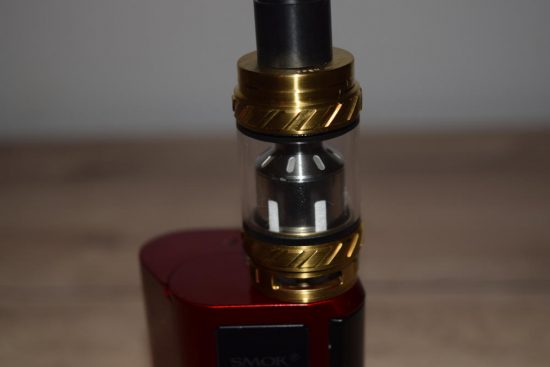 Conclusion
From the short time I git to use the TFV12 without it leaking, I could definitely see why so many vapers are impressed with it. This thing puts out more vapor than anything I've ever used before – although the TFV8 is not far behind – provided you can afford to feed it the power and e-liquid it requires. I see it more as a showpiece than an all-day vaping choice, precisely because of the high costs associated with using it. Maybe some people can afford to blow though tens of ml of juice every day, but I for one sure can't. The leaking problems were frustrating as hell, but, again, after using so many SMOK tanks, I think this was just a problem with this specific sample, and not a general issue.