Liquideo Think E-Liquid Review
If you're based in the US, the name 'Liquideo' probably doesn't ring any bells, but it's quite an established brand in Europe. The French company has launched several successful e-liquid lines, the latest of which is Think. Inspired by and named after seven of the most famous thinkers in human history, Liquideo Think flavors are without a doubt among the most memorable I've ever vaped.
Right from the packaging, you can tell Liquideo Think is something special. Every bottle of juice comes in a big black box a lot like the ones expensive watches usually come in. The Think logo adorns both the top and sides of the box, along with the motto "Make your own opinion" and a quote from Oscar Wilde's The Portrait of Dorian Gray – "The only way to get rid of temptation is to yield to it." The boxes are sealed with a bar-code sticker that ensures genuineness.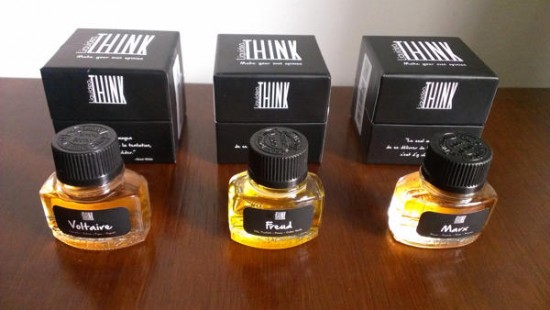 Inside the box lies one of the most beautiful e-liquid containers I have ever seen. Instead of the widely-used dripper bottle, Liquideo opted for something classier that fits the Think theme perfectly – an old-fashioned ink bottle, made of glass, obviously. The coolest thing, however, is that the boxes have two concealed compartments that I only discovered by accident while playing with one of them. I was just flipping it in my hand when I heard a rattling noise. I opened it, tried removing the bottle holder and discovered a plastic dripper and a smaller dripper bottle underneath.  The dripper makes refilling your atomizer of tank easier, while the tank allows you to take a small of supply of Think juice wherever you go.
As I mentioned, the Liquideo Think line consists of seven flavors: Churchill, Einstein, Freud, Gandhi, Marx, Voltaire and Wilde. So far I've only tried three of them, and to be honest, I don't know if I'm going to pick up any of the other four, because they contain either orange – which I dislike – or nettle (yes, the herb), which I'm reluctant about. But let's have a look at the three I did vape: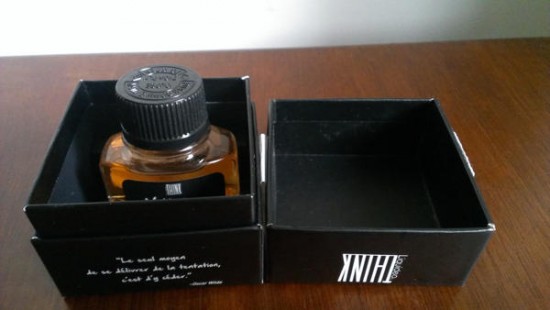 Think Voltaire – without a doubt one of the hardest flavors I've ever had to to identify. Apart from the discrete notes of cinnamon, nothing really stood out for me. This juice was a nice smooth cocktail of things I could swear I had never tasted before. It was fruity and spicy and it drove my senses mad. Ultimately, I checked their official website and learned Voltaire contains cinnamon, lemon, fig and orgeat (almond, sugar and orange flower water). I'm going to take their word for it. It's definitely an interesting flavor, but it could prove too complex for vapers with more straightforward tastes.
Think Freud – pure liquid gold. Not only is this juice a lovely gold color, but it tastes simply amazing. I have a sweet tooth and have always liked dessert vapes, but Freud was out of this world. Words simply cannot describe how much I love this juice. The first time I took off the cap to take a whiff, I was instantly taken back to my childhood years, when my mom used to make us crème brûlée, and, believe it or not, it tasted exactly the same. It's probably the sweetest e-liquid I've tried, and for me that's a good thing, but some might consider it a bit too much. It's definitely not an all day vape, but when you're craving something sweet minus the many calories, this will definitely do the trick.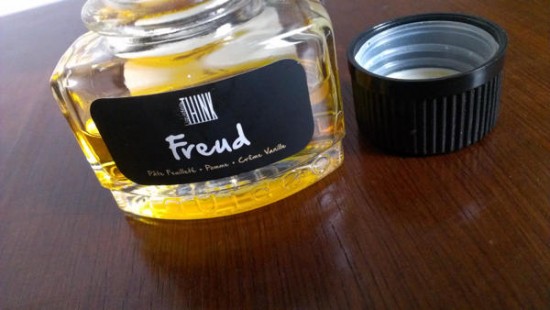 Surprisingly, Liquideo doesn't even mention crème brûlée in their description of Think Freud. Instead they list pâte feuilletée (French pastry), apples and vanilla. I don't agree, this juice is as close to liquid/vapor crème brûlée as you can get.
Think Marx – this was supposed to be a combination of rum, almonds, peach and nectarines, but sadly these flavors are muted by what I can only imagine is anise. It's funny, because it's not even listed as an ingredient, but I'm quite confident this is the spice they used. Unfortunately, in my opinion, they added so much of it that the other flavors are almost muted. I could taste the rum, but the more delicate flavors – almonds, peach and nectarines – were all but muted. I can't say I'm a fan of Marx.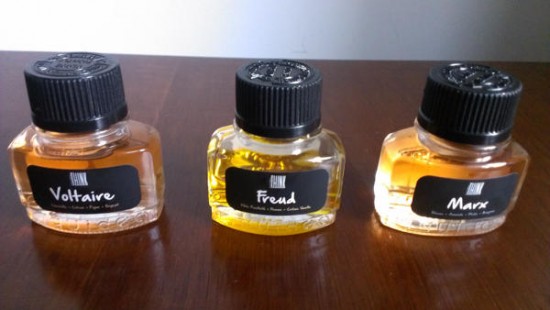 I have mixed feelings about the Liquideo Think flavors. On one hand, I'm crazy about the delicious Freud, a dessert flavor only the French could get right, but on the other, the Marx was a big disappointment. Voltaire is sort of in the middle, it's a unique fruity flavor, but it's definitely not the best I've tried, not even close.