Mr. Good Vape E-Liquid Review
Hailing out of Murietta, California, Mr. Good Vape is an e-liquid company that specializes in dessert and fruity vapes. With an impressive collection numbering no less than 12 flavors – above average for premium e-liquid brands – Mr. Good Vape offers such a large array of funky taste combinations that I would go as far as to call most of their concoction totally unique.
Mr. Good Vape, a.k.a 'The Godfather of Vaping' was conceived in 2010, by co-founders Gary Riddle and Chris Davis, but their original e-liquid flavors only became commercially available in 2012. Since then, the company has grown at a very fast pace, adding new mixes to the initial lineup and becoming one of the most popular juice brands in the vaping community.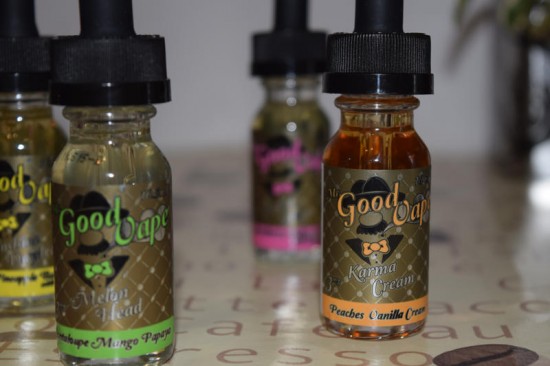 When Gary reached out to me about doing a review of their juice line, I jumped at the opportunity knowing that getting my hands on the whole collection in my neck of the woods without a hefty shipping fee would have been next to impossible, especially since their most popular flavors are almost always sold out. Also, I wouldn't have gotten a cool bobblehead of Mr. Good Vape himself, which my two baby daughters love playing with. But, as I tell every other company looking to have their product featured on this site, sending me samples does not guarantee a positive review.
When it comes to packaging and labeling, Mr. Good Vape is one of the most responsible e-liquid brands I have tried. Their juice comes in 15, 30 and 120 ml sealed glass bottles with child-proof dropper caps and labels that are both artistic and informative. On the front you have the company name and logo along with the name of the flavor and nicotine content, while on the back of the bottles they added an extensive list of warnings regarding nicotine products, ingredients and company information. And for anyone concerned about diacetyl and acetyl propionyl, you can find a chemical test report for every one of their flavors on the Mr. Good Vape website.
One thing that really caught my attention about Mr Good Vape e-liquid was the vegetable glycerin and propylene glycol ration variation by flavor. The 12 different mixes range from 80VG/20PG to 60PG/40VG and everywhere in between, which I can't say I've ever seen before. Most brands usually have a fixed VG/PG ratio across the entire line or just a slight variation, but I guess this goes to show you the work that Mr Good Vape put into every one of their e-juices, trying different combinations to get them just right.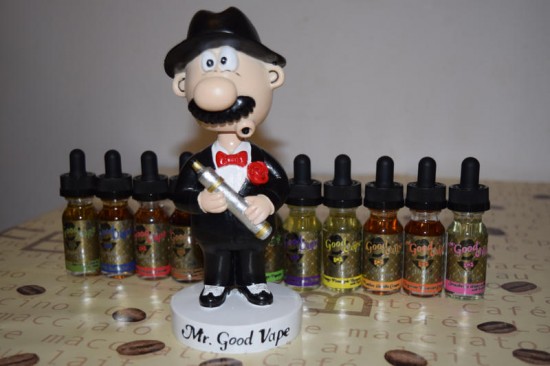 Nicotine content for Mr. Good Vape e-liquid ranges from 0 mg/ml to 18 mg/ml.
Now, let's check out the flavors:
Dabble Dooyah: without a doubt one of the funniest and at the same time one of the most abstract e-liquid flavor names I've ever seen. If the flavor profile wasn't posted on the bottle, I would have no idea what to associate Dabble Dooyah with. It's actually an apple pie with vanilla and caramel, and it's a delicious combination.
Flavor-wise, this 50PG/50VG juice is nothing short of amazing. Their mixologist did a great job replicating that complex taste of buttery apple filling with just a bit of added cinnamon. The caramel adds a bit more sweetness than that of an actual apple pie, but I have a sweet tooth, so I didn't mind that one bit. The biscuit-like crust is strongest on the exhale, but as for the vanilla, my senses had a problem picking it up. My guess is they were too busy enjoying the divine apple filling.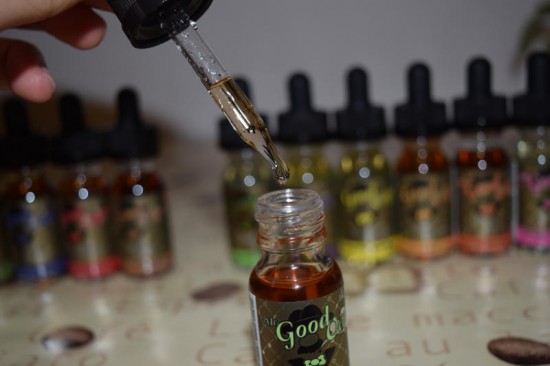 Dabble Dooyah may sound weird, but it's definitely one of my favorite Mr. Good Vape flavors. That said, there are a couple of things I didn't like about it: first, the vapor production wasn't all that great even in an RDA at 65 watts, probably owing to the high PG content, and second, the coils gunked up unusually fast, adding a slight burnt taste to the vapor. It's not as bad as The Milkman, but I'm thinking the cause may be the same – a high amount of sweeteners.
Sweet Lovin': we all need a bit of that in our lives, and luckily Mr. Good Vape sells it by the bottle. This 50VG/50PG juice is described as a sweet combination of strawberry, watermelon and bubblegum, which is fairly accurate. Sweet lovin' tastes a lot like that watermelon-flavored Orbit bubblegum, which is to say the watermelon is the strongest flavor in this blend, almost overpowering the strawberry. That's a bit strange, since taking a whiff of the bottle, I could have sworn that strawberry was the dominant flavor, but vaping changes that perception  completely.
Like Dabble Dooyah, Sweet Lovin' suffers in the vapor production department due to the 50% propylene glycol content, but it'a clear juice, so it doesn't ruin the coils nearly as fast.
If you're a fan of watermelon bubblegum, you're probably going to love this e-liquid, but otherwise Mr. Good Vape has better fruit flavors.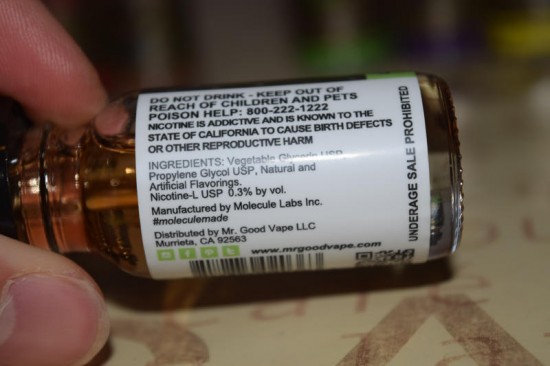 Moon Sugar: for some reason, this is one of the most confusing juices I've ever tasted. On the one hand, I like the sweetness and cookie crust taste of it, but there's also a strange spiciness to it that doesn't appeal to me at all. I just can't make up my mind if I like it or hate it. It's really weird.
According to Mr. Good Vape, this 80VG/20PG blend is a combination of Sugar Cookie, butterscotch and graham cracker, which sounds great, but tastes really funny. They don't mention any spices like cinnamon or anise, but there's clearly something in there that gives it a spicy taste.
Moon Sugar has sweet dough base, which I love, but the spicy notes really give it a funky taste that I simply can't say compliments the main flavors.
Heaven's Candy: I found this fruity blend tastes as divine as it sounds. According to the Mr. Good Vape website, Heaven's Candy is a combination of fresh apple and grape candy and should taste like "a piece of candy fresh off the conveyor belt at a candy factory". I must have been missing out, because I never tried grape candy as a child, but I will say that the flavor of this juice reminds me a lot of grape-flavored Fanta, one of my favorite fizzy drinks growing up. Yes, it's an artificial grape taste, but I for one used to be crazy about it.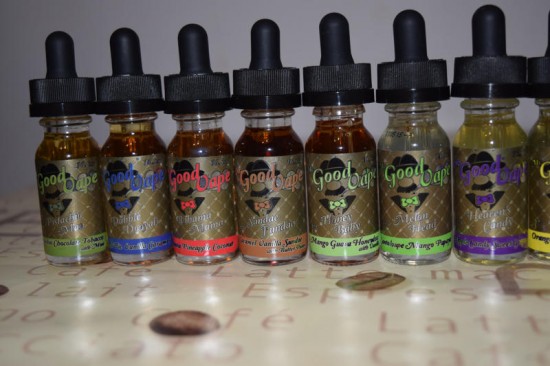 I for one didn't get a hint of apple while vaping Heaven's Candy. It has a bit of tartness to it to balance the sweetness of the candy, which I guess could be associated with fresh apple, but as far as apple taste goes, my senses didn't pick up anything. Grape candy is undoubtedly the dominant flavor when vaping Heaven's Candy, so if you're into that, be sure to give this one a try.
For a 60PG/40VG blend, this juice produces decent vapor, and despite the candy sweetness, it doesn't gunk up the coils as fast as I thought it would.
Sunshine Daydream: a flavorful summer vape that consists of orange, pineapple, banana and yogurt flavors. The first time I took a hit of this, I thought that flavor profile was way off. The creamy, tart yogurt was unmistakable, and even though it tasted fruity, I just couldn't tell if it was orange, pineapple and banana or a cocktail of other exotic fruits. But after cleaning my palate with a mouthful of mint tea, the description actually made sense.
The orange isn't as clear as in other juices I've tried, but that's because it blends so well with the pineapple, creating a whole new citrus flavor. But focus on it while you vape and you can tell it's a combination of these two fruits. The banana is the most discrete note in Shunshine Daydream, making its presence felt only on the exhale, and even then it's easy to miss because of the strong yogurt taste.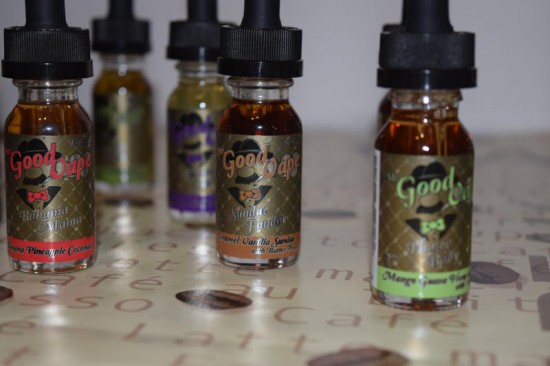 Sunshine Daydream is not as sweet as other candied fruit flavors in the Mr. Good Vape lineup, so if you're looking for a more natural fruit flavor wrapped in creamy yogurt, this one's for you.
Bahama Mama: this is one of the most popular Mr. Good Vape flavors, and for good reason – it's a really well executed piña colada with a unique banana twist. Unlike other other flavors in this lineup, in fact it's so well balanced that I couldn't really identify a dominant flavor in this blend. And yet all the ingredients are easy to identify, particularly on the exhale. You have a tropical mix of pineapple, banana with a hint of coconut, all wrapped in creamy goodness. Just lie down, close your eyes, pretend you're on Copacabana beach and vape.
Another thing that impressed me about Bahama Mama was the vapor production. For a 60VG/40PG blend, this juice made my room foggy. I was using the Samurai Competition RDA, so that definitely helped, but the juice definitely outperforms other Mr. Good Vape flavors in the vapor department.
Karma Cream: canned peaches and cream was one of my favorite treats as a kid, so Karma Cream really took me on a savory walk down memory lane. This juice may not be as complex as other blends in the Mr. Good Vape collection, but it's a nice take on a timeless classic. The peach takes center stage both on the inhale and the exhale, but the cream is always in the background as well, adding to the smoothness of the vape.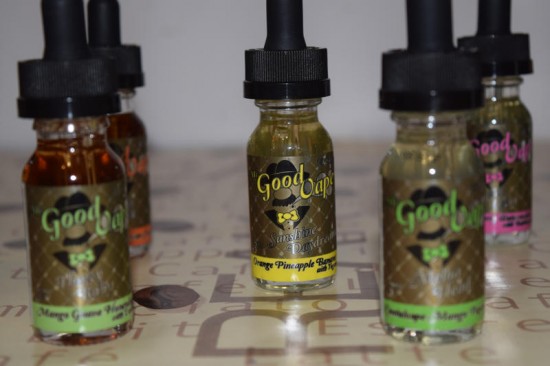 This is a 75VG/25PG blend, so expect lots of cloud, especially when using it with high-quality RDA or sub-ohm tank.
Melon Head: the name fits this juice like a glove. If it's the dead of winter and you're craving a juicy slice of cantaloupe, a few hits of Melon Head should do the trick. This is by far the most flavorful natural-tasting cantaloupe e-liquid I have ever vaped, and I've tried a few. I don't know how The Godfather of Vaping did it, but they've definitely struck the nail on the head with this one.
The flavor profile for Melon Head also includes mango and papaya, but they are so discrete that you barely notice them. I for one didn't get a hint of mango while vaping this juice, and as for the papaya, there might be a bit of it in there on the exhale, but compared to the strong cantaloupe taste, it's virtually non-existent. Melon Head is all about the melon.
Vapor production was impressive, which is to be expected from an 80VG/20VG blend.
Honey Baby: even though the flavor profile looks slightly different, this juice is very similar to Melon Head. Instead of cantaloupe, you have honeydew, which is basically the same thing only a bit sweeter, and then you have some mango, guava and a drop of vanilla. But just like Melon Head, this blend is dominated by the honeydew. In a nutshell, Honey Baby is a slightly sweeter version of Melon Head.
The mango is again very hard to distinguish, as is the guava actually – which might have something to do with me not having tried natural guava yet. The honeydew is just so strong and flavorful that it manages to keep even an otherwise intense flavor like vanilla in the background both on the inhale and the exhale. Melons galore, again.
Dream Sicle: I'm usually not fond of oranges, mandarins and their many related fruits, but Mr. Good Vape's combination of tangy tangerine and sweet vanilla ice-cream has made quite an impression on me. That was mainly because their mixologist managed to strike a perfect balance between the tangerine and creamy vanilla. Instead of one flavor dominating the juice, they jest blend perfectly to delect the senses with fruity/creamy goodness.
You'll probably enjoy this even more if you actually like orange or citrus vapes in general, but even if that's not the case, you'll still find this is a decent blend, overall.
Sundae Fundae: "A delectable blend that mimics vanilla bean gelato drizzled with hot caramel, coated in chopped, buttered pecans banded together in a sweet and crunchy waffle cone" – this juice tastes as delicious as it sounds. I knew I was going to love vaping Sundae Fundae the moment I saw the flavors listed on the bottle, and I ended up vaping through the whole bottle in just three days. I just couldn't get enough of the sweet, nutty goodness, and I can't wait to get my hands on another bottle very soon.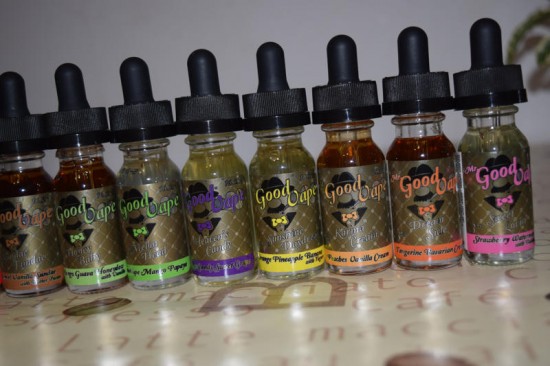 Those buttered pecan nuts may be listed last on the label, but they actually carry the strongest flavor, especially on the exhale, so if you're into buttery, nutty vapes, you can't go wrong with Sundae Fundae. The caramel and vanilla are strongest on the inhale and give the whole mix a sweetness that's characteristic of most dessert vapes. This is one of those complex e-liquids that sound hard to pull of, but end up tasting amazing.
I was a bit disappointed by the 60PG/40VG ratio of Sundae Fundae, since the high amount of propylene glycol will probably keep a lot of vapers away, but since I'm not sensitive to the stuff, it didn't bother me at all.
Pistachio Man: I began this review with an amazing flavor, so it's only fitting that I end it on a high note, as well. Pistachio Man is one of the most original and surprisingly delectable juices I have ever vaped. After reading pistachio, chocolate, tobacco and mint on the bottle, I was sure that this was one of those crazy combinations that mixers sometimes attempt to stand out from the competition, but that almost never work. Well, this is one of those rare exceptions.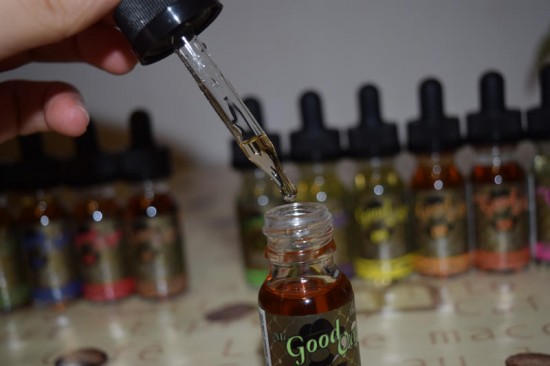 Mr. Good Vape is all about savory vapes, so don't go fantasying about a robust tobacco vape, because Pistachio man isn't that at all. The little burley tobacco that's in it is only meant to compliment the main flavors in this juice – roasted pistachios and mint chocolate. And those two just go so damn well together. Granted I might be a little subjective, since I'm a big fan of both pistachio and fine mint chocolate, it's just that I had never tried them together before. I wish I could find the words to explain it better, but I can't think of anything other than a symphony of delicious flavors that I can't get enough of.
Pistachio Man may sound like a weird combination of flavors that don't really seem to go well together, but trust me when I say that Mr. Good Vape has struck gold with this one.
Boy this is one long review. If anyone actually gets all the way down here, first of all, congratulations, I know it hasn't been easy. Second, you might also want to know that even though Mr. Good Vape is a premium e-liquid line with some really good dessert and fruit flavors, they are a bit more affordable than most of its competitors. Most other companies sell their 30 ml juice bottles for $22, but the online stores I've checked have Mr. Good Vape listed at $19.95. It might not seem like a big difference, but if you buy several bottles, it adds up to a nice discount.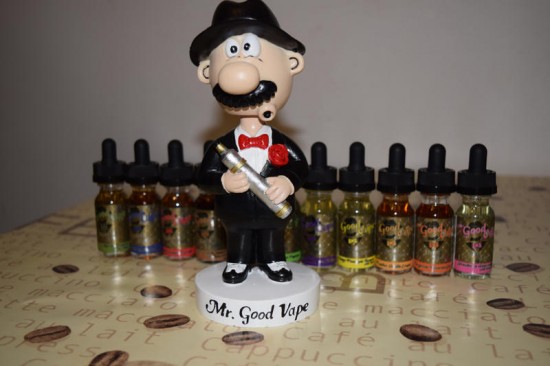 I didn't like all 12 flavors as much, which is only normal since most of them are very different, but I can definitely appreciate their originality and execution. Overall, I found the Mr. Good Vape line quite satisfying, and would wholeheartedly recommend you give their stuff a try.