Smoant Naboo Kit Review
People have been predicting that vape mods would eventually catch up to smartphones, and while that has yet to happen, we're starting to see clear signs that it's just a matter of time. Case in point, the new Naboo 225W box mod from Smoant, which apart from a general design seemingly inspired by high-end smartphones also features the largest color display I have ever seen on a vape mod, as well as touch-screen buttons and vibration feedback. The kit also includes the Naboo sub-ohm tank, which comes with two beefy mesh coils, so there's definitely a lot to go through. So let's get started:
A Look at the Contents
The Smoant Naboo kit comes in a standard black cardboard box with a picture of the assembled Naboo mod and tank on the front,, and a list of contents, some technical specifications, as well as information about the manufacturer, on the back. You also have a scratch and check authenticity, if you want to make sure your device is genuine.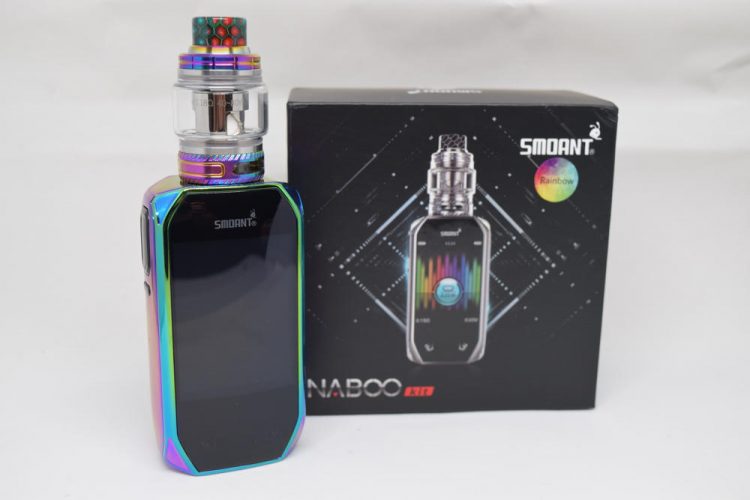 Inside the packaging, we have the slick-looking Naboo 225W box mod sitting next to the namesake sub-ohm tank with a pre-installed coil-head and bubble tank, and a spare classic glass section. When you take out the mod for the first time, you'll notice that there is some more stuff at the bottom of the box. You'll also find a micro-USB cable for charging and firmware upgrades, a spare coil-head and instruction manuals for both the mod and the tank. All in all a decent offering from Smoant, something we've come to expect from this company.
Design and Build Quality
The Naboo 225W box mod is definitely the centerpiece of this kit. It's one of the most eye-catching vaping devices I've seen in a while, and it's not just the rounded, polished design that makes it stand out, but the high-quality feel and the gorgeous color display. Smoant claims that this is the world's 2.4 inch screen vape mod, and while Chinese manufacturers have been known to exaggerate for marketing purposes in the past, I will say that this is indeed the largest display I've ever seen on a mod. It's nice to see a screen that takes up most of the available real-estate, instead of having useless black borders around it, I'll tell you that much.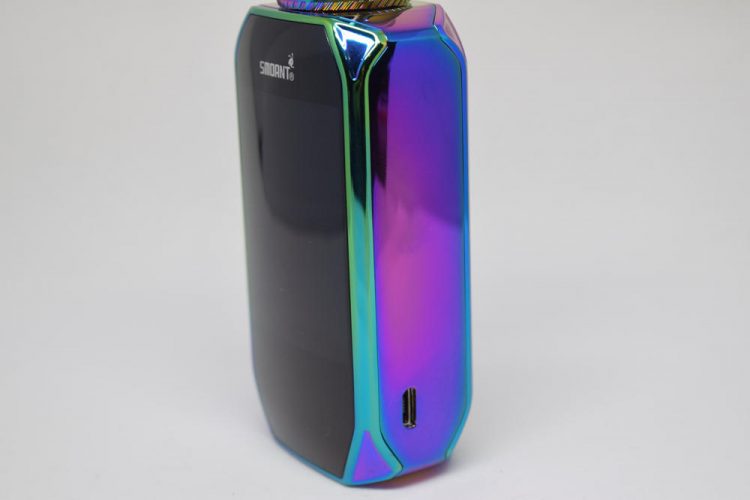 The Smoant Naboo is made primarily of zinc alloy, measures 91mm x 48mm x 31mm and comes in 7 different colors. For this review I received the rainbow version, but from what I could tell, they all have the same glossy paint finish. It's a fingerprint magnet, as is the display cover, but it looks very cool after you've cleaned in.
At the top of the mod we have a standard 510 connection with a gold-plated, spring-loaded pin, and the same style of metallic plate we've seen on the Smoant Charon Mini. While the company mentions the thickness of the device as being 31mm, the Naboo is slightly rounded at the top and bottom, so any atomizer over 27mm will start to overhang. The included Naboo tank is only 26mm in diameter, so you don't have to worry about any overhang if you plan on using it.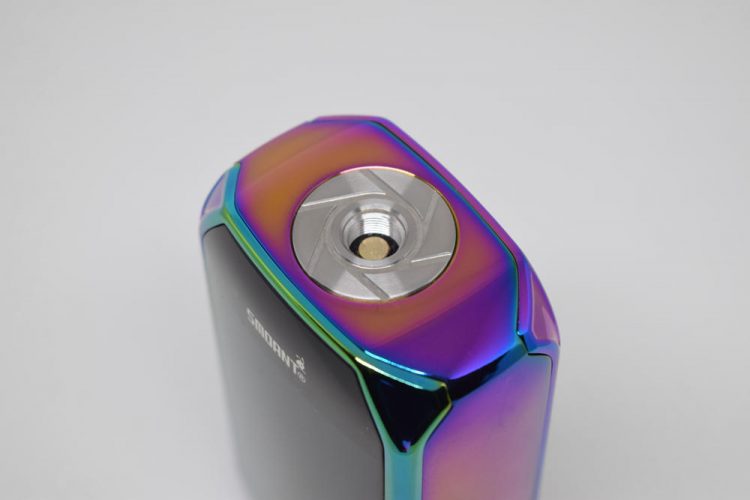 On one of the two larger sides of the mod we have the 2.4-inch display I mentioned above as well as two touchscreen buttons. So the screen itself is not tactile, just the two buttons under it. On the opposite side we have a magnetic battery door which attaches to the mod via three pairs of magnets. To remove the cover, check on the bottom of the mod for a groove that you can put your fingernail in and pull it off. The door has plastic padding on the inside to avoid a short circuit if the wrapping on either of the batteries happens to be damaged, and the battery trays both have very clear polarity indicators. The battery door does have a tiny bit of play if you try to move it with your thumb, but you can't really feel it in the hand during day to day use.
The fire button is located on one of the narrow sides of the Naboo mod, near the top. It's a large, rectangular fire button, but only the upper half of it is actually active. Try to press the lower half of the button and you'll notice that it's very stiff. I was a bit disappointed about that in the beginning, but then I started thinking that this was done intentionally, due to the smaller button located right under the fire button. That small button is actually an activator for those two touchscreen buttons under the display, and in order to prevent users pressing that button while trying to press the fire button, they made it so only the top half of the fire button could be pressed.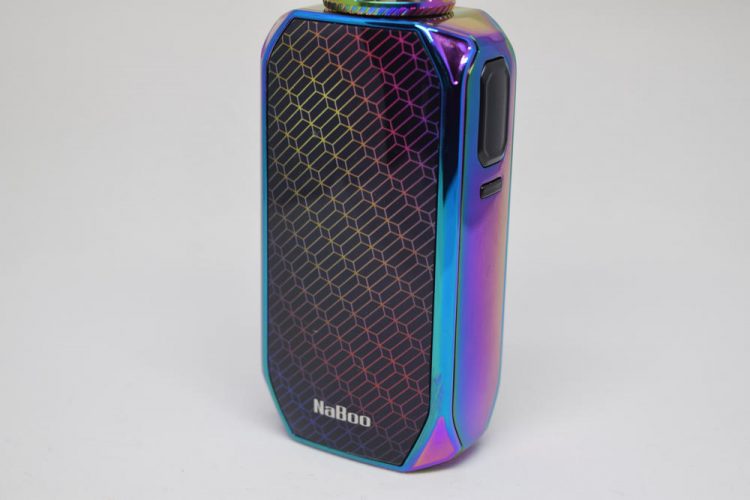 Other details worth mentioning are the rounded corners and edges of the Naboo mod, which make it very comfortable to hold in the hand, the micro-USB charging port discretely positioned on the narrow side of the device opposite the fire button, and the generous battery venting slots on the bottom.
Overall, I was very impressed with both the design and build quality of the Smoant Naboo 225W box mod. This is a device that both looks and feels great in the hand. It's a bit larger and heavier than the Smoant Charon Mini, but it still fits into the mid-size category of dual 18650 battery mods.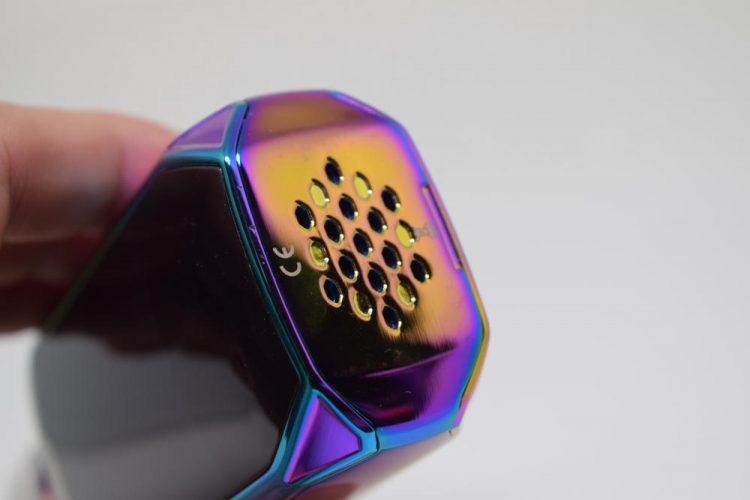 Menu System and Navigation
I'm going to start by saying that the menu system and even the screen layout of the Smoant Naboo are very similar to other Smoant devices we've reviewed recently, like the Charon Mini or the Smoant Cylon 218, so I will not g into super minute details about it. It's really easy to figure out, and you can check my other reviews if you're interested in something particular, but what really sets the Naboo apart from the Smoant mods that came before it are those two touchscreen buttons.
To get into the menu of the Naboo mod, all you need to do is press the fire button three times. You will be presented with four sub-menus, but in order to highlight and access any of them, you will first have to activate those two touchscreen buttons. To do that, just short-press that little button under the fire button and you will feel the mod vibrate in your hand and also see those two touchscreens buttons light up. You are now able to use those buttons as you would regular "+" and "-" buttons on any other advanced mod, and when you're done adjusting, you can press that activation button again to deactivate them so you don't press them accidentally when holding the mod in your hand or storing it in your pocket.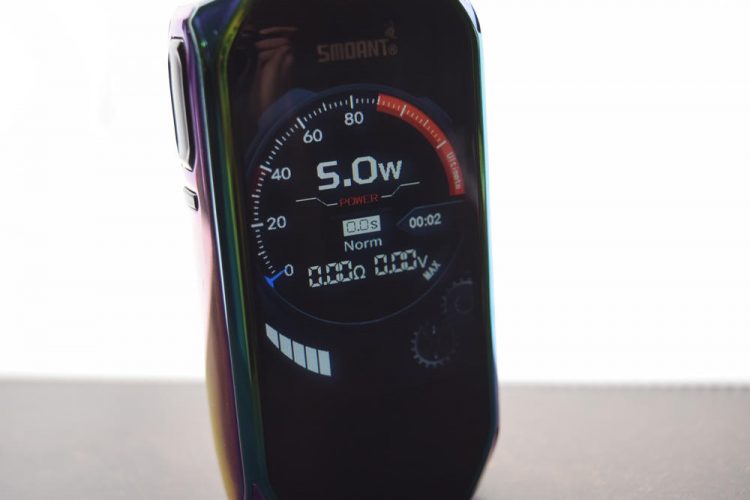 As I mentioned, the Naboo's menu features four submenus. The first one features three pre-heat options for  wattage mode, as well as a custom curves options, where you can set the wattage level in one second increments for the first 10 seconds of your vape. The second submenu relates to temperature control, allowing you to pick from three supported materials (nickel, titanium and stainless steel), as well as a TCR mode, and a custom curves mode for temperature.
The third submenu is for general settings like screen brightness , setting the time and date, choosing from three available home-screen layouts and two available screensaver options, adjusting the screen timeout, activating and deactivating the vibrations associated with pressing the touchscreen buttons and reverting to factory settings in case something goes wrong. Finally, the last submenu allows you to select one of nine pre-loaded wallpapers to show on the home screen.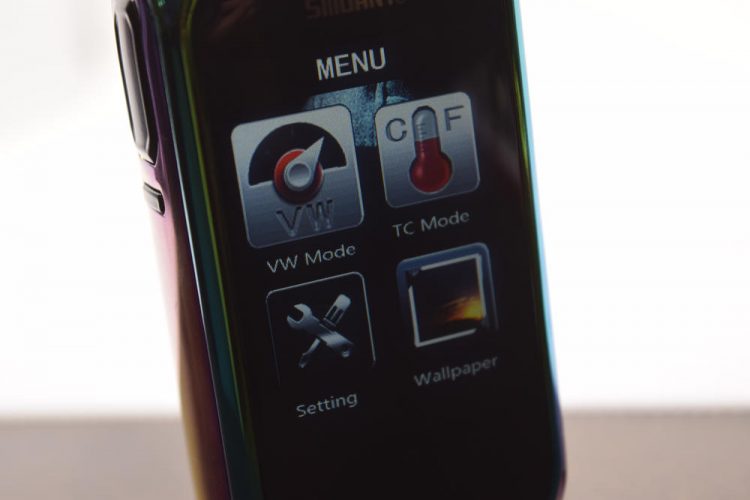 Tha Naboo is firmware upgradable, and you should theoretically be able to upload your own wallpapers, although I haven't done that myself. You also have three home screen layouts to choose from, two that we've seen on the Charon Mini and other Smoant mods that use the latest Ant chip (the dial and the classic layouts), plus a new Music Mode, which features these moving sound bars which actually react to noise. The mod apparently has a built-in microphone that picks up sounds and the sound bars on the display a react accordingly. It sounds like a neat feature, but I personally consider it a gimmick.
That's basically all there is to the Smoant Naboo menu and navigation. They are both super easy to figure out and get used to, so I really have no complaints about them.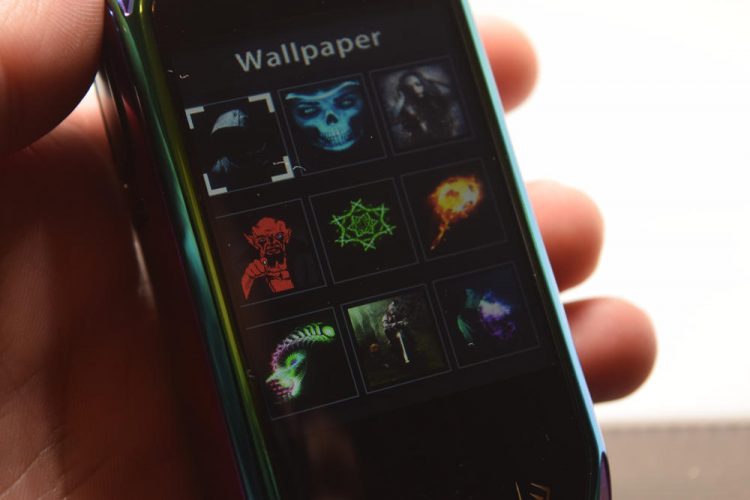 Battery Life and Performance
The Smaont Naboo 225W mod is powered by two 18650 batteries that are not included in the kit. You have to buy them separately, and because there are so many brands and different capacity batteries available right now, not to mention your personal vaping style, it's virtually impossible to accurately estimate battery life. What I will say is that while Smoant's new Ant 225 chip appears to do an excellent job using the batteries efficiently, it's as conservative as previous versions of the chip when it comes to draining the batteries. What that means is that you are likely to get the low battery warning sooner than when using the same batteries in another mod. I don't consider that to be a con, though, since it's essentially a safety precaution.
The Naboo also features on-board balanced charging, at a rate of 1.5A, and you can use the device while it's charging.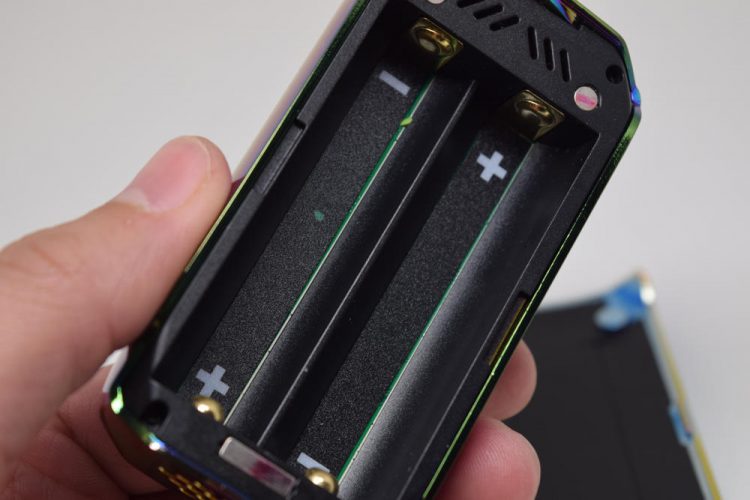 Performance-wise, the Naboo is supposed to be the most advanced mod ever made by Smoant. It features the latest version of the companies proprietary Ant chip, which is supposed to ensure lightning-fast battery activation (0.015 seconds), as well as other auxiliary features, like wallpaper uploads. As its name suggests, the Naboo has a maximum fire output of 225W, which I for one am not that excited about, as I hardly ever go over 100W anyway. But if the thought of being able to vape at over 200W makes you feel better, this thing lets you do just that.
I haven't tested the Naboo's performance in temperature control mode, as I simply have no interest in that features at all. To be honest, I feel that manufacturers don't care much about temp. control anymore either. For example, Smoant didn't even bother specifying what coil material is used in their coil-heads, which I feel is an indication that they expect people to use the tank in wattage mode.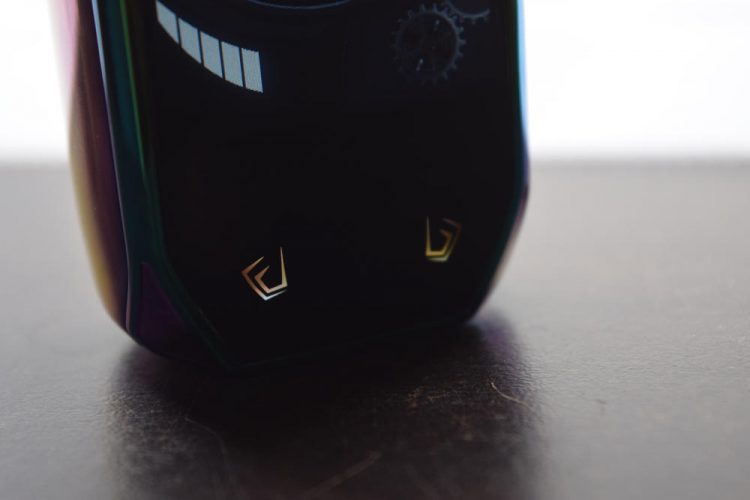 I have been using the Naboo for little over a month now, which is longer than I usually take to review stuff, but I kept putting off due to personal problems. Anyway, during that time, I've had no issues with the mod whatsoever. It does what it is supposed to, the buttons work as well as in the beginning, the fire speed is insane, as is the power ramp-up, especially when opting for the normal or Max pre-heat options. All in all, a great mod without any noteworthy cons.
The Naboo Tank
The sub-ohm tank included in this kit is the cherry on the cake as far as I am concerned. You're already getting a very solid mod, so what better way to make it better than pairing it up with a versatile tank that uses beefy mesh coils. The new Smoant Naboo features two different glass tubes, a classic one that holds 2ml of e-liquid, and a bubble glass that increases the juice capacity to 4ml. It has a simple top-filling system, comes with a cool looking resin 810 drip tip, and features two large bottom airflow slots.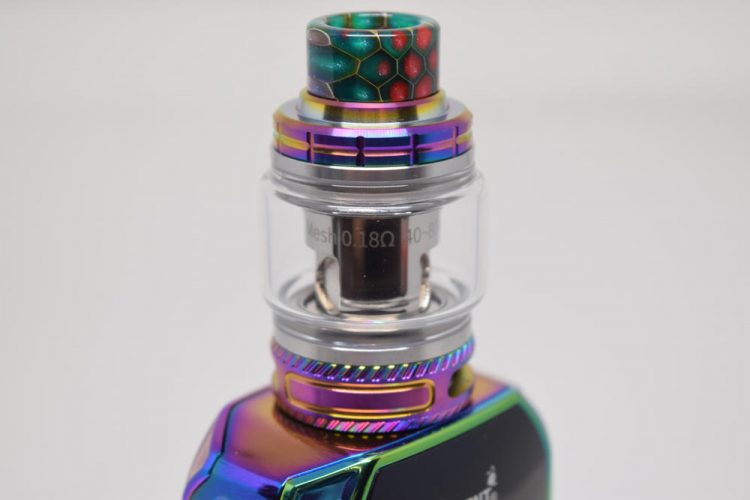 Smoant also includes two impressive-looking mesh coils, one rated at 0.18Ω (40W -80W) and an 0.17Ω coil-head (60W – 100W). While the don't allow you to take full advantage of the mod's full power capacity, they are very good coil-heads, both in terms of flavor and vapor production. They features lightly different styles of mesh, but in terms of performance, I really didn't see that much of a difference between them.
In case you've never used mesh coils before, they provide considerably better flavor than most standard coil-heads, and the ones of the Smoant Naboo tank are no different. They do take a few puffs to break in, but once they're glazed with e-juice, they do bring out the flavor in your favorite e-liquids. I can't say they are the best mesh coil-heads I have ever used, as that title still belongs to the Freemax Mesh Pro double and triple coil-heads, but for single mesh coils, these are pretty good.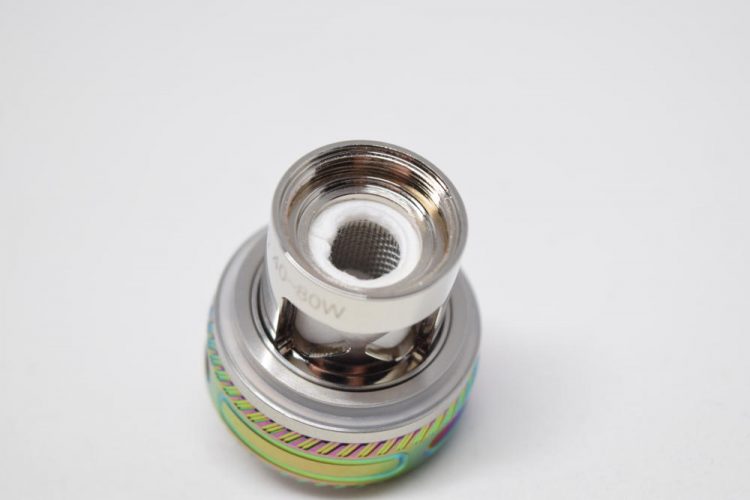 Conclusion
I've been a fan of Smoant ever since I got a chance to use their original Battlestar mod and with the exception of that ugly Ranker mod they put out a while ago, these guys have yet to disappoint me. They're just very good at making high-quality devices at very affordable prices, and the new Naboo mod is another great example of that. The whole kit sells for around $60, but you're getting a very solid and slick-looking device featuring the largest display ever used on a mod, as well as touchscreen buttons and a very advanced chip. The Naboo sub-ohm tank, while nothing to write home about, is still a good mesh tank that's bound to please all but the pickiest of vapers.
Bottom line, the Naboo kit is another fine offering from a company that has steadily built a reputation for creating high-quality products at affordable prices.