Smoant Ladon 225W Review
Buy the Smoant Ladon Mod
Buy the Smoant Ladon advanced box mod at a special price, from a trusted online vape shop.
There was a time when dual-battery advanced vape mods were being pushed out at such a fast rate that I was struggling to keep up with them, but nowadays, with vape pods and pod system dominating the market, you hardly see any dual-battery mods anymore. Which is why I was surprised to see Smoant launch their new Ladon 225W box mod. They're definitely swimming against the tide with this one, not that I'm complaining, I've actually been missing the good ol' days, to be honest.
A Look at the Contents
The new Smoant Ladon comes in the usual packaging – a cardboard box with a picture of the device on the front and a list of contents, manufacturer information, and a scratch and check sticker on the back.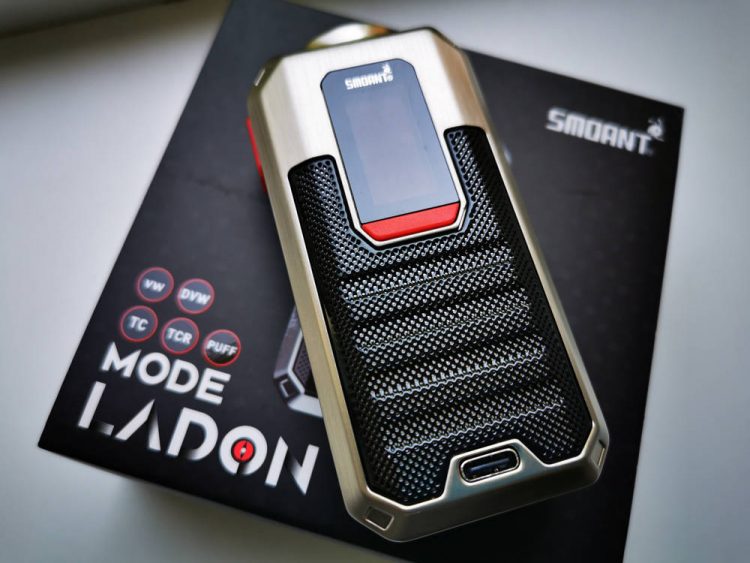 Inside the box we have the Ladon 225W dual-battery box mod sitting in a foam holder, and underneath that we have another compartment containing the USB Type-C charging cable and the user manual. It's basically your standard vape mod kit, nothing more, nothing less.
Smoant Ladon Mod Design and Build Quality
The Ladon 225W box mod is made primarily of zinc alloy, with plastic material accents, and measures 91.5mm x 45mm x 29.5mm. It comes in four different colors – black, stainless steel, red+black and rainbow – and also features various finishes on the battery door. The review unit I received has a nice leather cover, but other variants feature a less impressive foam-like finish.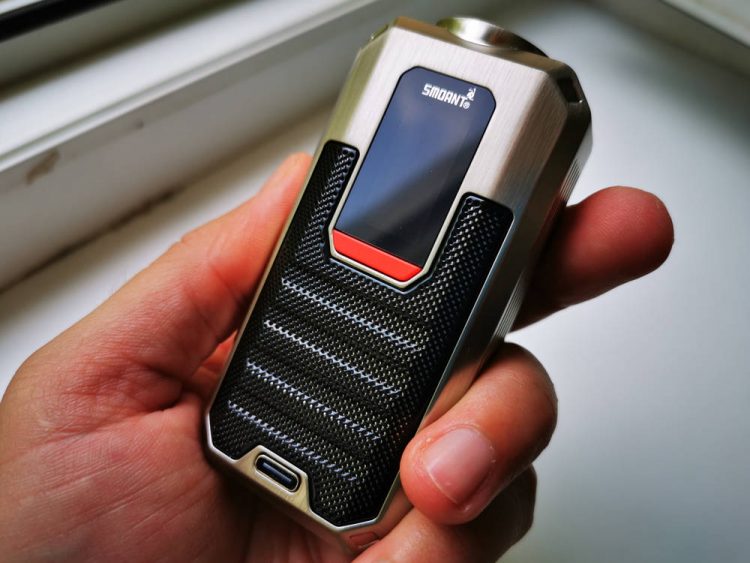 Design-wise, I can't say that Smoant took any big risks with the Ladon. It has that classic beveled box mod shape that we've seen before on the likes of the Smoant Charon Mini, for example. It even has the raised platform for the 510 connection that the Charon Mini did, so it's pretty obvious what the design inspiration for the Ladon was.
Even though at 29.5mm the Ladon has some girth, it's still a fairly compact device for a dual-18650 battery mod. So if you're looking for something that fits comfortably in the hand, and even in a decently-sized pocket, the Smoant Ladon is a great choice.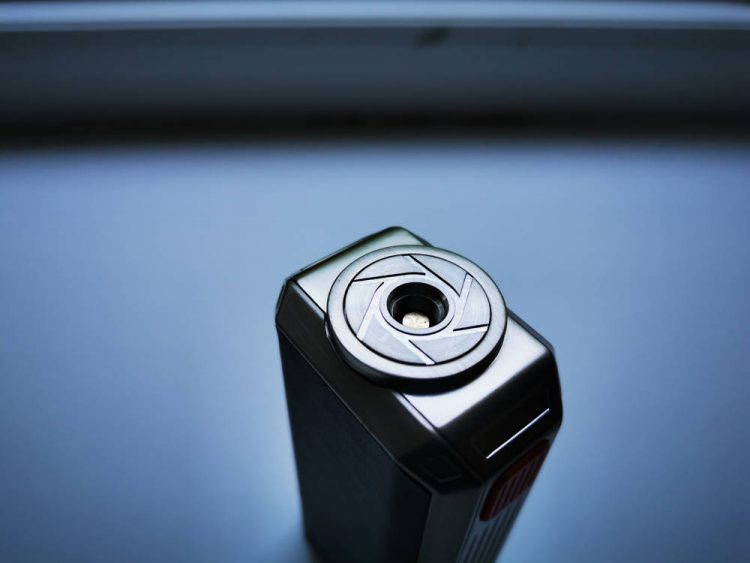 At the top, we have that raised 510 connection I mentioned before, with the same etched channels we saw on the Smoant Charon Mini. It has a gold-plated, spring-loaded 510 pin and accommodated atomizers up to 25mm in diameter without any overhang.
The front panel of the Smoant Ladon looks a lot like a tape recorder or a mini portable radio, mainly because of the plastic decoration that closely resembles the cover of a speaker. it's purpose if only decorative, although I will admit that it has a very nice texture as well.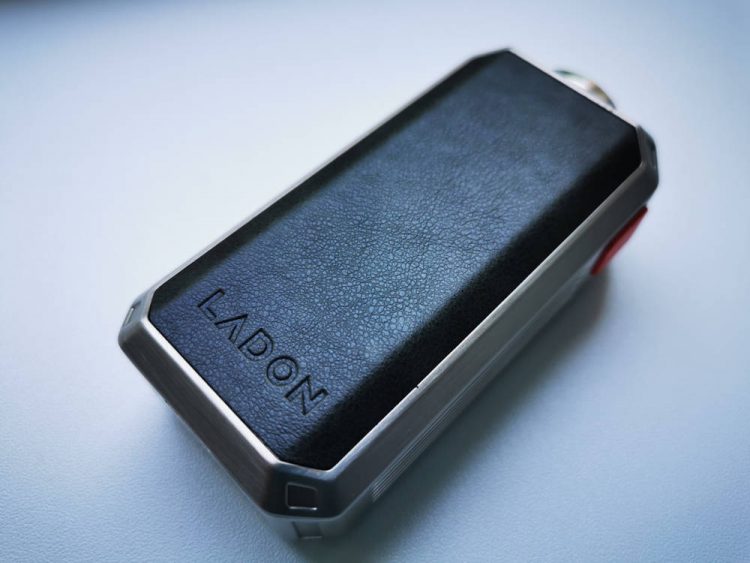 The rectangular display is not exactly Smoant's finest, unfortunately. The display of the Charon Mini, or even that of the Naboo mod, for that matter, were vastly superior. The Ladon has the same display as the Smoant Knight 80 AIO that I reviewed last week, and unfortunately it is just as dim and hard to see in strong sunlight.
Right under the display are the + and – buttons which are presented by a conspicuous red line, which matches the red, rectangular fire button on one of the narrow sides of the mod, near the top. These are the only red elements on this mod, and they kind of stick out like two sore thumbs, but I rather like the look of the Ladon. The buttons are nice and clicky as well.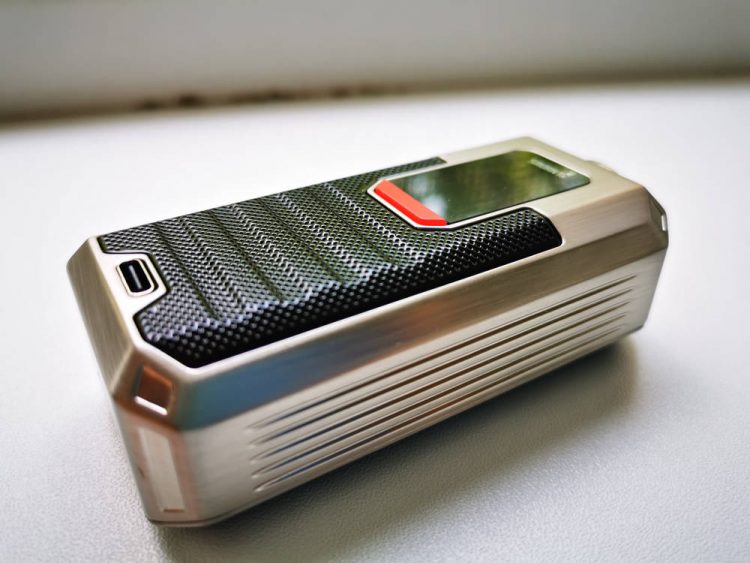 Opposite the black and white display of the Smoant Ladon we have the battery door, which has a surprisingly nice leather finish. Is this real leather? Well, Smoant claims it's leather on its website, and it does have a very natural look and feel, but I doubt it. Still, it's a very quality substitute, in my opinion.
Unfortunately, while the battery door may look cool, it's not perfect. Three pairs of magnets do a great job of keeping the door from detaching accidentally, but they can't stop it from wobbling up and down, as well as side to side. It doesn't move that much, but it makes a distinct metallic sound that I for one can't ignore. It's not a deal-breaker, but it's definitely something that could have been fixed prior to launch.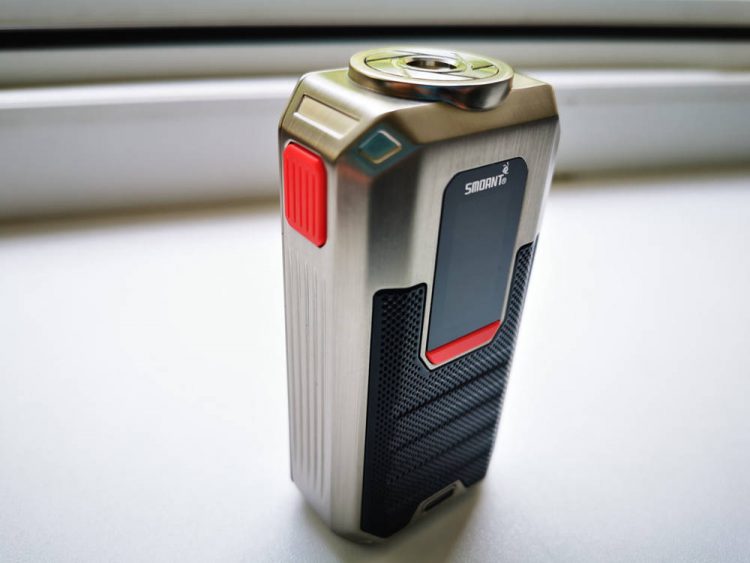 Overall, I would say that the Smoant Ladon 225W has the same impressive build quality that the Chinese manufacturer has been offering since the launch of its very first vape mod, the Smoant Battlestar, several years ago. However, it's not perfect and the loose battery door is proof of that.
Smoant Ladon Menu System and Navigation
This would be the section where we go into detail on the menu and navigation of this device, but seeing as how we just recently presented this very same display and menu system when reviewing the Smoant Knight 80 pod mod, there is really no point in repeating the same things just for the sake of it. If you would like more information on the various features and vape modes of the Ladon 225W mod, just check my review of the Knight 80W.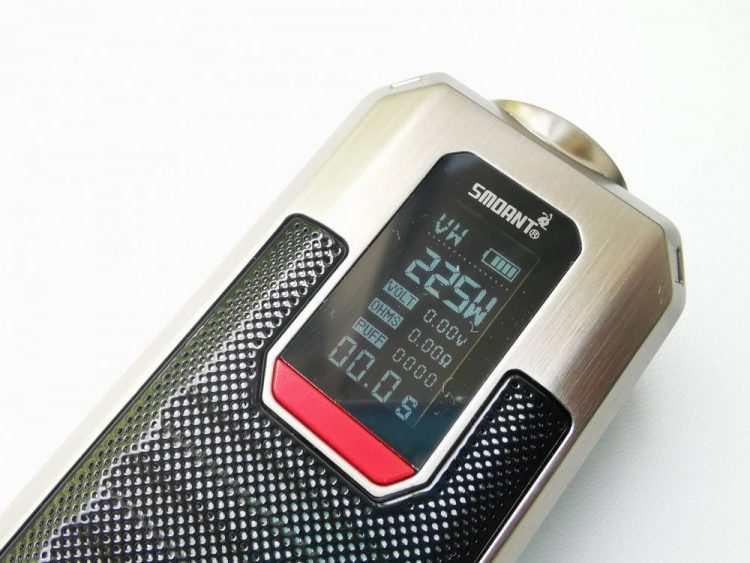 What i can tell you is that with the exception of the Custom Curves configuration, which can take some getting used to, the rest of the available modes and features are very intuitive.
Smoant Ladon Battery Life and Performance
Since this is an external battery device, it's impossible for me to offer a fair estimation of battery life. It depends on a variety of factors, from the capacity and quality of the batteries – I use Sony VTC5A almost exclusively – to the power output set on the mod and how much you vape. What I will say is that Smoant has always been known to be very conservative with the battery voltage threshold at which they will cut off power to the mod for safety reason, and the latest generation of the company's Ant chip seems to be no different.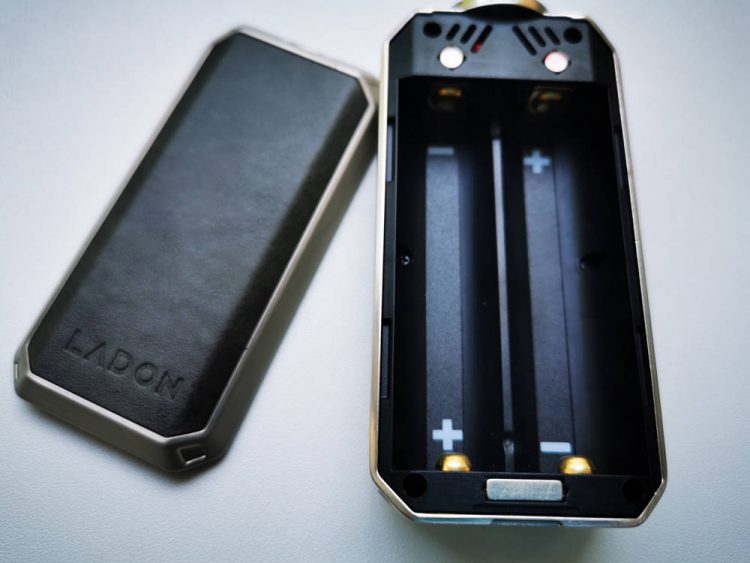 You'll be happy to know that, while on-board charging is never recommended, if you have no other alternative, the Smoant Ladon features 2A charging via its USB-C port. I recommend getting a spare set of batteries just to be sure, and charging them on an external charger.
In terms of performance, there is not that much to say, to be honest. I have mainly been using the Ladon 225W mod in wattage mode for the last week, and it's been performing pretty much as I expected it to. It fires almost instantly, power ramps up very fast, just like on most modern vape mods nowadays, so nothing to complain about in that regard.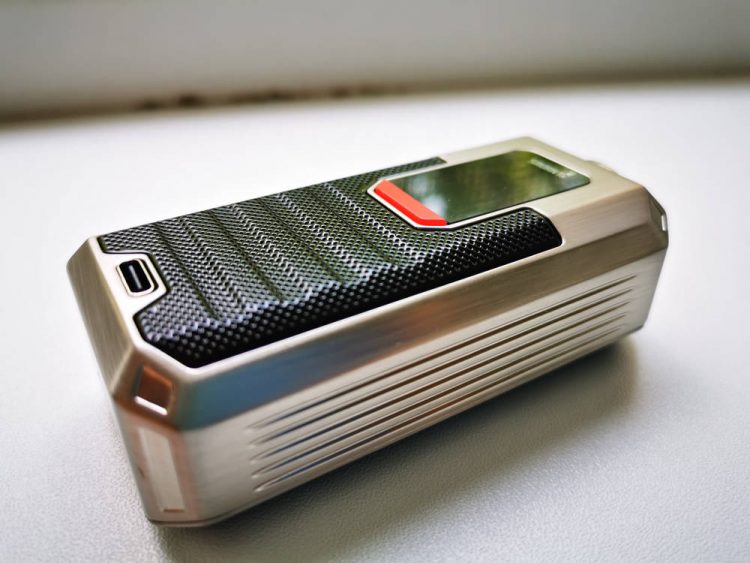 Does the Smoant Ladon output the advertised 225W? I don't have the know-how or the hardware to test it, and I personally wouldn't vape at that level even if someone paid me to do it, but personally I don't think so. Only high-end dual-battery mods can reach that wattage, and only for short periods of time, in very strict conditions. That's not to say that the Ladon is worse than other mods; it probably outputs close to 200W, which is true for most other mods in its category.
I have not tried the temperature control mode, simply because I am not a fan of temp.control, so I can't offer any information on that feature, but as for good ol' wattage mode, the Ladon has so far been performing very well.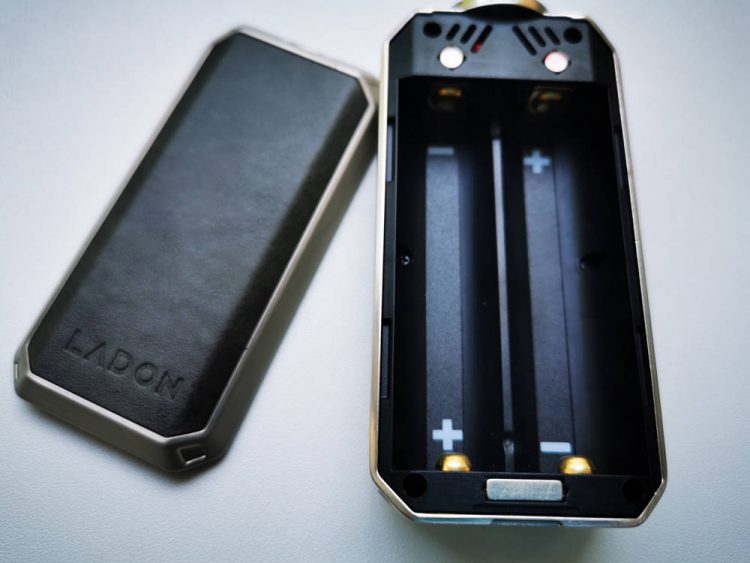 Conclusion
The Smoant Ladon isn't the most innovative dual-battery vape mod ever created; it's not even Smoant's most advanced device, but in a time when companies don't even bother with this sort of device anymore, I'm just glad to see any new dual-battery advanced mod. It seems like we're only getting vape pods and pod mods, so any change is a welcome one.
That said, the Ladon is a nice-looking device with decent build quality, which offers above average performance. It's not perfect by any means, but if you're on the lookout for a new dual-battery vape mod, you should definitely consider it.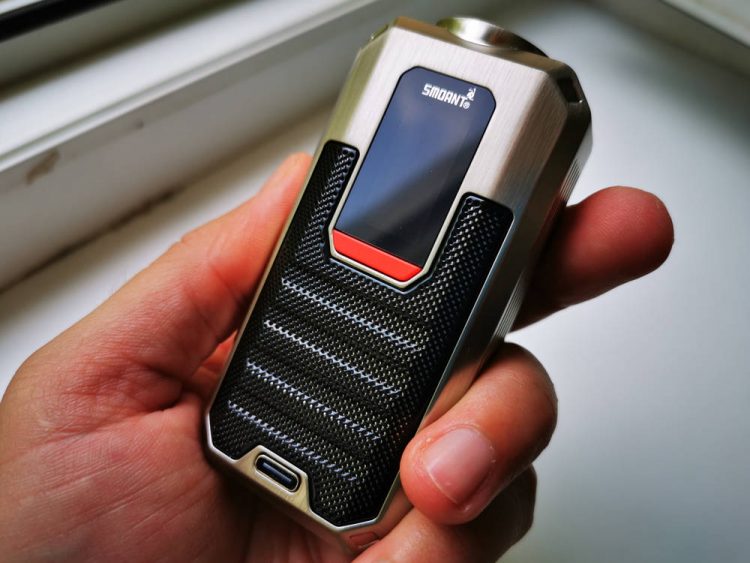 The Smoant Ladon 225W was sent to me for the purpose of this review directly by Smoant,
Pros
compact
good build quality
great performance
Cons
wobbling battery door
unimpressive display
Buy the Smoant Ladon Mod
Buy the Smoant Ladon advanced box mod at a special price, from a trusted online vape shop.