SMOK R200 Review
The SMOK R200 is a 200W temperature control mod from Chinese manufacturer SMOK Tech. There are plenty of these devices to choose from nowadays, but what really sets the R200 apart from other high-power mods are its compact size, unusually light weight and very competitive price point.
Although the R200 comes in the exact same packaging we've come to expect from SMOK, the contents of this particular kit are a bit different. Inside the large cardboard box you can find the mod in one of four available colors (black, silver, white and red), a micro-USB upgrading cable, a safety warning card, a beefy user manual and a backup kit for the TFV4 Mini sub-ohm tank. It was the inclusion of this kit that I personally found a bit odd.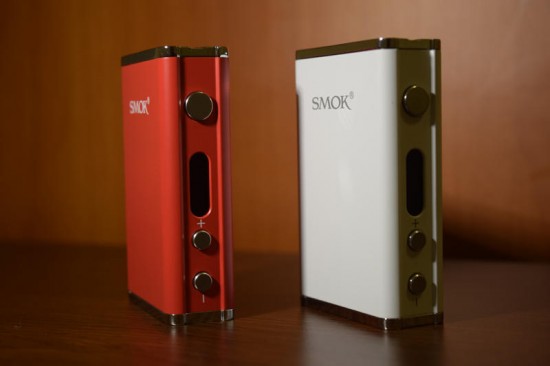 If you already own a TFV4 Mini tank, the backup kit allows you to swap the original TFV4 coil heads with two shorty size ones (an 0.3Ω dual Clapton core and an 1.8Ω single Clapton core) as well as the tall glass tube with a shorter one. SMOK claims that doing so will decrease e-liquid consumption – something the TFV4 tank family is notorious for – without sacrificing juice capacity. Even though the new glass tube is shorter than the original, because the coil heads are considerably smaller, the e-liquid capacity of the tank is actually increased by 0.5 ml.
Reduced e-liquid consumption and increased capacity for my TFV4 Mini? Please, sign me up! But the thing is the backup kit only benefits vapers who actually own the tank. For everybody else it's utterly useless. Now, I know that SMOK probably included it as an incentive to go out and buy their tank, but I still find it an odd addition to a mod starter kit. Why not offer the TFV4 Mini backup kit with the actual TFV4 Mini, thus giving users even more customization options? Anyway, it comes with R200, in case you're interested.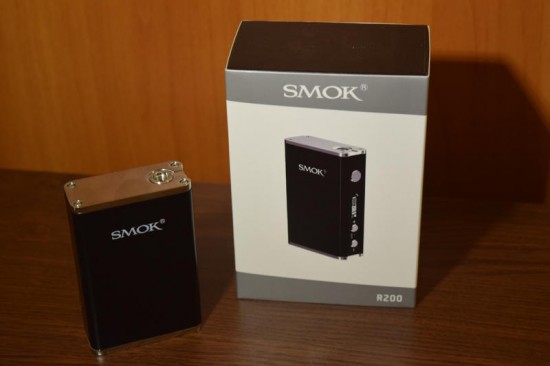 Design-wise, the R200 is almost identical to the SMOK R80, which in turn is reminiscent of the old SMOK M80 temperature control mod. The 200 W version is only half a millimiter taller and one millimiter thicker than the 80 W one, making the difference almost invisible to the naked eye. The only other visible differences between the two devices are the lack of a reset button on the SMOK R200 and the addition of a battery door on the bottom, both of which can be explained by the fact that the R200 works with removable 18650 batteries, whereas the R80 has a non-removable 4000 mAh battery.
Since the two devices are so similar in shape and size, I'm not going to go into great detail about the design. For more info on this subject you can read my review of the SMOK R80. I am going to say that I for one love the elegant high-end look and feel of the R200. It is unusually small and light for the power it can put out making it the stealthiest high-power mod I've ever used.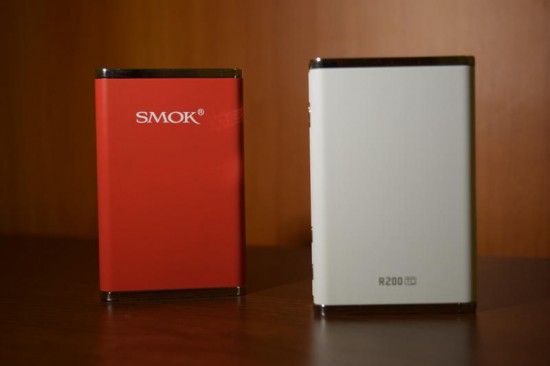 Apart from the obvious power output discrepancy between the R80 and R200, the main other difference is the addition of removable batteries to the newer 200 W device. Apparently, a lot of people complained about the sealed battery of the R80, so for their latest offering SMOK went the way of removable 18650 batteries instead. That will undoubtedly count as an improvement for advanced vapers, while at the same time making the SMOK R200 less appealing for intermediate users and beginners. One of the main selling points of the R80 was the built-in battery that could be charged via the included micro-USB cable, but with the R200 you need to buy high-drain batteries separately as well as a smart charger for external charging, as the USB port on the bottom of the device can now only be used for firmware upgrades.
While we're on the subjects of batteries, I would like to mention that I have mixed feelings about the battery door style SMOK implemented on the R200. As a lot of people have noticed, it has its advantages over the sliding magnetic cover used on the X Cube 2 and X Cube Mini – mainly that it locks firmly into place and doesn't wobble at all – but I personally found it to be very frustrating.
First of all, its location on the bottom of the device is all wrong in my opinion. In the three weeks prior to writing this review, I sometimes paired it with one of my RDAs and whenever I needed to change the batteries, I had to unscrew the atomizer because I needed to tilt or turn the device on its head to keep the batteries from falling out, which in turn would have caused the e-liquid to leak. The experience made me appreciate side doors a lot more.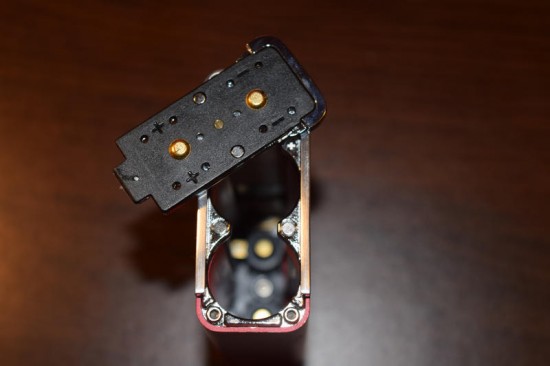 Another thing I didn't like about this new style of battery door was the struggle to lock it into place after inserting the two 18650 batteries. Both the mod and the door have these grooves you have to align perfectly when sliding it into place, but that's easier said than done. You have to apply quite a bit of pressure against the batteries while keeping an eye on the alignment and that proved quite frustrating, especially when I was in a hurry to get to work. I just feel that the side covers on the X Cube series were more practical, but maybe it's just me.
The buttons, display and the menu of the SMOK R200 are identical to those of the R80, so I'm not going to go through them again. Check out my review of the R80 for more details, but here they are in a nutshell: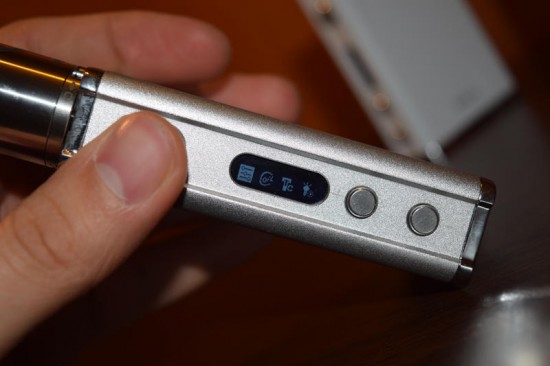 The buttons are nice and clicky and, most importantly, they don't rattle at all. I was sent four units and none of them rattle one bit, which is a significant improvement from the R80. I did notice that these units, unlike others I received from SMOK in the past, were not marked as samples, so maybe that has something to do with the evident improvements in build quiality.
The display is decent, but I do wish they made it a bit larger and brighter to make all the data more easily visible, and the menu is easy to navigate and figure out, especially if you're used SMOK products in the past. The one feature I didn't really find useful was the time and date setting, which reset every time you take out the batteries. If I were to guess, I'd say SMOK used the same board as on the R80 and didn't bother to take out this feature, despite its utter uselessness. They could have added a tiny separate battery to keep these settings while you swap batteries, but I guess they didn't think the trouble of doing so was worth it. Anyway, it's a secondary function that has nothing to do with vaping, so i'm not even going to count it as a con. I just thought I'd mention it.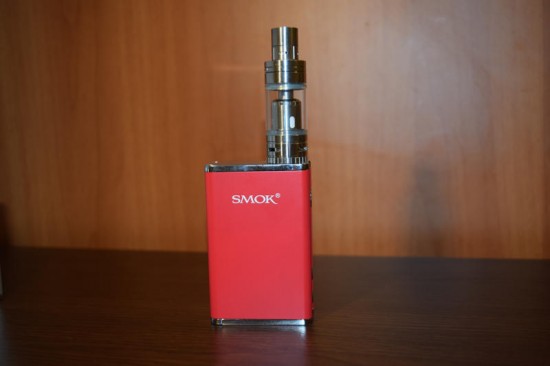 In terms of performance, the SMOK R200 is a beast. I don't know if it actually does 200 W as I don't have the equipment to test it, not do I ever vape anywhere close to those numbers for fear of my throat and lungs being obliterated. Normally I vape at around 60 – 70 W, but I took the R200 up to 100 W just out of curiosity. It was a much hotter vape than I was used to, but the device performed great. Like all new-generation SMOK vaporizers, it has five Special Draw Effects – 'Min.', 'Soft', 'Norm.', 'Hard' or 'Max' – to choose from, allowing you to customize your vaping experience. It's a feature I haven't seen on any other mods I've tested recently – except Koopor, a sister brand of SMOK – and I miss it every time I switch mods.
I can't imagine anyone actually being able to handle a 200 W vape and I don't even know if current high-drain batteries can actually be used safely at that extreme setting, but for my needs, the R200 packs more than enough power.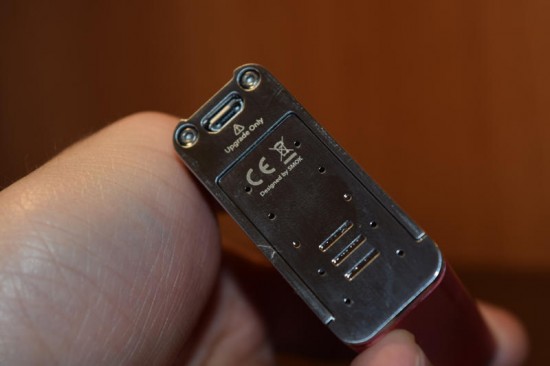 In wattage mode, the SMOK R200 fires from 1 W all the way to 200 W/0.8V – 9V and supports resistances from 0.1Ω to 3.0Ω. Scrolling though the wattage values is done with the usual '+' and '-' buttons in 0.1W increments. You might think it will take forever to go from 1W to 200W, but luckily, it picks up speed the longer you keep one of the buttons pressed.
For most advanced vapers, temperature control is one of the most important features a mod can have these days, but I've never really been a fan of it, and with all the controversy regarding soft materials like Ni200 leeching at high temperatures, I've stopped using it completely. It's all speculation at this point, but until we get some scientific confirmation, I feel it's just not worth the risk.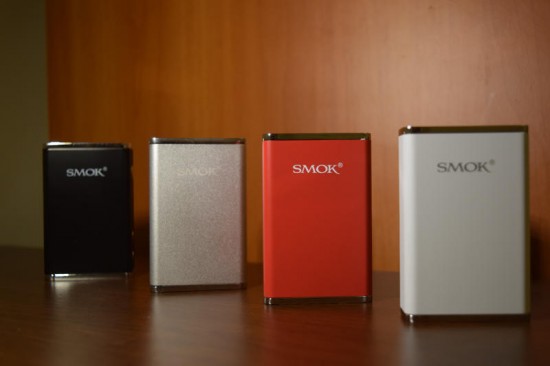 For those of you who do enjoy vaping in temperature control mode, I will mention that the SMOK R200 supports nickel, titanium and stainless steel builds, and, just like the R80, successfully passes the cotton burn test, which makes sense since both devices use the same circuit board and algorithms.
In temp control mode, the R200 has a temperature range of 200°F-600°F/100°C-315°C and supports resistances between 0.06Ω and 2.0Ω.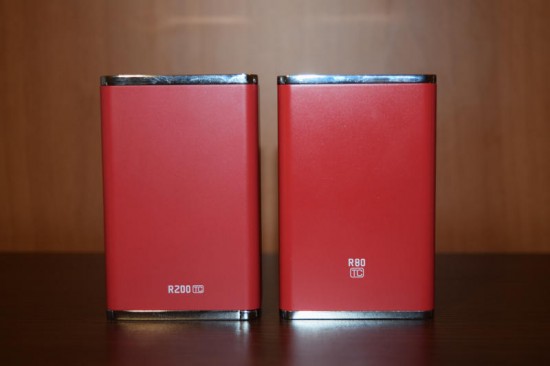 Having tried every device SMOK has launched in the last year beginning with the X Cube 2, I can say without a doubt that the R200 is their best offering yet. It has an appealing minimalist design and high-quality feel, and despite boasting the highest power output of all SMOK mods it is incredibly compact and light. It's not perfect, but the few flaws I've listed above don't really affect the stellar performance of the mod, and can easily be addressed in a future version.
Last but not least, the price of the R200 is just insane. For just $49.95 you get a 200 W device that does temperature control, supports Ni200, titanium and stainless steel, and is packed full of useful features. Did I mention how nice it looks and feels in your hand? You just can't get a better deal than this.