Flavour Factory E-Liquid Review
The Flavour Factory is the new kid on the block in England's e-liquid market. They offer a wide range of flavors, from tobacco to popular sweets and drinks, at a reasonable price. But does their juice have what it takes to compete in an increasingly competitive industry? Read our review and find out.
When I was contacted by the guys at The Flavour Factory about a review of their e-liquid, the first thing I did was visit their official website. Here are some of the claims that caught my attention: "All of our luxurious e liquids are handmade in Britain using all natural flavourings, and are quality assured by experts in flavour mixology", "The team at The Flavour Factory are experts in the food industry and health and safety. Our eliquids go through extensive testing, so you can rest assured that our products all meet the highest possible standards." I couldn't really verify all this, but I was intrigued so I agreed to review some of their most delicious-sounding concoctions: Pear Drops, Rhubarb & Custards, Blueberry and Tobacco. There dozens of other flavors to choose from, but I was most curious about these four.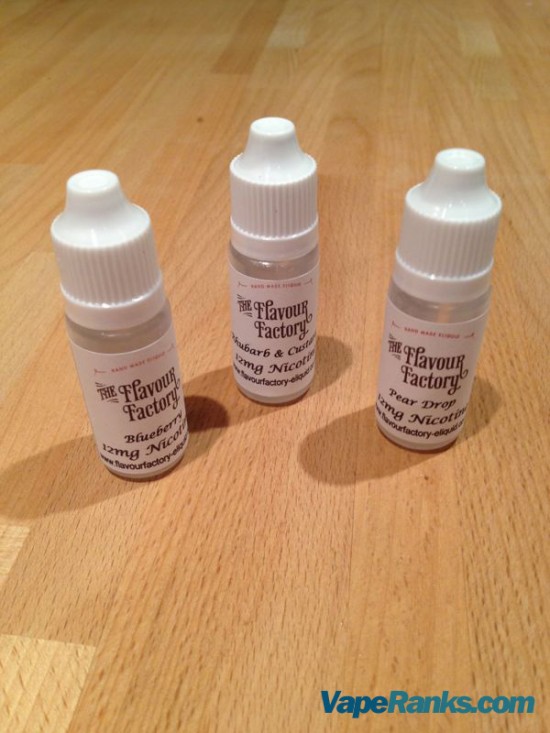 Before we get into details about flavor, vapor volume, throat hit and stuff like that, I want to say a few things about packaging. I know it does't seem very important, but it matters to me, and I'll tell you why. I don't care how good your e-liquid is, if it comes in faulty bottles that leak like crazy and are pain to open, I'm going to think twice about using them again. Unfortunately, this is the case with The Flavour Factory. Their small bottles are the same run-of-the-mill used by many other suppliers, only of inferior quality. Two of the four bottles were punctured around the threading, and every time I squeezed them to get a few drops into my clearmizers, they also leaked through these cracks, making a mess. The other two had child safety lock issues, which made them almost impossible to open. Pressing on the cap while turning it anticlockwise just didn't seem to work, and putting too much pressure on it resulted in leaking issues, again. In short, the bottle were a pain. This isn't exactly a deal-breaker for me, but The Flavour Factory should really look for a different e-liquid bottle supplier in the future, if they hope to compete with the big names.
Now, on to the actual e-liquid.
Pear Drops: Pear is not the most popular e-liquid flavor in the world. You're bound to find chocolate, coffee or vanilla in the lineup of virtually every e-liquid brand in the world, but pear is pretty rare. That's the main reasons I had to try it for myself. After opening the bottle and taking a sniff of the juice, I was convinced I had made a big mistake. The smell of the e-liquid is really strong, like that of an uber-concentrated pear and banana essence, but the flavor of the vapor is a whole different story. When vaping, the taste of this pear candy e-liquid is very clear and at the same time very soft on the taste buds. If you like Pear Drops candy or fruity combinations in general, this juice could become the all-day vape you've been looking for.
Blueberry: I'm a big fan of berries, so The Flavour Factory's blueberry e-liquid had to be on my to-try list. I've sampled some really good forest fruit flavored juices in my vaping "career", but I had high hopes for The Flavour Factory's "handmade" e-liquid. It wasn't quite what I expected, in that it didn't taste anything like the fruit I love. It didn't smell like blueberry either, but after the Pear Drops experiment, I knew the vapor could taste entirely different. Only this time it didn't. This so-called blueberry e-liquid was definitely fruity, but rather a cocktail of different flavors than clear berry. To be honest, I loved it, and went through the whole bottle faster than all the other juices I tried. If you're into experimenting unidentifiable flavors, you have to try this, but it's not the blueberry I know.
Rhubarb & Custard: Ahhh, this one took be back… Smooth and creamy, sweet but at the same time fruity, just like granny used make, only in vapor form. Overall, this was my favorite juice from The Flavour Factory. There's no point going into details, if you've ever tried English Rhubarb & Custard pie and loved it, this one's a must-try. And this e-liquid actually smells right too, for a change.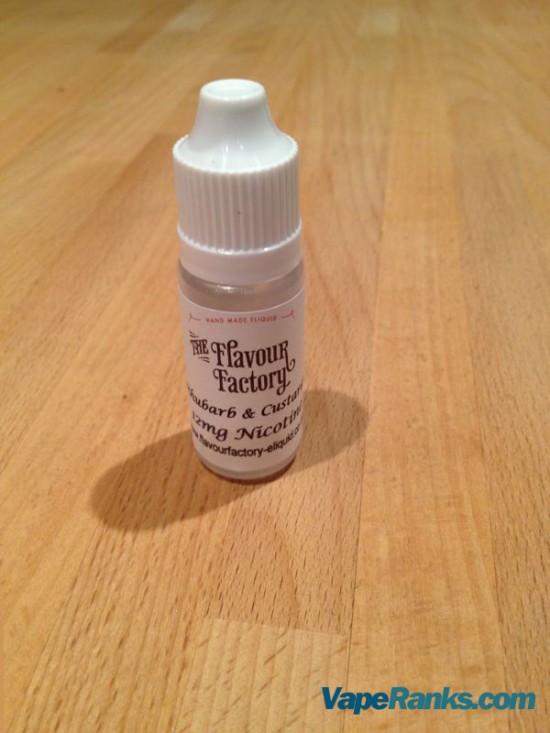 Rolling Tobacco: I smoked for 10 years, before switching to e-cigarettes, yet I'm ashamed to say I have never tried rolling tobacco. But I'm thinking the taste can't be that different from that of regular cigarettes. Well, the taste of Rolling Tobacco e-liquid definitely is very different. To be honest, I found burned tobacco to be the hardest flavor to get right in liquid form, which isn't very surprising considering there's no combustion in electronic cigarettes. But this particular juice doesn't even taste like fresh tobacco, either. I don't really know what it tastes like, to be honest. Sadly, this isn't the realistic tobacco flavor we've all been waiting for.
I'm not sure if The Flavour Factory uses propylene glycol, vegetable glycerin or a mix of both for their e-liquids, but it delivers plenty of vapor on both cigalikes and eGo electronic cigarettes. I opted for 12mg nicotine strength, and the throat hit was spot on, not too weak but not to strong either. All e-liquids were tested with a cartomizer and KR808D battery combo from Smokeless Image, as well as with a CE4 clearomizer and Apollo eGo battery system from Apollo.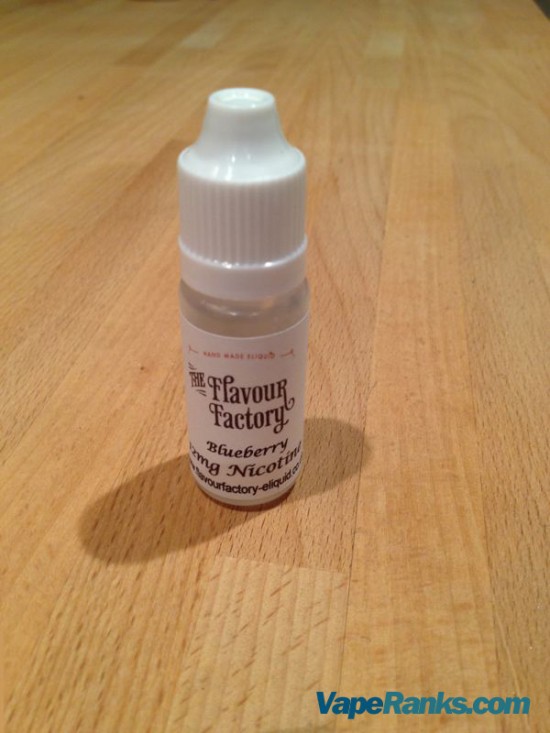 Overall, I could tell The Flavour Factory is a new player on the e-liquid market, as they still have some things to get right, but some of their juices are really tasty. If you can get past their low-quality bottles and the unusually strong e-liquid smell, you'll probably grow to love at least some of their flavors.