SmokeTip E-Cigarette Review
SmokeTip doesn't have the most impressive website and its marketing strategy isn't nearly as aggressive as that of other big electronic cigarette brands out there, but it's been around for a very long time and seems to remain one of the most popular e-cig choices. I wanted to see what makes it so appealing to so many people, and since I managed to get my hands on one of their starter kits, I decided to put it to the test. Here's my review of the SmokeTip e-cigarette:
A Look at the Contents
Most e-cigarette companies offer a range of starter kits to suit customers budgets and needs, but SmokeTip does things a little differently. It sells just one starter kit, which comes with all the basic vaping necessities, so if you're looking for accessories like a car charger or portable charging case, you're going to have to buy them separately. Anyway, this single type of starter kit comes in the ugliest box I've ever seen used by an e-cig supplier. It's made of cheap cardboard, it's way too large and apart from the oversized "SmokeTip" logo on the lid, it features no other information on what's inside. The inside of the box is just as bad. The batteries, cartomizers and accessories are all placed in a plastic holder covered in fake suede that just makes the whole kit look cheap. This might have been the norm five years ago, but the e-cigarette industry has come a long way since then and all the big companies have learned that presentation and first impressions count for a lot.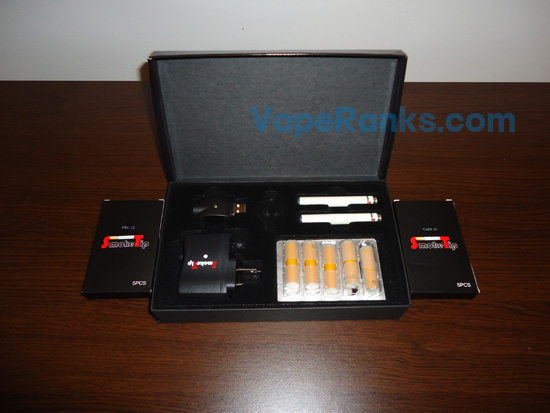 Let's take a look at what you get with your SmokeTip e-cigarette starter kit: 2 small batteries (automatic only), a 5-pack of cartomizers, a USB charger and a wall adapter. Like I said, only the basic things you need to start vaping, if you want more, you'll have to get them separately. The starter kit will set you back $59.99, a pretty hefty sum, considering you don't even get a high-capacity battery with this package.
It hurts to say it, but SmokeTip had the least impressive packaging and presentation of all the electronic cigarette brands I've ever reviewed. They seriously need to get with the times if they hope to remain competitive in the long run.
Battery Life and Overall Performance
As I mentioned, SmokeTip only offers short automatic batteries. The white ones I got with my kit had those thin rings you can see on analog cigarette paper and even a grey plastic tip that lights red to emulate burning tobacco. The tobacco cartomizers are also colored a light brown, so it's pretty obvious they were going for a realistic cigarette look. I guess some smokers will appreciate that, but it doesn't change the fact that small 180 mAh batteries like these aren't going to hold you for very long. The good news is they are KR808D, and not some outdated model, but the short version is obviously not as long-lasting as the 78 mm version that other brands sell. I get an average of 200 puffs out of a fully-charged battery (two hours time, for me) so even two of these will probably won't last you a whole day. If you want an e-cig the size of a real cigarette, you'll just have to buy more batteries.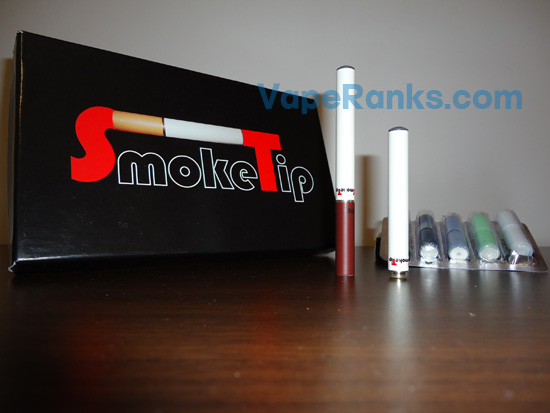 In terms of performance, I've encountered no serious problems during testing. The switch is very responsive, and the cutoff time is 7 seconds, more than enough for any lungs. 5 seconds is usually enough for me, but 7 is even better. The only issue I can think of is with the air holes. They're probably a bit too large and a lot of air comes through very quickly, filling your mouth before the atomizer can produce enough vapor.
Vapor Production
Back when I first started using e-cigarettes, vapor was the most important thing for me. Since then I've learned vapor alone doesn't cut it for an ex-smoker. If the flavor and throat hit aren't on par, those plumes of vapor aren't going to be very satisfying. That said, vapor production remains a crucial element of the combination that makes electronic cigarettes so efficient as an alternative to analogs. Unfortunately, you won't get much of it puffing on a SmokeTip e-cig. Despite using one of the most advanced batteries available today, it only produces a wisp of vapor. You really have to prime the atomizer a few times and then take a really long draw in order to get a somewhat satisfying amount of vapor. It's really not worth the effort with so many other great electronic cigarettes available out there.
At first I thought the low vapor production had something to do with the airy batteries, but then I tried using different cartomizers, and what do you know, I got great vapor. But we'll get into that in the next section. Bottom line, the SmokeTip produces very little vapor.
E-Liquid, Flavors and Cartomizers
SmokeTip offers a range of 19 flavors, including two types of tobacco – Regular and Cowboy. You also have the classic chocolate, vanilla and menthol, as well as almond, clove an lots of fruity flavors. Variety is always good, but the quality of the juice is much more important. Unfortunately, SmokeTip's e-liquid is nothing to write home about. It doesn't have a bad aftertaste, but it's not very enjoyable, either. It's your run of the mill e-juice, and the flavors are actually weaker than most other I've tried. Even when I used the cartomizers with a stronger battery and managed to get some satisfying puffs, the flavors were just as bland. To make matters worse, I got absolutely no throat hit with the 12 mg nicotine strength, and SmokeTip's highest is 16 mg. That's just not enough for serious smokers used to Marlboro Red or Lucky Strike, for example.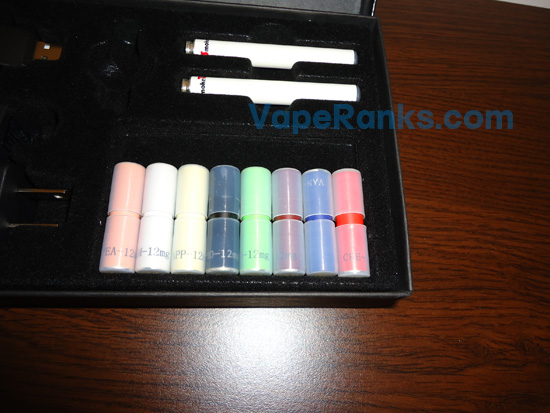 As I mentioned before, the vapor production on the SmokeTip is pretty disappointing and I think it has a lot to do with the cartomizers. The batteries work fine with other KR808D cartos, like Bloog's, but the ones offered by SmokeTip just ruin the whole vaping experience. Some of them produce little vapor, and others none at all. I had two variety packs for this review, that's 10 cartomizers, and I can honestly say none of them worked as I expected them to. I don't know if it's the resistance of the atomizer, the e-liquid or something else, but these cartomizers are a pain to use.
In conclusion
SmokeTip may have been "the most electronic cigarette in the world" at some point in time, but those days are long gone. The industry is evolving at a fast pace, and right now this particular e-cig is lagging way behind right now. The only relatively good thing about this kit were the batteries, which performed pretty well, although a longer version would have been very nice, otherwise, poor presentation, basic contents and awful cartomizers. I'm sorry but I can't recommend this kit to anyone. I have nothing against SmokeTip, they actually sent me this kit for review, I'm just being honest.
Battery Life and Performance