Wotofo SMRT Pod Mod and SMRT Coil Review
Ever wondered how those popular PnP sub-ohm coil-heads are made? Well, the guys at Wotofo decided to not only show vapers how it's done, but actually let them build their own sub-ohm coil-heads in just a few minutes. The SMRT coil-head is definitely one of the most interesting products to hit the vape market in a while, and one that has a lot of potential in the current circumstances, at least in the US. Oh, there's also the SMRT pod mod, but the rebuildable coil-head is definitely the star of the show.
Wotofo SMRT Pod Mod Specifications
Dimensions: 117 mm x 29 mm x 23 mm
Material: zinc alloy
Battery: 2,000mAh (non-removable)
Power: 5W – 80W
Output Voltage: 0.5V – 4.0V
E-liquid capacity: 4.5 ml
Wotofo SMRT Pod Mod Packaging and Presentation
The new SMRT pod mod comes in a standard Wotofo packaging, a rectangular cardboard box painted the company's signature black, white and green combination, and a transparent plastic cover that offers a view of the contents inside. On the back of the box, we have a lot more branding than usual as well as some warnings. The list of contents and technical presentation of the kit are on the sides of the box.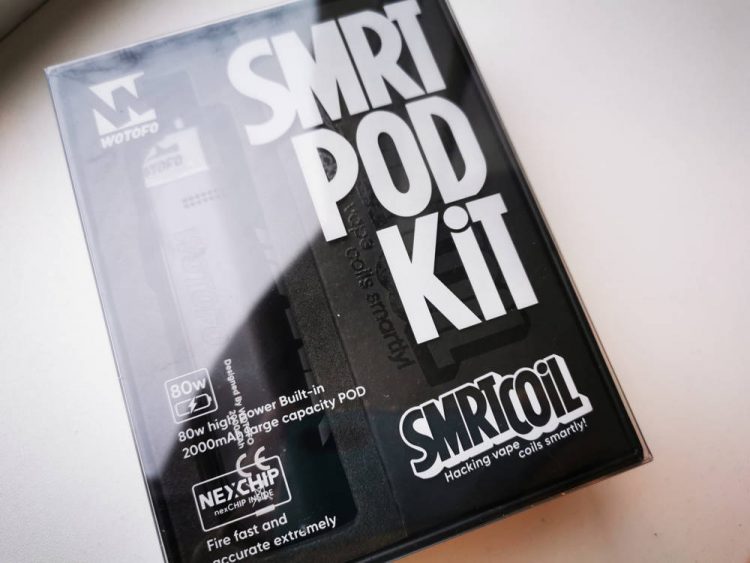 Inside the package we have the SMRT pod mod, and next to it is a smaller black box that contains the SMRT coil-head and all the accessories needed to make it work, as well as a USB Type-C cable for charging, a pre-made Clapton M coil-head and a user manual.
We'll get into the rebuildable SMRT coil-head a bit later, but the kit basically includes the metallic shell and all the things that go into a pre-made sub-ohm coil, including the actual mesh strip, cotton, o-rings and even the gold-plated contact at the bottom. It's a complete build-your-own-coil-head solution!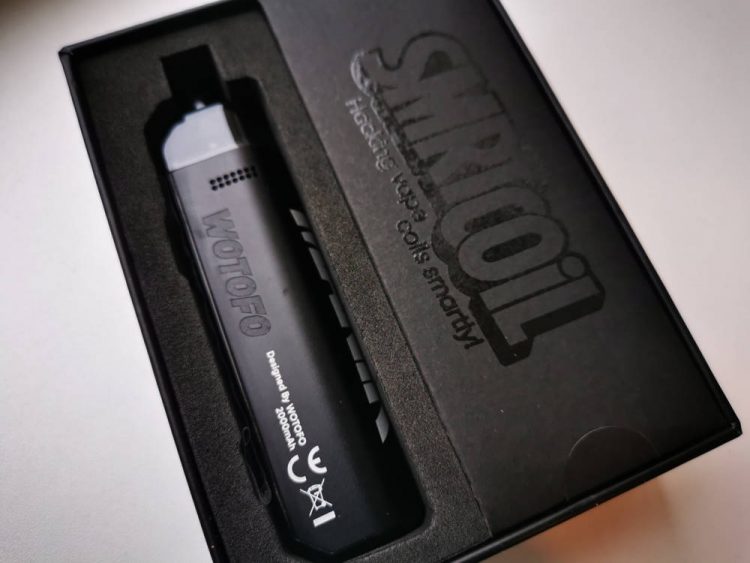 Wotofo SMRT Pod Mod Design and Build Quality
The new SMRT pod mod is a very straight-forward and, dare-I-say, basic vaping device. It has a device reminiscent of the original Wotofo Manik, but it's smaller and lighter, so it's definitely the more portable of the two. The battery casing is made almost exclusively of zinc alloy, and features a lot more branding than you usually see on vaping devices. Sure there are exceptions, like the VooPoo Drag series, but usually, mods and vape pods aren't this in-your-face with their branding.
The design of the SMRT pod mod isn't very exciting, which isn't necessarily a bad thing. You have the mod port at the top, with the usual magnets and gold plated contacts, some honeycomb air slots cut into the body of the device, and a USB Type-C charging port on the bottom. I hate the placement of that USB port, as it makes it impossible to charge the device upright, which increases the risk of accidental e-liquid leaks.
The control panel has a classic configuration as well, with a large, rectangular fire button near the top, two small power adjustment buttons at the bottom, and a color display in between. The buttons are nice and clicky, but both them and the cover of the display are super glossy, which makes them smudge and fingerprint magnets.
The pods have a classic design as well, with a non-removable plastic tip at the top, fill port on the side, and three magnets and a coil-head port on the bottom. You just insert a PnP coil-head through the round coil-head at the bottom, and you're good to go. The pods hold up to 4.5 ml of e-liquid and are almost completely exposed, so it's easy to see the juice level inside at all times.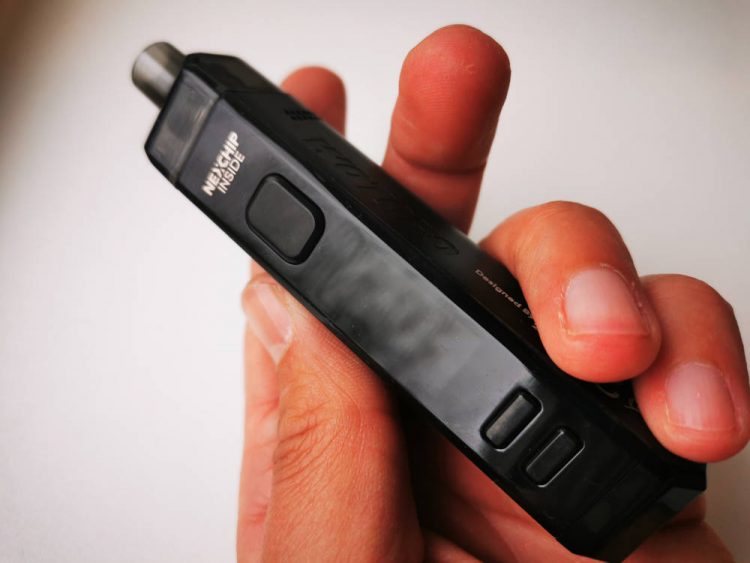 The Wotofo SMPL pod mod a really simple device, even if it's your first pod mod, you should be able to figure everything out very quickly. The build quality is decent as well, for this type of device, and the design, while not the most eye-catching, is functional.
Wotofo SMPL Pod Mod Menu System and Navigation
The SMPL pod mod doesn't offer very much in terms of features. You only get variable wattage mode (5W – 80W), none of those fancy temperature control, memory mode or custom curves modes. But this is designed as a simplistic vaping device, so the lack of features is intentional.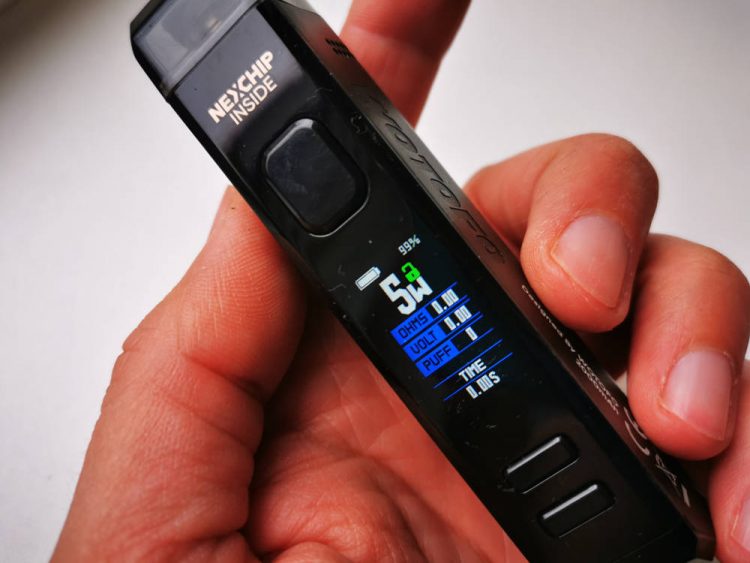 Apart from adjusting the power output by using the + and – button at the bottom (the scrolling round-robins), you can also lock the power button by pressing the fire button three times in rapid succession, lock the two adjustment buttons (while keeping the fire button active) by pressing the + and – buttons simultaneously, clear the puff counter by pressing the fire button and – button at the same time, and finally change the color of the display by pressing the fire button and the + button.
That's about all there is to the menu system and navigation of the SMRT pod mod, it's a straightforward affair.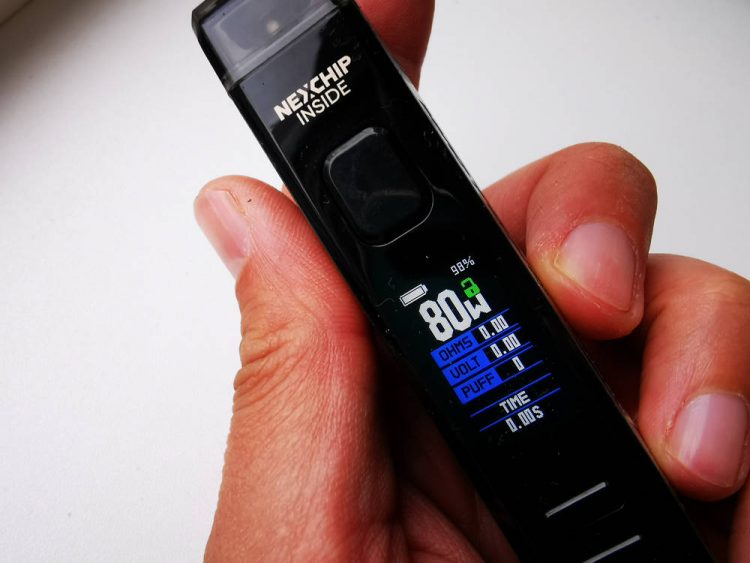 Wotofo SMPL Rebuildable Coil
While the SMRT pod mod is a simplistic, unimpressive vaping device, the SMRT rebuildable coil-head that comes with it is anything but! This is something of a game changer, in my opinion. The ability to build your own plug 'n' play (PnP) coil-head on the fly may not appeal to everyone, but in these uncertain times it offers vapers a welcome alternative to mass-produced coils.
So how does it work? Well, you literally build your own PnP coil-head almost from scratch, using only the parts provided in the kit, or in a SMRT coil kit that you can buy separately. It ends up looking like a sub-ohm coil-head and perform as well as a pre-made one, so if you're into tinkering and you're looking to save some money, this might be for you.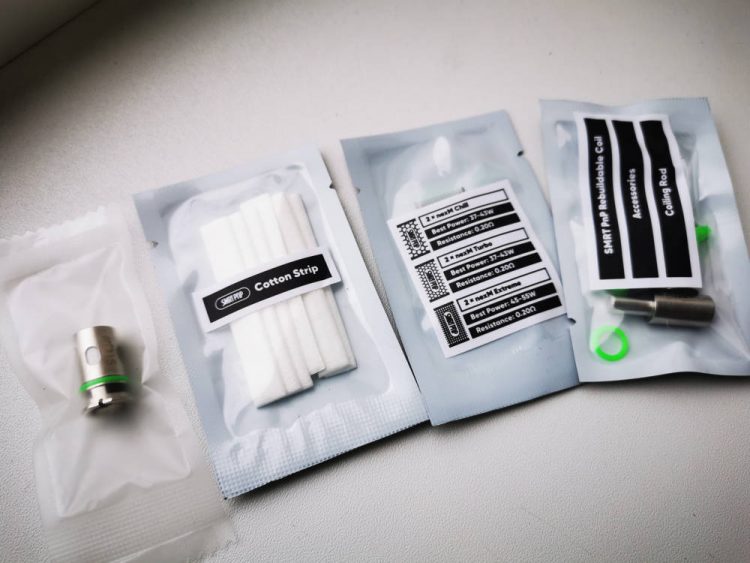 Wotofo put out a really well-done video showing exactly how to build a SMRT coil-head with the tools and materials included in the kit, and I'm going to embedded in this review, because it does a much better job of visually explaining the process than I could ever put into words.
Essentially, you get the metallic shell of the coil-head, which in this case is made up of two threaded halves – the top part and the bottom one. You also get six mesh strips (two of three different honeycomb designs), several strips of perfectly cut organic cotton, as well as a bunch of spare o-rings and a couple of grommets and gold-plated contacts that go on the bottom of the coil-head.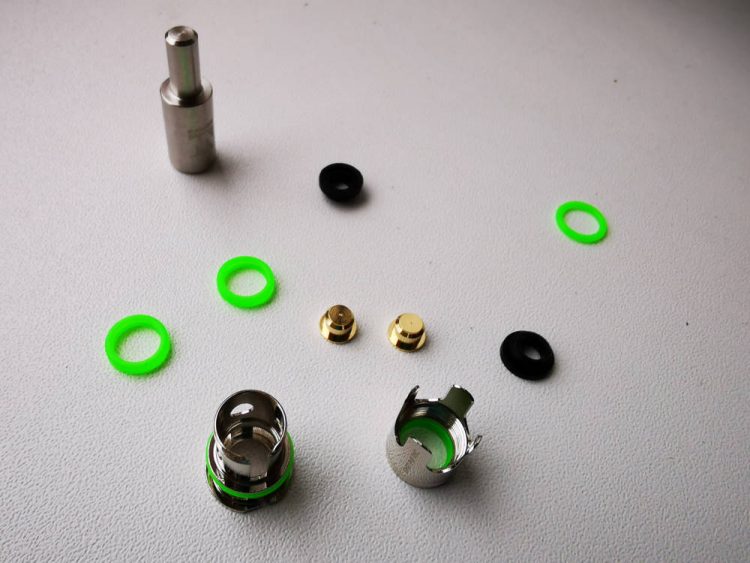 You have to put everything together, though, but while that seems like a complicated affair, Wotofo have come up with a system that makes things super easy. They even have a detailed user manual complete with pictures on how to do everything, but I recommend watching their video to get the full picture. The first time may take you a bit longer, but as you get used to it, I wouldn't be surprised if you could rebuild a SMRT coil in a couple of minutes.
Now, I will be the first to admit that the SMRT rebuildable coil is not for everyone. If you don't enjoy getting your hands dirty and tinkering with really small parts, or if you're a casual user looking for convenience, this isn't for you. But that doesn't make the system any less impressive. To be able to rebuild your very own sub-ohm coil-head and have it perform as well as the mass-made PnP ones is nothing short of awe-inspiring.
If you end up getting the SMRT coil-head, the one pointer I would give you would be to clean your hands with soap before assembling your build. Because you will have to grab a tight hold of the cotton and mesh strips while you're putting your coil-head together, everything on your fingers, be it dirt or even the naturally-secreted oil, will end up on them, and that's not just gross, but it can impact the flavor of the vapor as well.
Wotofo SMRT Pod Mod Battery Life and Performance
The SMRT pod mod features a built-in 2,000mAh battery, which is decent for its size and weight, but nothing special. Considering SMOK were able to put a 3,000mAh battery in their slightly shorter, albeit bulkier, IPX80 pod mod, I think Wotofo could have done a bit better. Still, 2,000mAh is nothing to scoff at for this type of vaping device.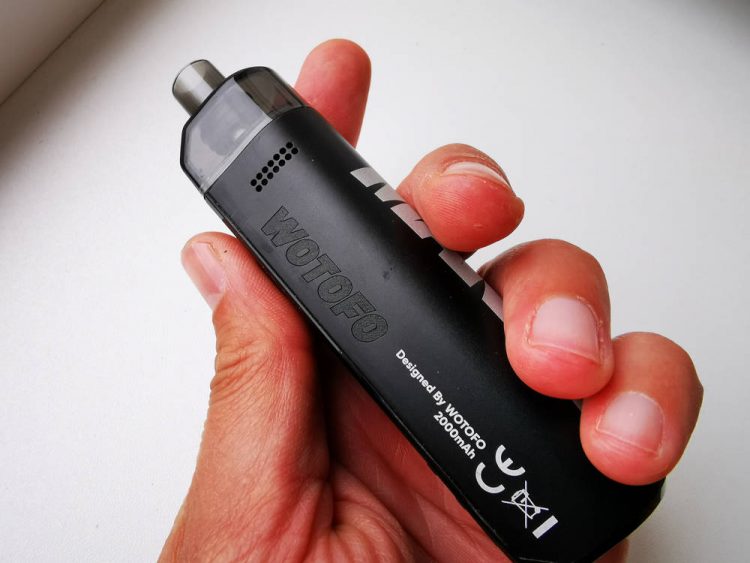 Wotofo's newest pod mod also features fast charging technology via the USB Type-C interface, which allows you to fully charge the device in just over an hour. Plus, you can also use it while it's charging, which is always a plus.
Performance-wise, the device works as advertised, it's fast and responsive, outputs up to 80W of power, so it's suitable for even the most demanding sub-ohm coils-heads, and it offers decent battery life. But the one big let-down is that it does not feature any sort of airflow control. Any sort of option would have been nice, to be honest, but Wotofo apparently didn't deem it necessary, for some reason.
When it comes to vaping performance, it's the SMRT rebuildable coil-head that impresses once again. The pod mod works well enough, but it's this amazingly versatile coil solution that really stands out. The three different strips of mesh included in the kit aren't all that different in terms of actual vaping performance, but Wotofo could theoretically introduce new designs that could affect the vape considerably, so that's something worth considering.
If you're into direct lung vaping and prefer mesh to the standard round wire coil-heads, I can pretty much guarantee that you will be more than happy with both Wotofo's pre-made PnP coil-heads, as well as its rebuildable SMRT coil-head, a concept that I hope they support for as long as possible going forward.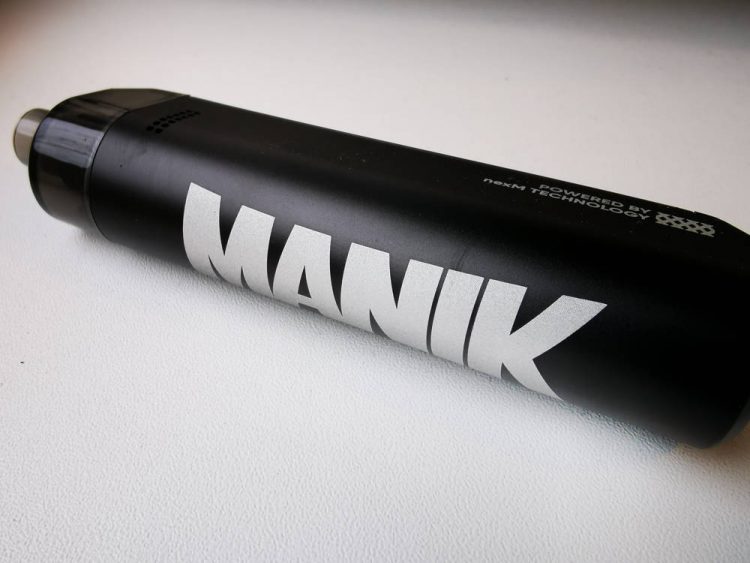 Conclusion
The Wotofo SMRT pod mod is pretty much a run-of-the-mill pod mod with a classic design, decent battery life and good build quality, but it's definitely not the star of this kit. That title goes to the the awesome SMRT rebuildable coil-head, one of the most intriguing and innovative concepts I've seen in a very long time. It's not for everyone, but if you like tinkering and considerably cutting spending on pre-made PnP coil-heads, you may want to look into it.
The SMRT pod mod and rebuildable coil were sent to me directly by Wotofo, for the purpose of this review.
Pros
affordable
SMRT rebuildable coil-head
good build quality
lightweight and compact
color display
Cons
bland design
no airflow control
charging port on the bottom