Wotofo Profile M RTA Review
Rebuildable atomizers aren't nearly as popular as they used to be before the advent of vape pods, and, more recently pod mods, but Chinese manufacturer Wotofo is still betting big on rebuildables, while dabbing in the lucrative pod mod market as well. Last year, the company released the much anticipated Profile RTDA, and recently followed it up with the Profile M, a sub-ohm RTA designed primarily for use with mesh. Let's check it out:
Profile M RTA Specifications
Height: 27.8 mm
Diameter: 24.5 mm
Material: stainless steel
E-liquid capacity: 3.1 ml (4 ml with bubble glass)
Drip Tip: 810
Airflow: top airflow
Filling: top fill
Coil type: mesh strip, round coil
Profile M RTA Packaging and Presentation
The new Profile M RTA comes in the standard Wotofo packaging, a small cardboard box with a see-through plastic cover that offers a clear view of the atomizer inside. On the back of the box we have some warnings, as well as some branding and manufacturer contact information. The contents of the kit are listed on one of the sides.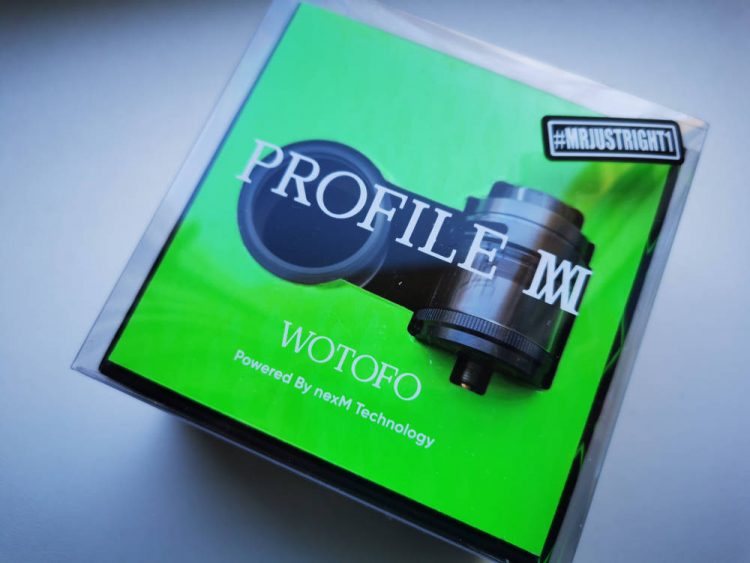 Speaking of contents, Wotofo offers some of the most generous atomizer kits in the industry, and the Profile M is no exception. Apart from the rebuildable atomizer, you also get a spare frosted "glass" section, spare drip tip, spare screws and o-rings, three different mesh strips, three strips of organic cotton, coiling tool for both mesh and round wire, mini-screwdriver, and a user manual. That's a lot of bang for your buck!
Profile M RTA Design and Build Quality
Advertised as the "smallest leakproof mesh RTA", the new Profile M is indeed a small atomizer by sub-ohm standards. It reminds me a lot of the Druga RTA that I reviewed a few weeks back, only that was a single coil RTA, whereas this one is designed to be used primarily with mesh. Still, they share a similar shape and size.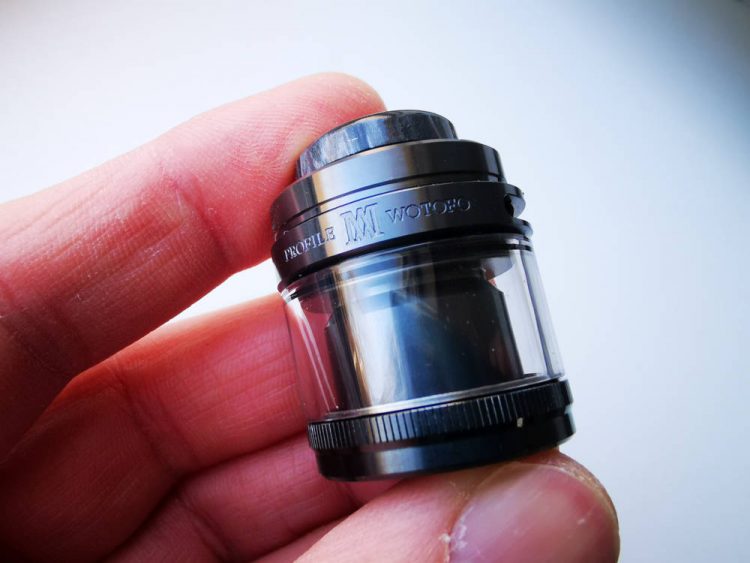 Starting at the top, we have a low-profile 810 resin drip tip that goes really well on such a compact RTA. I did have some problems trying to take it off to try the spare drip tip, because it's on really tight and there is hardly anything to grab on to. You need to stick your fingernail in-between the drip tip and the top cap, to loosen it up a bit. Still, you're not going to be removing the drip tip that often anyway, so it's not a huge deal.
Also, because the drip-tip is so low-profile, your lips are almost always touching the top cap of the atomizer as well, so there is a risk of burning your lips if the meta; gets too hot. That's only a theoretical risk, though, as I've never had the Profile M heat up to a point where it became uncomfortable to vape on.
The Wotofo Profile M is a top-fill RTA and features one of those sliding top-caps that you just push on to reveal the fill-port. We've similar solutions on may atomizers in the past, like the Eleaf Ello Duro tank, or Wotofo's own Nexmesh Pro tank. It works, but it's not the best implementation of this system, to be honest.
First of all, there is no way to lock the top cap, so if it accidentally slides while in your pocket or purse, there's nothing but a thin gasket to keep the juice from leaking out. Furthermore, there's no indicator on the top cap to help you figure out what side you have to push on. You figure it out eventually, but this is a low-capacity RTA, so you'll be filling it a lot, and pushing on the top cap until you find the right spot becomes frustrating after a while.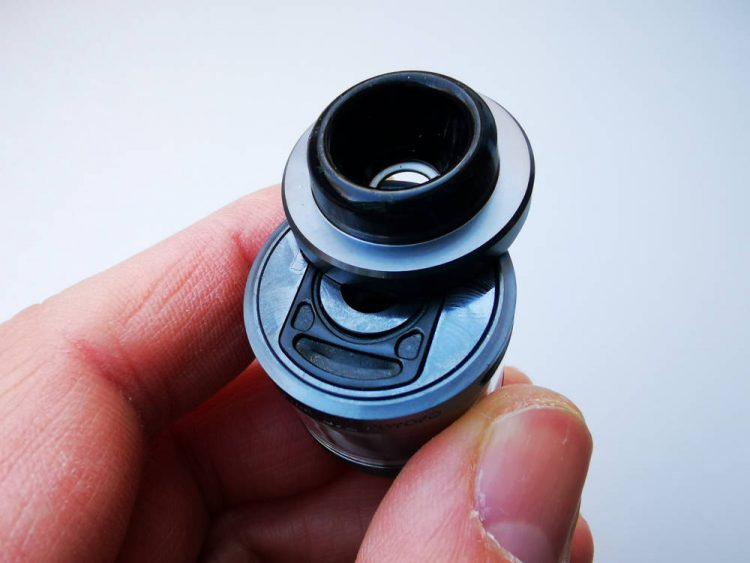 This is a top airflow RTA, which technically makes it leakproof. That just means that the juice won't leak through the airflow slots, but you can suck it straight into your mouth if you don't wick it correctly, which is arguably even worse. Still, I've been a fan of top airflow atomizers ever since the original OBS Engine, and I'm glad to see them making a comeback.
The new Profile M RTA comes with two "glass" sections, both of which are apparently made of plastic. With the classic, transparent one, the tank will hold up to 3.1 ml, while the slightly larger, frosted glass section slightly increases the capacity to 4 ml. I like the classic version more, but they both work just fine.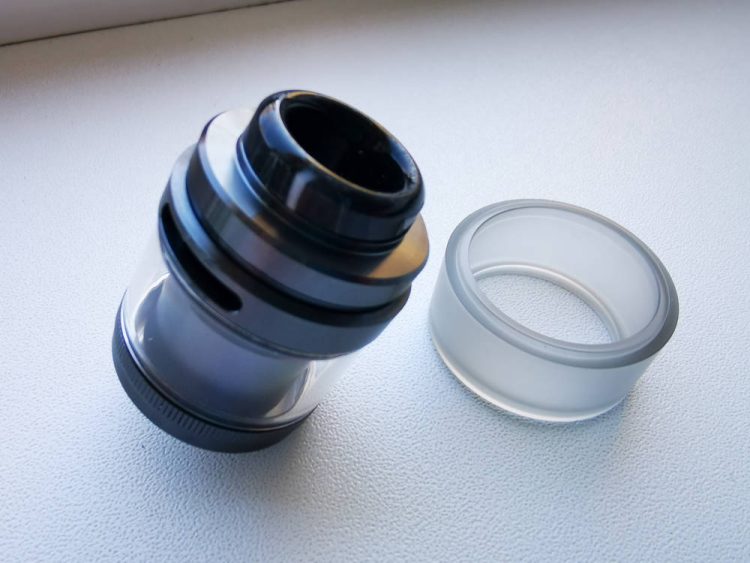 Finally, on the bottom, we have the base which incorporates a classic Profile build deck, on the inside, and protruding, gold-plated 510 pin, on the outside.
On the inside of the Profile M, we have a metal barrel that goes over the build deck, and connects to a very short chimney. As the manufacturer points out on the Wotofo website, this short chimney means the vapor retains more flavor, as it doesn't have to travel too long from the coil to the user's mouth.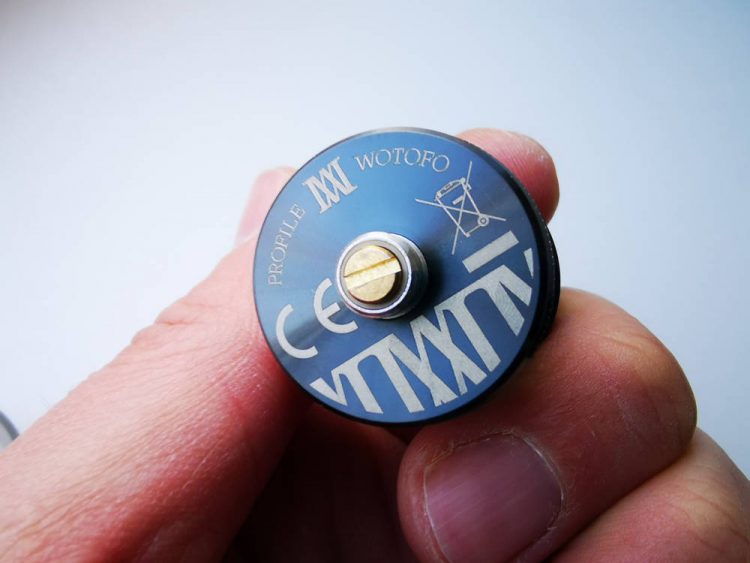 The barrel of this RTA features a removable metal sleeve on the inside. This sleeve has dozens of slanted airholes in a honeycomb pattern, which guarantees that the air hits the entire surface of the mesh strip, if that's what you intend to use it with. The problem is that this sleeve has to align perfectly with the build deck, otherwise you cannot screw the base onto the rest of the atomizer.
That sounds worse than it actually is, and I saw a number of reputable YouTube reviewers mentioning this issue and advising people to take out the sleeve, align it over the base, and only then attach the rest of the tank. That works, but I personally leave the piece in there, and just make sure to align the grooves on the edge of that sleeve with the screws on the clamps of the build deck. It catches every time, so however you want to do it is fine.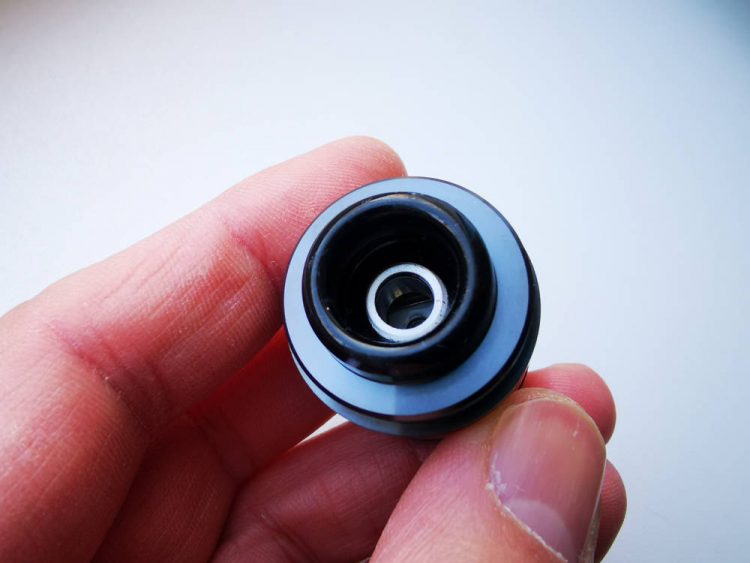 Setting Up the Wotofo Profile M RTA
The Wotofo Profile M build-deck is a classic mesh RTA deck that we've seen before on other Wotofo atomizers. It's a simple design, with two clamps on massive wicking slots on each side. It's a tried-and-true design, and is extremely easy to build on, whether you're using mesh or a round wire coil.
There are three types of mesh available in the Profile M kit, but I personally can't really tell the difference between them when it comes to performance, so use whichever one you like. Before you can install the mesh, you first need to use that Wotofo metallic rod to bend it into an arch, so you can tighten its ends into the two clamps, and have enough room to slide one of those cotton strips underneath it.
The clamps of the Profile M RTA are not spring-loaded, so you have to loosen the screws holding them in place just enough to fit the ends of the mesh strip in them and then hold it in place while you tighten the clamp screws. Don't apply any unnecessary pressure on the mesh, as that may cause it to deform.
Once you're done installing the mesh, you can insert a strip of cotton in between the mesh strip and the spring-loaded bottom of the deck, making sure to clip the leads long enough for them to reach the wicking slots on each side of the build deck. These are some massive slots, so make sure they are covered with cotton, to avoid having the build-deck flooded when you least expect it.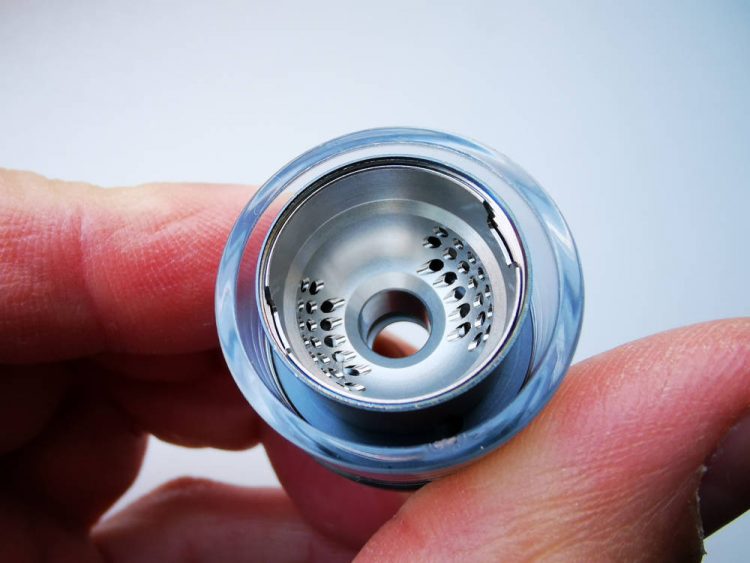 Wicking is the most important thing when setting up a rebuildable atomizer, as it can make the difference between a satisfying, flavorful vape, and a dry, or muted hit. It takes practice to really nail wicking on a particular build-deck, but a good rule of thumb is not to cram the wicking slots full of cotton, but also make sure the slots are nicely covered with cotton. It's a fine balance, but once you achieve it, it'll be worth it.
When you're done wicking, just drop some juice on the cotton and the mesh strip to prime them, put the tank back together, fill it up with juice, and wait a minute or two for the cotton to saturate. After that, you're good to go.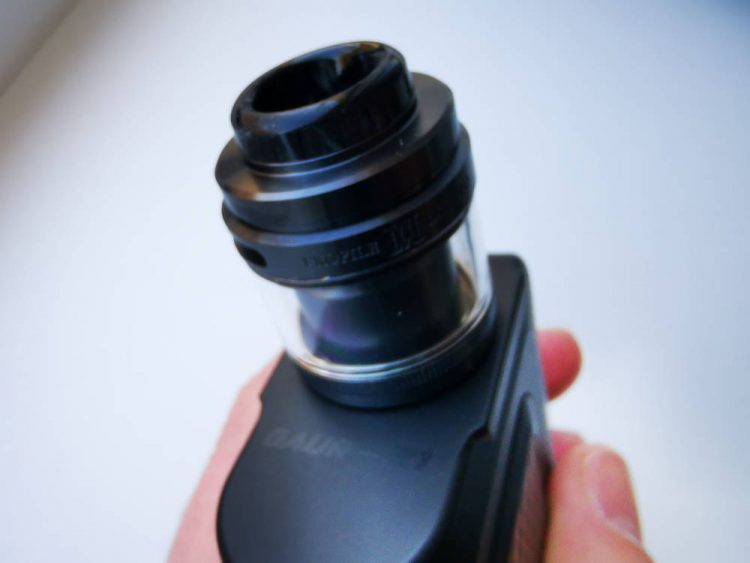 Profile M RTA Vaping Performance
My experience with the Wotofo Profile RDTA was hit-and-miss. There were some things I liked, but it was too tall, and I just couldn't get used to those steel wicking rods. The new Profile M RTA is a return to more familiar territory, so I prefer it over its big brother. It's easier to use, looks a lot better on most mods, and there is really no compromise in terms of performance either.
I've been using the Profile M with the included Clapton Mesh strip, simply because it's the most interesting of the bunch, and I've been enjoying every minute of it. Vaping at 60W with the airflow closed down halfway, this thing works like a dream! The flavor is amazing, and the vapor is so dense you can cut it with a knife.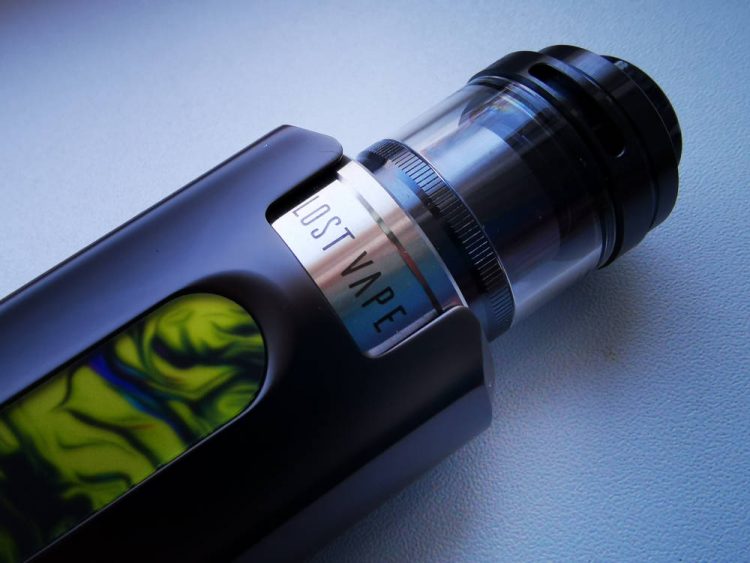 The flavor tends to become muted if I chain vape, but that may be because of my wicking, not the RTA. I'm not much of a chain vaper, so I can let it soak up some juice between draws. The vapor is nice and warm – another advantage of a stubbier atomizer – and the flavor is phenomenal.
If I had to complain about something, it would have to be the e-liquid capacity of the Wotofo Profile M. 3 or 4 ml just isn't enough for a sub-ohm RTA, especially one intended to be used with mesh. A wider surface area means that more juice gets evaporated, and you can see that in the density of the vapor. Sadly, that takes a toll on e-liquid as well, so be ready to fill this thing up quite frequently. Other than that, though, this thing rocks!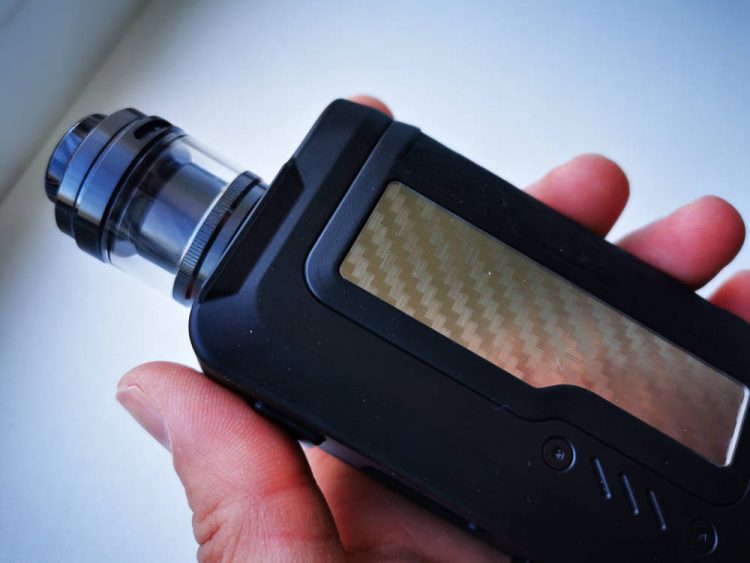 Conclusion
If you're looking for a compact mesh RTA that not only looks good on most mods, but also delivers in terms of vaping performance, look no further than the Wotofo Profile M. It vapes like a dream , is super easy to build on, and comes with an impressive array of tools and accessories. If you're into mesh, this is one of the best rebuildable atomizers on the market right now!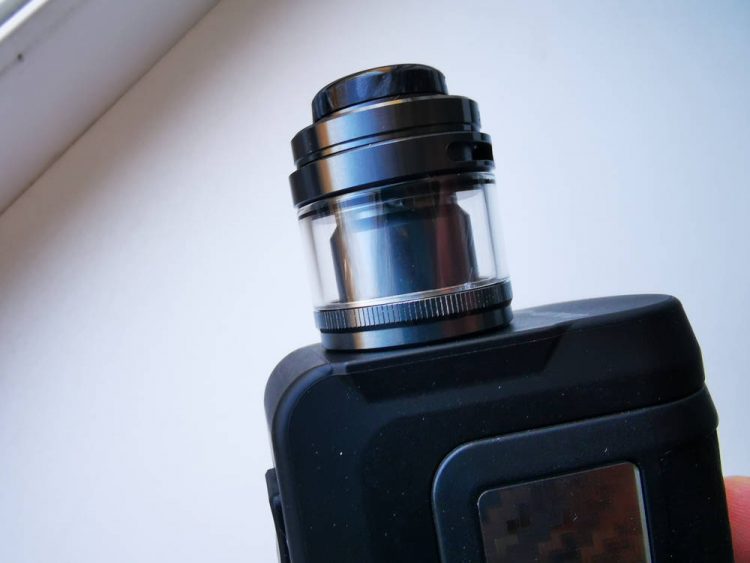 The Wotofo Profile M RTA was sent to me directly by Wotofo, for the purpose of this review.
Pros
compact
stylish design
top airflow
compatible with mesh and standard wire coils
easy to build on
excellent performance
Cons
average e-liquid capacity
no fill-port indicator