Smoore, the parent company of Vaporesso, one of the biggest brands in the vaping industry, has become the first vaping-related entities to be listed on the Hong Kong Stock exchange.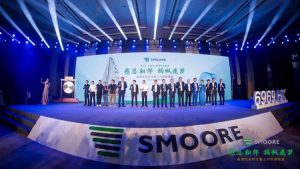 After submitting the listing application materials to the Hong Kong Stock Exchange in October 2019, earlier this month, Smoore International was officially listed on the exchange. Analysts had predicted that the company would raise at least $800 million after its initial public offering (IPO), but the market managed to exceed expectations, and according to a press release from the company, Smoore's market valued is now over $21.8 billion, triple its estimated values before the IPO.
Although the Covid-19 crisis is bound to put a dent in Smoore's bottom line in 2020, the Chinese company's performance last year, when its profits rose to a whopping 2.17bn yuan ($310 million), from 719 million yuan ($102 million) the year before, convinced investors that it was worth their money.
Long-term prospects probably played a role in the successful IPO as well. Vaporesso is already one of the world's leading vaping brands, with a presence in more than 60 countries and regions, but the domestic market alone is worth billions. China accounts for around 40 per cent of global tobacco consumption, and with smoking habits beginning to change, investors are confident that Smoore will have a big role to play.
With around 800 million happy users (and counting), and a range of popular brand names like Vaporesso's LUXE and the GEN families of products, Smoore was already a big player on the international vaping market, but this IPO helps solidify that position.
"The listing in Hong Kong has provided Smoore with a strong supporting role in setting the industry benchmark," the company stated in a press release. "Hiring more employees in the R&D field than employees in the sales team, it's obvious the significance Smoore puts on the innovation part."
According to growth strategy and research firm Frost & Sullivan, based on 2019 revenue calculations, Smoore accounts for 16.5% of the world's total market share, which makes the company the world's largest vaping device provider.