As a vape manufacturer, Vaporesso has already achieved a lot. It's one of the biggest brands in the industry and its parent company recently became the first to be listed on the Hong Kong stock exchange, but now the Chinese brand apparently has its sites set on another goal – becoming the world's leading manufacturer of durable vaping devices. To that end, it recently presented a line of super-durable products, including an impressive-looking pod system called XIRON.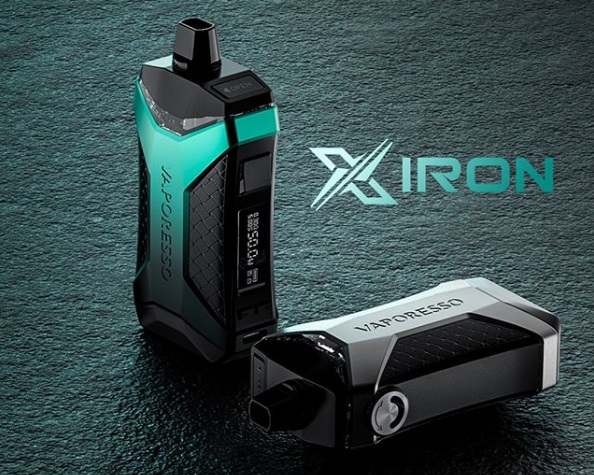 Contents
1 x XIRON pod mod
1 x XIRON refillable pod
1 x GTX 0.3Ω MESH Coil
1 x GTX 0.8Ω MESH Coil
1 x Extra Mouthpiece
1 x Type-C USB Cable
1 x User Manual
1 x Warranty Card
Judging by the two GTX coil-heads included in this kit, the XIRON is suited for both direct lung (DL) vaping and a loose mouth-to-lung (MTL). I'm not sure if the extra "mouthpiece" actually means another refillable pod (which would be awesome) or just a spare drip tip, but the GTX coil-head compatibility is good enough in my book.
Last but not least, the USB Type-C standard is always a pro, and it's nice to see Vaporesso adopting it on all its latest products.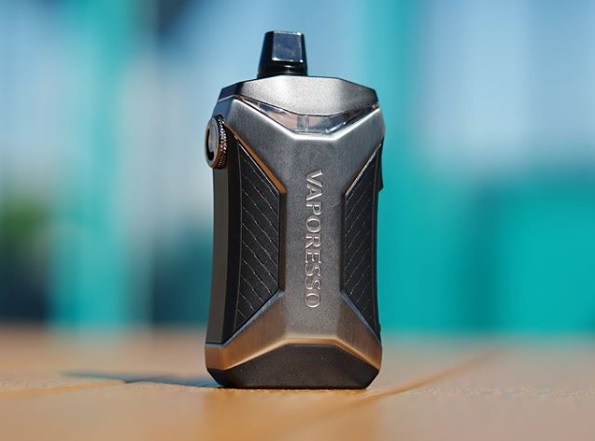 XIRON Design
There is no denying that the new XIRON looks like a very solid vaping device, with its zinc allow X-shaped frame and rubberized bottom and sides, but we'll have to do a hands-on test to see how it really feels, and more importantly how it compares to the current king of durable pod mods, the Aegis Boost.
Thee new XIRON measures 93mm x 46.5mm x 28mm, which makes it a bit more compact than the Boost, and consists of a battery unit complete with an OLED display, and a refillable pod that holds up to 5.5ml of e-liquid, which is not too shabby for a pod system.
Vaporesso XIRON Features
The XIRON is a manually activated device, which means you will need to press the fire button to activate the battery, whenever you want to vape on it. The pod system also appears to feature + and – adjustment buttons, which allow you to both adjust the power output and access its built-in features.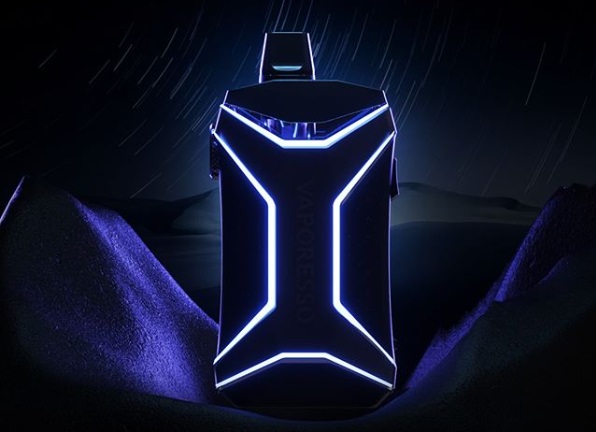 According to the Vaporesso website, the XIRON pod mod has a built-in 1,500mAh battery, and a power output range of 5 – 50W. The USB Type-C standard also allows for 2A fast charging, which is always a pro, but even more so on a pod system.
Another notable feature of the Vaporesso XIRON is the adjustable airflow control system,  a dial that, I must say, looks a lot like the one on the GeekVape Aegis Boost. I don't know if it works exactly the same, I'll have to try the XIRON first, but they definitely look very similar.
The refillable pod of the XIRON pod system is transparent and appears to stick out of the battery unit a little bit, offering a clear view of the e-liquid level inside. It also has a top-fill system covered by a classic rubber plug, which means that you don't have to remove the pod to fill it.
The XIRON kit contains an 0.3Ω MESH Coil and an 0.8Ω MESH Coil, but Vaporesso's GTX line of coil-heads features plenty of other options suitable for both DL and MTL vaping, as well as a rebuildable base (RBA).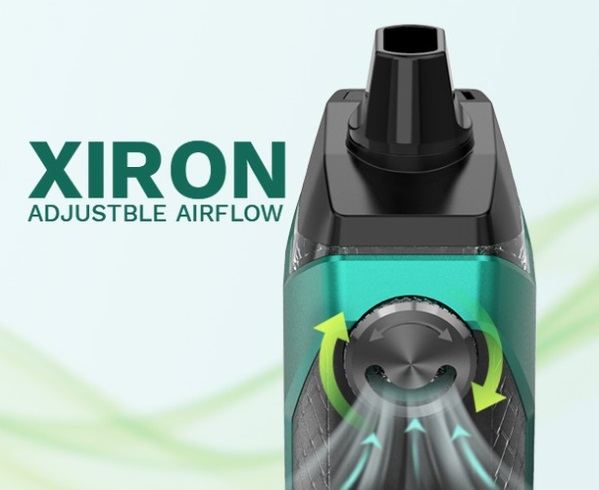 In terms of menu system, Vaporesso has yet to offer any information, but judging by the generous 0.69-inch display and the two adjustment buttons, I think we'll see some smart features included. But we'll just have to wait and see about that.
Conclusion
The new Vaporesso XIRON certainly looks like a very interesting pod system, and if it turns out to be as durable and solid as it looks in pictures, it might actually pose a threat to the uncontested hegemony of the Aegis line. Competition is always a good thing, in any industry, especially for us consumers, so I for one am always happy to see companies shaking things up.