Vaporesso Gen 220W Review
Buy the Vaporesso Gen 220W
Get a significant discount on the Vaporesso Gen 220W vape kit from a reputable online vendor.
Vaporesso is one of the most highly-regarded brands in the vaping industry, but their mods have been kind of hit or over the last few years. They're known for both fan favorites like the Revenger or Target series, but also for less successful creations like the Polar 220W, so I was really excited to get my hands on the new Vaporesso Gen mod and see what that new Axon chip was all about. Well, I go to spend about three weeks with the Gen mod before doing this review, here's what I've learned about it:
A Look at the Contents
The Vaporesso Gen mod comes in  a large, rectangular cardboard box, with a picture of the device and the phrase "power isn't just for the pros" on the front, and a very positive description of the kit, a list of contents, technical specifications for both the mod and the included tank, as well a scratch-and-check sticker on the back of the packaging.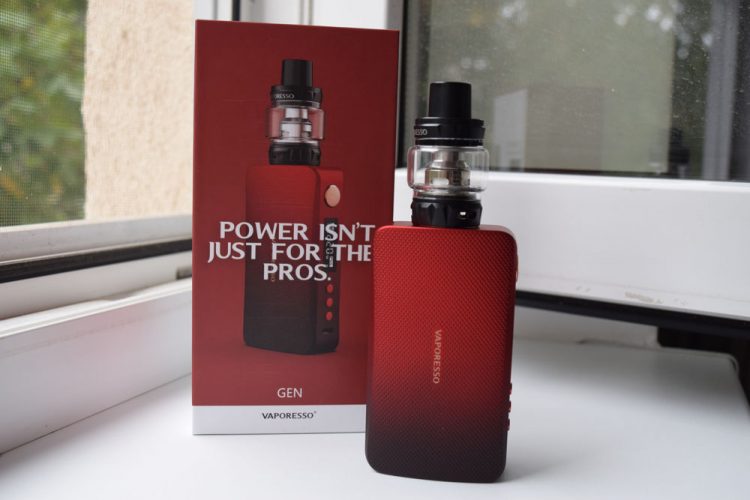 Inside the box we have the Gen mod and accompanying Skrr-S sub-ohm tanks sitting in a plastic holder, and underneath that we have a smaller box containing all the accessories. The kit includes a micro-USB cable for charging, a user manual, spare glass tube for the tank, an extra coil-head (the other comes pre-installed), and a bunch of spare o-rings.
Design and Build Quality
The Vaporesso Gen mod measures 93.5mm x 53mm x 27mm and weighs 107g (without batteries). I don't know what kind of metal it's made of – I'm leaning toward aluminium, because of how light it feels for its size – but I can tell you that it has a very nice rubber coating all around that both improves grip and makes it very smooth to the touch. It reminds me a bit of the polymer clay coating of the old Asvape Michael, but whatever Vaporesso used on the Gen feels even smoother.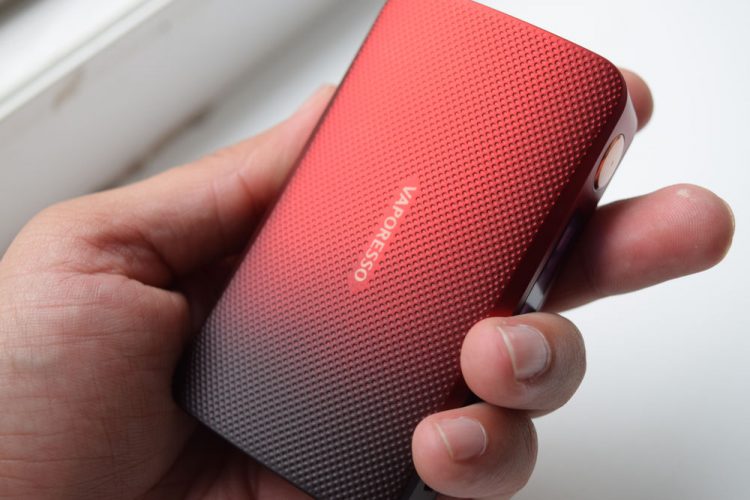 The Gen version I received for review came a gradient color, from red to black, but you can get in other gradients too, as well as solid black, silver or gold. The red-to-black one looks very nice with its copper fire button and 510 connection plate, but I have to admit it's very hard to pair with atomizers, because even black ones don't go very well with it, for some reason. Still, I find it visually stunning and even nicer to hold in the hand, thanks to the rubberized finish.
Vaporesso claims that the coating it used for this mod makes it both scratch and flame resistant. I don't know about flames, you probably don't what fire anywhere near this device due to the danger posed by the batteries inside, but I can attest that the Gen mod handles minor scratches quite well. I used a small screwdriver to scratch the bottom of the mod to see if it leaves any marks, and it didn't. I'm sure that if I put a bit of muscle into it, I can take the coating right off the metal, but as far as accidental scratching (from a coin in you pocket, for example), you should be good.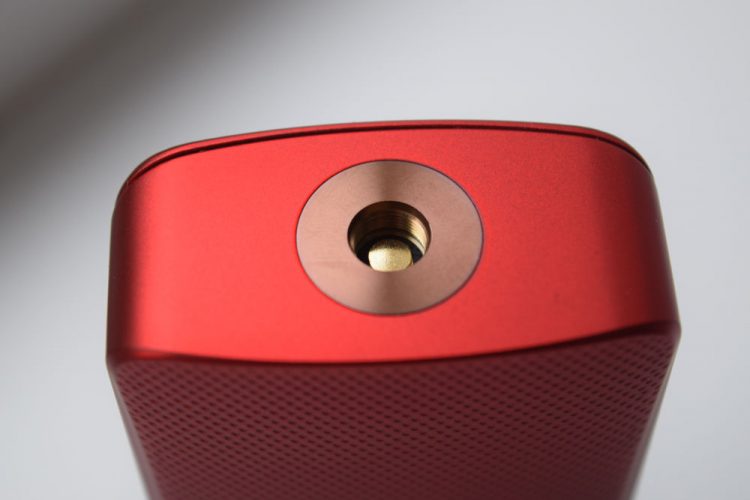 The 510 connection is centered and virtually flush with the mod, so you'll only get the smallest gap when hooking up most atomizers. It features a gold-plated, spring-loaded pin with quite a bit of travel to it.
The control panel on one of the thinner sides of the mod is made up of a round fire button, a rectangular display, three small buttons and a micro-USB charging port. You're probably wondering about that three-button configuration on the bottom, we'll get into that later. For now, I just want to point out that the screen looks kind of outdated. It's small, black-and-white and has the same configuration we've seen over and over on advanced mods. They probably went for a more classic look, because we already know Vaporesso can do bigger displays, but I wish they had done something special, if just to attract attention to the new Axon chip.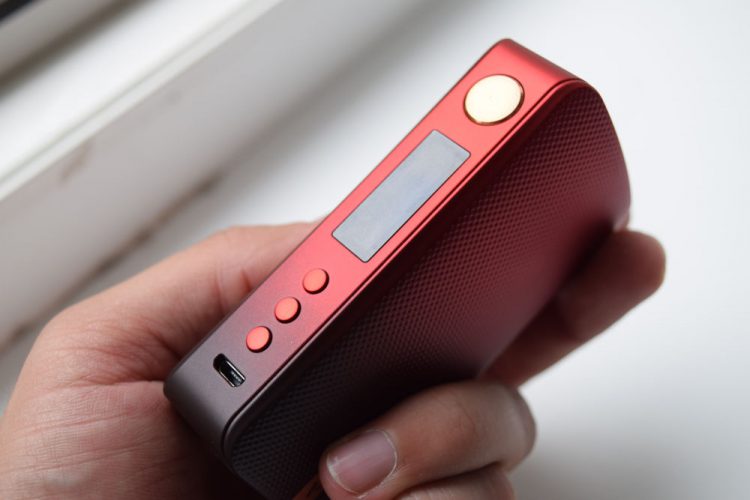 One of the sides of the Vaporesso Gen mod acts as a battery door, and you can figure out which one by checking the bottom. The side with a cutout large enough to insert your fingernail into is the detachable one. It's held in place by two pairs of powerful magnets that also keep it from rattling or wobbling in the hand. The battery compartments have clear polarity indicators, and the back of the battery door is coated with the same rubbery material on the outside, to prevent shorts in case one of the battery wraps is damaged.
Overall, the new Vaporesso Gen mod looks and, most importantly, feels like a high-quality vape mod. The size may be a con for some people – it is indeed a bit taller than most dual-18650 battery mods – but the quality finish and cool gradient coloring definitely make up for it. The display could have been better, but as a whole, I like the simplicity and elegance of this device. Looks-wise, it reminds me of the Dotmod DotBox.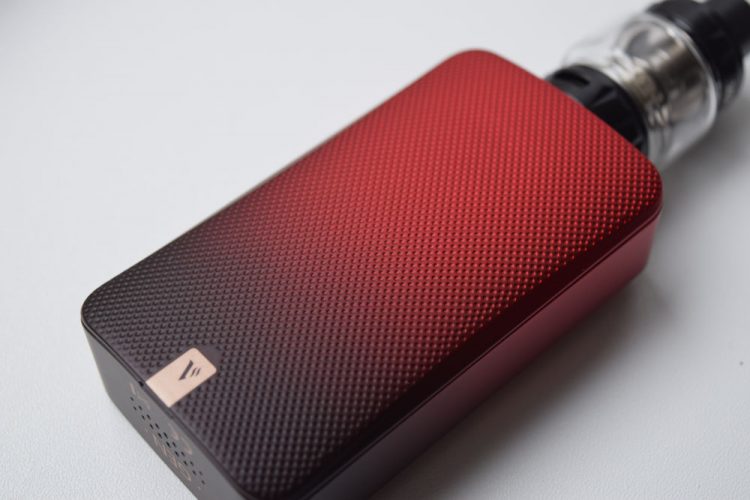 Menu System and Navigation
There's no denying that the Vaporesso Gen is a visually appealing device, but it was the new Axon chip powering it that really got me excited to try it. It's supposed to have all the features of the old Omni chip as well as some new, innovative ones, like an economy mode and material-detecting capabilities. Sound interesting?
Like most modern vape mods, the Vaporesso Gen can be powered on or off with five quick presses of the fire button. Three quick presses allows you to lock the three smaller buttons near the bottom, so you can vape without having to worry about accidentally changing the wattage/temperature.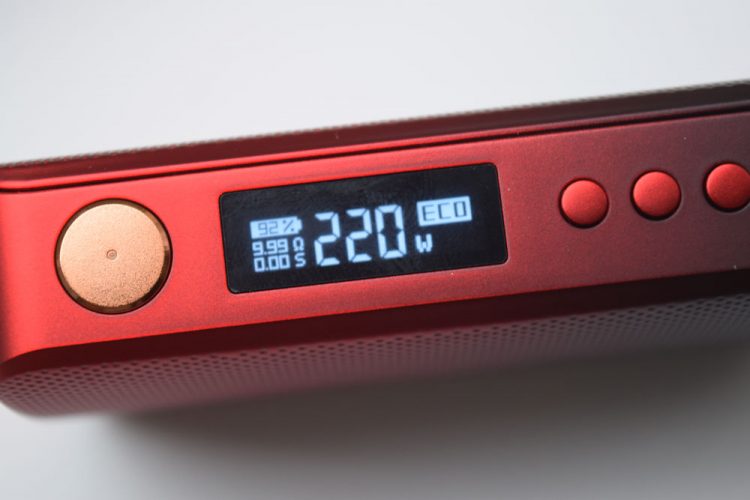 Those three little buttons under the display may seem strange at first, but that's only until you realize the lowest one is the '-' button and the highest placed one is the '+' button, with the button between them acting as a menu button. That's right, to get into the the Gen menu all you have to do is press that middle button three times in rapid succession. Once you're in, you can browse all the different settings with the + and – buttons, confirm your choices with the menu button, and exit by pressing the fire button.
As I've already mentioned, the new Axon chip brings a host of new, intriguing features, such as Pulse Mode, Power Eco or Smart TC. The first of these allegedly guarantees a more stable power output all through the draw, by pulsing at the set power output every 0.2 seconds. It's kind of like pulse modulation, but the really short intervals make it unnoticeable. It's an interesting idea, but in this day in age, when most respectable companies have advanced-enough chips to provide stable power all throughout the draw, I'm not sure it's something we really need. I'm not the most tech savvy guy, though, so maybe I don't understand this mode correctly.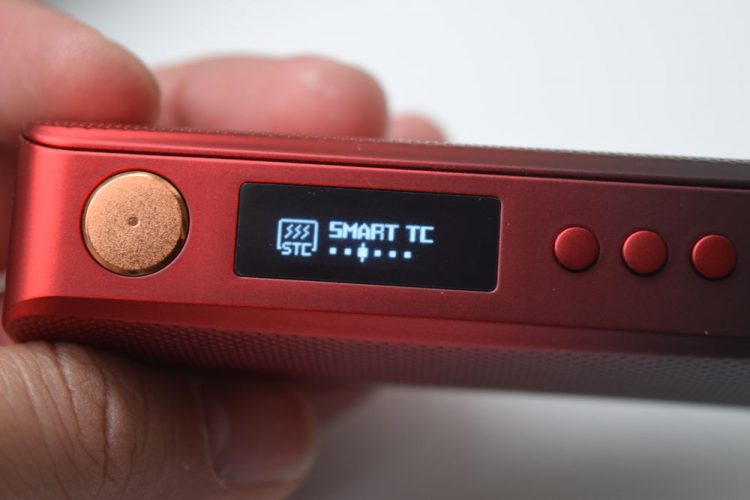 Power Eco is another smart mode of the Axon chip. Eco stands for "economy", and when activated this mode allegedly tweaks some system settings to optimize battery life. I've activated Eco mode a couple of times just out of curiosity, but I never noticed any considerable difference in battery life, at least when compared to Pulse mode or regular wattage mode.
Interestingly, even when you're in a different mode and the battery level drops under 40%, the Gen will alert you about it and ask if you want to activate Eco mode. It can be annoying sometimes, because the mod stops firing until you interact with the alert on screen, but on the other hand, you never have to worry about unknowingly depleting the battery. We all know how "fun" that is especially when you're out and about, with no power source available.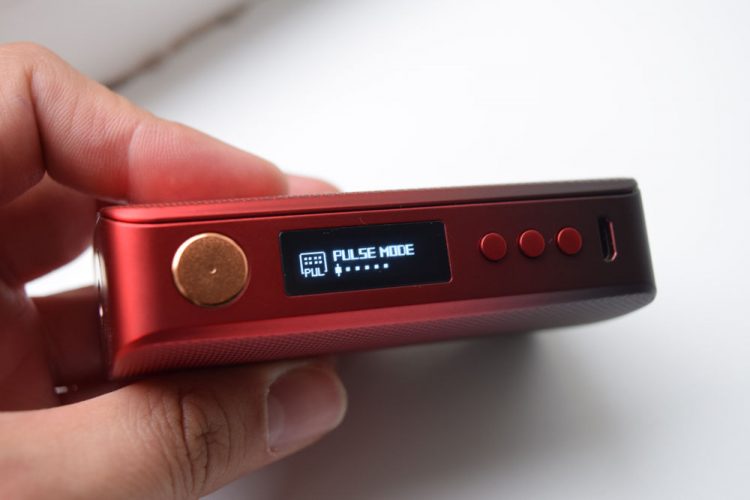 Finally, the last of the three smart modes introduced by the new Vaporesso Axon chip is Smart TC. This is the most impressive of the three, in my opinion. Whenever you attach a new coil, a "scanning" message shows up on screen, and if you're in Smart TC, the mod will automatically detect what material the coil is made of, and switch to its temp control settings, if it's a supported material (stainless steel, titanium, nickel).
Whenever you're in one of the three mentioned smart modes, if you attach an atomizer, that "scanning" message will pop up on the display, and if the coil is made of a material compatible with temperature control, the mod will ask you if you want to activate Smart TC. How cool is that? Well, not that cool, especially since no one really uses TC these days, but this is just the kind of innovation that might change that.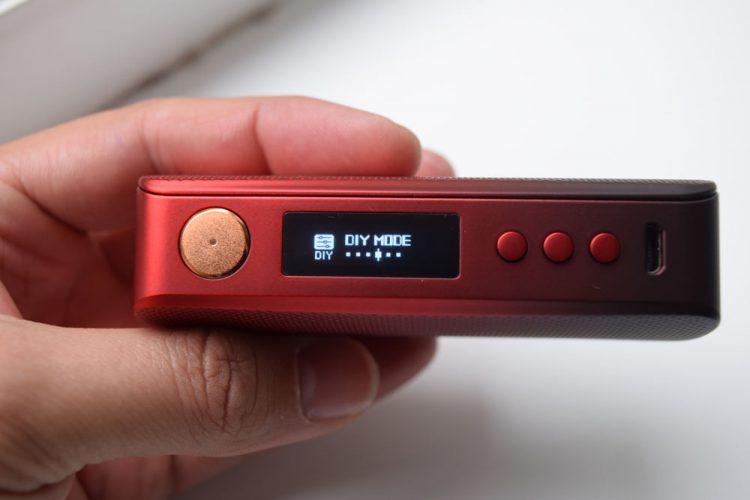 The reason why no one uses TC is because it's kind of tricky. You have different materials, TCR settings, and most people find it confusing. But if all they have to do is screw on the atomizer and the mod takes care of the rest, they may just give it a try.
Apart from these new smart mode, the Vaporesso Gen also offers all the standard modes we've all gotten used over the years. You can find them all in the menu, under DIY Mode. You have Variable Wattage/VW (with three different preheat settings – soft, normal, high), Temp. Control/VT, Variable Voltage/VV, Custom Curves/CCW, Bypass Mode/BP and Super Player/SP.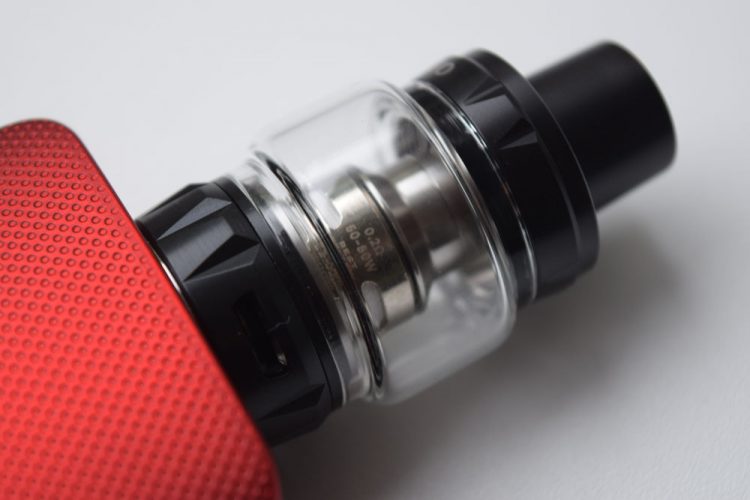 In case you're not familiar with Super Player, it's a mode that Vaporesso has been pushing since it launched the Polar 220W mod. It basically allows you to fire the mod with resistances as low as 0.03Ω. It's something that will only interest fans of super-low resistance builds.
Also in the menu is a System Set submenu where you can adjust screen brightness, reset the Puff Counter, set Auto Eco Mode on or off, flip the display, and check the version of the firmware.
That's pretty much all there is to the Vaporesso Gen menu system. It introduces some new smart modes, but I personally only found the Smart TC particularly useful. Even though I'm not a fan of temp. control, I consider this coil material detection very interesting.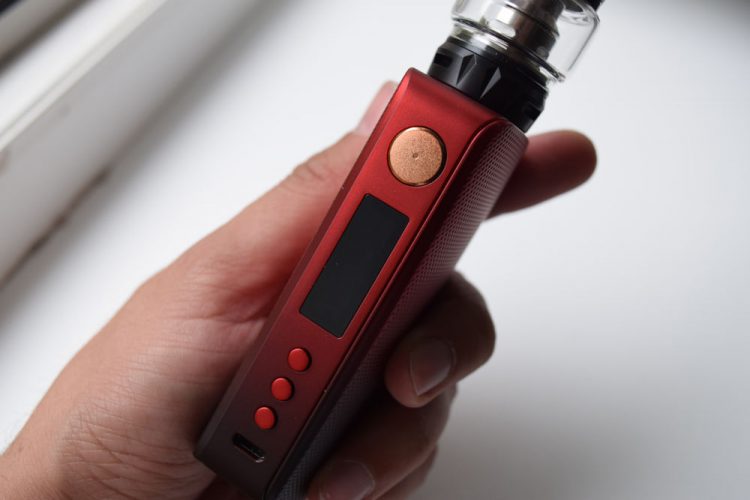 Battery Life and Performance
The Gen mod required two 18650 batteries. I've been using it with a couple of LG HG2 for the higher mAh rating, as well as my trusty Sony VTC5A's, and it's been working flawlessly. I haven't noticed any radical improvement in battery use, so I would say the Axon is about as good as the old Omni boards in terms of battery life optimization.
In terms of actual performance, Pulse Mode and Power Eco haven'r impressed me that much. Mods have a pretty stable signal these days, so this pulse modulation mode isn't necessary anymore – at least in my humble opinion – and Power Eco is a good reminder that you'll soon run out of battery, but in my experience that's about all it does.
That's not to say the Vaporesso Gen is a bad mod. The standard modes – variable wattage, variable voltage, power curves, etc. – all work just fine. The mod fires instantly, as is the case with most advanced mods these days, resistance reading is pretty accurate, and the three preheat options ensure that the power ramp-up is as fast as you like. The 220W maximum power output is way more than I need, but if you're the kind of person who vapes at that level, I'd love to know if it actually fires that high.
In the three weeks I've been using the Gen for, I've had no issues with it, so as far as I'm concerned, it's a solid mod.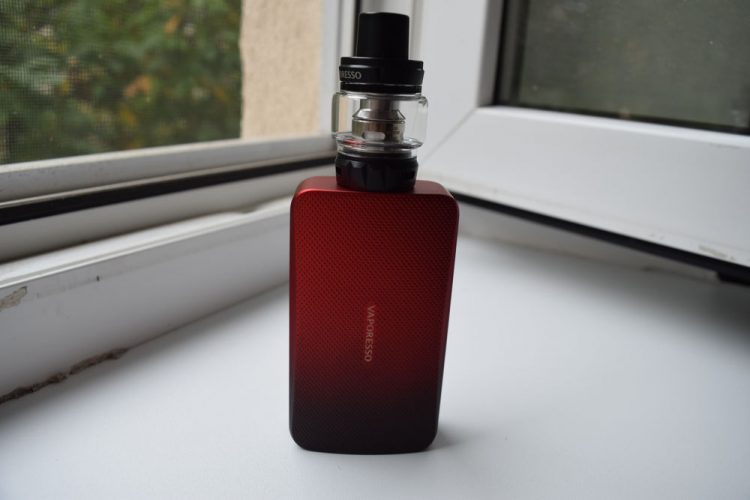 Conclusion
The Vaporesso Gen 220W marks the launch of a new Vaporesso chip called Axon. It comes with a bunch of new smart modes, some of which seem a bit gimmicky, but there's definitely some useful innovation here, like the Smart TC mode. I particularly like the elegant design of the mod, as well as the fine, rubbery coating that makes it very smooth to the touch, but the size could be an issue for some people, as this is a rather tall dual-battery mod. Performance-wise, the Gen is, ok, it fires almost instantly, reads resistances pretty accurately and has a fast power ramp-up.
There were a few things I didn't like, such as the outdated display, but all in all, I would say the Vaporesso Gen is one of the Chinese manufacturer's nicest devices yet.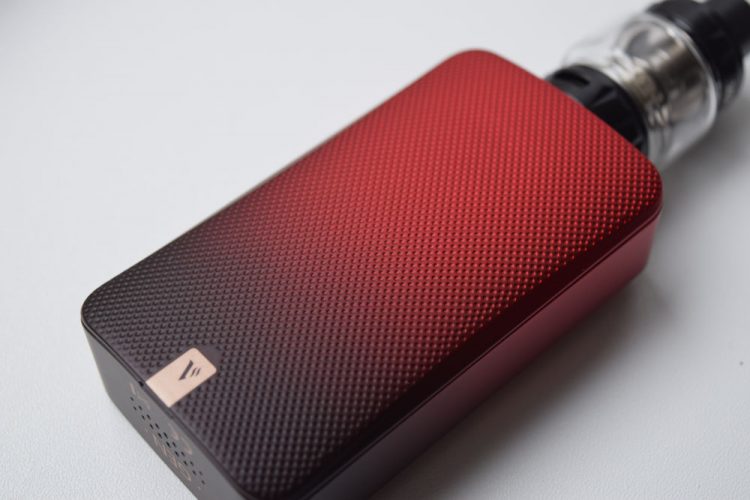 The Vaporesso Gen was sent to me directly by Vaporesso for the purpose of this review.
Buy the Vaporesso Gen 220W
Get a significant discount on the Vaporesso Gen 220W vape kit from a reputable online vendor.