British electronic cigarette company Gamucci has just announced it will open the world's first airport vaping zone, at Heathrow Airport's Terminal 4. This comes as great news for frequent flyers who want to sneak a few puffs before their flight, without having to worry about airport security spotting them.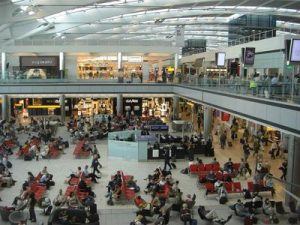 Most e-cigarette companies claim you can use their products anywhere, since the smoking ban doesn't cover vaping, but that's all just marketing talk, and the reality is slightly different. As many vapers have learned the hard way, using an electronic cigarette at airports can get you in a lot of trouble. The internet is full of reports from people who lost their flight or even worse, got fined, after trying to sneak a few puffs in the toilet. Some airports are more vape-friendly than others, but generally speaking, using e-cigarettes in these security-sensitive places is highly inadvisable. Luckily, people are beginning to recognize the relevance of electronic cigarettes and their fast-growing popularity. UK-based premium e-cigarette manufacturer, Gamucci, has recently announced the opening of the world's first vaping zone, at Heathrow Airport, in England. This indoor area will allow vapers to freely use their electronic cigarettes, before and after their flights, without getting into trouble with airport security, or inhaling tobacco smoke in the now-common smoking lounges.
According to the company's press release "the Gamucci Zone will be around 30 square meters, located in the International Departure Lounge next to luxury brands and duty free stores, with entry restricted only to those aged 18 and over. It will open from 05:00 until 22:30 each day and will only sell Gamucci electronic cigarettes." I'm pretty sure that doesn't mean you'll only be able t smoke their e-cigs in there, but if you're trying to avoid passing your conspicuous-looking mod through the airport check-in or you forgot your e-cig, Gamucci's disposables offer a welcome alternative.
"As a London-based company, we are delighted to be launching the world's first electronic cigarette vaping zone at Heathrow Terminal 4. Heathrow is the busiest airport in Europe, with millions of passengers passing through each year from all over the world. The Gamucci Zone at Heathrow complements our positioning as a global brand sold in 55 countries worldwide," Taz and Umer Sheikh, Co-Founders of Gamucci, said. "We are frequent travellers ourselves, and identify with the frustrations smokers endure when they are through security. We hope our vaping zone will offer an environment to satisfy their cravings. All of our products are non-combustible and allow smokers to enjoy nicotine without any of the by-products of combustible tobacco."
I for one am all for this kind of "vaping zones", at least until we have some clear data on the effects of e-cigarettes vapor on the human body. Trying to explain to non-smokers that e-cig vapor is not the same as tobacco smoke doesn't always have the desired result, and this kind of spaces can save vapers a lot of trouble. Hopefully we'll start seeing them at airports all around the world soon enough.