Universal Corp., the world's largest supplier of tobacco leaf, has announced that its subsidiary Virginia Tobacco Co. Inc. has formed a joint venture with Avoca, Inc., one of the world's premier botanical extraction companies, to produce and sell liquid nicotine for electronic cigarettes.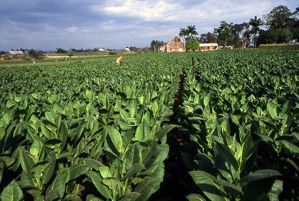 Richmond-based Universal Corp. is the latest tobacco company to enter the electronic cigarette business, following the example of Big Tobacco giants, Lorillard, Altria and R.J. Renolds. "The electronic cigarette industry is developing rapidly and, as a leader in leaf tobacco sourcing and agronomic research, we are pleased to bring our expertise to this dynamic market," said George C. Freeman III, Universal's chairman, president and CEO. The new company, called AmeriNic, Inc. plans to start production of high quality, United States Pharmacopeia (USP) grade liquid nicotine using fully traceable and compliant tobaccos, by the end of the year. During Universal's quarterly earnings conference call Tuesday, executives said the venture is in its early stages and it is too soon to estimate how much liquid nicotine it will sell, adding that AmeriNic "is not expected to have a material impact on cash flows or operating results for the current fiscal year."
"We believe that the best source of liquid nicotine is tobacco and that AmeriNic, Inc. has the capability needed to build a supply chain to provide the highest quality product at a competitive price. AmeriNic, Inc. looks forward to being a reliable, high-quality supplier for this new and emerging [e-cigarette] market," George C. Freeman III writes in the company's press release. David A. Holmes, President of Pharmachem Laboratories, Inc., parent company of Avoca, Inc. said: "We are pleased to join with Universal Corporation in forming AmeriNic, Inc. to manufacture and supply liquid nicotine to the fast growing electronic cigarette industry. This venture fits our business model of controlling the supply chain to ensure reliable delivery of high quality ingredients to our customers." Pharmachem Laboratories, Inc., owns several companies that produce and supply custom ingredients for nutritional products, food and drinks, and flavors and fragrances.
The fast-growing electronic cigarette industry is in part responsible for tobacco companies' accelerated decline in profits, but after trying to fight the trend, it would appear they have adopted the old "if you can't beat them, join them" motto. A number of international companies have already launched their own e-cigarettes, while others have acquired reputable brands, like blu.
Photo: Wikimedia Commons