Artery Nugget GT Review
Having previously reviewed Artery devices like the Pal Mini and Nugget X, I had always associated the brand with compact vaporizers, so it came a bit as a surprise to me that they be the first company to come out with the world's first dual-battery pod mod, and a bulky one at that. The Artery Nugget GT was not something I expected to see on the market, but the Chinese manufacturer thought it made sense. Let's see if we can find out why:
Artery Nugget GT Packaging
The new Nugget GT dual-battery pod mod comes in a rectangular cardboard box sporting a picture of the device and a list of its main features on the front, and the kit contents and manufacturer information, on the back.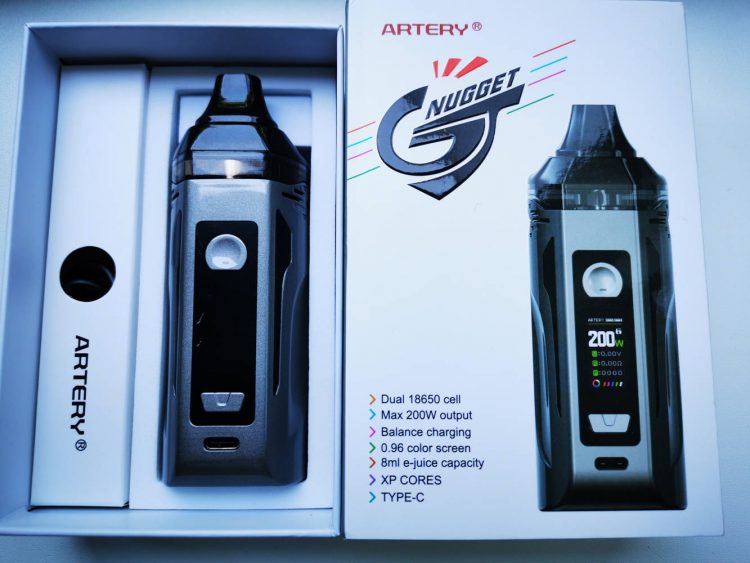 Inside the package, we have the Nugget GT itself, a Type-C USB charging cable, an extra coil-head (another comes pre-installed), a 510 drip tip, user manual, and a replacement silicone plug for the fill port. It's pretty much your average pod mod starter kit in terms of included accessories.
Artery Nugget GT Design and Build Quality
The Nugget GT measures 102mm x 40mm x 31 mm, which makes it one of the largest – if not the largest – pod mods on the market today. Like most vaping devices these days, it is made primarily of zinc alloy and plastic, and comes in four colors – black, grey, blue and red – all of which have a glossy finish.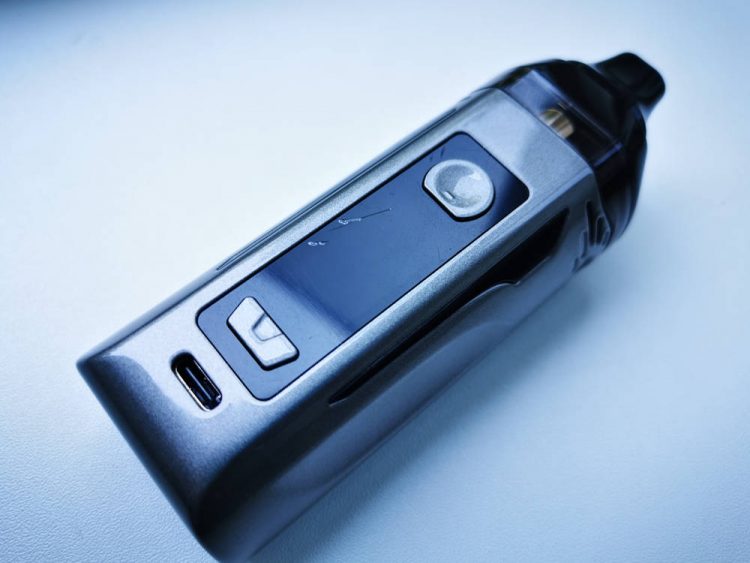 I've had the chance to test and review some gorgeous pod mods this year, from VooPoo's Drag X and Drag S, to the surprising VapeOnly Space, but, sadly, the Artery Nugget GT doesn't fall into that category. It's not ugly, but it's not nice-looking either, it's ,just average. It's very bulky for a pod mod, the large removable pod with its elongated mouthpiece looks kind of weird to me, and the bland grey color I received just doesn't work.
But looks are subjective, so I'm not going to dwell on that too much. Starting at the top, we have very large refillable pod with an impressive juice capacity of 8ml. That's pretty crazy even for a sub-ohm tank, let alone a pod, so that's going to be a pro. The pod comes with a conical mouthpiece featuring an extremely wide bore. It makes the draw extremely loose, which I wasn't a particularly big fan of, but the good news is that the kit comes with a 510 drip tip as well, which I for one liked a little better.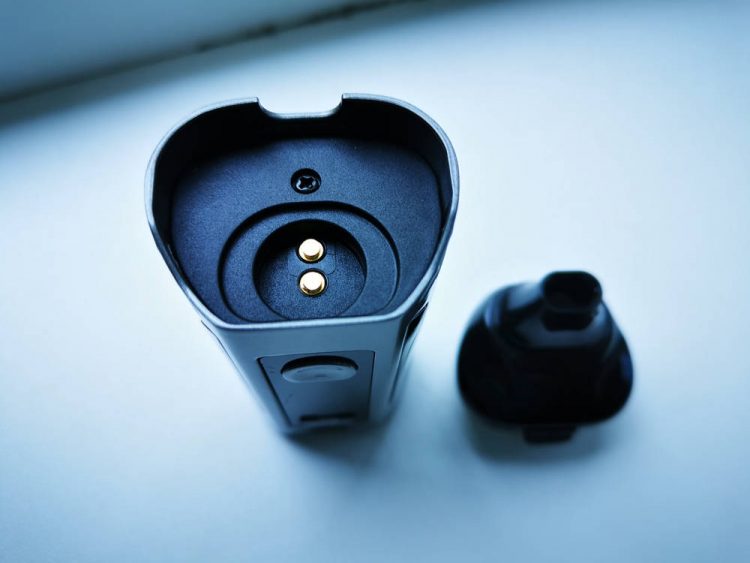 Unlike most other pods, the ones of the Nugget GT are not magnetic. Instead they have a small plastic button that you press to lock the pod into place and detach it when you need to. It's a simple system that I found works very well. On the bottom of the pod, you will find a large fill port sealed with a silicone plug, as well as the coil port, which is where the coil-heads go in. All you have to do is grab the metal base of the pre-installed coil-head and pull it out, before simply pushing a fresh one into place when you need to. There is no required orientation to keep in mind, the coils go in smoothly as long as you apply sufficient pressure.
The first thing I thought when I saw the Artery Nugget GT for the first time was 'why didn't they make this thing compatible with 510 atomizers too?'. If you're going to make a dual-18650 pod mod that is as large as a dual-battery advanced mod, you might as well make it work with tanks as well, right? Well, it turns out that Artery thought of that as well, and they did come up with a solution, they just decided to make users pay extra for it…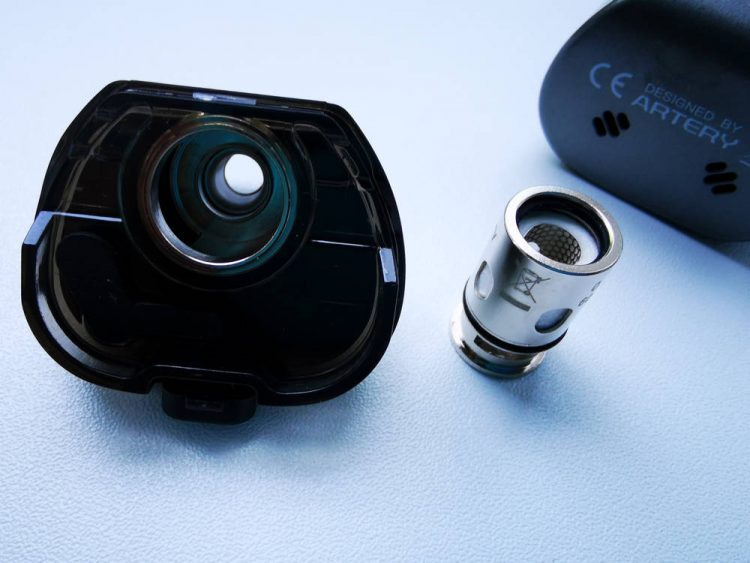 If you want to use the Nugget GT pod mod with 510 atomizers, there is a special plate available that attaches to the mod just like the plastic pod, but, for some reason, it is not included in the kit. You will have to buy it separately, which is a huge disappointment, as that accessory alone would have made the Artery Nugget GT so, so much better. As a separate purchase, it really doesn't make that much sense, to be honest.
The Nugget GT mod itself is very similar to a standard dual-battery mod, to be honest. You have a magnetic battery door at the back, which conceals to 18650 battery trays featuring clear polarity indicators, and a command panel on the front, where you fill find a round fire button, a rectangular color display, and a -/+ toggle button near the bottom, just above the USB-C charging port.
The color display is nice, although not quite as bright as we've seen on other pod mods, like the VooPoo Vinci, or the Vaporesso Target PM80. The power button feels a bit mushy, which is a shame, and the -/+ toggle button is so small that you sometimes end up pressing both buttons at the same time, when you just want to press one of them. We've seen similar toggle buttons work just fine on other devices, but this one is just too small.
Other notable design features of the Artery Nugget GT are the two air intake slots just above the command panel, and the LED lights on either side of it. You can set the LEDs to light up in different colors, but they are even dimmer than the display, so you won't impress anyone with your light show while vaping. If that's what you're aiming for, I suggest getting something like the Eleaf Lexicon instead.
I personally wasn't too impressed with the design of the Artery Nugget GT, I think the Chinese manufacturer has done a much better job with most of its previous devices, and the build quality was ok, but nothing to write home about.
Artery Nugget GT Menu and Features
While the new Nugget GT pod mod doesn't have a proper menu system and advanced features like temperature control or power curves, it does have a few button combinations you can fiddle with.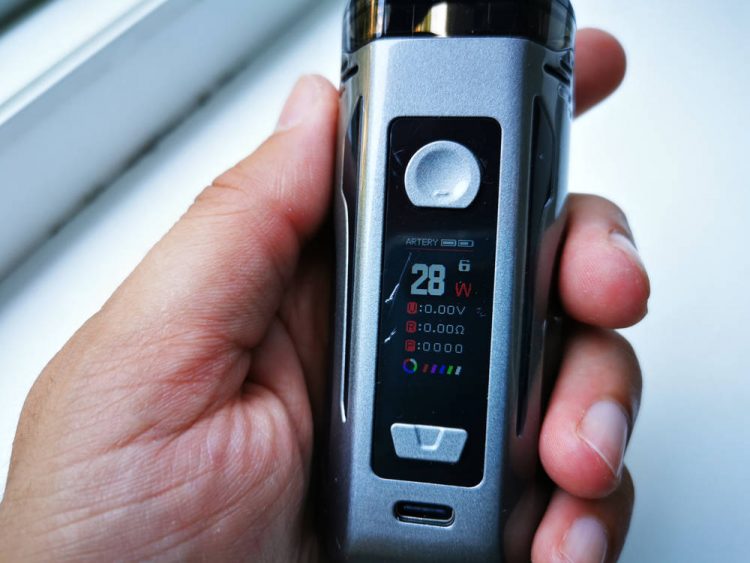 To turn the device on or off, you just press the power button five times in rapid succession after inserting two 18650 batteries. By pressing the fire button three times rapidly while the mod is turned on, you can lock or unlock the Power Limiter. This is a feature that prevents you from setting the wattage too high to prevent you from accidentally damaging your coil-head. It limits the power output of the mod based on the resistance of the coil-head. You have the option to turn it off, because Artery are selling a rebuildable base (RBA) for the Nugget GT and Power Limiter wouldn't work too well with it.
By pressing and holding the – and + buttons at the same time for a couple of seconds locks those same two buttons, to prevent accidentally changing the power output. Then, keeping the fire button and – button pressed for 2 seconds, lets you change the color of the LED indicators on the side of the display, and doing the same with the power button and + button, lets you change the color of the display.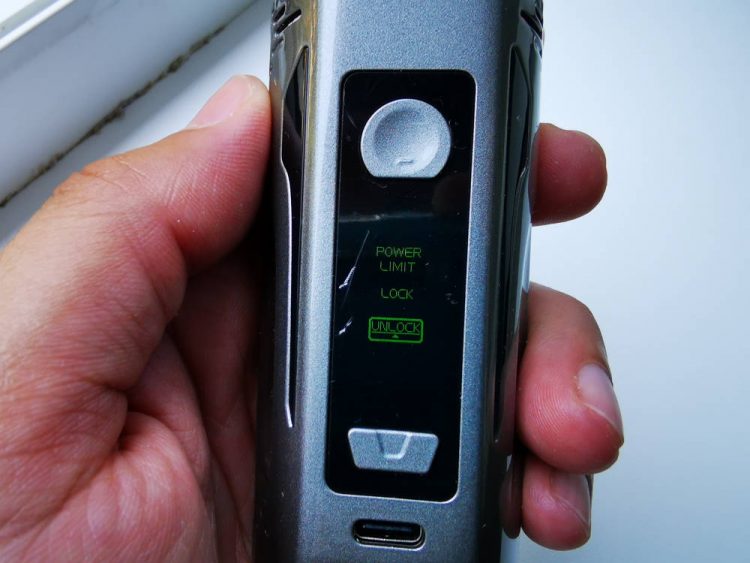 That's pretty much all there is too it; it's not the most advanced menu system, to be honest, but it lets you personalize your device, so I guess it's better than nothing…
Artery Nugget GT Battery Life
The Artery Nugget GT is powered by two 18650 batteries – not included in the kit – so your battery life is influenced by a variety of factors, from the capacity of the batteries, the wattage set on the mod, how much you vape, and even the "wear and tear" (number of charging cycles) of your batteries. Bottom line, it's impossible to estimate how long you'll be vaping for before needing to recharge, as there are too many factors to keep in mind.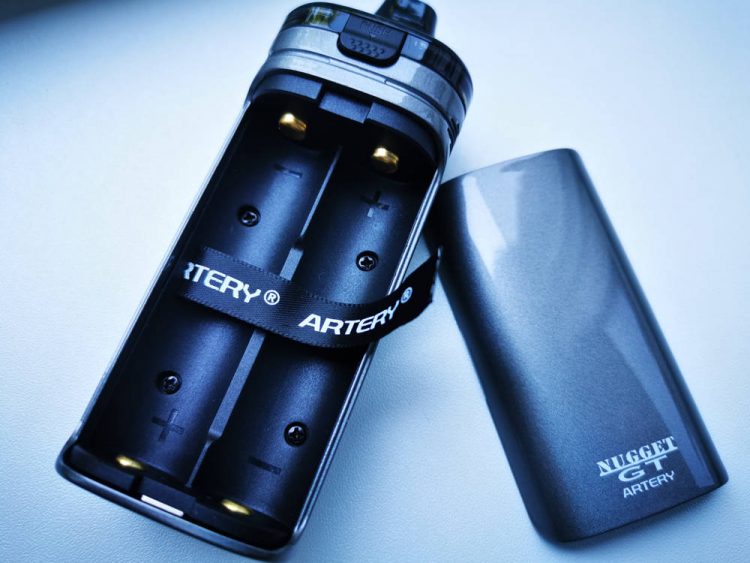 That said, it's safe to say that the Nugget GT has excellent battery life for a pod mod, considering most of its competitors either have a built-in battery or require a single 18650 battery. If you can live with the form factor, you'll have hard time finding a better pod mod in terms of battery life.
As always, I don't recommend charging external batteries inside a vaping device, but if you simply can't be bothered to get a better, safer external battery charger, at least the Nugget GT comes with the newer USB-C type charging port.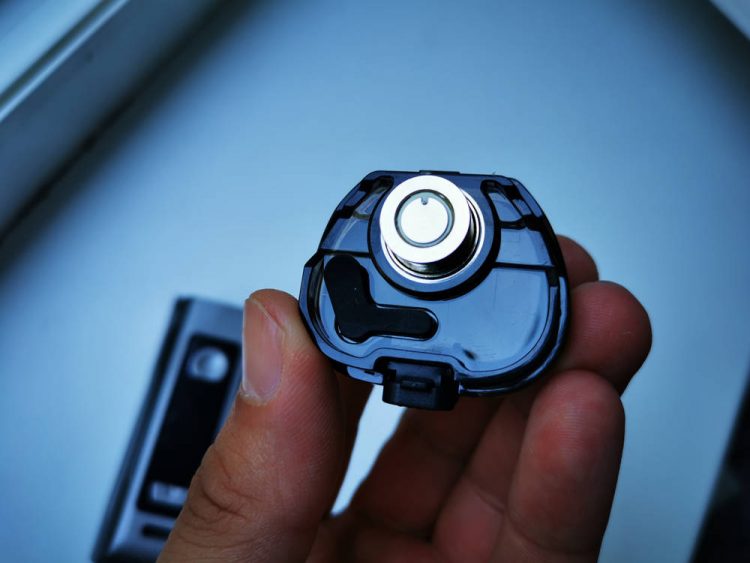 How Does the Nugget GT Vape?
That's the million dollar question, isn't it? Well, as is often the case with vaping devices, it ultimately comes down to personal taste and expectations. If you're looking for a very loose direct lung draw, thick clouds of vapor and outstanding flavor, the Nugget GT pod will probably become your best friend. But, if you prefer a tighter draw, and have a problem with air turbulence noise, you're probably not going to like it very much.
I will come right out and say that, flavor-wise, Artery have done a phenomenal job with the Nugget GT coil-heads. Whatever juice you plan on using them with, you will be impressed by the intensity of its flavor. Many pods and coil-heads these days come with this chemical smell right out of the box. It goes away after a couple of refills, but it tends to affect the taste of the juice at first. That doesn't happen with the Artery Nugget GT, thankfully, so you can enjoy a clean, crisp flavor right from the start.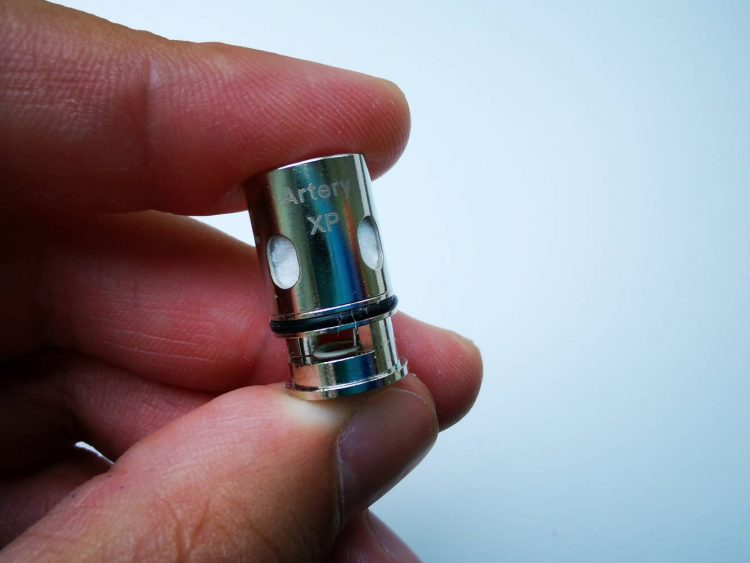 Now, while flavor and even vapor production are very impressive, the design of the airflow is not, at least for me. The first complaint I have with them is the noise they produce. There is so much air coming though the bottom of the coil-heads that you get this very turbulent wind-like noise with every draw. If you can live with that, great, but it started to get on my nerves after a while.
The second thing I didn't quite like about the Nugget GT vaping experience was the airiness of the draw. Whether I was using the pre-installed 0.15Ω or the 0.40Ω coil-heads, the draw was way too loose for my taste, and the 510 adapter made it only slightly better. If you're a true direct lung vaper, you'll probably love the airiness of this pod mod, but I would have liked to be able to make the draw more restrictive. And that's actually my main gripe – the Nugget GT pod mod lacks any kind of airflow control.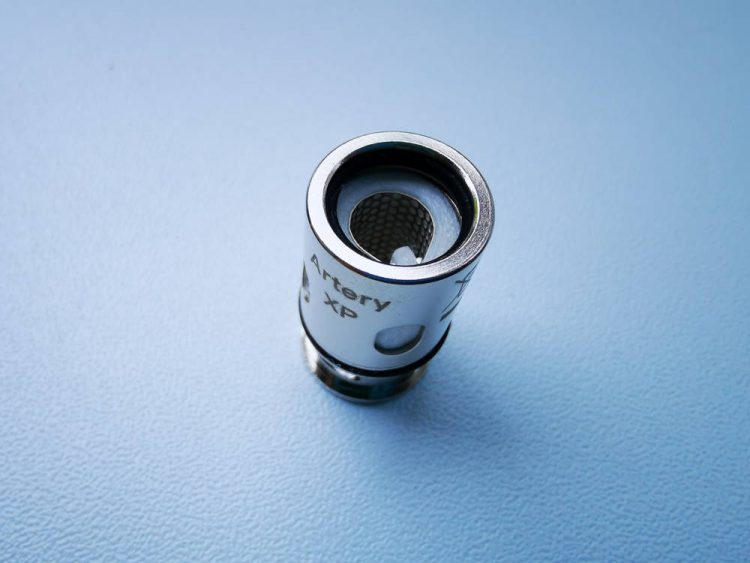 Interestingly, the RBA for the Artery Nugget GT – which I didn't get to test – reportedly comes with built-in airflow control, so you will be able to restrict the airflow, but if you're not into building your own coils and getting your hands dirty, you are left with the loose turbulent draw. That's a bummer.
The Nugget GT has a lot of things going for it, if you don't care too much about the cons explained above. It holds an absurd amount of juice (8ml), the battery life is better than pretty much all other pod mods on the market right now, flavor is on point, and, if you decide to get the 510 plate, you can use it as a dual-battery mod and take advantage of the 200W power output.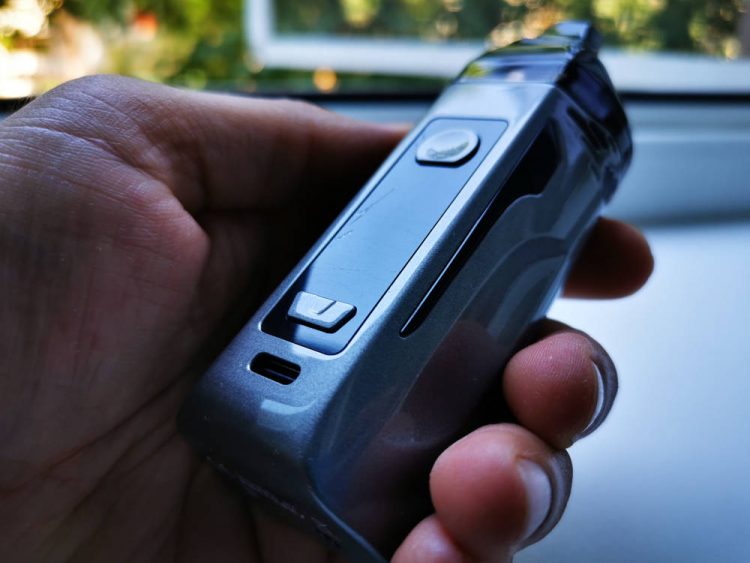 Conclusion
The Artery Nugget GT was definitely a very interesting device to review. Seeing as the first pod I ever tested was the super-slick Suorin Air, I never expected to test a dual-battery pod mod, but here we are. I can't say I'm a huge fan of its design, the build quality could be a little better, but it definitely has its strengths – juice capacity, flavor, and battery life being the most notable.
All in all, the decision whether buying a dual-battery pod mod beats buying a classic mod + atomizor combination comes down to personal taste. Personally, if the 510 accessory would have been included in the kit, I would have definitely leaned toward the Nugget GT, as it stands, I'm sort of on the fence.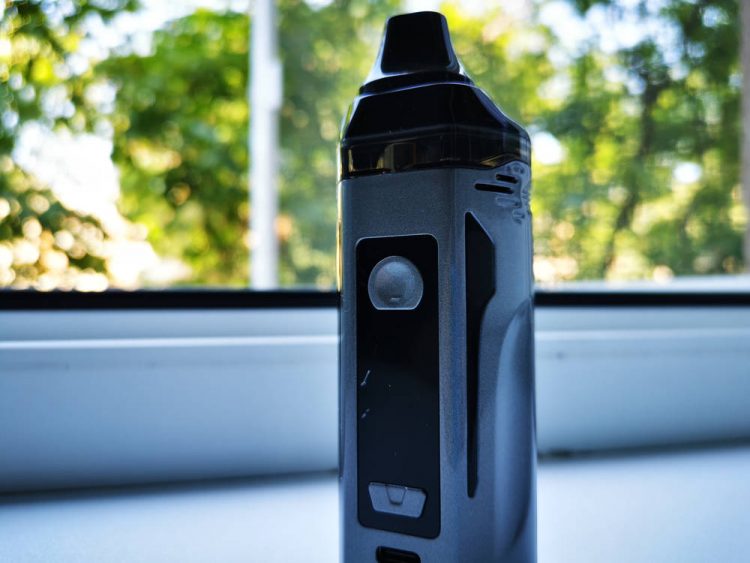 The Artery Nugget GT was sent to me by Sourcemore, for the purpose of this review. They currently have it in stock for just $44.44.
Pros
great battery life
huge e-liquid capacity
200W power output
impressive flavor
available 510 plate and RBA
Cons
not the best looking
bulky
no airflow control
noisy, overly loose draw
510 accessory sold separately