Artery Nugget X Review
If you're looking for an ultra-compact vape mod with decent battery life and power output as well as most of the features you would exp to find on an advanced vaporizer these days, you might want to consider the new Artery Nugget X. It may be tiny, but for its size, this thing packs a serious punch. Let's check it out:
A Look at the Contents
The Nugget X from Artery Vapor comes in a black cardboard box with the Nugget name and logo etched in gold on the front, and a bunch of legally required warnings on the back. There's no list of contents, though, which I consider to be a minor con, as you don't really know what's included until you open the package.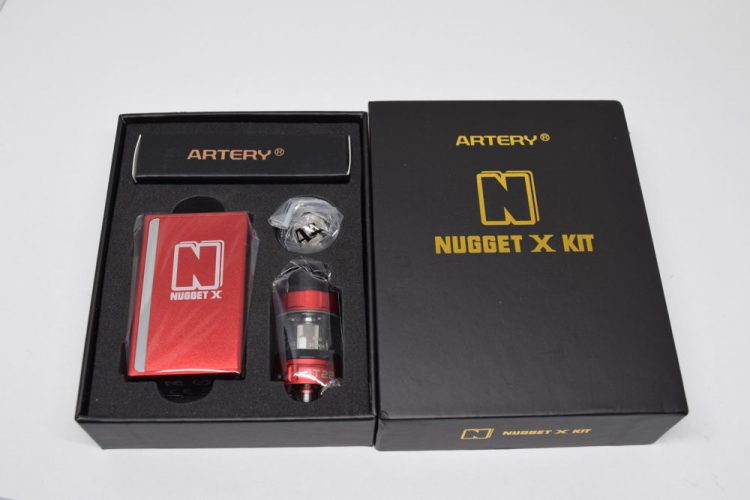 Inside the box we have the tiny Nugget X box mod sitting next to Artery's new A-T22 sub-ohm tank, a micro-USB cable for charging and upgrading, a spare glass tube for the tank, a couple of coil-heads, spare o-rings, and user manuals for both the mod and the tank. All in all, a very nice kit that has everything you need, including that spare glass that comes very handy if you accidentally crack your tank.
Design and Build Quality
The Nugget X has a classic rectangular design, with the buttons and display located on one of the smaller sides. What makes it stand out from other box mods on the market is its extremely small size. This little guy measures just 36.6mm x 23mm x 58mm, which makes it extremely compact and easy to carry around in the smallest of pockets.
Despite it's toy-like size, the Nugget X doesn't feel cheap at all. Yes, it's a lot lighter than other larger bx mods, but its aluminium body feels very solid in your hand. For this review, I received the red version, but you can also get it in black and gold all o three of which have a satin finish. So far, the paint has been holding out ok, but I've only been using it for a couple of weeks, so I can't speak about its long-term durability.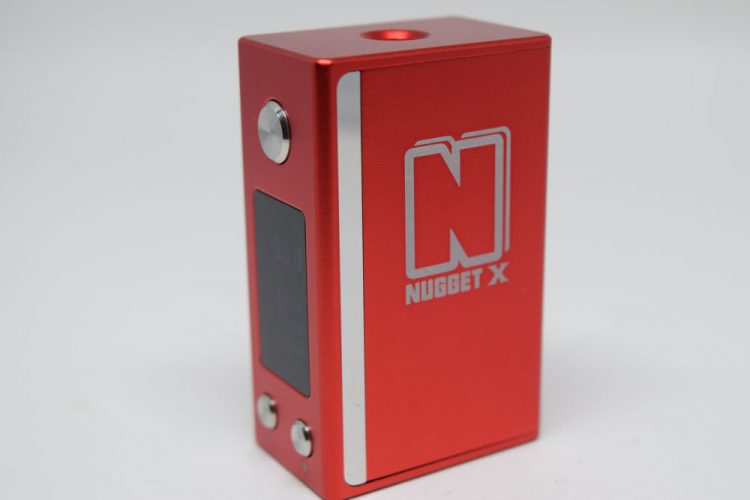 Design-wise, the Nugget X is pretty simple and very similar to Artery's two previous versions, the original Nugget and the Nugget v2. It has that classic box mod look, with a rectangular body with very slightly rounded edges to make it comfortable to hold, a centered 510 connection with a spring-loaded, gold-plated pin, and the buttons and display located on one of the smaller sides. The USB port is positioned on the side of the device, near the bottom, and features a small LED charging indicator.
The Nugget X features a standard button configuration. A round metallic fire button above the display and two smaller '-' and '+' buttons underneath it. The buttons feel very solid and have a satisfying click to them when pressed. The sample I received has absolutely no button rattle, but I've heard people complain online that their devices do have some annoying button rattle, so I guess it all depends on how lucky you are.
The rectangular display is actually very large for such a tiny mod, making everything on screen clearly visible even from an arm's length away. The layout is ok too, with plenty of useful information being displayed on the home screen, but the one problem I have with it is that it's not quite as bright as it should be. There's no way to tweak the brightness either, so you may have some problems seeing anything on the display in bright sunlight.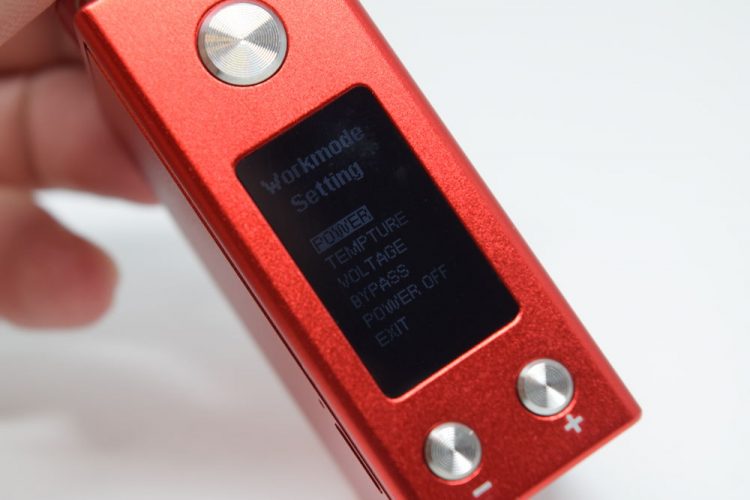 The Artery Nugget X features a 2000mAh built-in battery, which may not seem like a whole lot, but it's double the capacity of the original Nugget battery, and 500mAh more than the Nugget v2. For a device this small, 2000mAh is a lot, so I definitely consider this a huge pro.
That's about all I can tell you about the Nugget X,. It has a classic box mod design, only scaled down, great build quality, with no cheap plastic parts, at least not on the outside, and an impressive battery too boot. Let's check out the menu and features:
Menu System and Navigation
I didn't have the chance to use the previous two Nugget versions, so I can't comment whether the menu system and navigation have improved in any way, but I can honestly say that this is one of the simplest and most intuitive menu systems I have ever used, with one exception – the custom curve modes.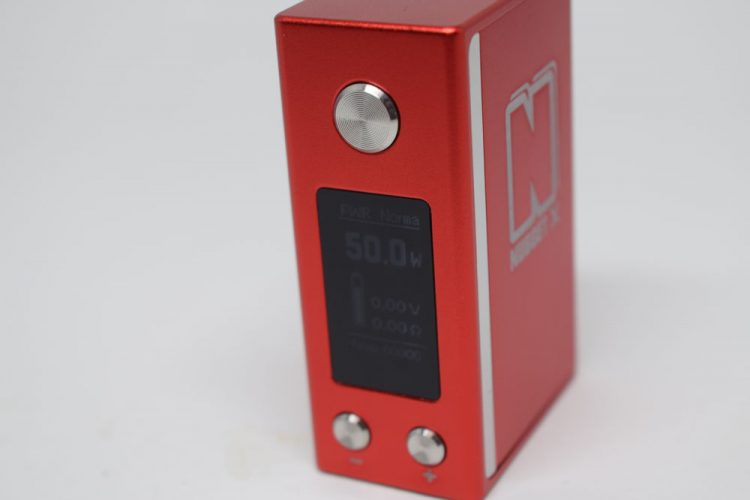 To turn on the Nugget X mod, just press the fire button 5 times rapidly. That will take you to the home screen, where you have the current operating mode displayed at the top of the screen, then the wattage/temperature in the center of the screen, a battery life indicator in the lower left corner next to the voltage and atomizer resistance, as well as a puff timer at the very bottom.
You can adjust the power/temperature by using the '-' and '+' buttons, and there are a couple of button combinations you should know, like pressing the fire button and the '-' button to clear the puff timer, or the fire button and the '+' button to lock the adjustment buttons, leaving only the fire button active. Pressing the fire button five times will lock all the three buttons of the Artery Nugget X.
But the really interesting stuff is in the main menu, which you can access by pressing the fire button three times in rapid succession. Here you will find four different submenus – Power, Temperature, Voltage and Bypass – as well as a Power Off option and the Exit, which will take you back to the home screen.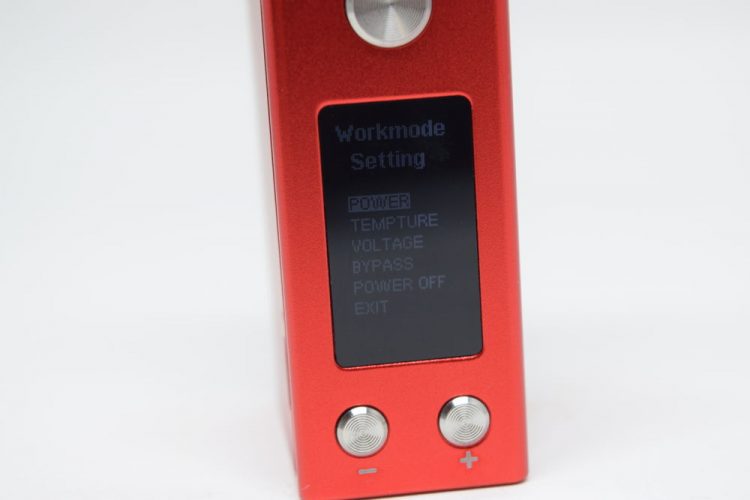 In Power, you have regular wattage mode, as well as three other options – PMGA, PMGB and PMGC. These are the confusing options I mentioned above. These acronyms stand for Power Multiplication Graph with the last letter (A,B,C) letting you know that there are such three customizable graphs to play with.
I only know this because I looked for information online, as there was no mention of these graphs in the flimsy user manual. Now, actually using these graphs was another mystery in itself, as I didn't really know how I was adjusting. I figured out that you could adjust power for the first 2 seconds of the draw, in 0.1 second increments, but as for how the power was adjusted, I had no idea.
After doing some more online research, I learned that the 'M' symbol stands for 'multiplier' and that you are basically applying a multiplier against the wattage you currently have set on the mod. That multiplier can be set between 0.5 and 2, in 0.1 increments, so if you have the wattage set at 25W and set the multiplier to 2, the mod will fire at 50W. At least that's how I understand it.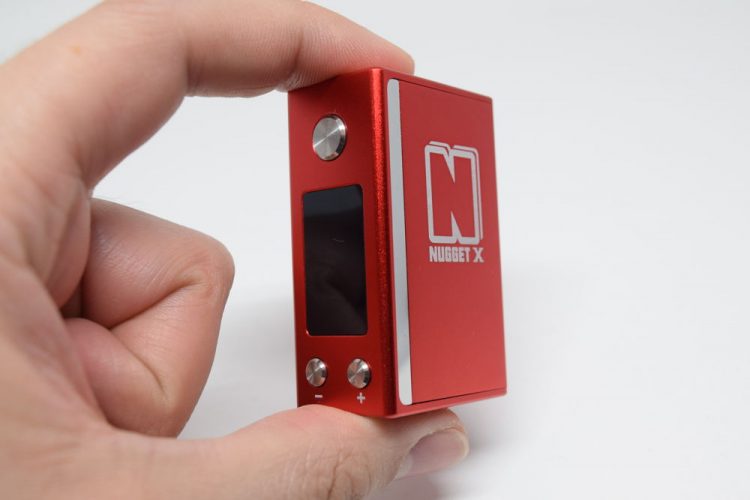 Anyway, It's nice to have three customizable power curve modes available, but Artery could have done a much better job explaining how they work.
In Temperature, you can choose from three supported materials – stainless steel, titanium and nickel – as well as TCR. Once you make your pick, you can also select the wattage you want applied, and in the case of TCR, adjust the temperature coefficient as well.
Then we have Voltage, which allows you to use the Nugget X in voltage mode, like you would the Dovpo VEE or the iJoy MAXO Zenith.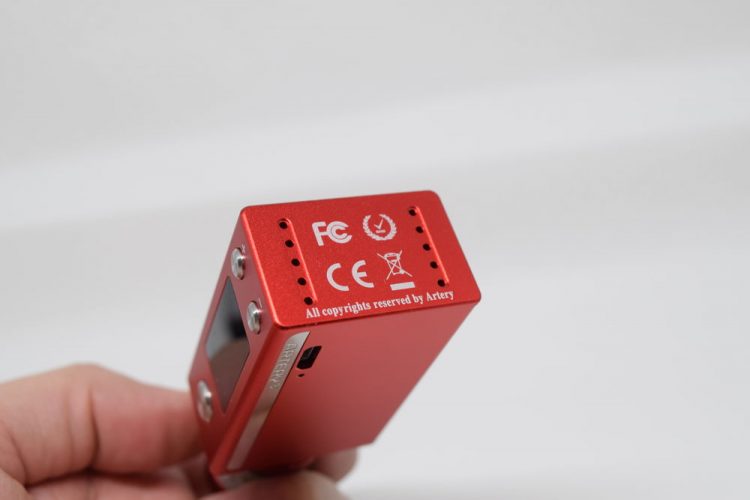 Finally, Bypass lets you draw the voltage currently available in the battery, like a mechanical mod, only with the built-in protections still active, to prevent any potential accidents.
To turn off the Artery Nugget X, just highlight the Power Off options and press the fire button.
That's about as simple as menus get on advanced box mods, with the sole exceptions of those power multiplications graphs, but most users probably won't ever use them anyway, so I won't fault it too much for that,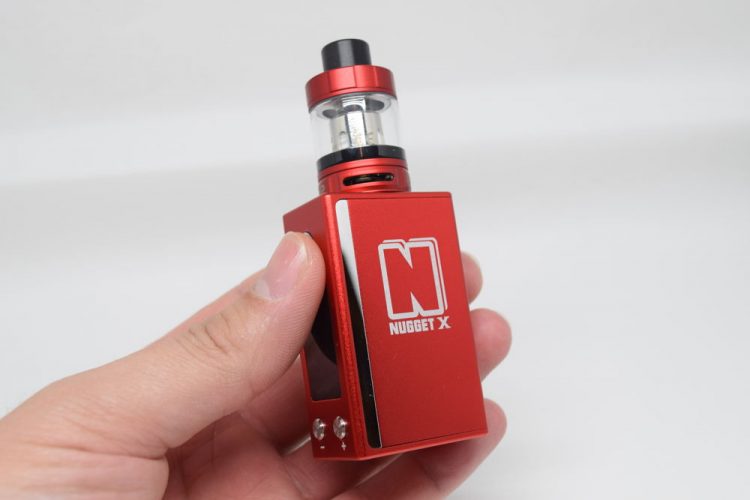 Battery Life and Overall Performance
For a device that you can easily wrap your hand around no matter how small your hand is, the 2000mAh battery capacity of the Nugget X is impressive. The only device I've used that even compares in terms of size and features is the SMOK QBOX, and that had a capacity of 1,600 mAh. Not a huge difference, but the Nugget X will offer you a bit more power, and if you're on the go with no power source available, 400 mAh can matter quite a bit.
I'm not saying that this battery will last you a whole day if you vape at the maximum output of 50W. But if you're a moderate vaper and set it to a reasonable wattage of around 25W, it might just get you through the day. That's if you use it as your main setup, which I don't see many people doing, though. This is the kind of mod that's great as a backup, or as a stealth vaping solution when you're out and about. I for one don't see myself vaping on the Nugget X at my desk, not with so many other more powerful mods available to me.
Another pro is that this little guy features 1.5A fast charging, so it should charge a lot faster than the previous two Nugget versions did. And you can vape it while it's charging.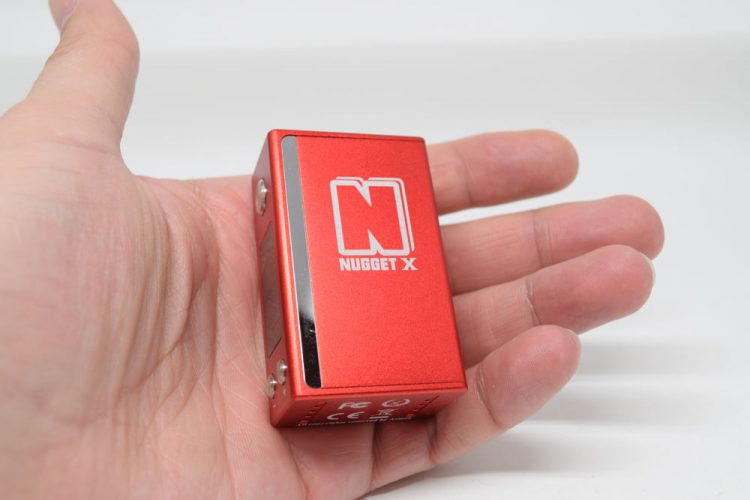 In terms of performance, I haven't had any issues with it whatsoever, at least not in wattage mode, which is how I've been using it for the past couple of weeks. It fires instantly, or at least as fast as any of the other advanced mods I've reviewed in the past few months and I've experienced no misfires or errors of any kind.
The power ramp-up seems to be a bit slower than some of the better mods out there, like the VooPoo Drag, for example, but it's not abysmal, which is to say that I've used worse.
The power output isn't great, but you can only expect so much out of such a small mod, with a built in battery. It's not designed for vaping at insanely high wattages, so if that's what you're looking for, this is not the device for you.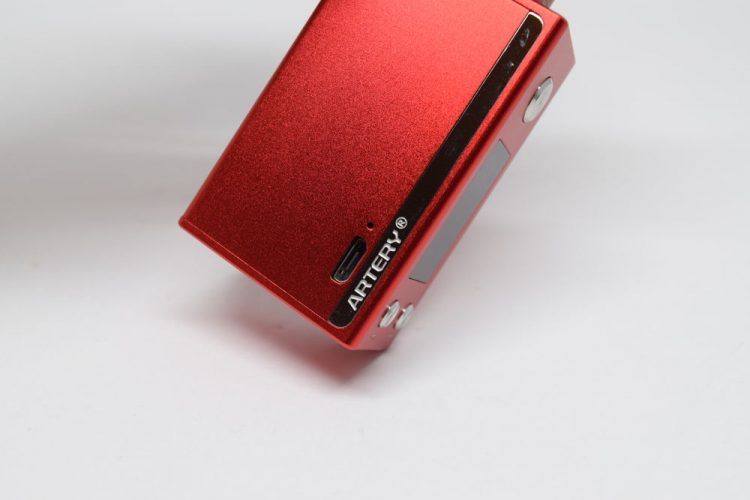 The Tank
The Nugget X comes with Artery's new A-T22 tank, a fairly average 22-mm sub-ohm tank that uses Baby Beast compatible coil heads and has an e-liquid capacity of 2ml, making is compliant with the European Union's TPD.
The A-T22 has a top filling system accessible by unscrewing the stainless steel top cap, and adjustable bottom airflow slots with stoppers on each side. It also comes with a 510 Delrin drip tip.
The two included coil heads have a resistance of 0.3Ω and a recommended wattage range of 25W – 45W. They are the same kinds of coils we've been seeing on tanks for years, ever since the popular SMOK Baby Beast tank came out. They're ok, they get the job done, it's just that everyone's been using them so much, I for one have gotten tired of talking about them.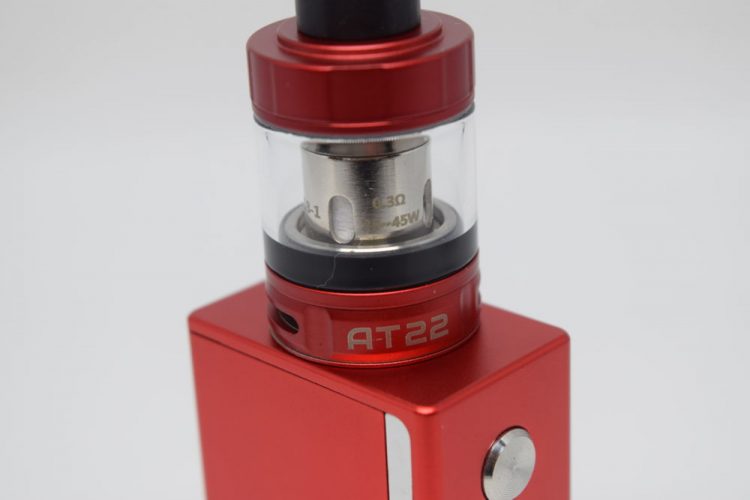 Long story short, the A-T22 is a decent tanks both in terms of flavor and vapor production, it's just nothing special, so I won't waste anymore of your time going into details about it. It's an ok tank, that's also very easy to use.
Conclusion
The Artery Nugget X may not be the most impressive device I've ever reviewed, but for its size, this mod is absolutely packed full of features. Apart from the standard power and temp. control modes, you also have power curves, voltage mode and bypass available, which I think is brilliant. The build quality is also top notch, as is the simple menu system. In terms of portability, it's about as small and light as advanced mods can get these days.
That said, the Nugget X does have a very limited power output and battery life, so do consider these aspects when considering whether it's worth your hard earned money. But if you understand that you can only get so much power and vaping time out of such a tiny mod, I'm sure you can appreciate its strengths.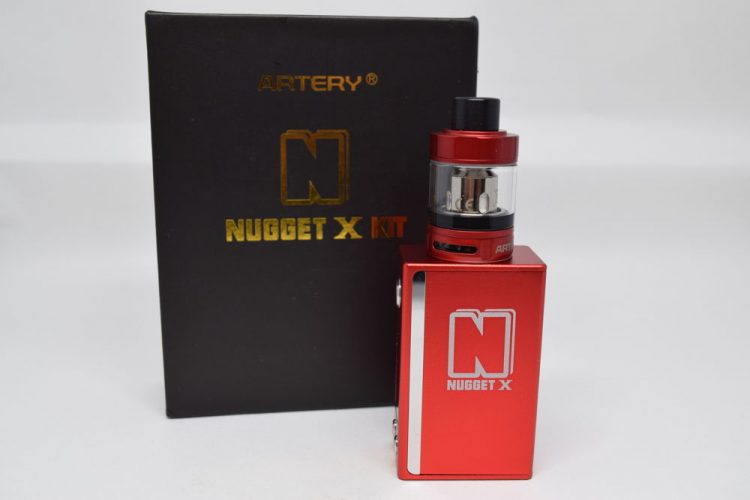 The Artery Nugget X kit used for this review was sent to me by BuyBest, who currently have it in stock for $46.71.
Pros
extremely compact
easy to carry around
good build quality
simple and intuitive menu system
decent performance
Cons
limited power output
limited battery life
confusing curve mode