Augvape VX217 Mod Review
Vape pods and pod mods are all the rage these days, so it's a special day when I get to test and review a dual-battery box mod, especially one that can allegedly do something pretty special. Augvape claim that their new VX217 box mod is not only the smallest dual-21700 battery ever made, but also that it can output up to 12V, which is quite rare, especially for mods in this price range. So without further ado, let's check out the Augvape VX217 mod:
Augvape VX217 Packaging and Presentation
Augvape's newest mod comes in the standard cardboard box with a picture of the device and EU-required nicotine warnings on the front, and a list of contents, an authenticity scratch-and-check sticker and more nicotine warnings on the back.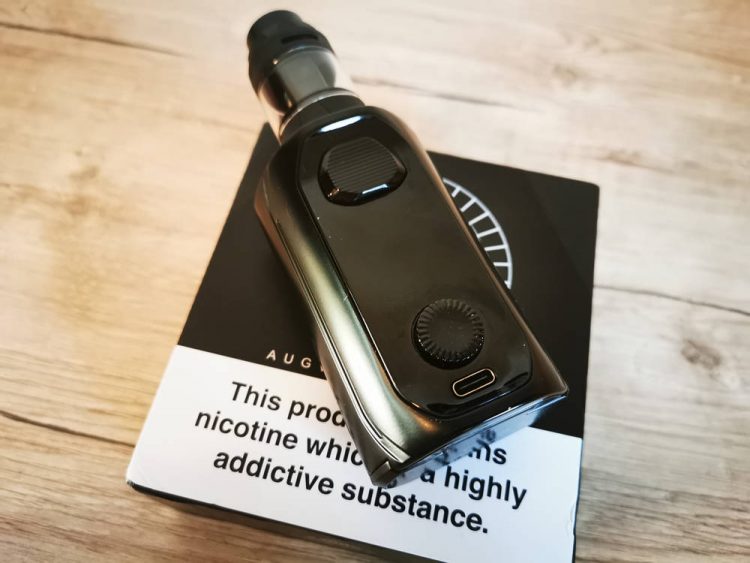 Inside the box, you'll find the VX217 dual-battery box mod, a USB Type-C cable for charging and firmware upgrades, and a user manual. The kit I received for review also included the Intake subohm tank designed in collaboration with YouTube vape reviewer Mike Vapes, as well as a spare bubble glass and a second coil-head. I'm pretty sure Augvape will also sell this mod as a separate unit, though.
Augvape VX217 Design and Build Quality
The VX217 vape mod is made primarily of zinc alloy, measures 80mm x 49mm x 42mm and weighs a hefty 193 grams, without batteries. It's not the most compact vaping device in the world, that's for sure, but Augvape says that it's the smallest dual-21700 mod ever made, and having tried devices like the VooPoo X217 (bizarre name coincidence, I know), I tend to agree. While I haven't tried all dual-21700 mods ever, I can tell you that this one looks like a dual-18650 battery device.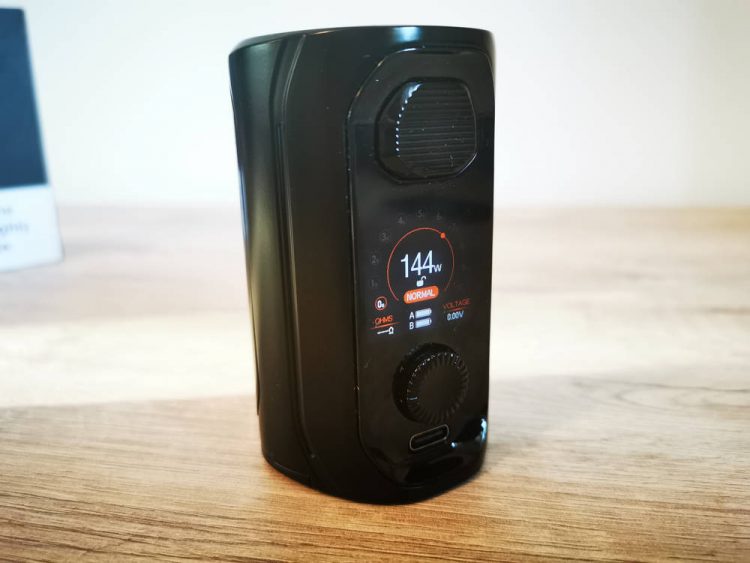 Design-wise, the Augvape VX217 looked vaguely familiar the first time I took it out of the box, and although I couldn't put my finger on it, I think it was because because of its similarity to the original Smoant Battlestar and Wismec Reuleaux mods. It has that same beveled triangle shape that makes it feel bulky yet comfortable in the hand at the same time. It's an interesting design choice, but I personally can't say I'm a fan.
But before we get into the cons, because there are a few, let's talk about the things I like about the Augvape VX217. First up is the centered 510 connection which can accommodate atomizers up to 30mm in diameter without the slightest bit of overhang, which is fairly impressive.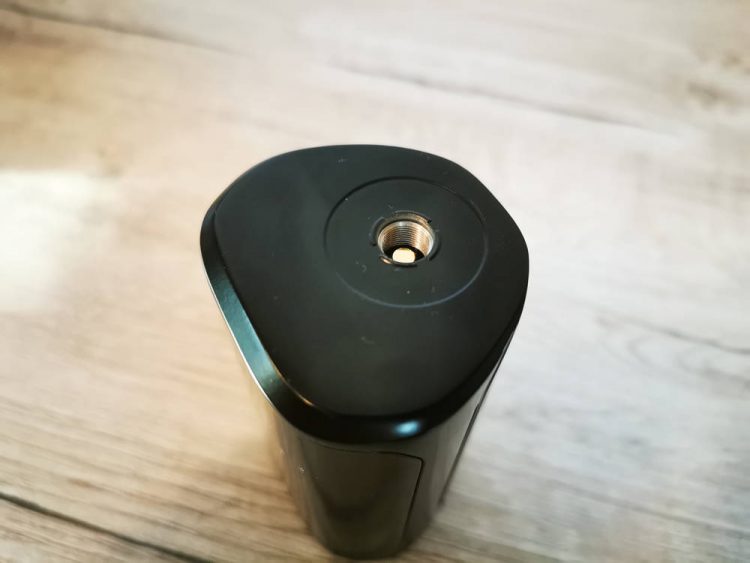 Then there is the battery door on the bottom and the clean battery compartment. The door is a classic hinged design that snaps into place easily, and the battery compartment has clear polarity indicators and comes with a plastic adapter for 18650 batteries which can really come in handy if you only have a set of 21700 ones.
Finally, the color display is decent, but it would have looked so much better if Augvape had opted for a clear protective screen instead of the smoked one which makes the display look disappointingly dim, especially in sunlight. The display layout is very similar to that of the largely ignored Augvape  VX200 vape mod, but sadly there is no option to bump up the brightness.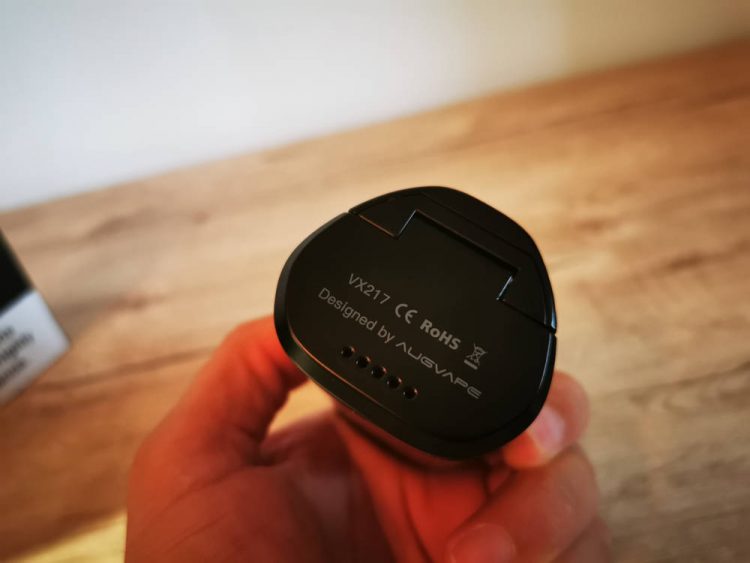 Now for the negative bits. I have to start with the buttons, because they are the among the worst I have ever seen used on a vape mod, and I actually feel bad saying that because this is the same company that made two of my all-time favorite devices, the Honda engine-inspired Augvape V200 and the elegant Druga Foxy. I've tried figuring out why they went for this style of buttons, and I just can't find an answer.
So what the hell am I even talking about? Well, first there is the awkward fire button, which has a very uninspired design, is slightly curved at the top and only works when pressed dead in the middle. Try pressing it at the top or near its bottom edge and you'll be struggling to press it. And when you do manage to press down on it, you are rewarded with this really hollow click that I personally found really disappointing.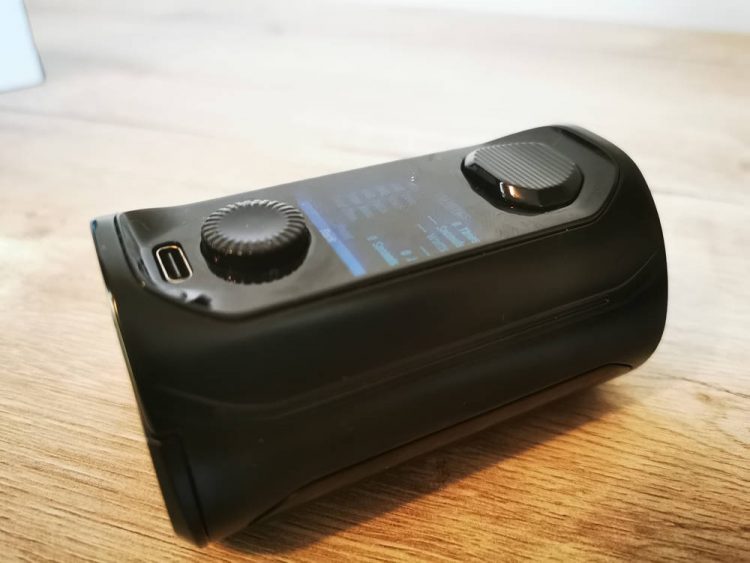 Then there is the wheel under the display. Augvape had done wheel-like toggles before on the VTEC 1.8 mod, so they had some experience, but they really dropped the ball with this one. First of all, it looks bad, and it is frustratingly difficult to turn, especially when using only the thumb. I've started using two fingers lately, because it's faster, but it's still a pain to use. Plus, you can click it, but nothing happens, which leads me to believe that it was meant to act as an actual button as well at some point during the design stage.
Anyway, the wheel sucks, it's too stiff, it doesn't turn as fast as it should… It desperately needs a redesign is what I am trying to say.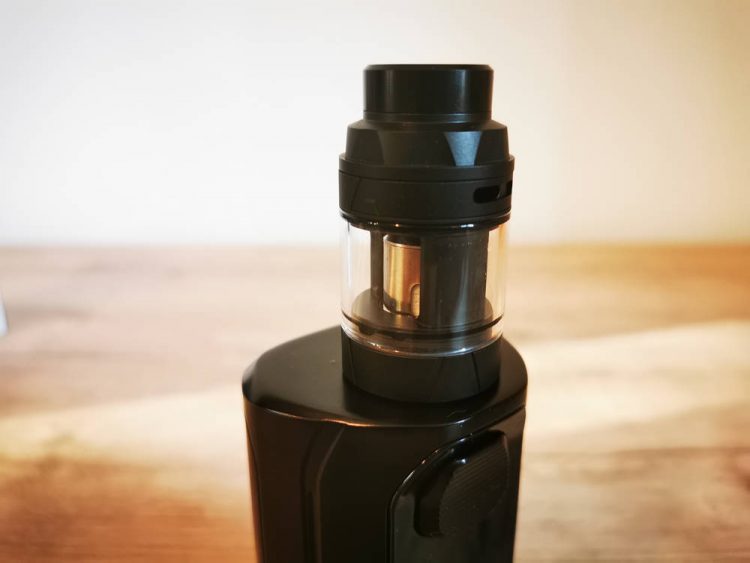 Speaking of things that were probably meant to have a different purpose at some stage, what's up with the back of this mod? It looks like a magnetic battery door, only the VX217 has a bottom battery door, and this one doesn't come off. It's only partly cut out, but you can clearly see a gap when you take out the batteries. To make matters worse, this weird back section wobbles and warps in your hand which is a shame, because the Augvape VX217 otherwise feels very solid.
As a whole, I can't say I am a fan of the Augvape VX217. The design isn't the Chinese company's best, not by a long shot, and build quality is a bit underwhelming as well, unfortunately.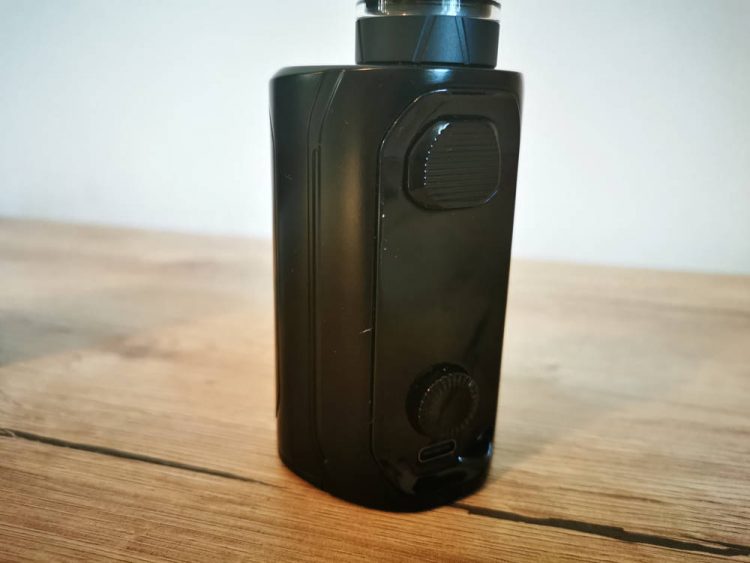 Augvape VX217 Battery Life
One of the main draws of this vape mod is battery life. Not only is it a dual-battery mod, it is compatible with 21700 batteries, which, as you might have guessed, are larger and last a fair bit longer than the usual 18650 type. That means you are going to get considerably better battery life from this mod than from any dual-18650, when used under the exact same conditions.
Unless you plan on using the VX217 at over 100W in wattage mode, you should get a full day of use out of it, at least. I personally have been getting close to a day and a half, vaping at around 65W, which was what I had anticipated I would get.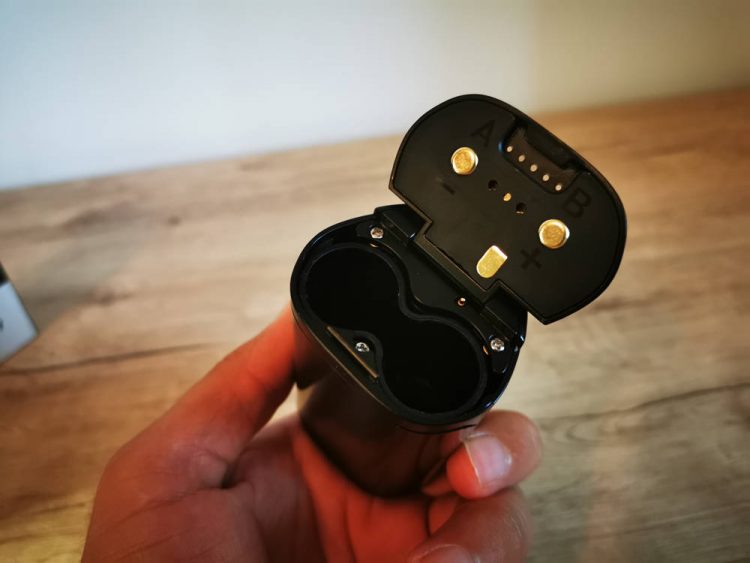 The VX217 mod also features USB-C fast charging, although, as always, I recommend investing in an external charging rather using the on-board charging feature unless you really need to.
Augvape VX217 Menu and Features
The VX217 menu is kind of overwhelming the first time you access it, but you soon realize that most of the submenus actually impact the performance of the mod. You have three vape modes to choose from: variable wattage, variable voltage and bypass modes. This isn't the first time Augvape skipped temperature control completely, they did with the V200 and Druga Foxy as well, and I for one don't blame them. I don't know single person who uses TC these days, so I get why Augvape doesn't even bother with that feature anymore: too much work for nothing.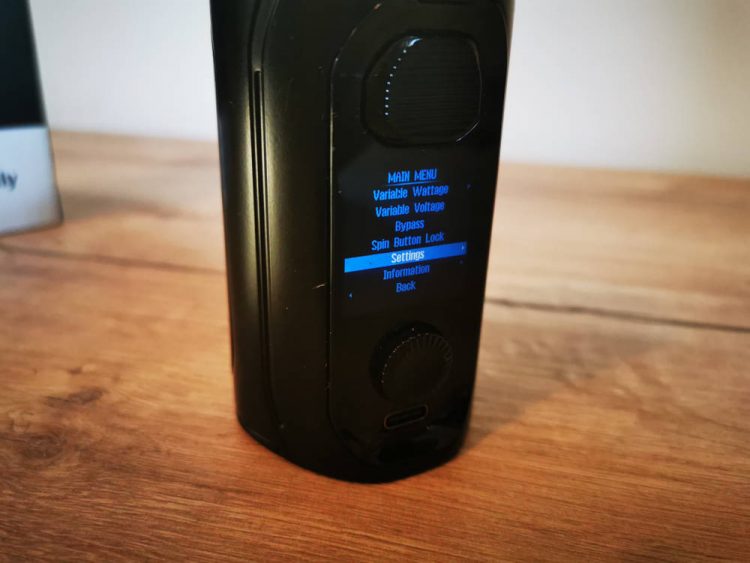 Apart from the vape modes, you also have a "wheel lock feature" to lock that annoying wheel button, and an 'Information' sub-menu where you can access a fair amount of interesting data on your vaping, as well as the software version, and upgrade the firmware.
The 'Settings' menu takes you to a secondary page where you can adjust the cut-off time, set the main color of the display, set the stand-by time, change the language (only between English and Chinese). If you happen to get lost among the many sub-menus and don't know how to undo things, you also have a "Factory Defaults" option as well.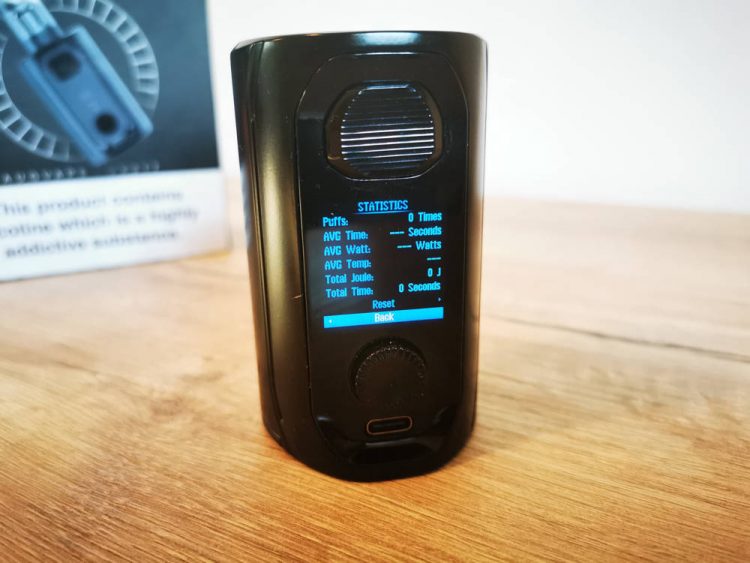 To be honest, all you need is the three vaping modes, everything else is just fluff, which is nice to have, especially if you like fiddling with your mods, but not vital to a satisfying vaping experience. Too bad all the navigation is done with the two atrocious button I talked about earlier.
Oh and just in case this is your first advanced vape mod and aren't familiar with the classic way to access the menu, you have to press the fire button three times in rapid succession.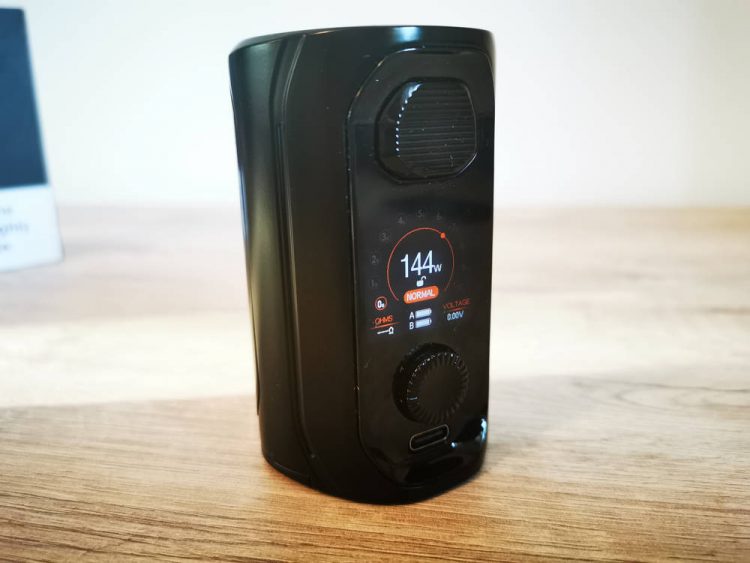 Augvape VX217 Performance
The VX217 is not my favorite Augvape vape mod ever, that much I can tell you. However, it does have something really special going for it, and no, I don't mean the improved battery life, which is definitely a pro. This thing can output 12V, which is quite rare, I would even say unheard of for mainstream products. There are probably less than a handful of high-end devices that can hit up to 14V, but they cost a few hundred dollars, at least. Most mainstream vape mods go up to 9V at most.
Now, if you have any idea of how voltage works, you probably know that you can reach 12V only under certain circumstances, or more specifically with unusually high coil resistance. So knowing that, is the 12V output that relevant? Well, not to the vast majority of vapers, that's for sure, but I am sure there are tinkerers out there who can't wait to get their hands on this thing, build themselves some custom coils and push it to the limit.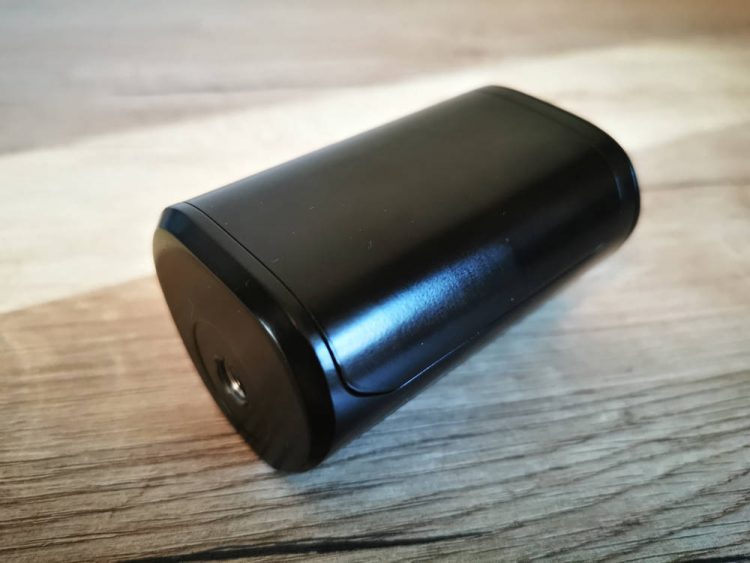 If you plan on doing the same thing, take this thing to 12V, know that you won't be able to enjoy that impressive battery life, as you'll see the battery indicators go down after just a few presses of the fire button. After all, you are pulling an absurd amount of power out of the batteries.
Will the VX217 reach 217W in wattage mode? I haven't tested it myself, but considering that many dual-18650 mods advertise up to 220W maximum output, I'm pretty sure 217W is feasible for a dual-21700 vape mod. But, again, 99 percent of vapers wouldn't even dream of vaping at 217W, so how relevant is that really?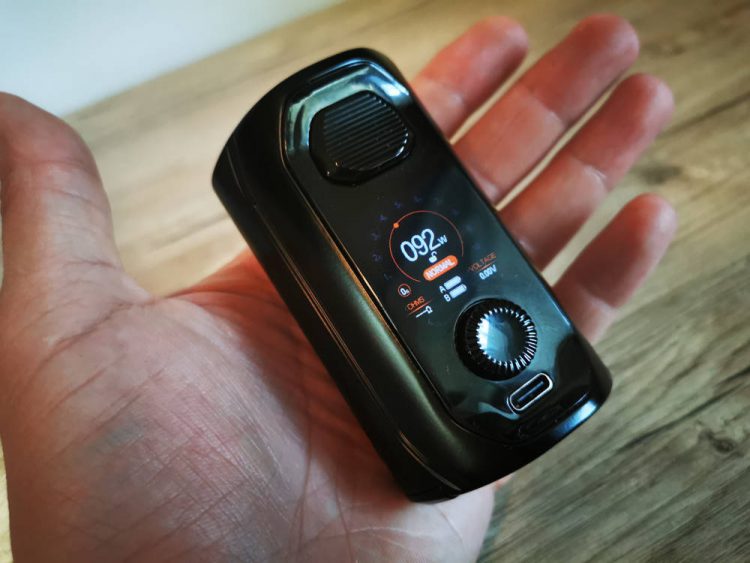 What I am usually interested in as far as vape mods are concerned are things like how fast the battery activation is, or how fast the power ramps up, and I have to say that in those regards the Augvape VX217 vape mod is one impressive device.
Sadly, I can't say the same about my experience as a whole, because I did have to use those awful buttons, and sometimes they really got on my nerves. The fire button just wouldn't depress unless my thumb was dead in the center, and the wheel was horrendous, especially when navigating the menu.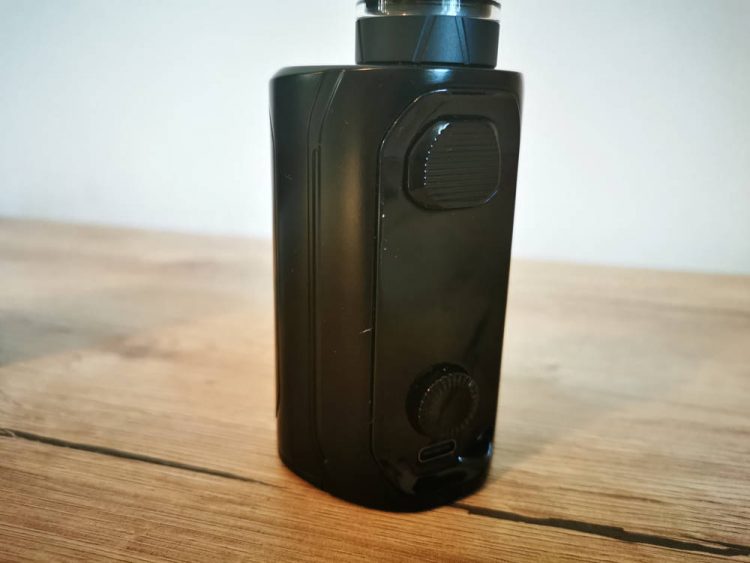 The Augvape Intake Subohm Tank
Designed in collaboration with reviewer MikeVapes, the Intake Subohm Tank has the same top-to-bottom airflow as the Intake RTA, which pretty much guarantees a leak-proof vaping experience. The juice won't leak out through the base, but it can technically go up through the center chimney and into your mouth. That hasn't happened to me though, and the only way I imagine it could is if you would somehow flood the coil-head.
The Intake tank has an e-liquid capacity of 3.5ml with the preinstalled straight glass, and 5ml with the included bubble tank. The kit also includes two "clapton mesh" coil-heads rated at 0.15Ω and 0.20Ω resistance. They are a combination of Nichrome and Kanthal and while they do feature an interesting coil design, I wouldn't really call them mesh coil-heads. They are fancier round wire coils, in my opinion.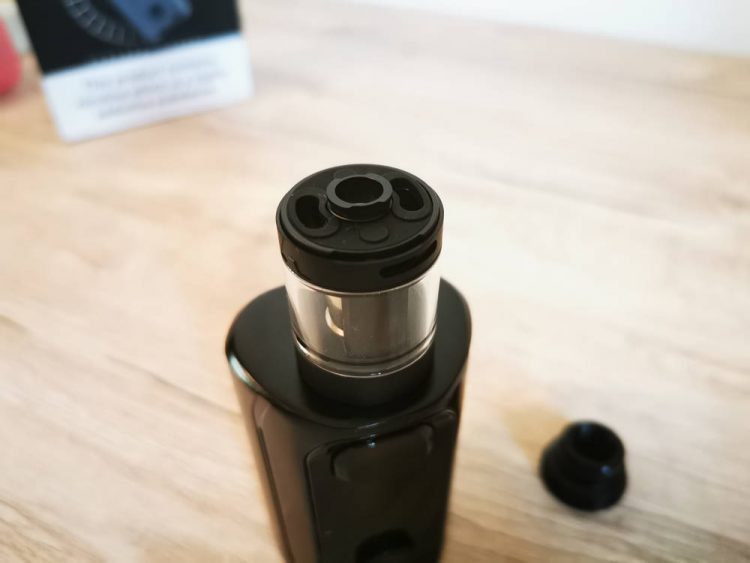 However, the design of the coils doesn't take away from the performance of the tank, not in the slightest. It puts out impressive amounts of vapor and the flavor is fantastic as well. Having been very pleased with the Intake RTA, I expected the same level of performance out of the subohm tank, and I'm glad to say that I wasn't disappointed.
I haven't really focused on the Intake Subohm tank while testing this kit, so I can't really say a lot about it other than it worked well, never leaked or caused any spitback issues, so I have nothing to complain about.
Conclusion
Technically-speaking, the Augvape VX217 is a very impressive vaping device. It's the only mainstream mod I know of that can reach 12V. That doesn't mean too much to the average vaper, and the real-life use is very limited, but the idea that it can do that is impressive. Performance is not bad either, and coupled with the Intake Subohm Tank, you really are getting a lot of bang for your buck, but I personally can't get over the poor design and that bland look of the mod.
I don't doubt that the VX217 is the smallest, or at least one of the smallest dual 21700 mods, but that means little to me when you have these horrendous buttons to work with and an uninspired general design. I really feel like these aspects are holding back an otherwise good product, so hopefully Augvape learn their lesson and put more thought into these ares in the future.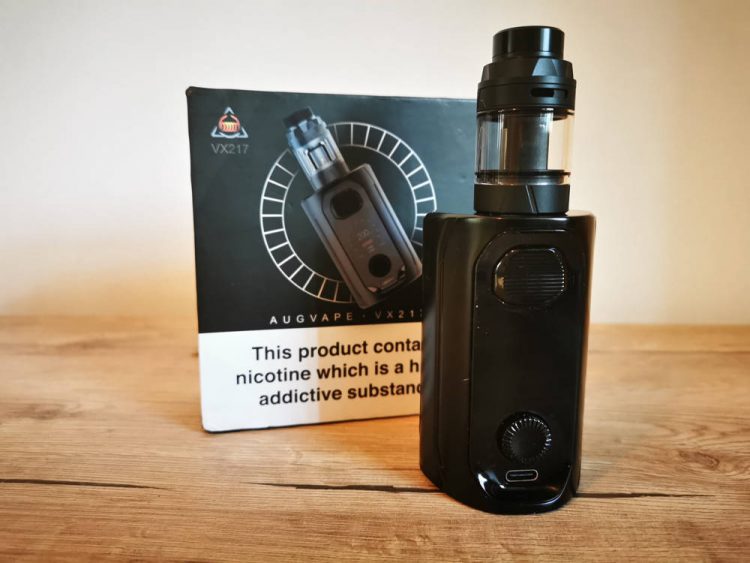 The Augvape VX217 kit was sent to me directly by Augvape for the purpose of this review.