Eleaf iWu Vape Pod Review
Pods, pods and more pods, they're taking over the world of vaping! So what's on the menu today? You guessed it, another pod system. This time we're taking a look at the Eleaf iWu, a vape pod with above average battery life (700 mAh), 2ml e-liquid capacity and easy side-filling. Let's see if it's worth your hard-earned money:
A Look at the Contents
The Eleaf iWu comes in a small cardboard box with a picture of the vape pod and the iWu logo on the front, and a list of contents, some technical stats and company information on the back. There's also a QR code on the side of the box if you want to check the authenticity of your device.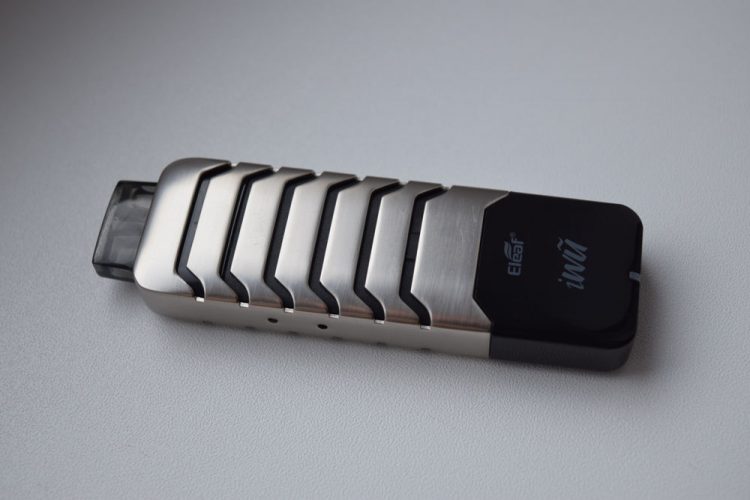 Inside the box we have the iWu battery packed next to two refillable pods, and underneath their Styrofoam holders you'll also find a micro-USB charger, and a user manual. That's pretty much all there is to this kid. Eleaf definitely deserves props for including two pods in this kit, as many companies still offer just one, which sucks.
Design and Build Quality
The design of the iWu pod system is definitely one of its biggest draws. Actually, I've heard some people gush over its design and other saying it's downright ugly, so it's a rather polarizing design. I myself rather like it, although I'm kind of on the fence about it after using it for a week and noticing some issues in terms of practicality.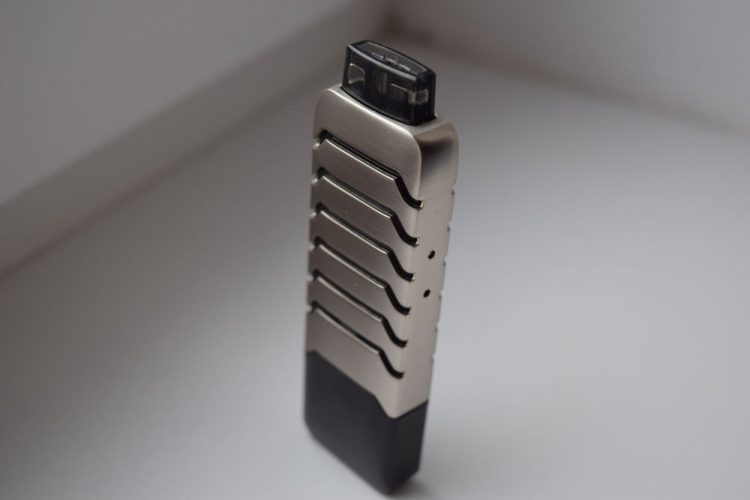 At first glance, the Eleaf iWu appears to be made of both metal and plastic, but in reality it's all plastic, as the metallic part is actually just a sleeve that serves a purely cosmetic purpose. You can just take it off and the vape pod will work just as well. In fact, if you don't care too much about the look of your pod, or if you thing it looks better without the sleeve, it's a lot easier to see how much juice is left in the refillable pods without the sleeve.
That's actually one of the gripes I have with the iWu, it's tough to see how much juice there is left in the pod without taking off the metallic sleeve to check. That takes me to my second gripe – removing the sleeve sometimes causes the pod to pop off the battery as well. It only happened to me a couple of times, which I found manageable, but it's still a con worth mentioning.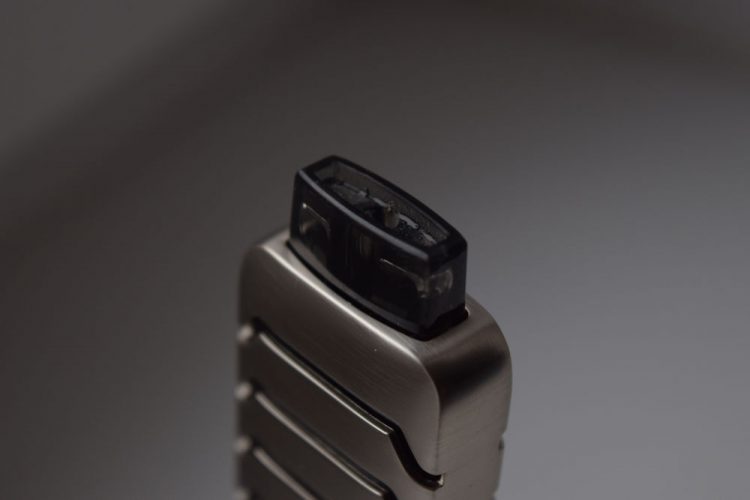 As I mentioned, the Eleaf iWu is made primarily of plastic with a metallic sleeve. It measures 30mm x 14mm x 38mm and weighs 59 grams. That makes it noticeably larger and heavier than other pods I've tested recently, like the Mowell Shake or SMOK Novo, but it's not surprising considering the iWu has a built-in 700 mAh battery. It still fits in the hand comfortably and can easily be stored even in a small pocket, it's just not as stealthy as a Novo or a JUUL.
At the bottom of the Eleaf iWu we have the micro-USB charging port which also houses the draw-activated switch (if you cover the port, the battery won't be activated when you draw on the mouthpiece), as well as a small battery indicator. On the opposite end of the device, we have the port into which the refillable pods are inserted. All you have to do is fill the pod with juice, pop it, and you're good to go. The metallic sleeve just slips over the pod and the battery and is locked in place with two ball bearings on the side of the vape pod.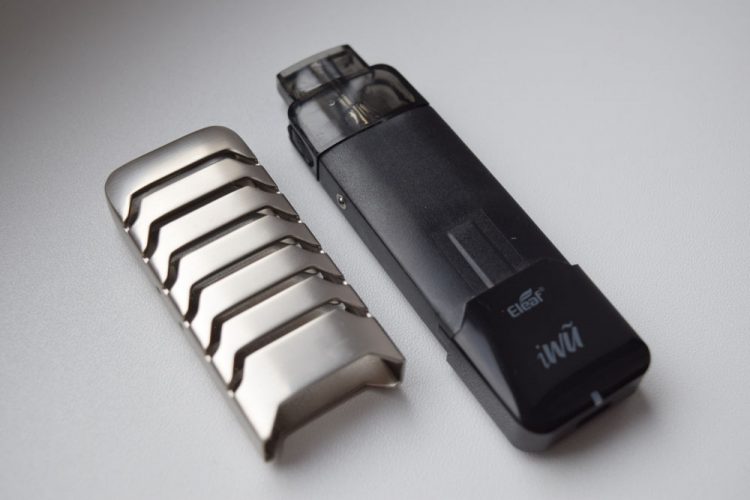 The pods are pretty straightforward too. They're made of slightly tinted plastic, with an ergonomic mouthpiece at the top, metal contacts that connect to the ones on the vape pod, and a small fill port on the side. Just pop out the rubber plug over the fill hole, pour some e-liquid in and put the plug back in place. That last part can be a bit tricky, for some reason, as the rubber plug sometimes refuses to go back in the hole, which can be frustrating.
The coil heads built into the iWu pods are rated at 1.3Ω, which is standard for a mouth-to-lung vaping device, but the thing I was worried about was the strangely small wicking holes cut into the coil-head cover. Most other pods I had seen had the cotton wicking completely exposed to the juice inside the pod for better absorption, but these little holes had me very worried.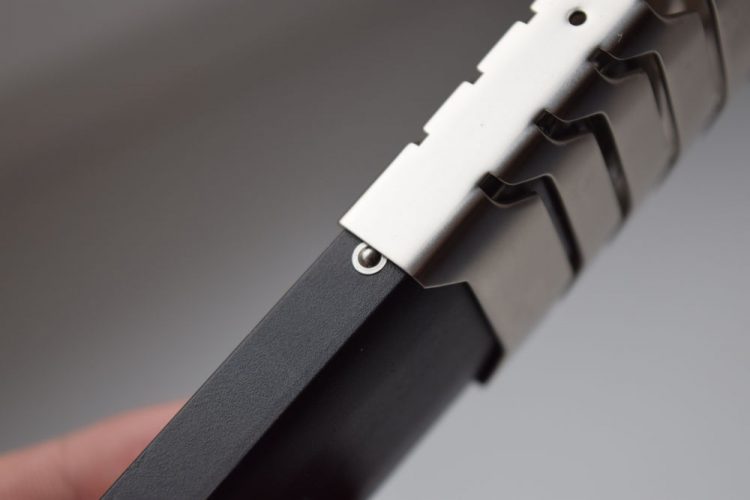 Battery Life and Performance
There are lots of great vape pods out there, but few can match the battery capacity of the Eleaf iWu. This device has a built-in 700 mAh battery, which is literally double the capacity of the popular Valddin pod system, and several times that of the JUUL. And indeed the battery life of this device is batter than all of the other vape pods I've tested to date. Better yet, you can also use it while it's charging, so you don't have to worry about battery life.
When it comes to performance, I would compare it to the SMOK Novo, because it has that same middle-of-the-road type draw, not too tight, not too loose, but somewhere in between. I for one prefer a tighter draw, similar to a tobacco cigarette, but there must be a reason why manufacturers seem to be adopting this looser draw, so I won't call it a con.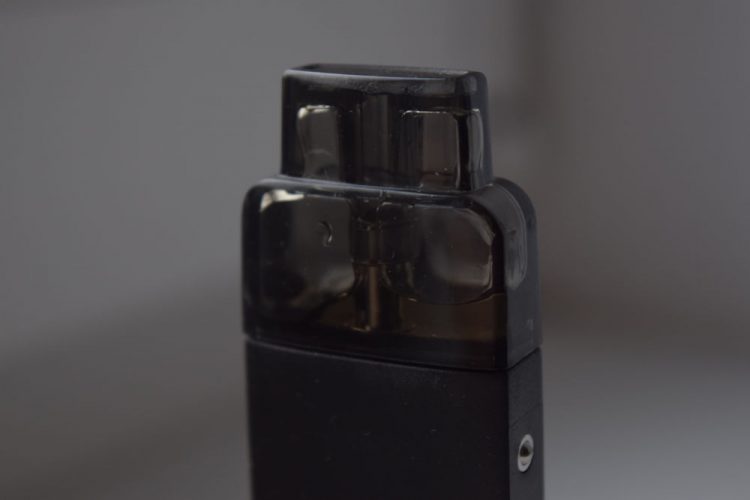 The iWu produces quite a bit of vapor compared to other vape pods, but it also goes through e-juice a bit faster, so it's a trade off. Now whether it's a compromise you want to make is purely a matter of personal preference.
Flavor is decent, or at least comparable to what I get from other vape pods, just keep in mind that the coil-heads needs to be broken in. I'd say about 20-30 puffs should be enough, but, unfortunately, you won't get much time to enjoy the flavor of your e-liquid before it starts to change for the worse.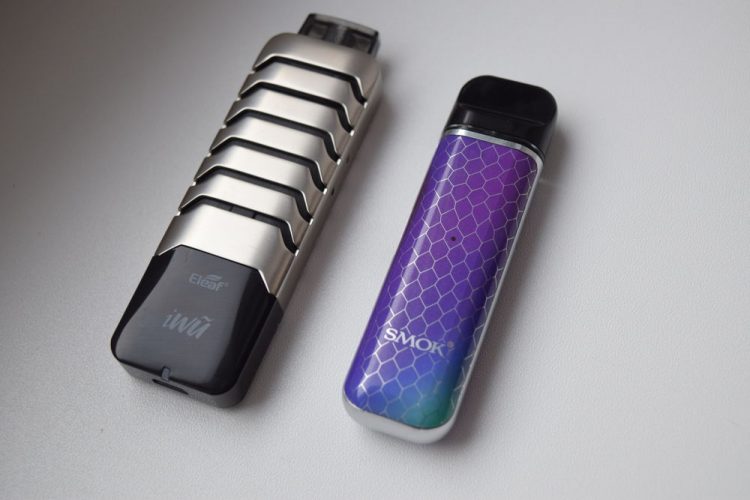 Remember those tiny wicking holes I mentioned earlier? Well, it turns out that they are a big problem. I used the exact same tobacco e-liquid that I used when testing the SMOK Novo and the Vladdin RE, but only got a little over a day of use out of my first iWu pod, before I started getting a burnt smell every time I used it. And it got progressively worse, to the point where I couldn't stand the taste.
Those wicking holes just can't keep the cotton saturated, especially if you chain vape, even from time to time, so you start getting a burnt taste out of the coil-head way to fast. Not even a couple of days of use out of a pod, when I get an average of two weeks out of most other pods? That's unacceptable in my book. It's too bad about that 700 mAh battery, but what good is battery life if you can't vape?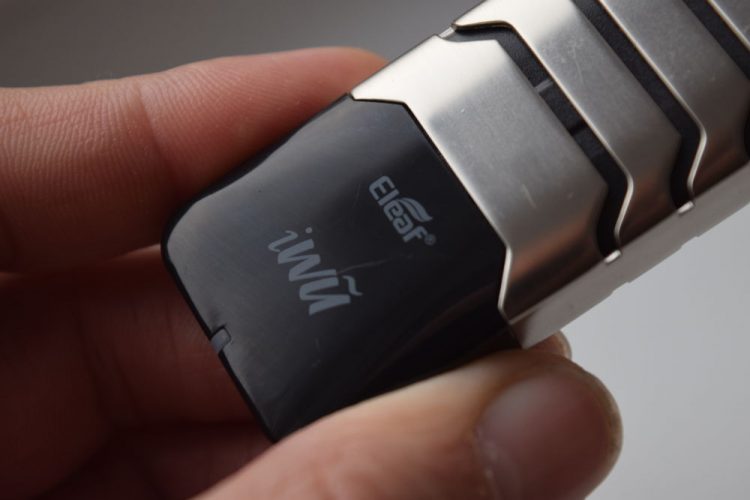 An before you comment that it must be the e-liquid, this is the Havana Nights from Boss Tobacco, a clear and unsweetened juice, which I've vaped in several other vape pods. None of them had this issue. It's the iWu, more specifically the pods and their tiny wicking holes.
Conclusion
I really wanted to like the Eleaf iWu. I've actually been a fan of the company ever since they launched the original iStick PICO, but the abysmal performance of the pods is inexcusable. It's a shame about the design and the impressive battery life of this vape pod, it could have actually been a major competitor on the pod market, but once people figure out how little vape time they get out of these pods, they'll move on to something else.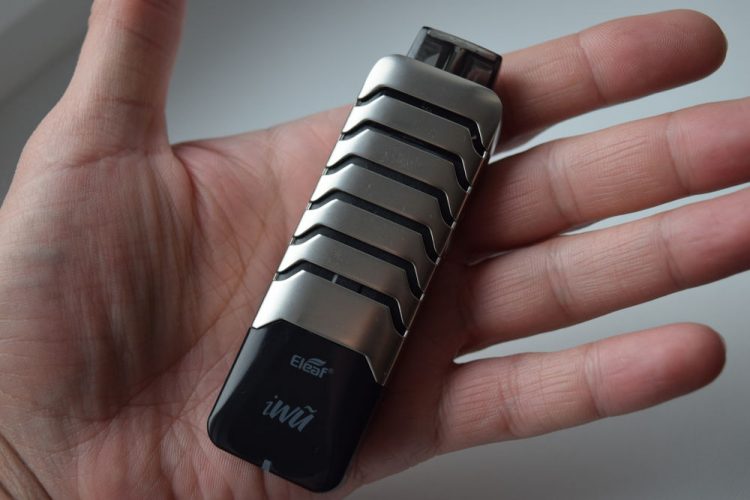 Hopefully Eleaf will learn from their design mistakes and come out with a better pod system in the future because this one isn't worthy of the Eleaf brand.
The sample used for this review was sent to me by Heaven Gifts. They currently have the Eleaf iWu in stock for $23.40.