Eleaf iSOLO-R Review
If you like the look of pod mods like the VooPoo Drag X and S, with their slick tubular designs and high-quality stitched leather, but don't want to mess around with variable wattage and other settings, take a look at the iSOLO-R from Eleaf. It's an unregulated, no-frills type of device that looks and feels very stylish, and vapes well enough for the average vaper.
Eleaf iSOLO-R Specifications
Dimensions: 27 mm x 118 mm
Material: zinc alloy, leatherette
Battery: 1800mAh (non-removable)
Power: direct output
Resistance: 0.2Ω – 3.0Ω
E-liquid capacity: 4.5 ml
Eleaf iSOLO-R Packaging and Presentation
The iSOLO-R pod mod comes in a rectangular cardboard box featuring a picture of the device on the front, and a list of kit contents, technical specifications and manufacturer contact information, on the back.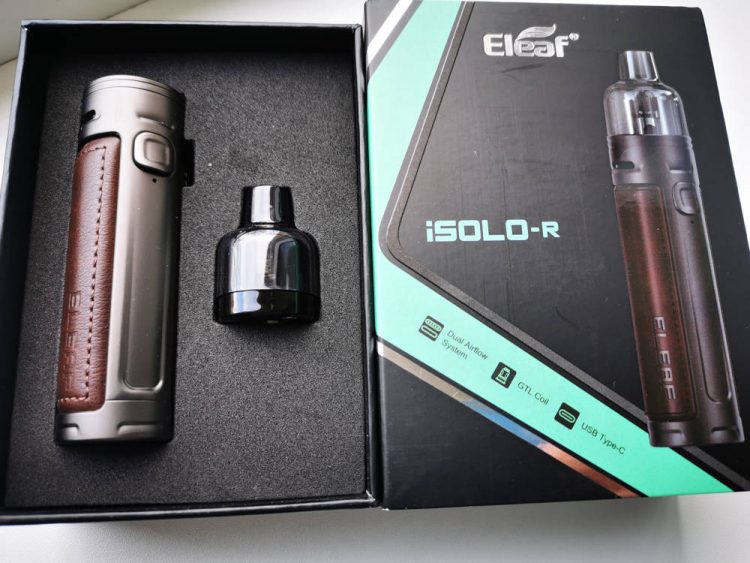 Inside the box, we have the usual Styrofoam holder for the iSOLO-R battery unit and the included FTL refillable pod, and underneath that is the accessory compartment that contains two GTL coil-heads, a USB Type-C charging cable, a user manual and a warranty card. It's pretty much your standard pod mod starter kit.
Eleaf iSOLO-R Design and Build Quality
The Eleaf iSOLO-R doesn't have the most original design. We've seen the tubular battery unit covered in stitched leather, with the bell-like refillable pod on top so many times in the last six months that it's starting to get a bit old. Still, we're not there just yet, so I will still count the look and feel of the device as a pro.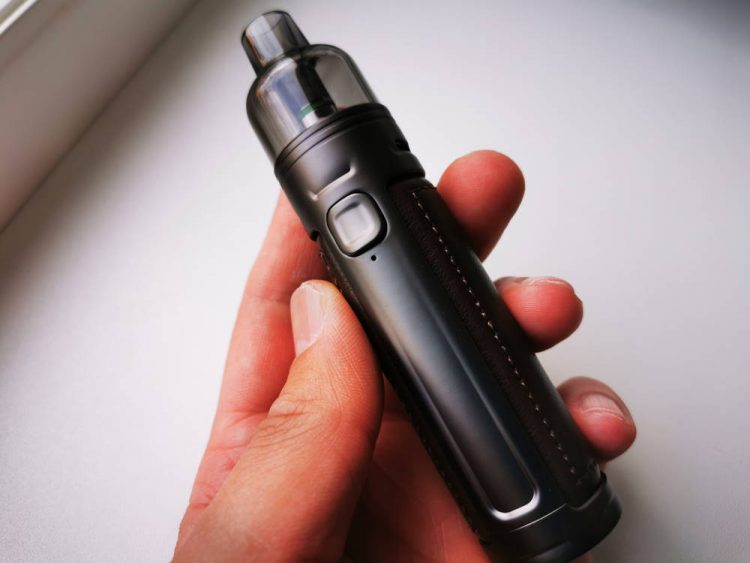 Eleaf did a great job with the machining on the iSOLO-R, to be honest, as both the gunmetal paintjob on the metallic components and the stitched brown leatherette are both basically flawless. It's also very light and comfortable to hold in the hand, and because it's so compact it fits in virtually any pocket, so it won't stick out awkwardly.
This is a rudimentary, direct-output device, so it doesn't have a display. All you get is a fire button, and a tiny LED battery indicator under it, so if you were looking for a more advanced pod mod, this is definitely not it. The Eleaf iSOLO-R is basically a more stylish-looking, significantly more compact, unregulated stick mod.
At the top of the iSOLO-R battery unit, we have the port where the included GTL pod goes. It features the usual connectors as well as a pair of magnets and two slightly raised metallic ridges that go into two corresponding grooves on the bottom of the pod. Once the pod is in place, you can simply rotate it to adjust the airflow ring right under it. It's a clever system and one that actually works very well in real-world conditions.
You do need to rotate the pod until you hear the magnets lock in place whenever you attach it, so keep that in mind when assembling the iSOLO-R. Also know that the GTL coil-heads don't go into the refillable pod all the way, so don't try to push them too hard. That's just how they are designed, it doesn't make them more prone to leaking than other PnP-style coils.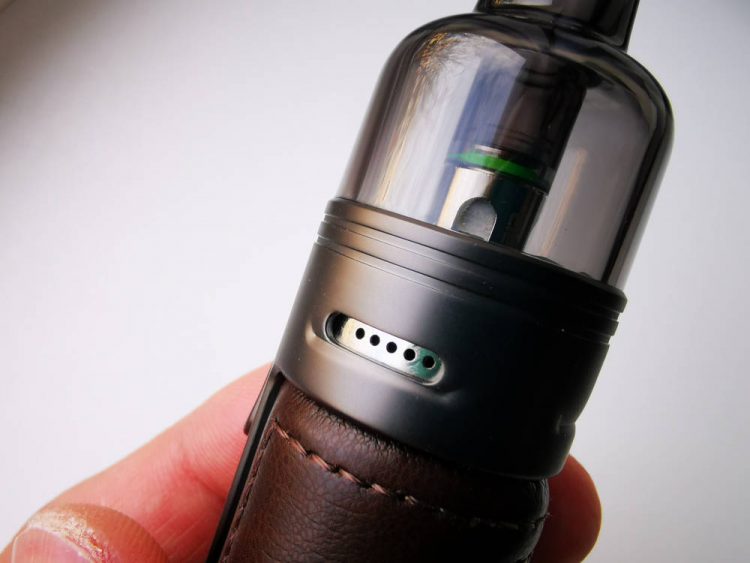 Right under the refillable pod, we have the adjustable airflow ring, that features both the classic cyclops slots on opposite sides, as well as another set of smaller air holes that restrict the draw considerably. It's definitely a plus, as far as I am concerned, as it gives user an extra layer of vape customization options.
The iSOLO-R battery unit is almost completely covered in high-quality stitched leatherette, featuring embossed Eleaf and iSOLO-R logos. It's the same type of leather we saw on the VooPoo Drag Max not too long ago, so it's the good stuff, not that overly-cushiony leatherette on the SMOK Thallo S.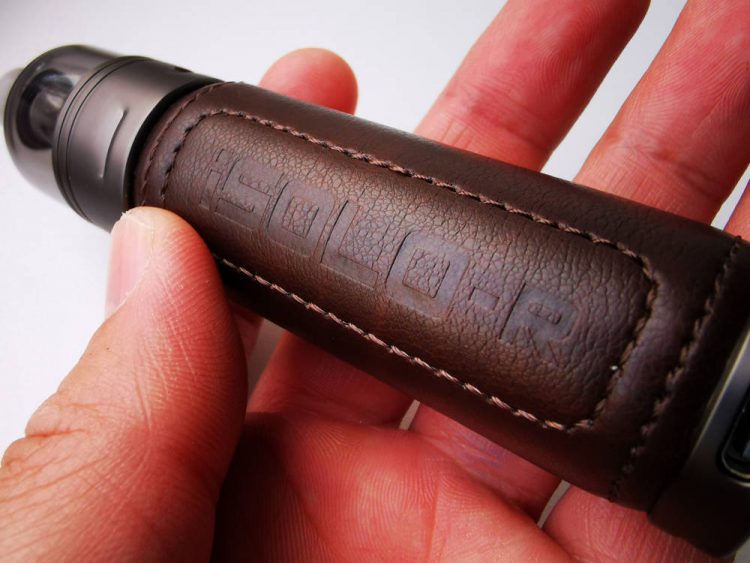 The metallic button of the Eleaf iSOLO-R has an interesting slanted design, but tends to be a bit over-clicky at times. Maybe I'm just picky, but sometimes, especially when I depress the button, the clicking sound is a bit too loud. Anyway, it's not a huge deal, this is just my OCD acting up.
The flat metallic bottom of the iSOLO-R acts as a stand, but it also features a small venting hole, in case the built-in battery malfunctions. It's also where we have the USB Type-C charging port, although I do appreciate that it is placed on the outer edge of the base, which means you can set it up right while it is charging.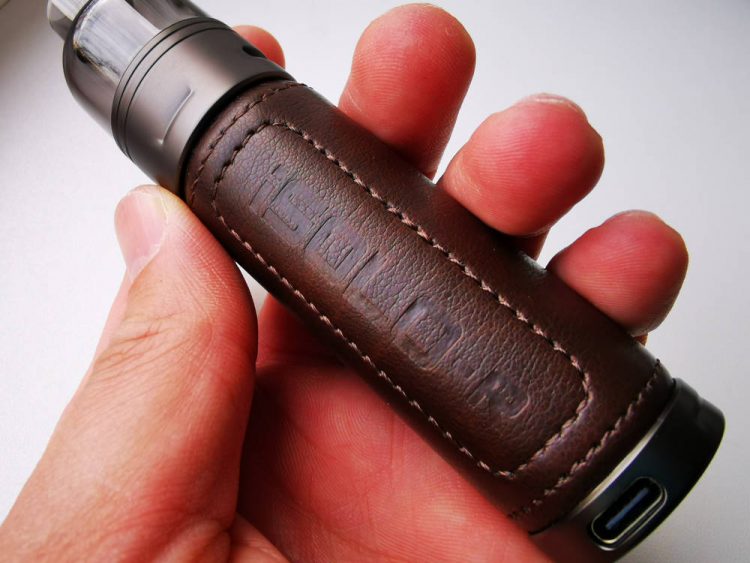 The refillable pods are very similar to the ones of the Drag X and S pod mods, they hold up to 4.5 ml of e-liquid, can be refilled through a fill port located on the bottom, and are compatible with Eleaf's proprietary line of PnP coil-heads called GTL.
Eleaf iSOLO-R Battery Life and Performance
The iSOLO-R has a built-in battery rated at 1,800mAh, although according to some sources, like respected YouTube reviewer DJLsb Vapes, it's really more like 1,650mAh. Either way, it's a decent capacity for what is essentially a compact pod mod. Plus, it features vape-while-charging technology, so you can safely use it while it is charging.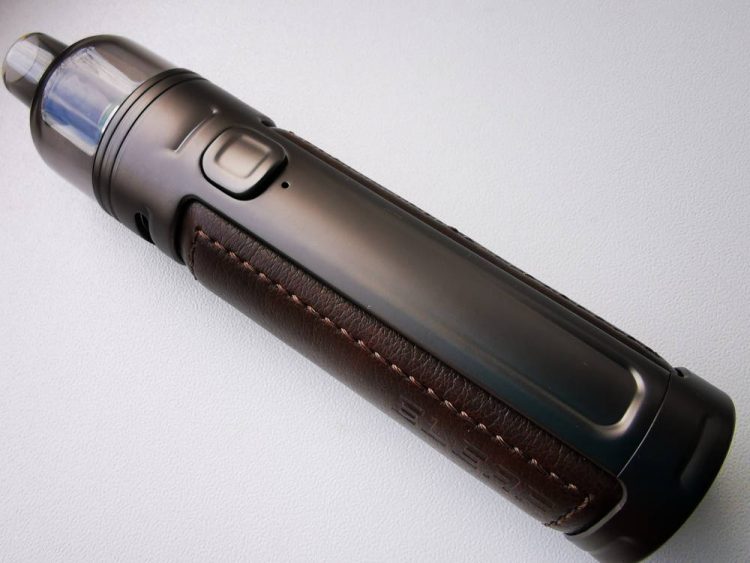 The device features a rudimentary battery life indicator in the form of a small LED light that changes color depending on how much power is left in the battery. Between 60 and 100 percent battery life, the LED will light up green when the power button is pressed, when the battery level is between 59 and 20 percent, it turns blue, and red signals that it's time to recharge.
The iSOLO-R also features fast-charging, at a rate of 1.6A, and takes just over an hour to fully charge.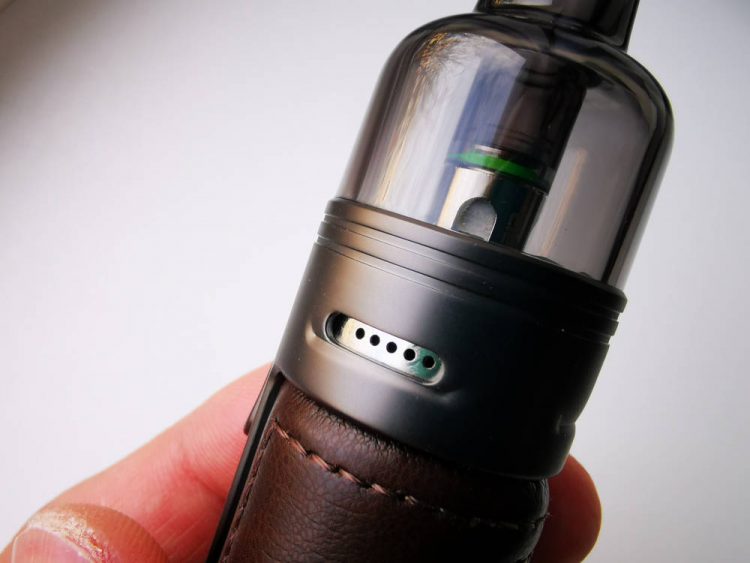 Performance-wise, the Eleaf iSOLO-R is not quite on the level of most other pod mods I've reviewed recently, because it lacks one very essential feature – power adjustment. This is an unregulated device, which means that it delivers the power that's in the battery at any given time, and sometimes that's just not enough.
In the beginning, I was using the iSOLO-R with the 0.4Ω mesh GTL coil-head, and it actually vaped really nicely on a full battery, but as the voltage went down, the vapor got noticeably cooler, and the device just seemed to be struggling to keep up. Switching to the 0.8Ω round-wire coil helped things in that regard, but adjustable power would have been a much better solution.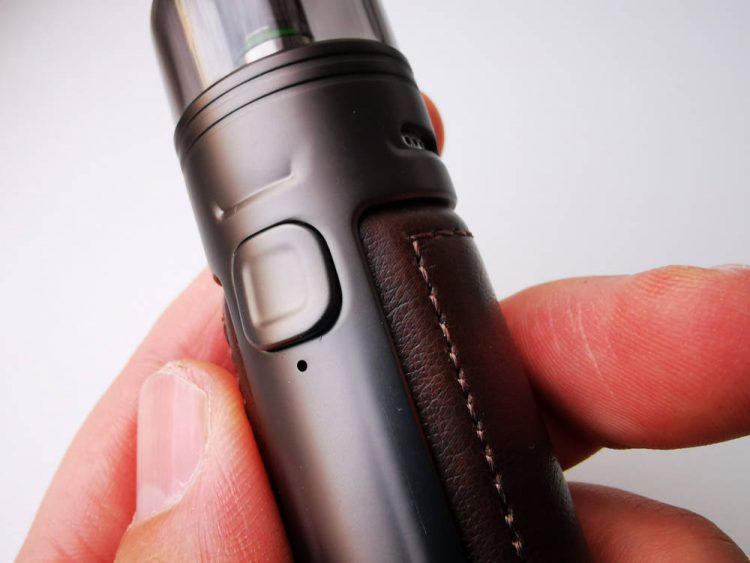 It's a bit strange that the iSOLO-R has no way to adjust power output, when even pod systems like the Renova Zero have multiple power levels to choose from, but I guess Eleaf really wanted to keep things very simple for casual users. I can see why they did that, but at the same time, they could have done just a bit more without complicating things.
Other than the absence of power adjustment, I really have nothing to complain about. The airflow adjustment system is one of the best I've seen implemented on a pod mod, and even though it doesn't quite make true MTL vaping possible, you can get away with an airy mouth-to-lung draw.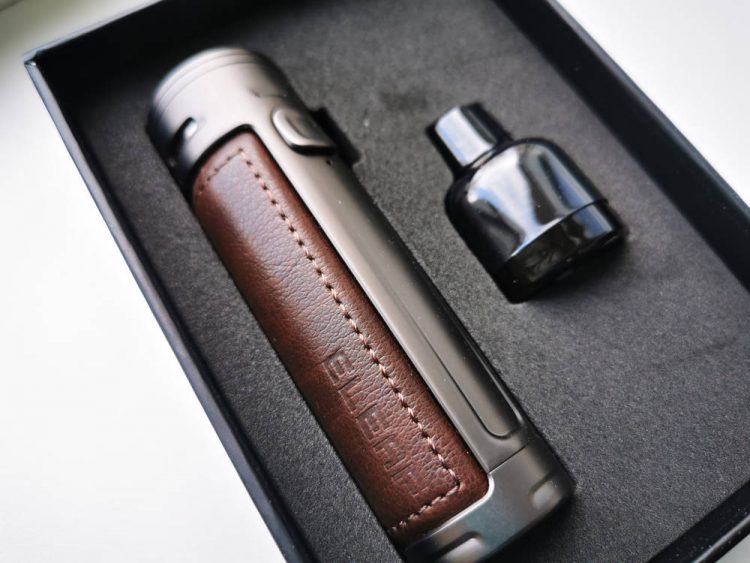 If you prefer an airier vape, and don't mind the cooler vapor, the 0.4Ω coil-head is your best choice; personally, I've been enjoying the restricted direct lung draw of the higher resistance coil-head, but it all comes down to personal preference. In terms of flavor, both options are pretty good, which is something we've come to expect from this style of PnP coil-heads.
Conclusion
The Eleaf iSOLO-R isn't the most advanced vaping device on the market, far from it. But that's not necessarily a bad thing, because not everyone is looking for advanced settings and a feature-rich menu system. Some people are just looking for convenience, and that's exactly what this device offers. That said, some sort of power adjustment options would have been nice, as the iSOLO-R seems to be struggling to get the best out of low resistance coil-heads.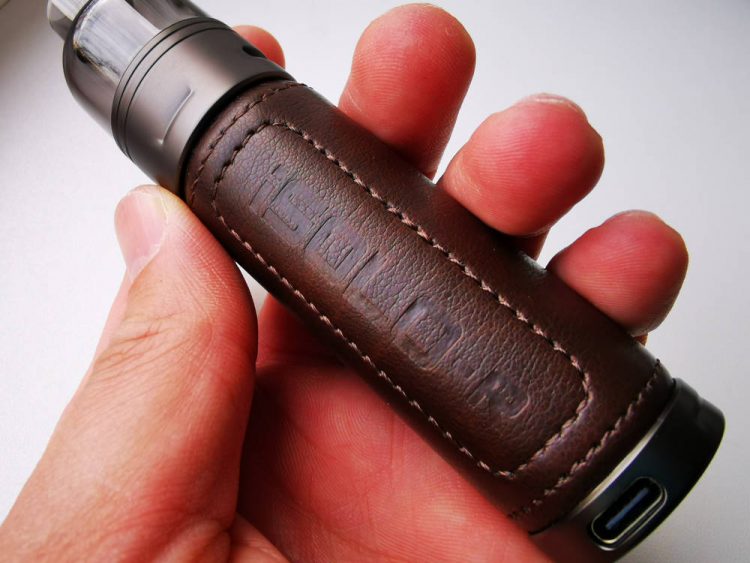 Despite its shortcomings, Eleaf's newest pod mod has great build quality, an eye-catching design and offers the simplicity a lot of casual vapers are looking for. Oh, and it's also one of the most affordable pod mods available.
The Eleaf iSOLO-R pod mod was sent to me by Vapesourcing, for the purpose of this review. They currently have it in stock for just $27.99.
Pros
compact
great build quality
eye-catching design
great airflow control system
simple to use
Cons
no power adjustment options
mediocre battery life
noisy fire button