Vaporesso GTX GO 80 Review
Tube mods have been around for a long time, but this is my first time using a tube pod mod, and definitely Vaporesso's first foray into this new sector. The GTX GO 80 is basically a stick mod that uses a magnetically-attachable pod rather than the classic tank, which is both more convenient and most likely cheaper to manufacture. So without further ado, let's jump into this review of the Vaporesso GTX GO 80 tube pod mod.
Vaporesso GTX GO 80 Specifications
Dimensions: 133 mm x 26 mm
Power output: 80W max.
Material: Zinc alloy, PCTG
Battery: 3,000mAh (non-removable)
E-liquid capacity: 5 ml
Vaporesso GTX GO 80 Packaging and Presentation
The GTX Go 80 comes in a rather flimsy rectangular cardboard box featuring the stick mod and pictograms of its main features on the front, and some technical specifications, a list of what's included in the box, and manufacturer contact information, on the back.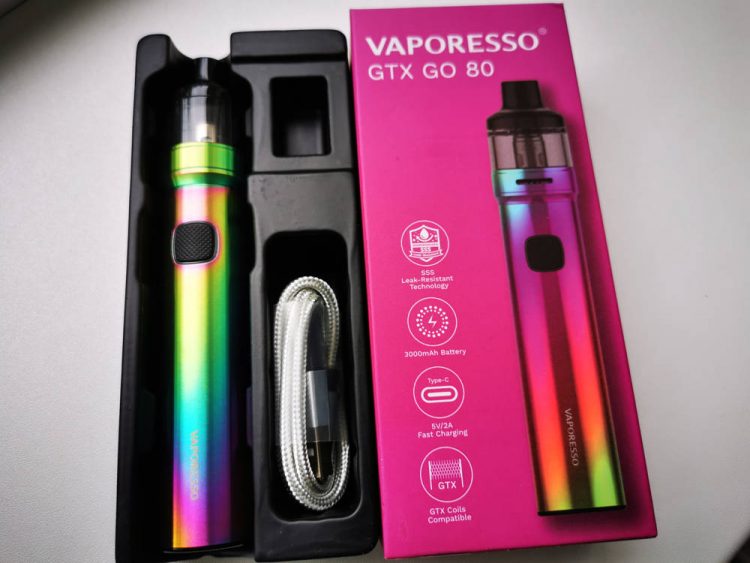 Inside the kit we have a plastic holder with separate compartments for the tube pod mod, the one included coil-head and a USB Type-C charging cable. Under the holder you'll also find a user manual and a warranty card. It's pretty much your standard started kit, minus the extra coil-head. That was a disappointment I honestly was not expecting from a company like Vaporesso, whose managers should know how important spare coil-heads are in kits like this.
Vaporesso GTX GO 80 Design and Build Quality
The new GTX GO 80 looks like your average vape stick – a tubular battery unit featuring a fire button and charging port, and a tank for the juice. Only in this particular case the classic tank is replaced by a magnetic pod-style cartridge that honestly looks pretty nice.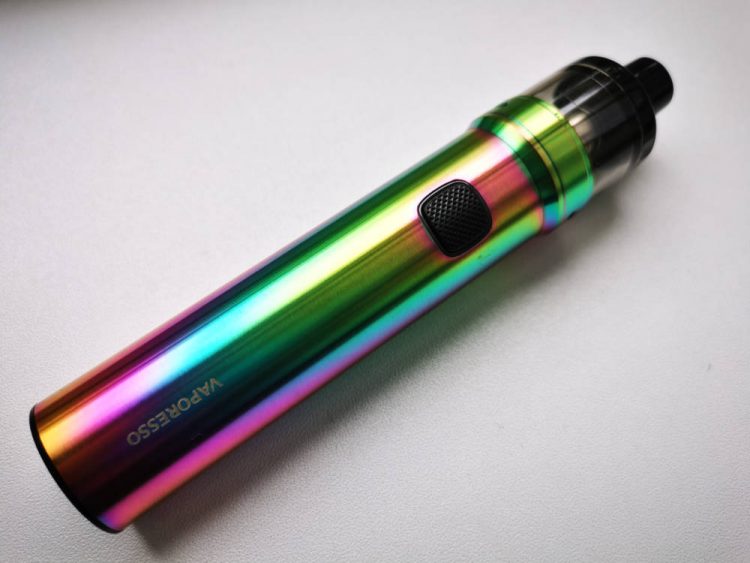 The pod remind me a lot about the one on the Hotcig RDS Dual System or even on the VooPoo Drag 3, although the latter actually comes with a 510 base as well. The idea is that it is a very common solution nowadays, mainly because of how practical it is. You just pop in a coil-head through the opening on the bottom, fill it up with juice, and that's it, you're ready to vape. No more having to take the tank apart, no need to screw it on and off, just pop it on the mod and you're done.
Although the Vaporesso GTX GO 80 looks very compact for a 3,000mAh tube mod, it has an impressive e-liquid capacity of 5ml. To fill it, just do a quarter turn of the plastic mouthpiece until you feel it click open. The fill port is a simple hole with a silicone membrane that prevents the juice from leaking out of the pod. It's large enough to accommodate the average juice bottle tip, and also has a small opening to let the air out.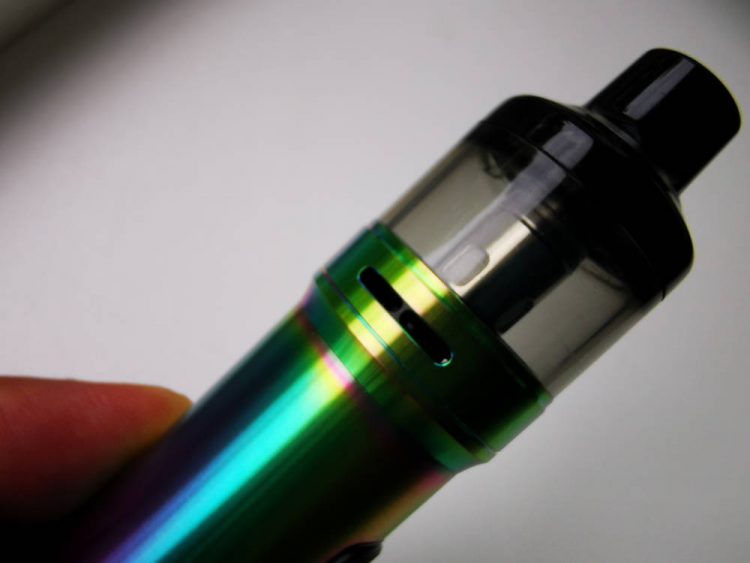 On the bottom of the pod, we have four magnets and the port for Vaporesso's GTX coil-heads. I'm still not completely sold on the idea of magnets as an alternative to the good ol' 510 connection, but I can't really fault the magnets on the GTX GO 80. They are super strong, so the pod is on there like glue, so there's no way it ever comes off accidentally.
The battery unit is fairly simple. It's a tubular design with a pod port and airflow slots on the top, and a texturized fire button with an LED frame around it, which lights up every time you press it. Opposite the fire button, we have the USB Type-C charging port, and that's literally all there is to it.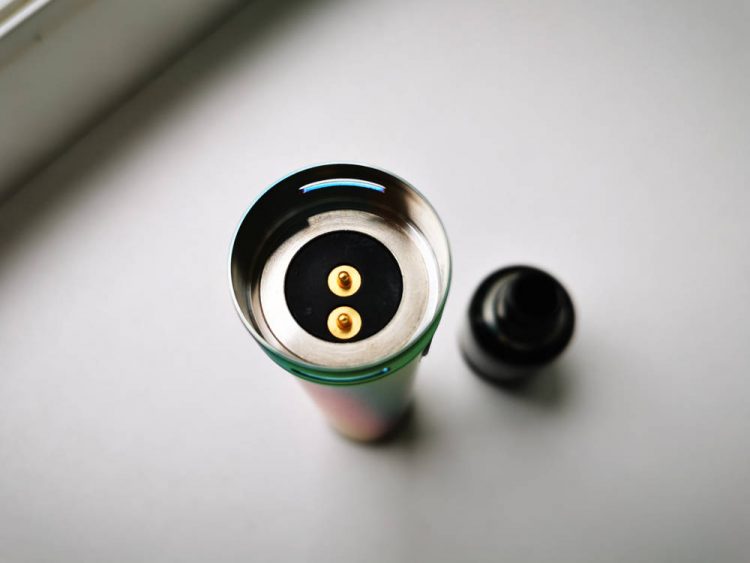 To adjust the airflow, all you need to do is turn the pod in the magnetic connection to open and close the airflow. It's a simple solution that actually works very well.
Vaporesso GTX GO 80 Battery Life and Performance
Vaporesso's latest vape stick features a built-in 3,000mAh, which is kind of impressive, considering that the GTX GO 80 is considerably shorter and thinner than vape sticks like the SMOK Stick Prince or the Eleaf iJust 3. Thanks to the different connection type, Vaporesso's tube pod mod is one compact vaping device with great battery capacity.
Like most tube vapes, the GTX GO 80 features a simplistic battery indicator in the form of an LED frame around the fire button, which lights up in different colors (green, blue and red) depending on the battery level. The USB Type-C port enable fast charging at a rate of 2A, which means you can completely recharge a fully depleted battery in about 2 and a half hours.
Performance-wise, the new Vaporesso GTX GO 80 is right up there with the best tube mods on the market, thanks in no small part to the tried-and-true GTX coil-heads. Vaporesso's popular line of coil-heads has grown a lot in the last couple of years, and you can now enjoy all sorts of options, from MTL solutions to a rebuildable base (RBA), all of which are compatible with the GTX Go 80.
Now, although this device takes all GTX heads, it's not suitable for all of them. For example, you're not going to be able to use it for mouth-to-lung, no matter how hard you try. Because of how airy the pods are, you can't pull off an MTL draw even with the airflow fully closed, so stay away from any mouth-to-lung GTX options, because you'd just be wasting your money. Then again, tube mods aren't intended for MTL, so this really shouldn't be a problem.
Now, when it comes to direct-lung vaping, the 0.2Ω GTX mesh coil included in this kit works great, but there are so many options you can explore. I just wish Vaporesso had included at least one more of them in the kit, but I'll just have to put that down as a con.
The one coil-head that comes with the GTX GO 80 is one of the best ones you can buy, though. It produces thick plumes of vapor, and the flavor you get from it is nothing short of amazing. The GTX line is pretty much on par with VooPoo's PnP coil-head family, and we all know how great those are.
The 80W maximum output of the GTX GO 80 is more than enough to get the most of all the GTX coil-heads available, so power is definitely not a limitation. The airflow system works great, allowing you to get both airy and restricted direct lung hits, depending on your preference, and the battery activation is virtually instantaneous.
Conclusion
For their first ever tube pod mod, I'd say Vaporesso did a fine job with the GTX GO 80. It's slick and compact, the battery capacity is on par with the best vape sticks on the market, and the GTX coil-heads are already established as some of the best money can buy. Sure, replacing 510 tanks with plastic pods may not be ideal in some people's opinion, but it sure beats the "half tank" we saw on the Vaporesso Sky Solo Plus, that's for sure. As far as I'm concerned, in terms of convenience, ease of use and performance, this is easily one of the best vape sticks on the market today.
The Vaporesso GTX GO 80 was sent to me directly by Vaporesso, for the purpose of this review.
Pros
slick and compact
great battery capacity
GTX coil-head line
simple and easy to use
Cons
no spare coil-head
magnetic pods (subjective)