VIP Uno Disposable E-Cigarette Review
VIP is an English brand of electronic cigarettes that specializes in both rechargeable and disposable e-cigs. I was offered their VIP Uno for review, and since I hadn't really tried too many disposables before, I wholeheartedly accepted.
Although I had never tested any of their units, the name "VIP electronic cigarettes" sounded very familiar. I quickly realized it was because I had written about them in the past. They're the company behind the very controversial TV commercial that aired on national television late last year, sparking accusations of glamorizing and sexualizing smoking. I too thought the advert was a bit too much, especially with so many e-cigarette opponents looking for anything to fuel their destructive efforts. But VIP's marketing techniques and the quality of their e-cigs are two very distinct matters, so going forth I'm going to try and focus solely on the performance of the VIP Uno disposable.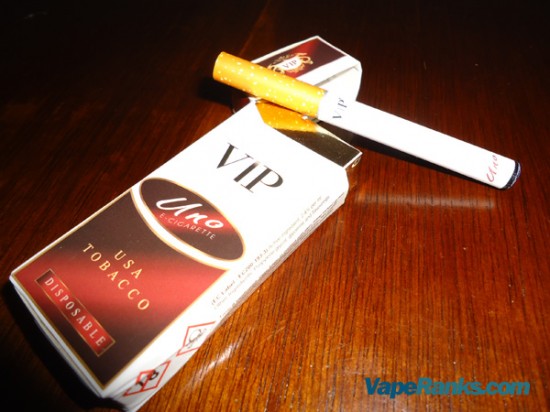 The Uno is the smallest e-cigarette I have ever reviewed. It's a true cigalike, meaning it's almost the exact size of an analog, and also features some of its other characteristics, like a cork-colored mouthpiece and charred tip that lights red when the e-cig is in use. It's also considerably lighter than any rechargeable vaporizer and only slightly heavier that a real tobacco cigarette. Although its size and weight affect the unit's life cycle, they're also bound to appeal to long-time smokers looking for something very familiar. I for one got the feel of a real cigarette out of my system a long time ago, but my smoker friends have said the VIP Uno actually feels like a true cigarette in their hands.
Packaging-wise, the Uno is less impressive than say the popular FIN disposable electronic cigarette. It comes in a small cardboard box featuring a flip-up top, reminiscent of the classic cigarette pack. Instead of the FIN's sealing plastic tube, VIP opted for a simple rubber cap on the mouth piece, to keep the e-liquid inside from evaporating. It's not as visually appealing, but it gets the job done.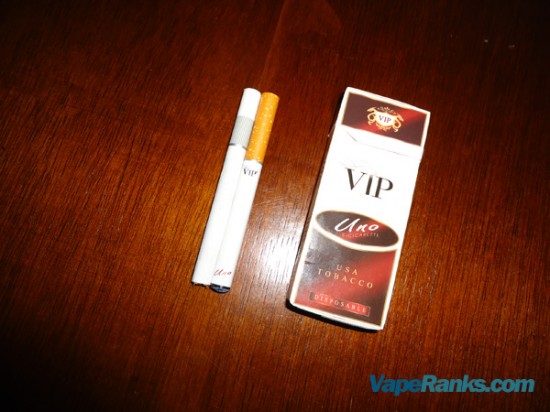 Now that the less important details are out of the way, let's talk about actual performance. To be honest, I didn't really have high expectations from the tiny VIP Uno. I was let down by larger e-cigarettes in the past, and judging by its cigalike appearance, I was almost convinced it was nothing but a gimmick to attract smokers wanting to quit. Boy was I wrong!
Think of the Uno as the little engine that can, but not for very long. The first time I tried taking a puff on this disposable e-cigarette, I got nothing. The LED didn't light up and there wasn't the slightest sign of vapor. I tried drawing on it a little harder and that's when the e-cig tip lit up, if only for a brief moment. The device worked, but it required a smoking-like draw to activate the battery switch. The VIP Uno doesn't only look like a real cigarette, it's made to work like one as well. I remember when I first starter vaping I used to draw on my e-cig so hard I got almost no vapor out of it, but with the Uno, that's exactly the approach that works best. You need to suck on it as if it were a tobacco cigarette. Years after smoking my last analog, it felt like hard work, but at least I was rewarded with a mouthful of vapor.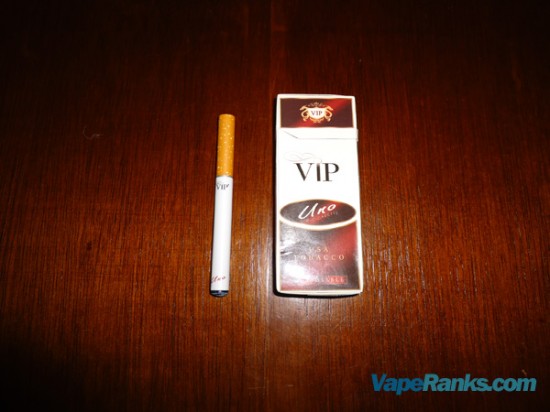 For its size, the UNO's performance is nothing short of amazing. Every draw produces massive plumes of vapor that are sure to satisfy any ex-smoker, and the throat hit is just right. But the thing that really impressed me was the flavor. After years of searching for the best tobacco flavors, I am now convinced it's the toughest taste to get right, but the VIP Uno has the best tobacco flavor I have ever tried. After a few delicious puffs I realized the flavor was very familiar, and that's when it hit me – the taste was exactly the same as that of Green Smoke Absolute Tobacco, my all time favorite tobacco e-liquid. I have been trying to find out who makes it for a very long time, in hopes of securing a large supply for hard times, but so far my efforts have been unsuccessful. As far as I'm concerned, the Uno tastes like a fine tobacco blend, but you really have to try it for yourself.
Unfortunately, VIP's efforts to make the Uno look as much as a real cigarette as possible take a heavy toll on its battery life. I was only able to enjoy its amazing taste for about three hours before the LED tip started blinking, the dreaded signal of a depleted battery. I don't consider myself a heavy vaper, and even I were one, three hours is still a very short battery life, especially for a disposable cigarettes, which, at least theoretically, should have a longer battery life than rechargeable models.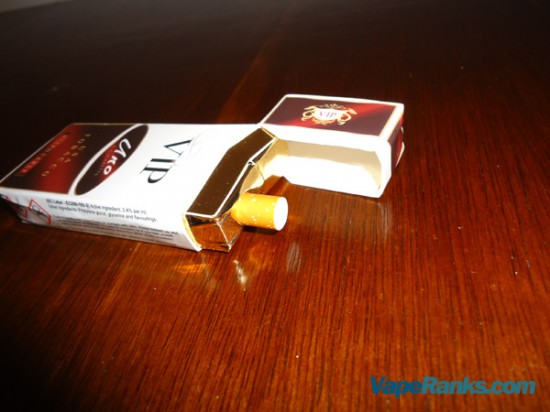 Overall, I found the VIP Uno to be an impressive disposable e-cigarette in all areas except battery life. If you're looking for something that mimics not only the look of a real cigarette, but also the feel and taste, the Uno works great. Lots of vapor, great throat hit, it's too bad I only had such a short time to enjoy it.
Disclosure: The VIP Uno e-cigarette used for this review was supplied by ElectricTobacconist.co.uk.