GeekVape Aegis Pod Review
The Aegis brand has been a virtual gold mine for Chinese manufacturer GeekVape, and for good reason. Aegis mods are famous for being some of the most rugged and durable on the market, so it's no wonder that people have been snatching them up ever since the original Aegis 100W came out. But now GeekVape have slapped the Aegis name on a pod system and a lot of people have been wondering if what is essentially a flimsy device deserves to be included in the Aegis family…
GeekVape Aegis Pod Packaging
When it comes to Aegis products, the packaging has always been the least impressive, and the new Aegis Pod is no exception. It comes in a small cardboard box colored in GeekVape's now famous black and orange color combination, with some pictures of the pod system on the front, and a short description, a series of informative pictograms, a list of kit contents and manufacturer information on the back.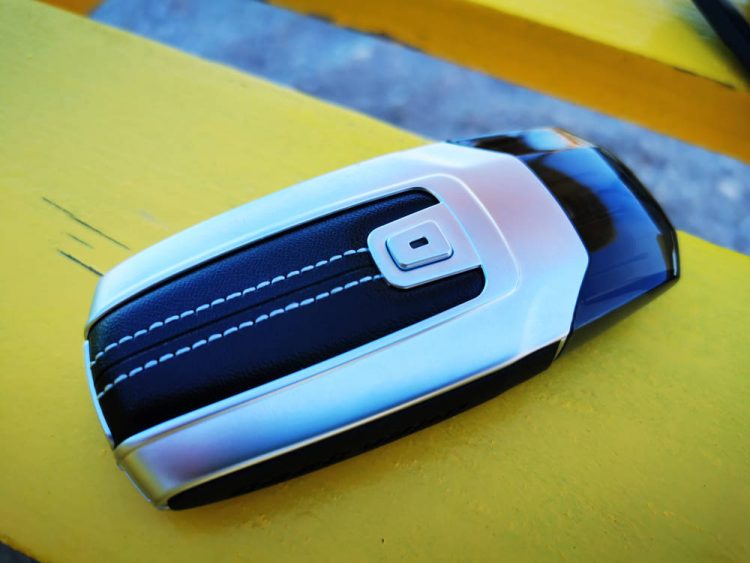 Inside the box we have the GeekVape Aegis sitting in a Styrofoam holder, and underneath that are two small blister packs containing two new G-Coils rated at 0.6Ω, a Type-C USB charging cable, and a user manual. Pretty much what you would expect from a vape pod kit, to be honest.
Aegis Pod Design and Build Quality
The new Aegis Pod measures 88mm x 40mm x 18mm and weighs only 73 grams, which is not too shabby for an IP-67 rated device, which is supposed to be shockproof, dustproof and waterproof. It has a slick, flattened-oval design that reminds me a lot of the Smoant S8 pod system, only slightly thicker and noticeably tougher.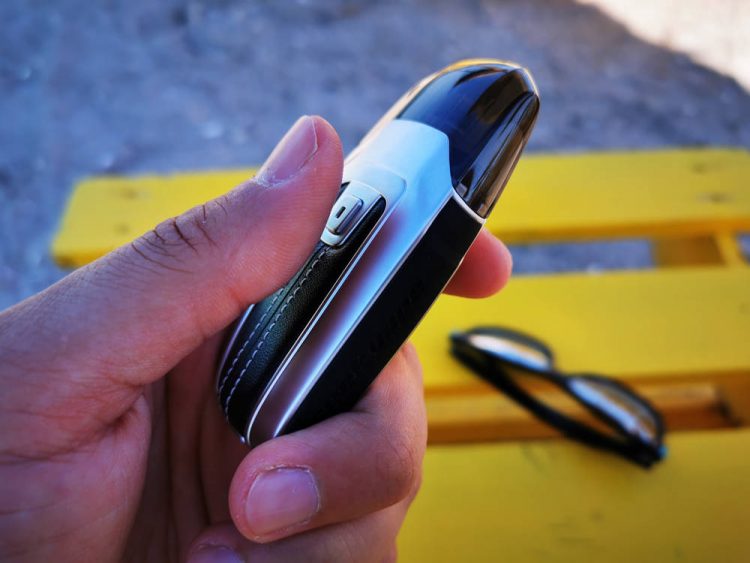 Apart from the plastic refillable pod, the GeekVape Aegis pod is made primarily of a zinc alloy, silicone sealing on the sides and the iconic stitched leather which fills just as squishy as on the excellent GeekVape Aegis X. The visible screws holding both the zinc alloy frame and the USB-C charging port together only add to the rugged look of the device.
One thing I noticed about this device the first time I took it out for a quick look was the exposed USB-C port. Previous Aegis mods relied on silicone plugs and screwed on plates to keep water out, but not the Aegis Pod. GeekVape claims that even if water makes its way inside the charging port, it will not affect device at all, which, o be honest, I've been reluctant to test myself, at least until I finished this review.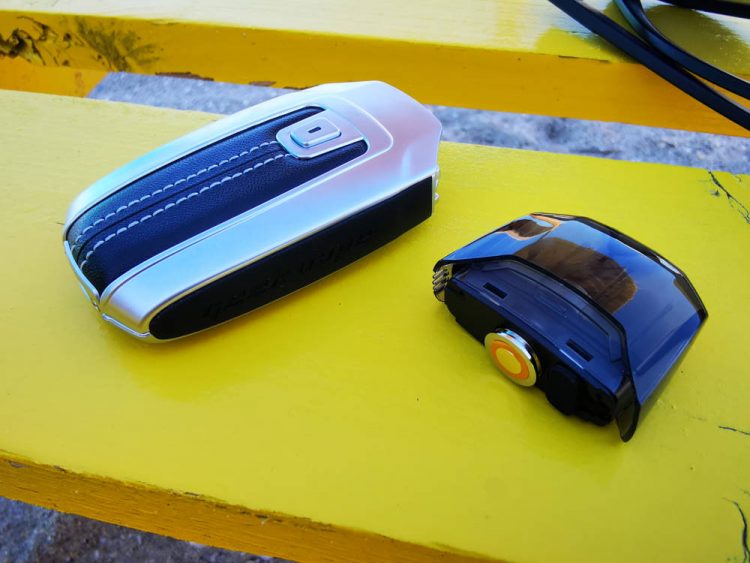 The GeekVape Aegis Pod is a manually-activated pod system which means you have to press a button to activate the battery. The single button on this device is the power button, which also acts as a battery indicator, thanks to the the embedded LED indicator. The button is very clicky and responsive, activating the battery as soon as it's been pressed. According to the Aegis Pod manual it has a delay of under 15 milliseconds.
The Aegis refillable pods hold up to 3.5ml of e-liquid and feature replaceable coil-heads similar to VooPoo's PnP (plug 'n' play) coil-heads that are press fit through the bottom. They are slightly tinted and attach to the battery casing via pressure alone. In fact, this is one of the very few pod systems out there that don't rely on magnets to keep the pods in place.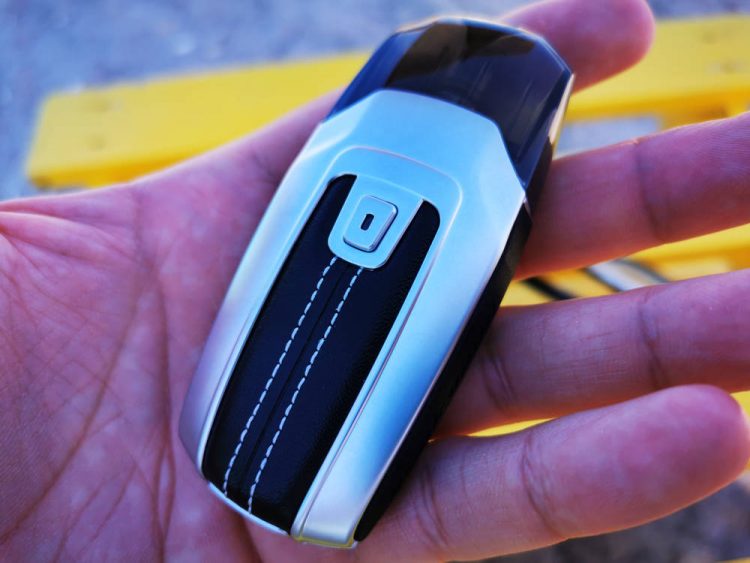 Aegis pods have an unusually large mouthpiece and airflow opening, but I do not considers those to be cons. Yes, they can take some getting used to, especially if you're coming from a device like the SMOK Novo 2, for example, but they are not uncomfortable to vape on by any means.
The fill port is located on the bottom of the pods, right next to the large coil-head port, and is sealed with a silicone plug. The opening is fairly large, allowing you to fill the pod with pretty much any style bottle or dropper. One thing you need to keep in mind when filling up the pod, particularly if you're using a thicker juice (70VG and higher), is to make sure that e-liquid flows freely inside the pod, as the coil-heads tend to separate the two halves.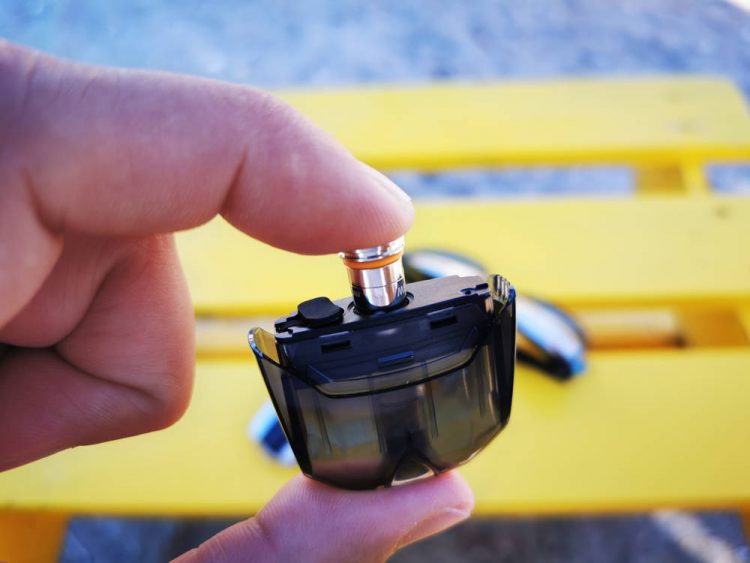 The airflow design of this pod is a very interesting choice by GeekVape, as it only comes in from one side. It's functional but it's definitely not ideal, especially because there is no way to adjust it. You end up with a "middle of the road" airflow that feels too restrictive for a true direct-lung hit and too loose for a mouth-to-lung draw.
Regarding the IP-67 rating of the Aegis Pod, that as been one of the most controversial aspects of this product, with many claiming that it does not feel as durable as other Aegis devices. I would agree with that assessment, but as far as pod systems go, this is definitely one of the toughest, most rugged devices money can buy.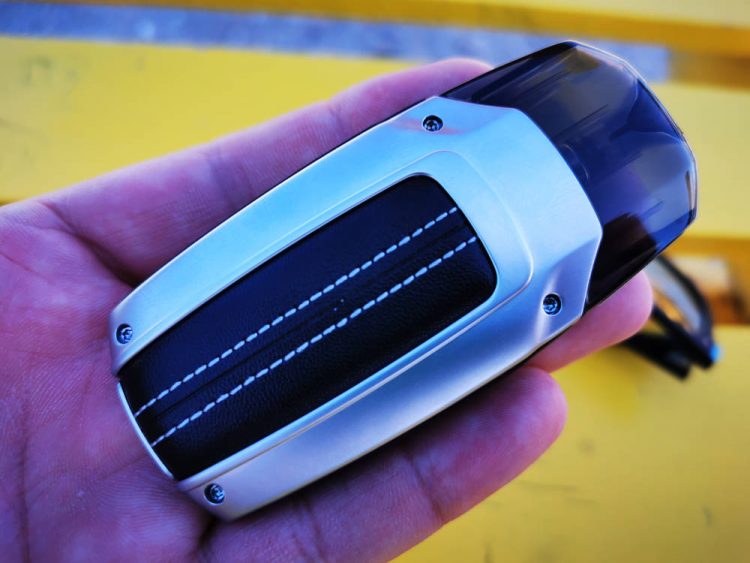 Will that squishy leather on the pod last forever? Probably not. Will the plastic pod break if you drop the device on concrete from high up? Most likely yes, but will most tanks attached to other Aegis mods. The bottom line is that the GeekVape Aegis Pod is not an indestructible device, but it's definitely a lot tougher than most other pod systems.
GeekVape Aegis Pod Battery Life
Compared to GeekVape's other Aegis pod system, the Aegis Boost, the newer Aegis Pod has just half the battery life, 800mAh compared to 1,500mAh. That comparison makes the latter seem inferior, but it's worth considering that the Aegis Pod is the slicker, more compact of the two. In fact, compared to most other vape pods in its size category, like the Smoant Karat or the Oukitel Nano, it has double the battery capacity.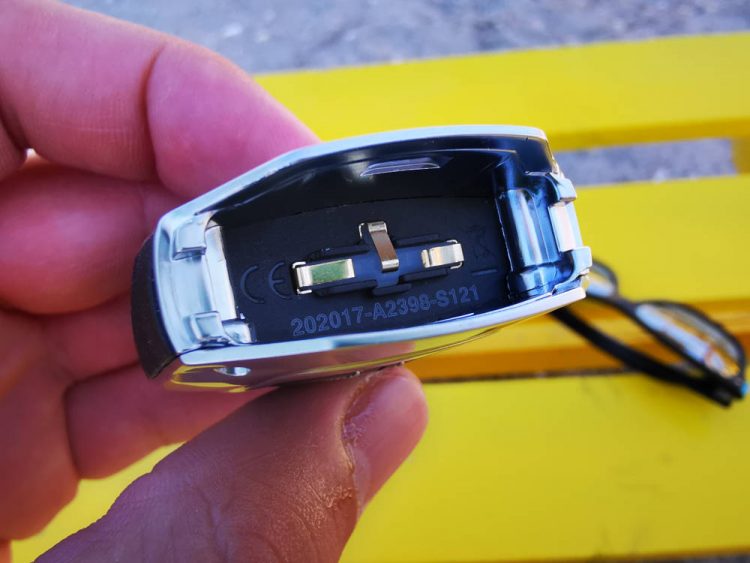 800mAh would likely last a most casual vapers an entire day, should the Aegis Pod comes with higher resistance coil-heads (1Ω and above), but as it stands, the hybrid 0.6Ω coil-heads require higher wattage output in order to deliver a satisfying vaping experience. I still get a good 5-6 hours out of the Aegis Pod after a full charge, but higher resistance coil heads would increase battery life even more.
The Aegis Pod features fast-charging via USB Type-C, so you shouldn't have to wait more than an hour and a half for it to recharge back to full. Luckily, you can also use it while it's charging.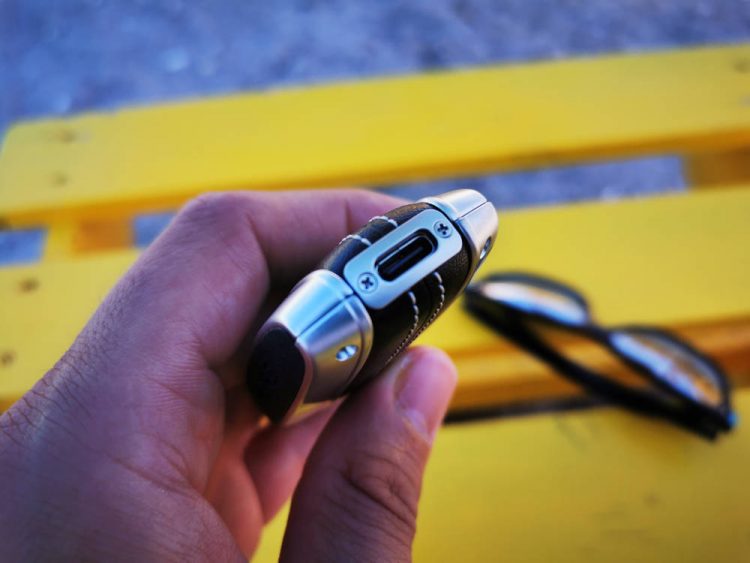 The LED battery indicator embedded in the power button isn't very useful. It's green when the battery is over 70 percent charged, and then goes red when the level drops to 69 percent. When it starts to blink and the battery no longer activates, you know it's time to recharge, but at that point you will wish you had got a warning sooner…
How Does the Aegis Pod Vape?
Aegis products aren't known primarily for their unmatched performance. They're great devices, don't get me wrong, but it's the IP-67 rating and the excellent build quality that mainly draws people in. I only mention this, because I wasn't expecting too much out of the GeekVape Aegis Pod.
In terms of innovation, I can't say I was blown away by GeekVape's newest pod system. Apart from the new coil-head type that we will most likely see used on other products going forward, the Aegis Pod really doesn't bring anything new to the table. There is no adjustable airflow control, no variable power output, and the pod architecture isn't anything new either. However, the rapid activation and power ramp up are a whole different matter.
The battery activation and power ramp up are so incredibly fast that you need to make sure that your coil-head is nice and saturated before you use it for the first time, or you risk burning it before your first draw. I ever recommend taking the pod off the battery when pressing the fire button five times rapidly to turn it off, because every one of those short presses will activate the battery and potentially damage your coil-head.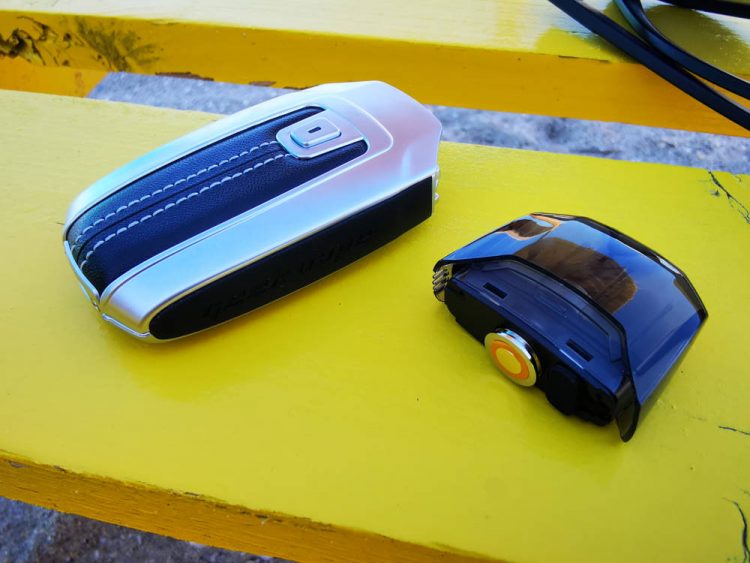 Fast battery activation isn't as impressive as it was back when the original VooPoo Drag came out, as now most advanced box mods are lightning fast. But pod systems are a different story, or at least they were before the Aegis Pod. After trying this device, I am sure it can give VooPoo's Gene chip a run for its money.
The new 0.6Ω coil-heads are ok in terms of flavor and vapor production, which is fine if you're a fan of lung-inhale vaping, but if you were hoping for an MTL draw, you're going to struggle with the Aegis Pod. You can pull of a very airy mouth-to-lung draw on this pod system, but it's not very enjoyable… I will admit to being a fan of a restricted MTL, which the lack of airflow adjustment and dedicated coil-heads make all but impossible right now.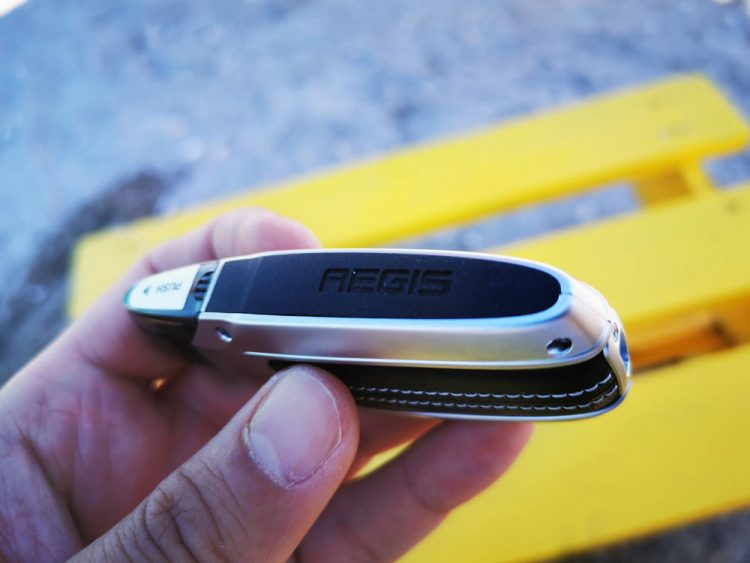 All in all, this is a nice pod system if you prefer a restricted direct lung hit, but not ideal for those looking for a restricted, cigarette-like draw.
Conclusion
Despite the occasional criticism in the vaping community, the GeekVape Aegis Pod looks and feels like a true Aegis device. I didn't really put it to extreme tests, like throwing it around the house or hitting it with a hammer, but it feels a lot more durable than the many other vape pods I've tested in the last couple of years. That should be enough for fans of the Aegis brand.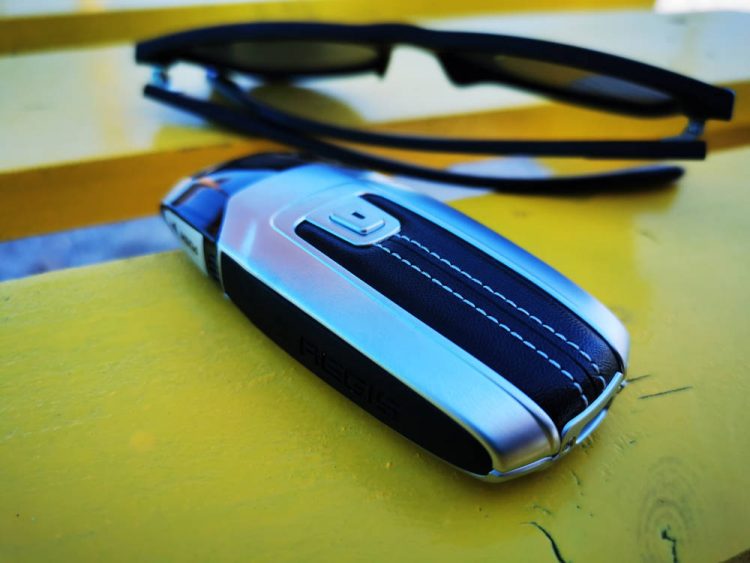 Performance-wise, the Aegis Pod impressed me with its lightning fast firing speed and power ramp-up, but I wish it had some airflow adjustment options to make it more suitable for mouth-to-lung vaping.
The GeekVape Aegis Pod was sent to me by Vapesourcing, for the purpose of this review. They currently have it in stock for the very modest price of $24.90.
Pros
slick design
excellent build quality
USB-C charging
good battery capacity for its size
IP-67 rating
affordable
Cons
no airflow adjustment
no power output adjustment
no MTL options (currently)