Mr. Macaron E-Liquid Review
Mr. Macaron has been on the market for just about six months, but it's already one of the most popular e-liquid brands on the market. They have some interesting dessert flavors, but the meteoric rise of Mr. Macaron has actually been the result of a number of factors, including quality, reputation and great presentation. We'll touch on all of them in this review, and decide if the success of Mr. Macaron e-liquid is well-deserved, of if the brand has so far been carried by its flawless marketing.
Even before Mr. Macaron e-liquid officially launched, in September 2016, it had already been making waves on social networks like Instagram, with mouth-watering photos of its upcoming flavors. Some of the most influential reviewers on YouTube had been sent samples and were getting people excited about its creamy dessert vapes. Then there's the website, without a doubt one of the best-looking vaping-related websites I have ever seen. The colors, the graphics, even the font, all come together to paint an image of high quality and professionalism which reflects in the e-liquid itself. And, finally, the packaging is simply amazing. The cardboard box that the glass bottles come in are full of appealing graphics that just scream "buy me, I'm delicious!" It's clear that the company behind Mr. Macaron put a lot of work into the marketing and presentation of this brand, and it's definitely played a big part in its quick success. Other great e-juice companies could definitely learn a thing or two from these guys about making their products stand out.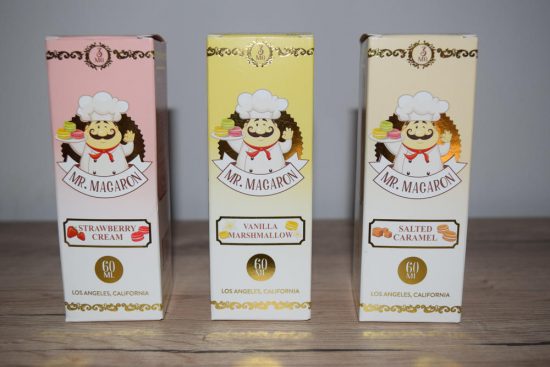 Mr. Macaron had another big advantage. The brand was created by Mad Hatter Juice, one of the biggest names in the e-liquid business, and the makers of two of my all-time favorite vapes, I love Donuts and I love Cookies. Their reputation alone was enough to get people excited about Mr. Macaron, and it undoubtedly played a big part in the brand's early success.
But, at the end of the day, great marketing and a solid reputation can only carry a juice brand so far. If the product itself sucks, customers won't be coming back for a second order, and you'll ultimately fail. And since Mr. Macaron is still going strong, there must be something about its flavors that appeals to people.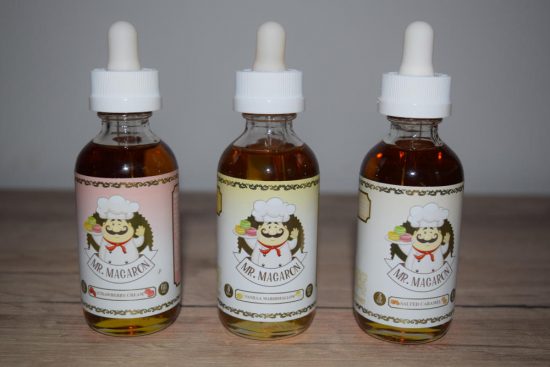 Before we get into the three flavors in the Mr. Macaron lineup, let's talk a bit about what you should expect. Even though the very name  of the brand, the logo of a mustachioed chef holding  a plate of macaroons, and the tasty-looking macaroons on the packaging, all hint at a macaroon e-liquid, it's actually not that. At least I couldn't pick up the taste of macaroons, and being a foodie, I'm quite familiar with the delicious French treats. Although often flavored themselves, macaroons have a distinct almond taste, which is all but missing from all three flavors. So as long as you're satisfied with just the flavor written on the bottle, and don't expect macaroons, you should be fine.
Another important thing you should know about Mr. Macaron brand is that it specializes in full-flavored dessert vapes that could prove overwhelming if vaped for long periods of time. They're not really all-day vapes, is what I'm trying to say, but rather desserts to be enjoyed as such. They're very sweet, very creamy, and the flavors are among the most intense I've ever vaped.
Vanilla Mashmallow – Mr Macaron describes this flavor as "Vanilla with a twist. This flavor has a balanced sweet hint of vanilla with the smooth cloudlike experience of a marshmallow. This combination really engages the senses."
That's kind of vague, so I was really curious to try this juice for myself. I was expecting a vanilla-heavy, custard-like vape, with maybe a hint of marshmallow, but it was actually just the opposite. The vanilla in this juice is clearly overpowered by the marshmallow, so much so that you only get a clear taste of it after the exhale, as an aftertaste. The marshmallow, on the other hand, is very strong both on the inhale and exhale, which was a little surprising.
Personally, I'm not  a big fan of marshmallow, so I would have preferred a stronger vanilla instead, but even so, this was a decent vape. One thing I can't praise it enough for is the vapor production. At high wattage, this stuff turns into giant, fluffy white clouds.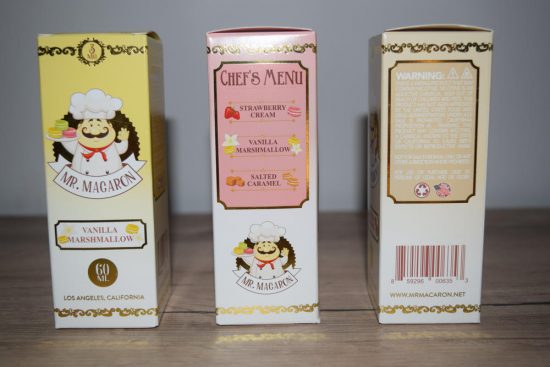 Strawberry Cream – The official flavor profile for this juice is even vaguer than for the Vanilla Marshmallow – with rich decadent flavor, and mouth watering sweetness, this is a flavor that takes you back to Paris – but, on the other hand, the name pretty much says it all.
Of the three available Mr. Macaron flavors, Strawberry Cream comes closest to being an all-day vape. It's just as rich and flavorful as the other two, but the ripe strawberry mallows out the sweetness and creaminess of the juice. I've been vaping this one the most, and I have a feeling that it is the most popular e-liquid in the lineup, simply because it appeals to both dessert and fruity vape fans.
If I were to compare Mr. Macaron Strawberry Cream with another juice, I would say it is very similar to the Strawberry Shortcake from VaporFi, but it also reminds me a bit of One Hit Wonder's Milk Man. This is slightly creamier than other strawberry cream vapes I've tried, which I found to be a plus.
Salted Caramel – "With rich silky caramel and sprinkled traces of sea salt, the resulting aroma is warm and sensational," the Mr. Macaron website states. Again, the name pretty much sums up this flavor perfectly, as this is actually salted caramel in vapor form. If you're a fan of the decadent dessert, this is one e-liquid you have to try. It's not a generic caramel, it's salted caramel, and you can tell just by taking a whiff of the bottle.
One thing I can recommend to really bring out the sweetness and complex flavor if this e-liquid is to vape it at a high wattage. I tried different setups for each flavor, and put the Salted Caramel in a Cubis Plus tank with an 0.5Ω, with the mod set at 30W. It was ok-ish, but after vaping the other two flavors at around 70W, I felt like the taste just wasn't as strong as it should be. So I switched to a Baby Beast tank with a lower resistance, and it made all the difference.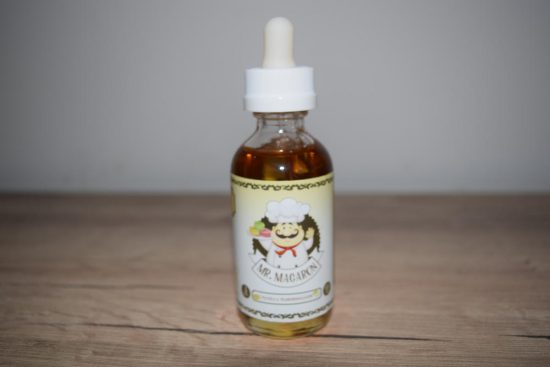 If I were to rank the three Mr. Macaron flavors, I would say the Salted Caramel is my favorite, even though it's so strong that I can only take a few puffs before feeling slightly nauseated, closely followed by the Strawberry Cream, definitely one of the best balanced juices I've tried, and finally, the Vanilla Marshmallow, which is ok, in my book, but not anything to write home about. Overall, the whole line gets two thumbs up from me, but, I do have to disclose that dessert vapes are my absolute favorite, so I'm definitely a bit subjective.
But it's not just the taste of the juice that impressed me, I was also pleasantly surprised to discover that none of the three flavors left any weird or chemical aftertaste in my mouth, which can happen sometimes, even with popular e-liquids. And, again, the vapor production on all three of these e-juices was absolutely phenomenal. Even at 30W, they put out insane clouds.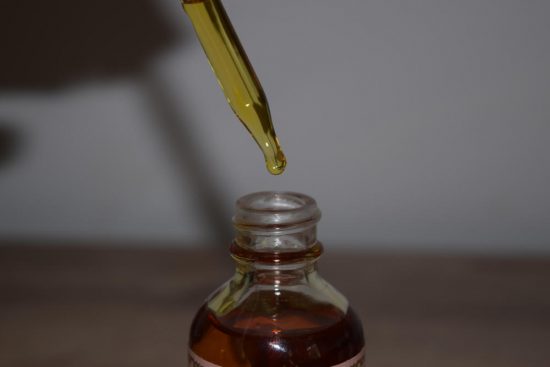 Mr. Macaron e-liquids are all 70VG/30PG, and come in 0,3 and 6 mg/ml nicotine strength. I got the 3 mg for all three and it is on point. The juices were tested in 3 different tanks, the Joyetech Cubis Plus, the SMOK Baby Beast and the Wismec Elabo, with different resistance sub-ohm coils. I recommend 0.25Ω at over 60W to really get the best flavor out of them.