Perl Vape Pod Review
I've been trying out a lot of pod systems lately, as they seem to have all but taken over the vaping industry, but nothing quite like the Perl. This is a device that manages to be both sleek and bulky at the same time – which was oddly intriguing to me – features touch controls and multiple power levels and comes with ceramic wicking coils. It also comes with a high capacity battery, which is unusual for a pod system, as most manufacturers seem to prefer sacrificing battery life in favor of a smaller body. The Perl is definitely not your standard vape pod, so I'm actually looking forward to seeing how it compares to the other major players on the market. Let's see:
A Look at the Contents
In terms of packaging and presentation, Perl is way ahead of its competition. The vape pod comes in a large rectangular box with pictures both on the front and back, and many pictograms on the side. I know packaging doesn't seem all that important, but it actually has a big impact on buyers. For example, seeing the Perl box next to that of the Suorin Drop, for example, I would be tempted to think that the Perl is better just because of that first impression. On the back of the box you'll also find a description of the Perl's main features, a list of contents and information about the manufacturer.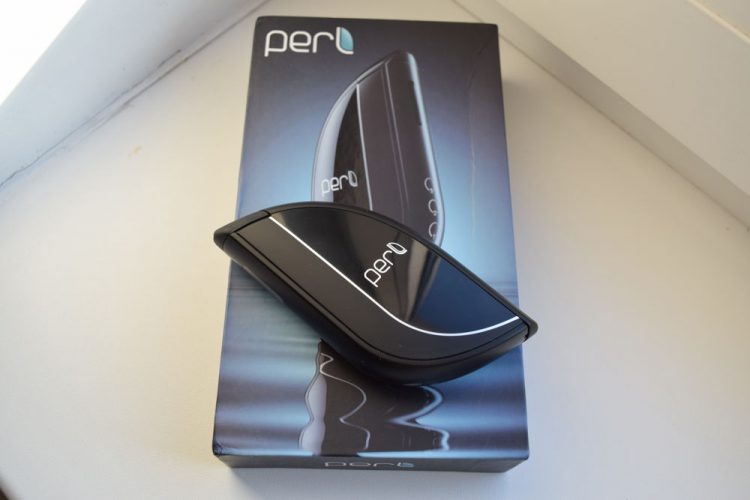 The kit contains one Perl vape pod with a pre-installed ceramic coil pod, a micro-USB cable and a user manual. The fact that it only comes with one refillable pod is going to be a major con, even though the ceramic coil is supposed to last a bit longer than conventional ones. I've been saying this for a while, and I'll keep saying it until manufacturers get with the program: including at least two pods is a must!
Design and Build Quality
The Perl is probably the largest pod system on the market right now. It measures around 100mm x 49mm x 20mm, which makes it larger than some advanced dual-battery vape mods. One of the main reasons vape pods are so incredibly popular this days is their compact size, which makes them easy to carry around and less conspicuous compared to vape sticks or mods. Sadly, the Perl is neither compact nor conspicuous, so if those are qualities you're looking for in a vaping device, this may not be for you.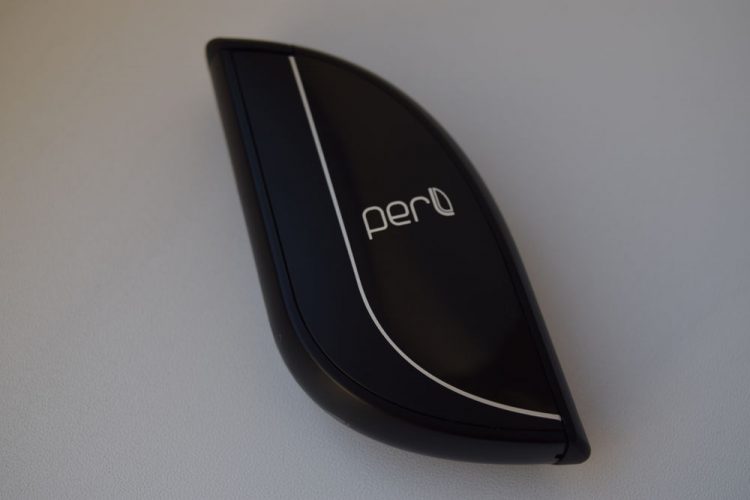 While the name of the device hints to a round, pearl-like shape, this pod system looks more like a leaf to me. It has two pointy corners and two rounded ones, and I will admit that it does look quite sleek, but it's definitely not the most ergonomic design. Plus the sheer size of it makes it feel more like a large mod than a simple vape pod. This device is made primarily of polycarbonate, so although it's about as large as a dual-18650 battery mod, it's not as heavy as one. The downside of using a thermoplastic, though, is that the Perls ends up feeling cheaper than it looks. I personally would have preferred an aluminium body to this plastic, even it was a bit weightier, but if you don't have a problem with plastic, it's fine. We'll have to see how it holds up in the long run, though.
The Perl has a very streamlined design, but you can identify the location of the pod by the rubber mouthpiece sticking out from one of its point corners. To take out the pod, you have to stick your fingernails under this mouthpiece and pull outwards. Then, to fill the pod, you simply remove the rubber mouthpiece to expose two medium-sized round fill ports. The fact that these fill holes are located at the top of the pod is a plus, as it minimizes the risk of leaking.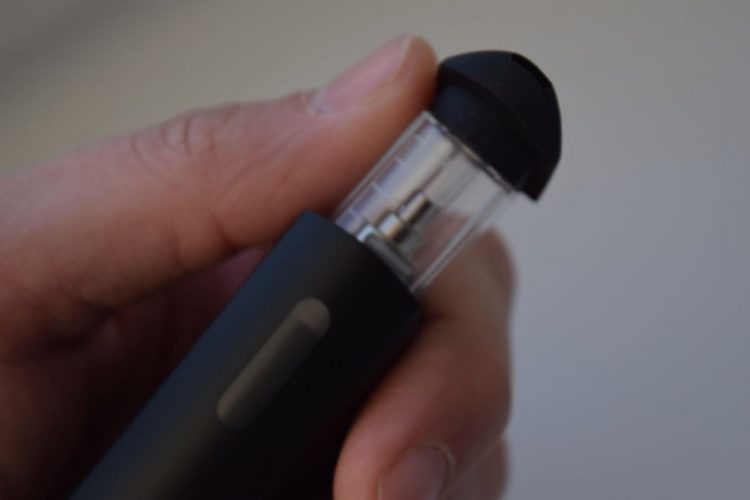 The pods hold up to 2ml of e-liquid, and they even feature grading on the side, which is a nice touch, and filling them is a breeze. However, I don't like that rubber mouthpiece one bit. It reeks of something like benzene and it's a magnet for pocket lint. I wish they had gone with a plastic mouthpiece and just left the rubber for the two plugs that go into the fill slots.
One of the main features of the Perl vape pod is the touch activated power options. On one of the narrower sides of the device, you'll see a small leaf-like logo, and three circles marked 1, 2 and 3. If you tap that logo three times in rapid succession, it will light up either green, orange and red, depending on the charge level of the battery. Now, every time you tap that logo while it is active, you are able to scroll through its three different power levels. If it doesn't register any taps, the logo will shut off and you'll have to tap it three times again to reactivate it, so you don't have to worry about accidentally changing the power level while you are holding the device in your hand.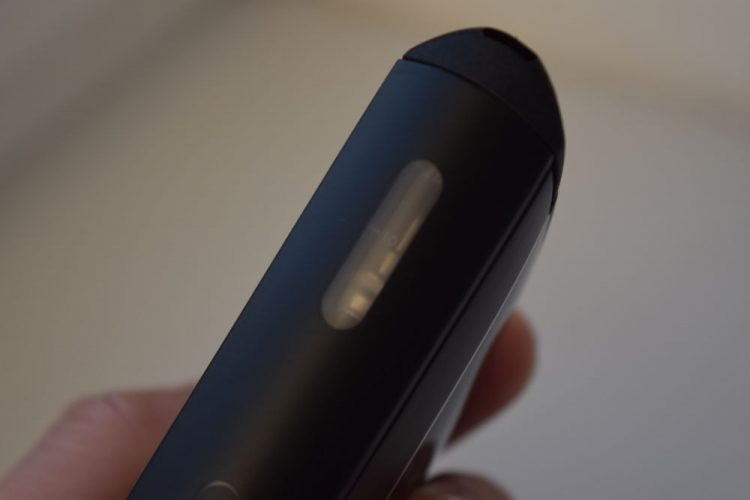 The touch controls are surprisingly sensitive, but the problem I have with this system is that I didn't notice any considerable difference between the three available power modes. There is some difference, but it's barely noticeable. The vapor is relatively cold even on the highest level, and I didn't notice any major difference in vapor production or throat hit either.
I'm not even sure what these three power levels symbolize, as neither the user manual nor the Perl website mention it. Are you actually increasing the wattage/voltage, or is this a pre-heat function, where the battery is activated faster? I have no idea.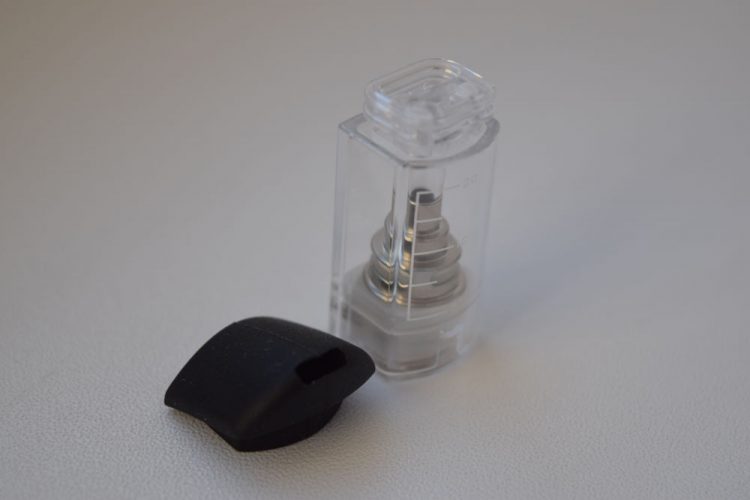 All in all, the Perl is a nice-looking device, but when it comes to ergonomics and quality of materials, I found it disappointing. I'm not a big fan of plastic vaping devices, so you can call that a subjective con, but the bulky frame and the awkward positioning of the mouthpiece – not to mention the smelly material it's made of – are real issues, and in such a competitive market, they put the Perl at a disadvantage.
Battery Life and Performance
The one department where the Perl outshines all other vape pods is battery life. This device features a built-in battery with a capacity of 1,150mAh, which is on the level of vape sticks like the SMOK Stick Prince or Eleaf iJust 3, and even smaller box mods. By comparison, pods like the Suorin Air or SMOK Novo have about 400mAh capacity, and the only one that even comes close to the Perl is the Eleaf iWu, with 700 mAh. So, yeah, you won't have to charge this thing to often, and you can even use it as a pasthrough, thanks to the included micro-USB cable.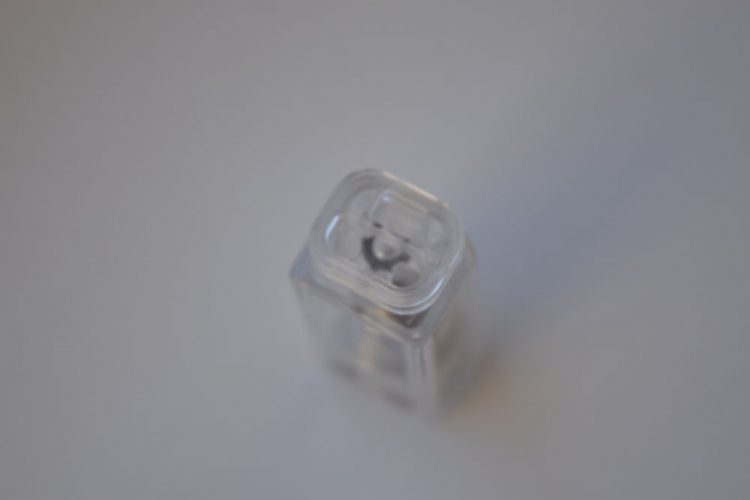 But that impressive battery life comes at a price. As I've mentioned before, the Perl is huge compared to other vape pods, which sacrifice battery life for comfort and portability. As a rule of thumb, the smaller a vape pod is, the smaller battery it's going to have, so it's up to you to decide what you prefer, a tiny device with short battery life, like the JUUL, or a bulkier one that offers plenty of vape time, like the one you're reading about now.
After seeing how different it was from all the other vape pods I've reviewed lately, I was really looking forward to seeing how the Perl vaped. Would those three different power levels really allow customization, would the ceramic wicking coil perform as well as the cCELLof the Vaporesso Target, how was the draw going to be?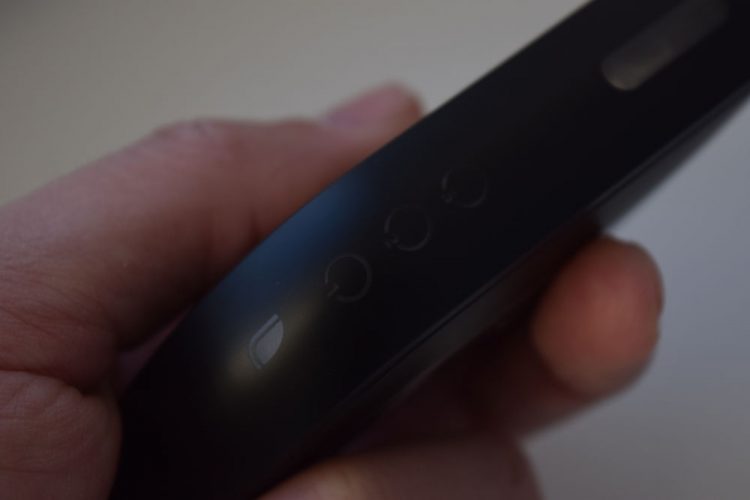 Unfortunately, my experience with the Perl only got worse when I actually started using it. In fact, I only used it for very little because I couldn't stand the taste. Yes, it was that bad, but I'm not going to put the entire blame on the pod.
Perl doesn't really recommend a specific VG/PG ratio, and having used the Apollo Boss King Pin with the last few vape pods I tested, I decided to use it with this one as well. It's a 70VG/30PG juice, and it may have been a bit too thick for the Perl, as even after letting it sit for about 20 minutes after filling the pod, I still got a muted, slightly burned taste when I first vaped it. Unfortunately, it never went away after that, in fact, I didn't notice any kind of improvement, even after letting it sit for a night. That's how it is with wicks, once they get burn, the taste doesn't go away, no matter what you do. That's why it's so important that vape pods come with at least two pods.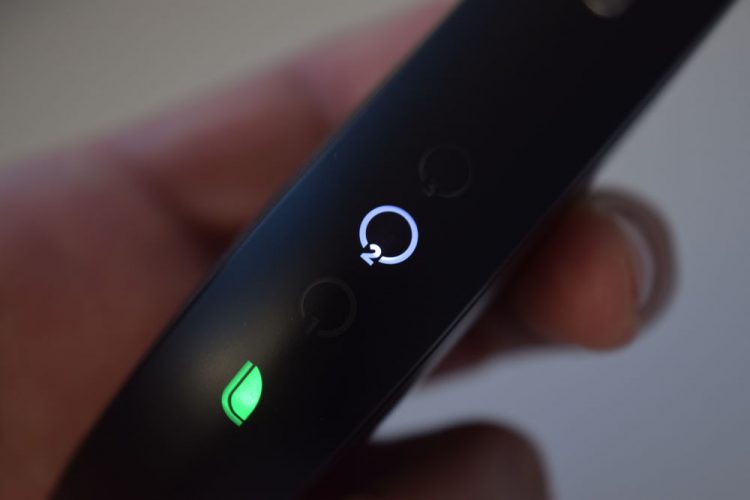 The thing is I made sure to set it to the first wattage level to avoid accidentally burning the ceramic wick, I let it sit for a reasonable amount of time, but it didn't make any difference. Even if the juice was too thick, it shouldn't have burned so quickly. Usually, thicker juices become a problem when you take too many hits in a short period of time, as the wick has trouble soaking up juice fast enough, but this was my first hit, and it still tasted burnt. It's weird, that's all I can say.
I'm really not sure what happened, if it was the juice, or if the coil was defective, but using the Perl was a negative experience all around. I put up with the nasty taste as I went through the different power levels, to see if I noticed any differences in vapor production, warmth of the vapor and throat hit, but they don't make much of a difference if you ask me. It would have been nice to know how this system works, though, as right now we don't really know what changing these levels actually does.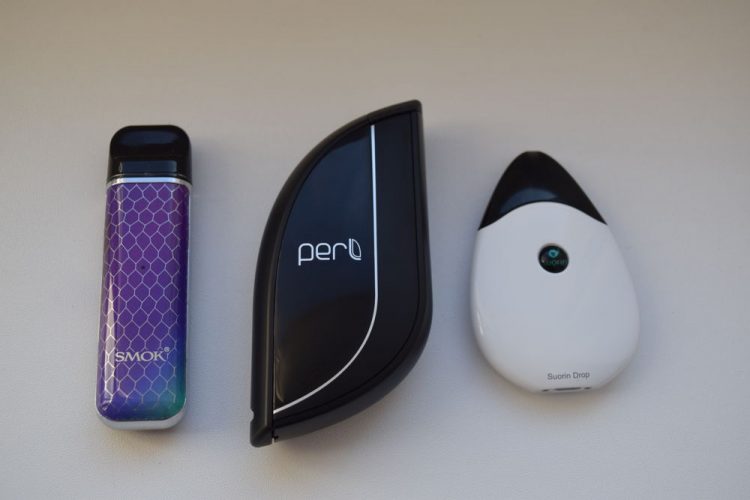 The draw on the Perl is very restrictive, definitely the most restrictive I've tried, even edging out the JUUL in this department. This type of draw may appeal more to fresh ex-smokers, but even they might consider it a bit too tight. I like a tight draw when mouth-to-lung vaping, but this is a bit too much.
Because you can only draw so much vapor when vaping, the vapor production isn't going to be very impressive, but I don't really consider that to be a problem, considering many popular pod systems have low vapor production but are very efficient in delivering nicotine and a nice throat hit. What I din't like about the vapor from the Perl – apart from the awful taste – was that it was unusually cool, even on the third power level. I prefer a nice warm vape, so for me, this is a big con.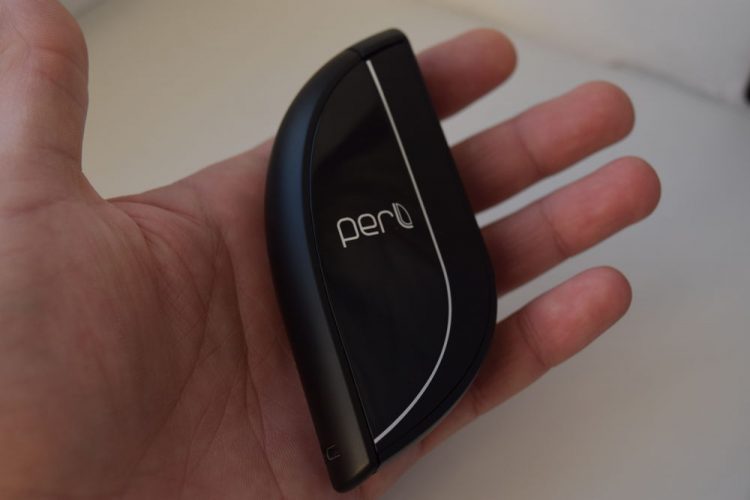 Conclusion
The Perl is different than most other pod systems, but in this case different doesn't mean good, quite the opposite in fact. From its interesting but awkward design and positioning of the mouthpiece, to the quality of the materials and, most importantly, the way it vapes, the Perl was a disappointment. I think manufacturers took too many chances with this device, maybe wanting to offer vapers something different, and it just didn't pay off.
And it's not just the device itself, but the outrageous price it's sold at. A Perl starter kit will set you back a whopping $59.99, which is double if not more than what most other vape pods cost, and a pack of two refillable pods costs $15.99. That's way too expensive for what is essentially a rudimentary vaping device.