OZ Slide Pod Review
You're not likely to see the OZ Slide vape pod on the shelves of Western vape shops anytime soon, as it's designed in Australia and mainly aimed at the Asian market, but I was so intrigued by its sleek, minimalist design that when I was asked if I wanted to try it, I couldn't say no. There was just something the way it looked that made me want to hold it in my hand, so here we are. This is my review of the OX Slide pod:
A Look at the Contents
The packaging of the OS Slide looks as special as the pod system itself. It comes in a square, black box with gold lettering on the front, and some illustrations of the device, a list of contents and mandatory age and nicotine warnings on the back. The box also has a side-sliding drawer, which is quite fitting considering the name of the product it contains.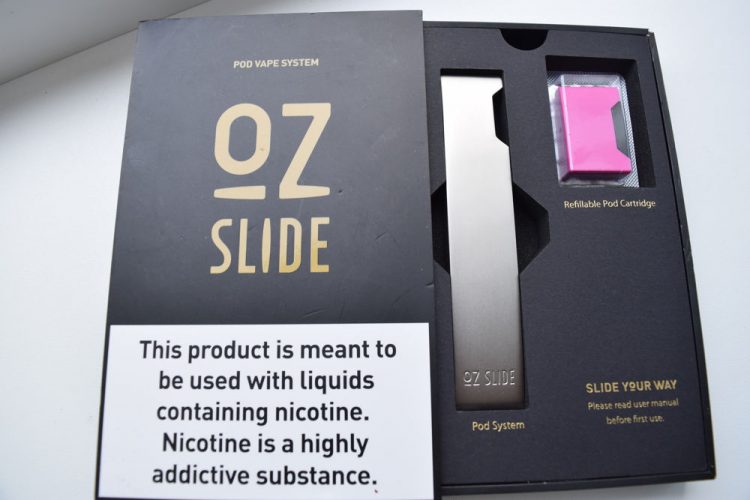 Inside the box, we have the OX Slide vaporizer sitting snug in a Styrofoam holder, next to a blister pack containing the only refillable pod included in this kit. If you remove the holder, you'll also discover a micro-USB charging cable and a user manual. Every item is properly labeled on the packaging, and there's also a line of text asking users to read the manual before first use, which isn't something you see every day.
Design and Build Quality
Design is definitely the main strength of the OZ Slide. It doesn't have that disposable look and feel that many other pod systems these days do, instead it draws you in with a thin, all-metal frame that stands out from the competition. It measures 110mm x 21mm x 9mm, and weighs just 45 grams. It comes in just two color options, black and brushed stainless steel, both of which look very nice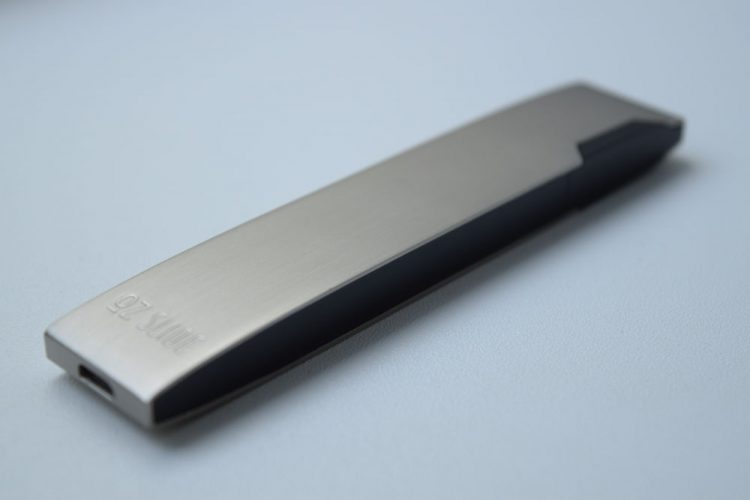 The OZ Slide one of the few vaping devices I've ever tested that is made of stainless steel, and not aluminium or stainless steel. That gives it some extra weight and a high-quality feel in the hand that you just don't get from other, cheaper pod systems. This says absolutely nothing about its performance as a vaping device (we'll get into that later), but if you're looking for something sleek and stylish-looking, the OZ Slide should definitely be on your radar.
As the name suggests, the OZ Slide is all about the side. Its creators, Australian e-liquid company OZdrips, claim it features the world's first side-sliding pod cartridge, which is something I would be reluctant to bet the farm on. But any way, that doesn't matter all that much, as long as the design works and the device functions properly. The side is also where you'll find a simple screen where the name "OZ Slide" and a small battery indicator are displayed every time you draw on the mouthpiece.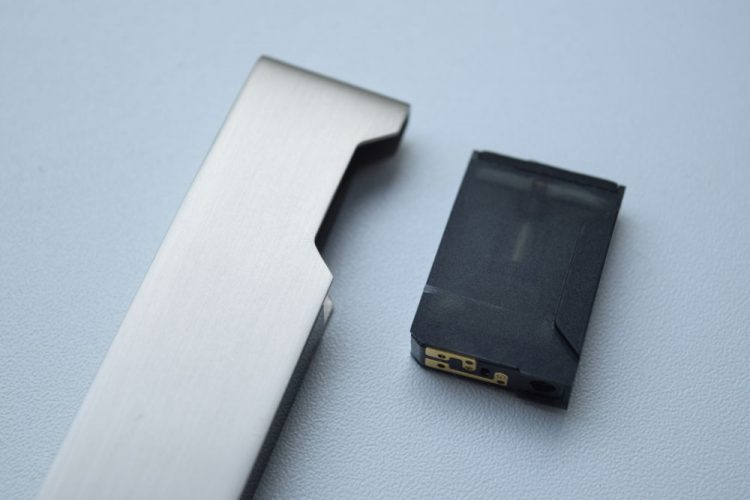 The OZ Slide is a draw-activated device, so it features no buttons at all. In fact, the only design elements worth mentioning are the micro-USB port at the bottom of the mod and the "OZ Slide" name etched into the metallic body. That really adds to them minimalist theme of this device, and makes it look very cool and futuristic.
The pods are tinted black and do in fact slide in through the side of the mod. Their heavy tinting doesn't matter too much, as the pods slide into the mod completely, so you can't check the juice level without taking them out. The pods have to be pressed into the OZ Slide mod, and rely on pressure, not magnets, to remain attached . This system works very well, as I never once had the pod fall out by mistake.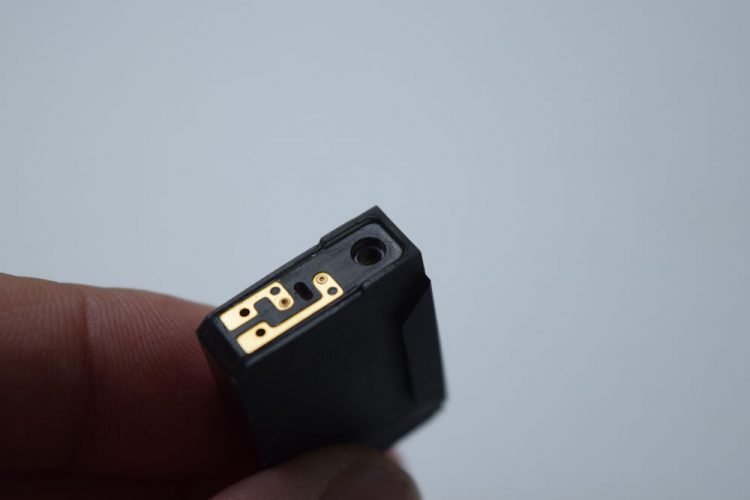 One thing you should know about the OZ Slide pods is that they feature s fill port on the bottom, but no plug for that port. You'll have two silicone plugs in a small plastic bag included in the kit, but you'll have to attach them yourself before using the device.otherwise all that juice you've poured into the pod (1.5ml capacity) will spill into the mod. he problem with this is that the plugs are so tiny it's very easy to lose them when trying to put them into the fill port (happened to me on first try), and the fact that they don't remain attached to the mod in any way, means you risk losing them whenever you refill the pod.
The side display is a nice touch, but it also seems like a lost opportunity. Instead of simply showing the "OZ Slide" name every time you vape, they could have gone for something more useful, like a puff counter or a puff timer. They could have even made the screen smaller, and shown just the battery bar, to conserve battery life (there's really not a lot of it to spare). Otherwise, it's bright enough and has a decent resolution.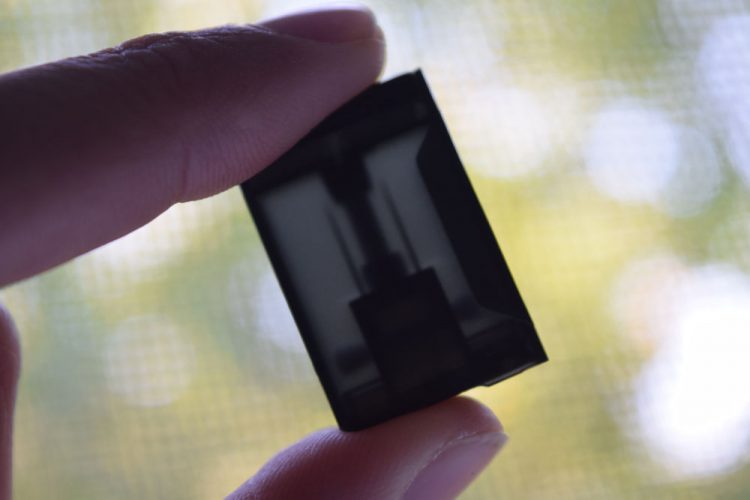 All in all, the OZ Slide looks and feels like a very high-quality vaping device. The brushed stainless steel body and the sleek design really make this pod system stand out from the rest, so if that's what you're looking for definitely give it a try. It's a bit too long for my liking, but other than that and the fill port plugs there's really nothing to complain about.
Battery Life and Performance
While the OZ Slide made a great first impression, it really disappointed me in the battery life department. This device comes with a 300mAh built-in battery, which is abysmal, even for such a thin design. The Suorin Air is even thinner and it still has a 400mAh battery, and so do other smaller pod systems, like the Smoant Karat or the Augvape Lyfe, just to name a few. OZdrips could have definitely crammed a larger capacity battery into the relatively large casing of the OZ Slide, they just chose not to.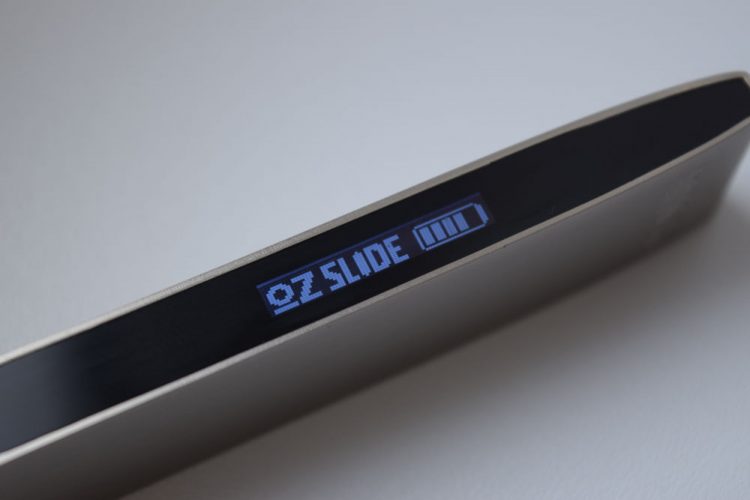 To make matters worse, the OZ Slide doesn't have vape-while-charging, so you won't be able to vape while this thing is hooked up to an USB port. That's a big let down, because that 300 mAh battery will deplete in no time at all, and when it does you're only option is to wait for it to charge, or get a spare pod system. Not exactly what you want from a $40 pod system, is it?
Abysmal battery life aside, the OZ Slide is one of the nicest pod systems I've tried in a while. It's not the most advanced vaping device out there (not even close to pod mods like the VooPoo Vinci or SMOK RPM40), but it does what it was created to do – deliver a tight MTL draw similar to that on a tobacco cigarette. I don't know if you've noticed, but most of the vape pods coming out these days are aimed at direct-lung vapers; they have a lot of airflow and impressive power output to produce impressive plumes of vapor, but no mouth-to-lung capabilities. Well, the OZ Slide is one of those rare pod systems that fresh ex-smokers and MTL vapers are going to love.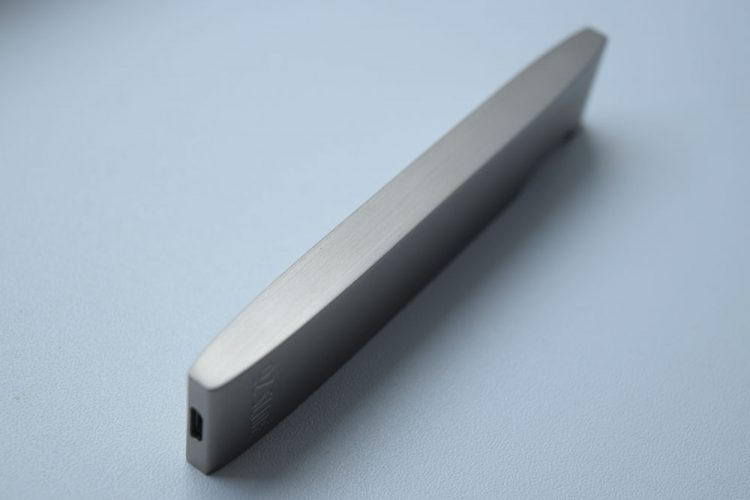 The draw on this pod system is very restricted, almost as restricted as on the Vladdin RE, which I personally prefer on this type of device. If I want a direct lung vape, I have plenty of compact advanced mods and sub-om tanks I love, but for MTL, pod systems are so much more convenient, so I'm happy to see manufacturers showing us mouth-to-lung-vapers some love.
I enjoyed vaping on the OZ Slide, but I don't recommend hitting it too often, as it doesn't handle chain vaping that well. The flavor starts to get muted after more than three draws in rapid succession, a sign that the wicking isn't sucking up juice fast enough, so either take a break or use a thinner e-liquid. But if you use a higher-nicotine concentration and use as you would a cigarette, you're going to enjoy the OZ Slide.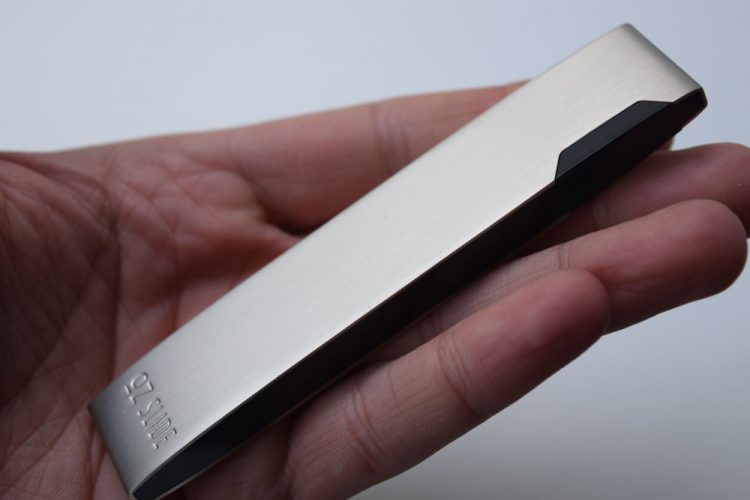 Conclusion
The OZ Slide is an interesting pod system. It has a very appealing design and high build quality, including a very solid stainless steel body, but when it comes to battery life it is shockingly disappointing, with that built-in 300mAh capacity that really has no place in this day in age. Luckily, the tight mouth-to-lung draw is the saving grace of this device, in my opinion, as there are not that many pod systems with MTL capabilities on the market right now. Still, that abysmal battery life prevents me from recommending this otherwise surprising pod system.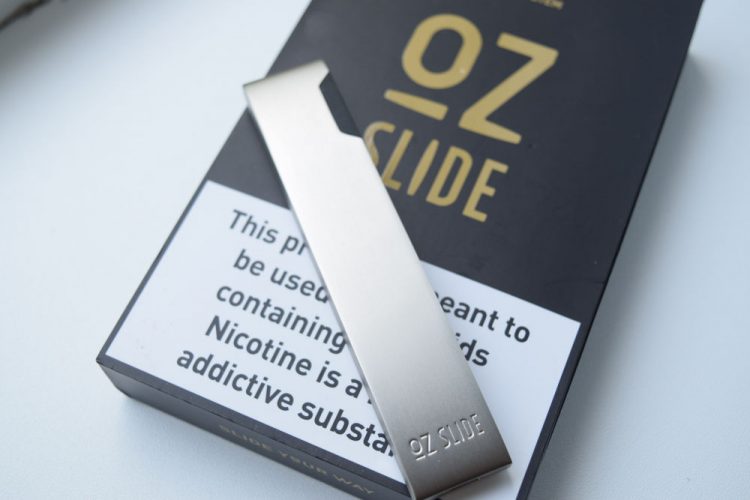 The OZ Slide was sent to me by Heaven Gifts for the purpose of this review. They currently have it in stock for $44.95