Smoant Battlestar Squonker Review
Squonk mods haven't really taken off the way I expected them to about a year ago, when the popular Vandy Vape Pulse and other affordable squonkers came out, but manufacturers still haven't given up on them, and some are even working on ways to make them more convenient to use. Case in point, Smoant, one of my personal favorite Chinese vape companies, which recently launched the Battlestar Squonker, a 200W regulated squonk mod with an innovative pump system that lets you feed juice into your atomizer with the press of a button, instead of having to squeeze an exposed silicone bottle. Let's check it out:
A Look at the Contents
The Smoant Battlestar Squonker comes in a nice black and yellow box with a picture of the squonk mod on the front, and a list of contents, technical specifications and information about the manufacturer, on the back. I don't really care much about packaging, but this one is particularly nice, so thumbs up to Smoant for presentation.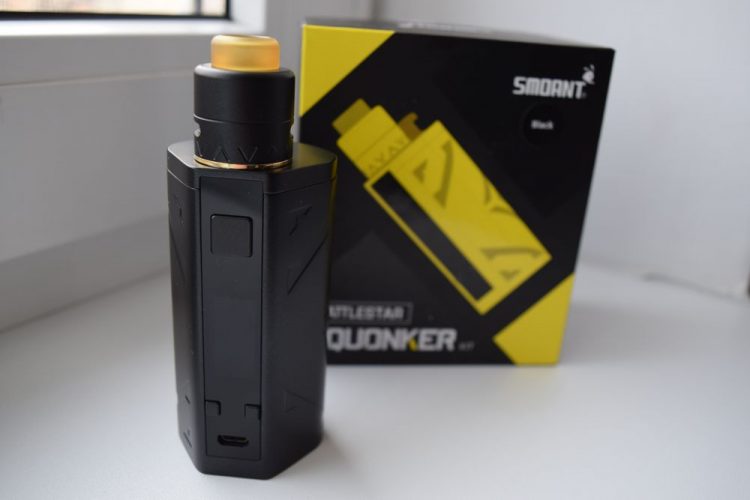 Inside the box we have the Battlestar Squonker mod, the Battlestar RDA, a user manual, and underneath the Styrofoam holder we have a second compartment containing a bunch of accessories. There's a user manual, a micro-USB cable for charging and firmware upgrades, a spare squonk bottle, and a bag full of accessories for the RDA (spare grub screws, o-rings, a solid 510 pin in case you want to use it with a regular vape mod, an Allen key, small screwdriver, a pair of pre-made Clapton coils and some Japanese cotton). Essentially, you get everything you need to start vaping, except the e-liquid. This is what I call a true starter kit.
Design and Build Quality
The Battlestar Squonker measures 87.5mm x 44.5mm x 20.5mm and is made primarily of zinc alloy. It comes in four different color configurations, black, yellow, gun metal and gradient blue. For this review I received the black version, which looks nice, but after seeing all four versions I would say that the yellow is the best looking one. It all depends on personal taste, though.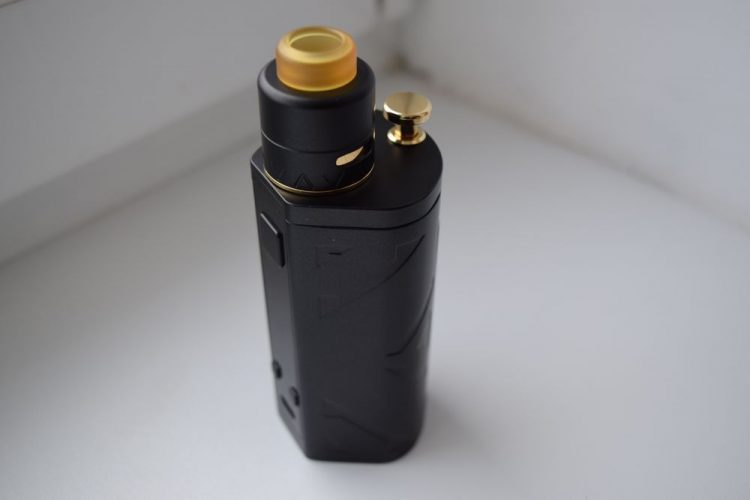 If you're thinking that the general design of this squonker seems familiar, it may be because it was inspired by the original Smoant Battlestar mod, which in turn was inspired by the now iconic Wismec Reuleaux shape. It's a chubby yet very ergonomic device that fits great in the hand and is really comfortable to use. Build quality is very good as well, which is something I've come to expect from Smoant after reviewing so many of their products. The mod feels really solid, there's no rattling whatsoever, and even the paint finish seems to be holding up well after three weeks of use.
Starting from the top, we have a 510 connection with a hollow, gold-plated pin that doesn't appear to be spring-loaded. The connection features a stainless steel plate to prevent you from damaging the paint on the mod by screwing on your atomizer too tightly. You will also see a small o-ring embeded in that protective plate, which is designed to keep juice from spilling in or out of the 510 connection in case of leaks.  The 510 connection is not centered on this mod, for reasons we'll cover in the next paragraph, but you can definitely use atomizer up to 26mm in diameter without any overhang.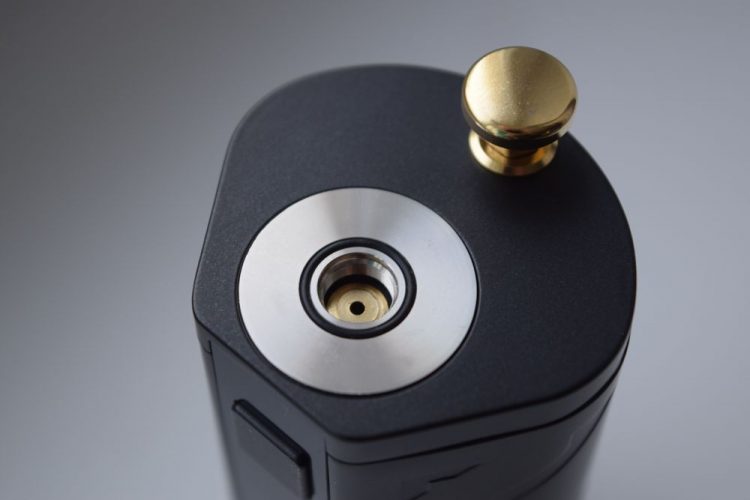 The 510 connection isn't centered on the Smoant Battlestar Squonker is because that wouldn't have left any space for the main element that makes this device so special – the pump button. Unlike regular squonk mods, the Battlestar Squonker uses a built-in pump system that allows you to feed e-liquid to the atomizer by pressing a golden button right next to the 510 connection. I know there are a handful of mods that use similar systems, but this is the first one I've tried, so I was really curious to see how it works.
But first, let's talk aesthetics. The pump button does stick out quite a bit, and I'm sure many people will describe it as an eyesore. Truth be told, a golden knob right on top of the mod, is not the coolest I've ever seen on a vape mod. It's easy to press and makes squonking more convenient, but I can't say I like how it looks. Maybe Smoant could come up with a way to make it less conspicuous, if they ever produce a second version of this device, maybe by making the mod a bit taller and having the button be flush with the top of the mod. Or they could just make the button shorter, so it doesn't stick out as much.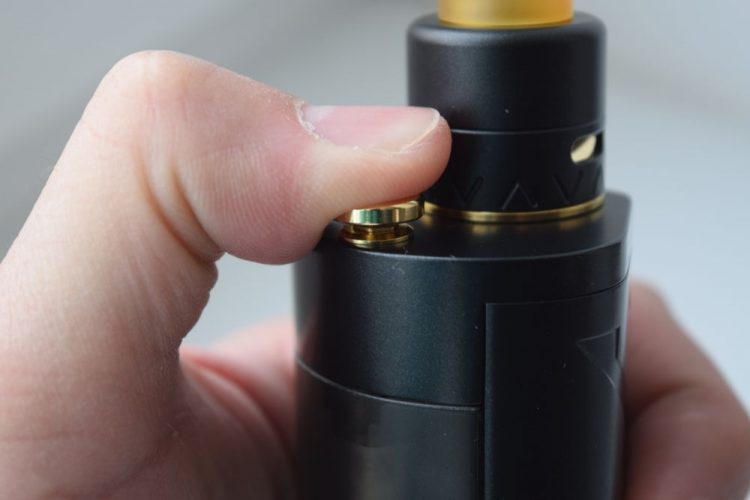 Moving on with the presentation of the Smoant Battlestar Squonker, on one side of the mod we have the control panel, which consists of a square, metallic fire button near the top, and two smaller adjustment buttons at the bottom, separated by a rectangular 0.96-inch OLED display. Opposite the control panel is where you can find the proprietary squonk bottle, which is made of a type of hard plastic, so it cannot be squeezed. More on this bottle below. Finally, on the bottom there is a hinged, sliding door that gives you access to the battery compartment, as well as the squonk bottle, for filling.
The Battlestar Squonker comes with two ultra-thin squonk bottles which hold up to 7ml of e-liquid and are designed specifically for this device. That means you won't be able to use your favorite squonk bottles with this mod, or use the two included bottles in this kit with any other device. The bottles slide onto the back of the mod and are kept in place by the large battery door, which closes over them. That means that in order to remove or refill the squonk bottle, you will have to pop open the battery door, which can be somewhat inconvenient.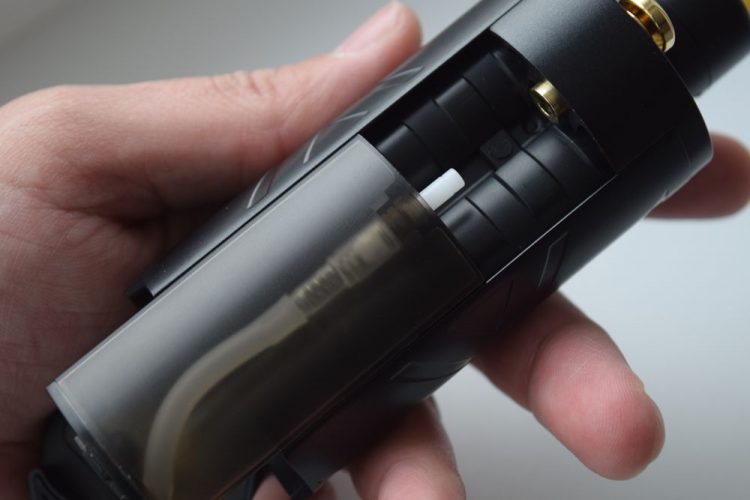 The fill port is located on the bottom of the squonk bottles and is covered by a removable rubber plug. You can fill it without removing it from the Battlestar Squonker, but even so, because you have to open the battery compartment to access the squonk bottle, there is a risk of the batteries accidentally sliding out, or of juice spilling into the battery compartment, if you happen to overfill. To make sure you don't drop the batteries, you can first remove your RDA and then hold the squonk mod upside down when you're filling the bottle, but that doesn't really fit the theme of this device, which is supposed to be all about convenience.
Another minor con I've identified while using the Battlestar Squonker concerns cleaning. With regular squonk bottles, all you have to do is take them out of the mod, unscrew the top cap and then clean them thoroughly. The relatively large mouth of the bottle even allows you to get a paper napkin in there to soak up all the left-over bottle, but that's just not possible with Smoant's proprietary ultra thin bottle. Yes, you can fill it up with water several times to make sure it's clean, but drying it fast is going to be a problem. Most likely, you're going to have to give the water some time to evaporate, but luckily, the kit includes a spare.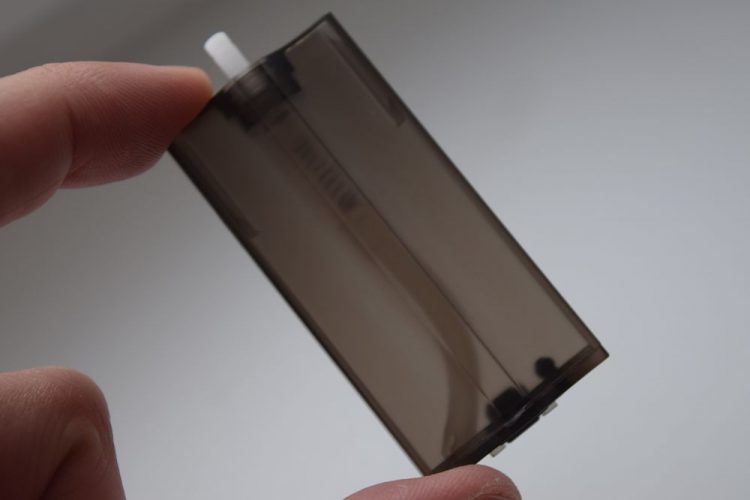 I'm glad to see manufacturers coming up with new squonking systems, but I think there's still room for improvement, at least as far as this device is concerned. Personally, I'd like to see a separate locking feature for the squonk bottle, so you wouldn't have to open the battery door every time you need to refill or change the bottle. The pump button works as intended, but isn't exactly visually-appealing, so Smoant could improve things in that regards to, but other than that, the mod is ergonomic and the build quality is excellent.
Menu System and Navigation
In the past couple of years Smoant has released some of the most impressive mods I've had the pleasure of reviewing, like the Smoant Cylon and Charon Mini, both of which have gorgeous color displays and complex menu systems. However, for the Battlestar Squonker, the Chinese manufacturer took a more simplistic approach, implementing a rather outdated black and white OLED display and a basic menu system. It makes sense, though, as these aren't the main draws of this device, the innovative pump system is, so the company decided to focus more on that.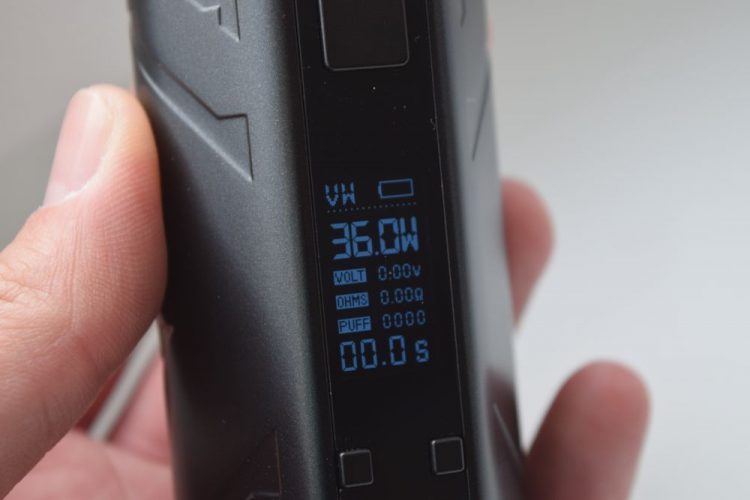 The display, while not impressive, is bright enough in normal lighting conditions, although it can be a bit hard to see in bright sunlight. The screen layout is well thought out, with a lot of information available on the home screen, including battery indicator, mode, wattage/temperature, voltage, atomizer resistance, puff counter and a puff timer.
To turn the mod on or off, just press the fire button five times in rapid succession, and to access the menu, press it three times rapidly. You'll see the mode icon in the top left corner, letting you know that you can use the '+' and '-' buttons to browse through the various available modes. There's wattage mode, voltage move, temperature control for three supported materials (nickel, titanium and stainless steel), a custom curves mode called DVW, and TCR. So, apart from Bypass Mode, you have pretty much all the important feature most users look for in an advanced regulated mod.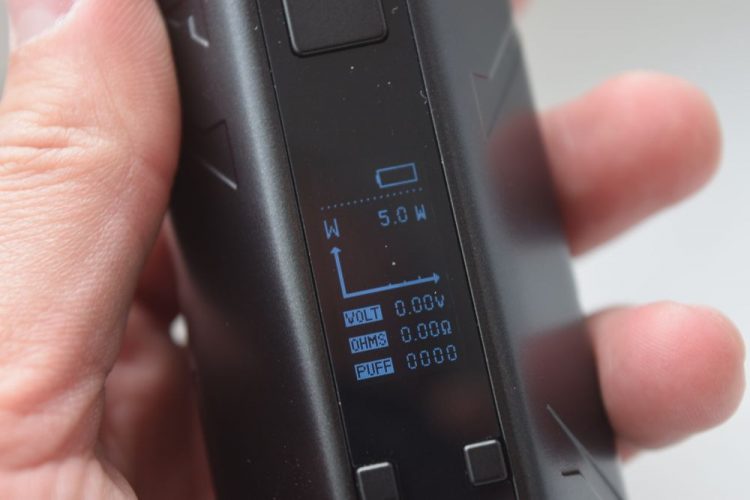 One thing I'd like to mention for fans of temperature control fans is that you have to press the fire button and the '+' button simultaneously to be able to adjust the wattage while in temp control. It goes up to 200W and if you press the '+' button again, it round-robins to an 'Auto' feature, which automatically sets an appropriate wattage for your build.
That's pretty much all there is to the menu of this device. It's a simple system, which should be easy to get used even for less experienced users.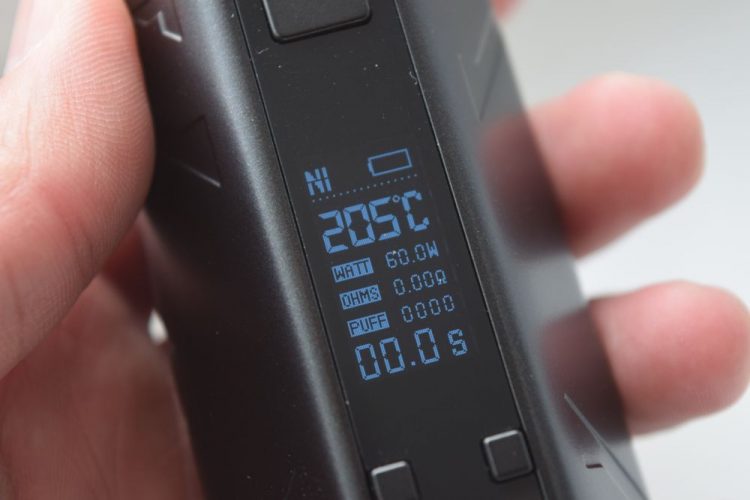 Battery and Performance
The Smoant Battlestar Squonker is powered by two 18650 batteries (not included in the kit). I've been using mine with a couple of Sony VTC5A, which I highly recommend especially if you plan on using this device at high wattage with very low resistance builds. Battery life will depend on a number of factors, like the capacity of the batteries, set power output and how much you're vaping it. With Smoant devices, you also have to keep in mind that this manufacturer is notorious for being a bit more conservative with battery discharge levels, which means you will likely get the 'low battery' warning sooner than with other brands, just because they like to play it safe. That's definitely not a con, as user safety is extremely important, it's just something you should be aware of.
The Battlestar Squonker features fast on-board charging (2A) and balanced charging, meaning it will first bring both batteries to the same level so that they charge evenly. However, I do recommend using an external battery charger, as that is the safest way to charge your batteries.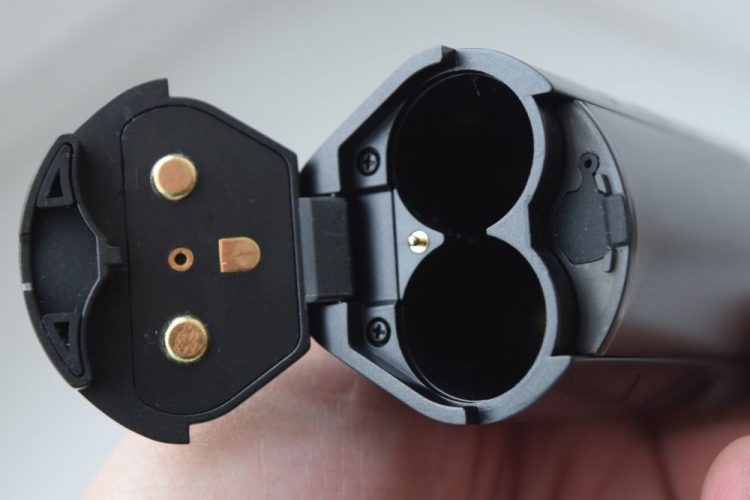 In terms of performance, I will focus mostly on the squonking part, as there's not much else to talk about. The mod works well, I haven't run into any problems with the buttons, software errors or anything like that, so I don't really have anything to report.
Smoant's pump system does a good job of feeding e-liquid to the RDA. Just press the button a few times and it will push the juice up from the squonk bottle. However, there's one important thing you have to keep in mind – this system doesn't have a 'suck back' feature. With regular squonkers, as the squonk bottle depresses after you've squeezed it, it sucks excess juice from the atomizer back into the bottle, so unless you really overdo it with the squeezing, you don't have to worry about overfilling. Here, the e-liquid doesn't get sucked back into the bottle. Once you've pressed that pump button and the juice comes out, it stays in the RDA, and if you press it too many times it will leak through the airflow slots.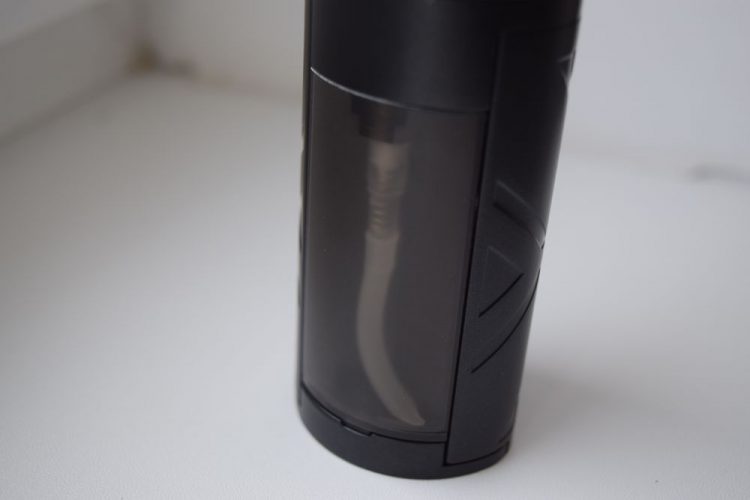 Basically, you need to get used to the pump and know when you need to stop pressing the button. It'll take a while, so I recommend taking the cap off the RDA at first, to see just how many pressed it takes to get the right amount of juice in the atomizer. Also, it would help if you used an RDA with higher airflow holes until you get the hang of the pump system, to minimize the risk of leaking.
Otherwise, the innovative pump works as intended and really is more convenient than conventional squonking. Instead of having to squeeze a silicone bottle, all you have to do is use your thumb to press that golden knob at the top of the mod a few times and your wick is saturated.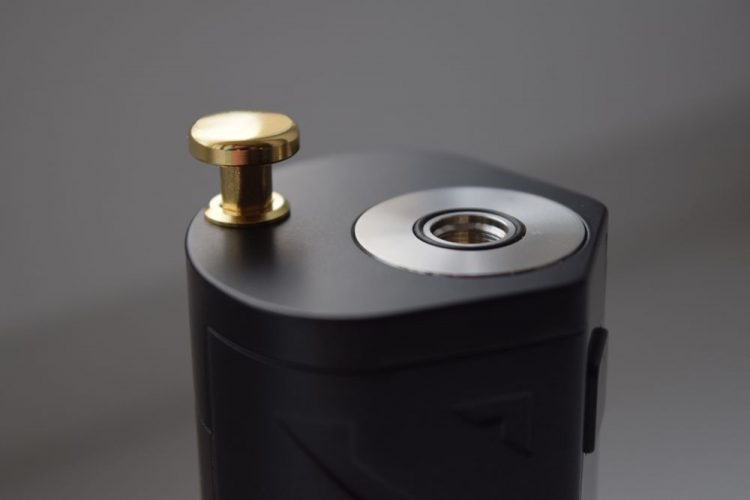 The Battlestar RDA
The Smoant Battlestar RDA that comes included in this kit is 26mm in diameter and features a basic two post deck designed for dual-coil builds. It's made of stainless steel and brass and has a resin 810 drip-tip.
To be perfectly honest, I didn't use this atomizer too much, because I found it way to airy for my liking, even when closing up the airflow almost completely. To adjust the airflow, all you have to do is rotate the top cap.
This really isn't the most impressive RDA available, and definitely not as innovative as the squonker it comes with, but it's decent. Plus, it comes with the kit, so I just consider it a bonus.
Conclusion
The Smoant Battlestar Squonker is a different kind of squonk mod, and most likely, a sign of things to come. It gets the job done, but like most innovations, it still needs a bit of work to reach its full potential. The tall pump button looks weird, like a smaller thinner RDA next to the actual atomizer, and having to open the battery door to access the proprietary squonk bottles isn't idea either. Those thin squonk bottles can be a pain to clean and dry as well, but none of these cons really impact the way this device functions. They're just things that can, and hopefully will, be improved in a future iteration.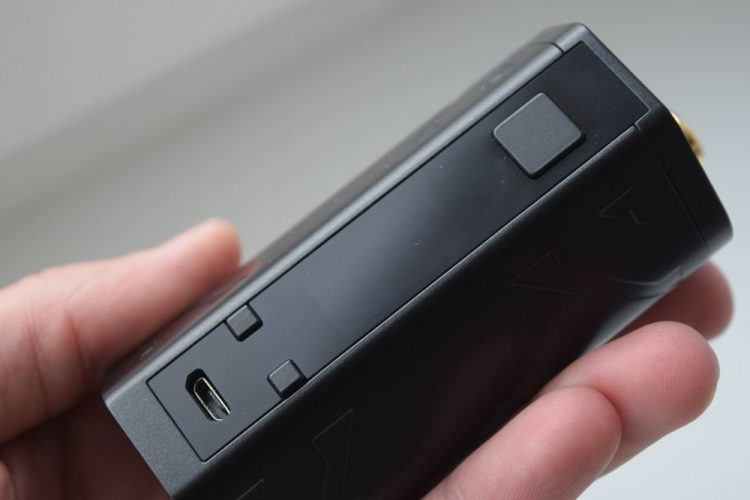 It might seem like I focused too much on the negatives in this reviews, but the truth is I really enjoyed using this device. I don't use squonkers regularly, but I can definitely appreciate the innovative ideas implemented in this mod. So if you're looking to try something new and don't mind its imperfections too much, I recommend giving the Smaont Battlestar Squonker a try.