Wismec Reuleaux Tinker Review
The Reuleaux Tinker is the newest addition to Wismec's now famous series of three-battery box mods. It has all the features we've comes to expect from modern advanced mods, as well as a new more ergonomic design, but what really sets it apart from other similar vaping devices is its look, which is sure to appeal to "sneaker heads", especially fans of the old Air Jordan 3.
I myself am not into sneakers at all, so I had to do some research after seeing the basketball player on the box of the Reuleaux Tinker. It turns out that the silver and black pattern used on this mod is the same as, or at least very similar to, the one on the Air Jordan 3 sneakers. Not only that, but the 'Tinker' name is apparently a tribute to Tinker Hatfield, the lead designer of several generations of Air Jordan shoes.
A Look at the Contents
The Wismec Reuleaux Tinker kit comes in a large rectangular packaging featuring a picture of the three-battery mod and the included Column mesh tank, as well as a graphic of a basketball player preparing for a slam dunk, the Reuleaux logo and the iconic Air Jordan 3 pattern on the front, and a list of contents, , company information, and an authenticity sticker on the back.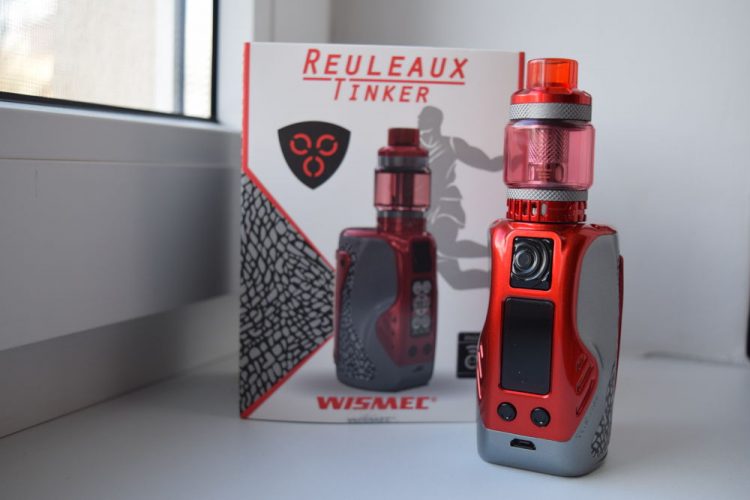 Inside, you'll find the Reuleaux Tinker and the Column tank packaged in separate branded boxes, which to me indicates that you can also buy these devices separately, if you're only interested in one of them.
Inside the Reuleaux Tinker box, we have the three-battery mod, a micro-USB cable for charging and a user manual, while the Column packaging contains Wismec's new mesh tank in the same color as the mod it comes with, a spare mesh coil-head and a box of spares (an extra bubble glass section and some silicone o-rings).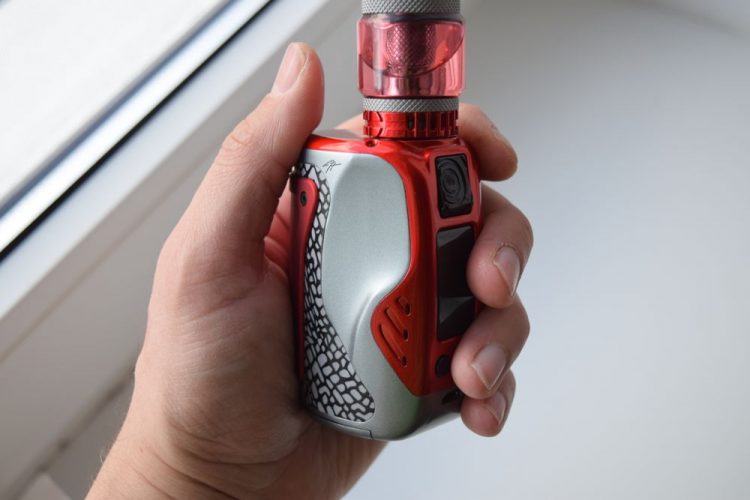 Design and Build Quality
The new Wismec Reuleaux Tinker measures 78mm x 56mm x 44mm and is made primarily out of zinc alloy. It currently comes in only three color combinations – white&grey, red&grey and blue&grey – all of which also feature the black&grey pattern that the Air Jordan 3 sneakers are known for.
This mod needs to accommodate three 18650 batteries, so it's not the most ergonomic vaping device money can buy, that's for sure. It's as stubby as Wismec's previous three-battery mod, the Reuleaux RX Gen3, but instead of bevelled edges, the Tinker has a more rounded general design, making it easier to hold in  the hand. As I said, it's still not the most comfortable vape mod, but as far as three-batteries devices go, this is definitely the most ergonomic I've ever used.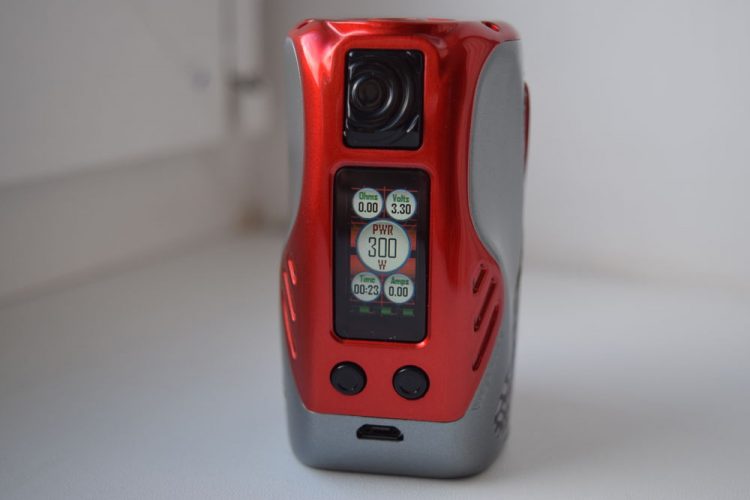 Starting at the top, we have a classic 510 connection featuring a spring-loaded, gold-plated 510 pin. It looks a lot more solid than the one on the Wismec Predator 228, for example, but it's not centered. I can see why Wismec decided to place the connection to the side of the mod, as the center area is right on top of the battery compartment and they would have otherwise had to make the mod taller to accommodate the connection, but this really isn't ideal either. The way the Tinker mod is designed, you can only get away with atomizers up to 25mm in diameter without any overhang. Anything over that, even a 26mm will overhang. Also, as you can see in the photos, the Column tank doesn't sit flush on the mod. There's a pretty big gap between them, and even though it prevents you from accidentally scratching the glossy paint when screwing on an atomizer, it doesn't look very good.
The control panel under the 510 connection consists of a trigger-like fire button which appears to have a texture similar to the sole of a sports shoe, a rectangular color display, two classic '+' and '-' buttons, and a micro-USB port near the bottom. The fire button feels nice and solid, and can be pressed on its entire surface, but the display really isn't very impressive. Yes it's colored, but it's rather small compared to other screens we've seen recently, like that of the Modefined Draco or even the Smoant Naboo. The resolution isn't that high either so some of the elements end up looking pixelated. It's still a colored display though, and it has a pretty nice layout, so I can't complain too much.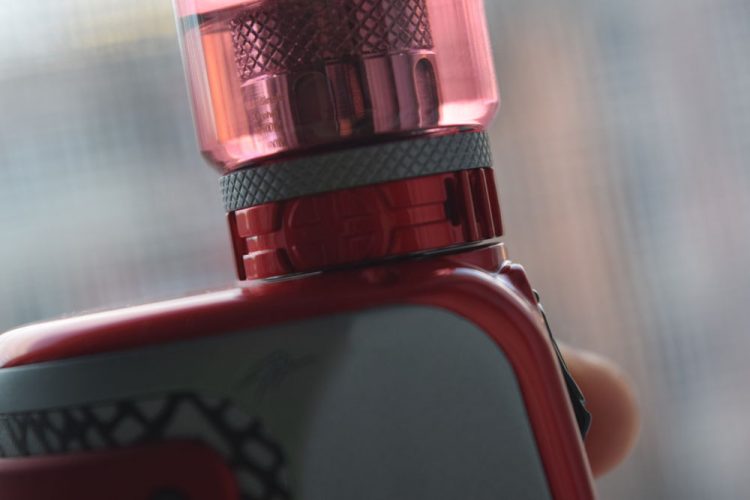 Opposite the control panel, we have a decorative rubberized metal plate that also improves your grip of the device, and on the sides, we have some battery venting slots and that iconic Air Jordan 3 pattern on what feels like a soft, almost leather-like material. As I said, I'm not a big sneaker fan, so this pattern doesn't really seem all that great to me, but if you're a sneaker collector, or at least grew up with the Air Jordan 3s, this may mean more to you.
Finally, on the bottom of the Reuleaux Tinker we have a massive hinged battery door, that slides out and flips upwards revealing the three battery bays. To use this device, you'll need to first loaded up with three 18650 batteries. The battery compartment is kind of cramped and the batteries will touch each other, so make sure the wrapper on them is intact to avoid short-circuits. The battery bays all have clear polarity indicators both on the bottom and on the inside of the battery door, so you basically have to be blind or not paying attention to insert the batteries wrong.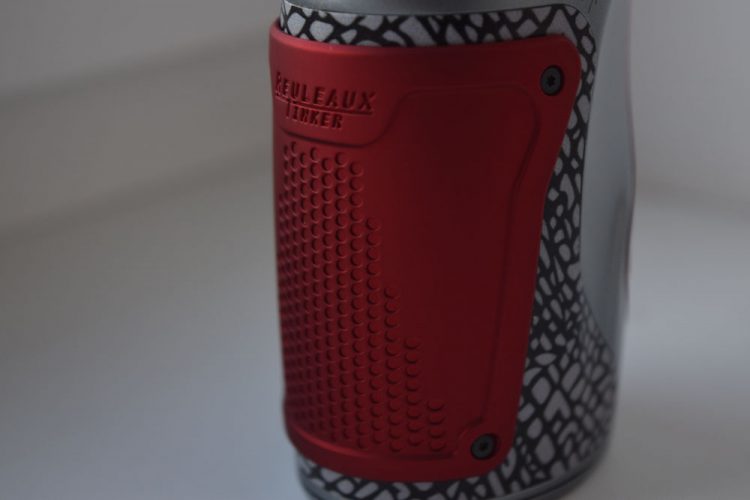 Overall, the Wismec Reuleaux Tinker feels like a very solid device. Yes, it's bulky and heavy as well, but that's just the nature of the beast. In terms of build quality, this thing feels high-end. There's not rattling whatsoever, the paint job and detailing are flawless, and apart from some minor design flaws, there's really nothing to complain about.
Menu System and Navigation
The Wismec Reuleaux has a classic menu and navigation system, so as long as you've used another advanced vape mod before, you should have no problems getting used to it.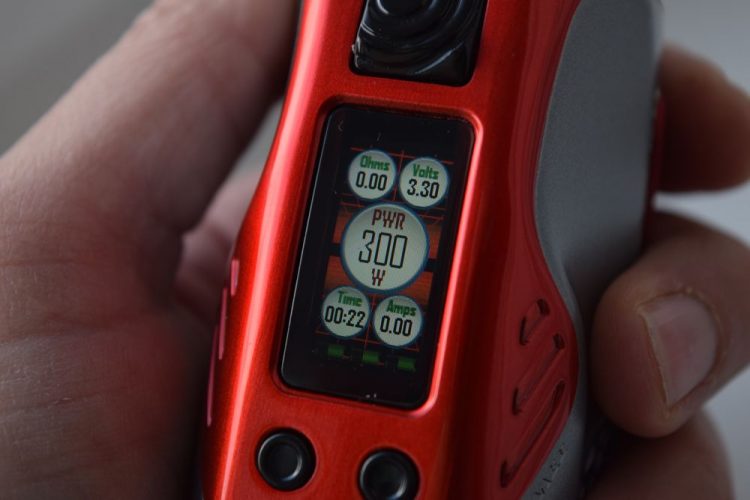 The mod turns on automatically after you've inserted the three 18650 batteries and closed the battery door, and to turn it off and on again, all you have to do is press the fire button five times in rapid succession. You can then use the '+' and '-' buttons to adjust the wattage, so you can definitely use this device without even going into the menu.
However, if you want to take advantage of all the features built into the Reuleaux Tinker, just press the fire button three times rapidly to access the menu. There, you'll find three submenus – Mode, Set, Info – and a 'back' option that will take you to the home screen.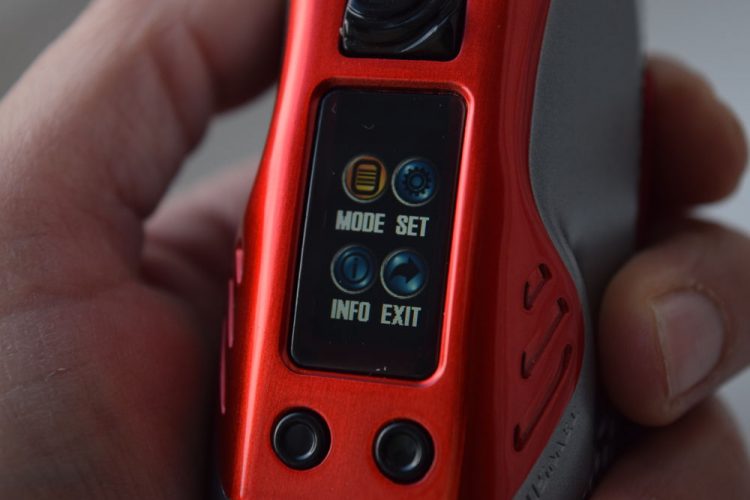 In mode, you can choose between Power (wattage), TC (temperature control), TCR and RTC. That last one isn't really a mode, but a layout for the home screen, which will replace the wattage/temperature with a clock. You can choose between a digital or an analog clock.
In Set (short for settings) you can lock the resistance of your coil (important for TC mode), set the wattage for TC mode, activate Stealth mode (turn off the display), select what subparameter to display on the home screen (puff counter, puff timer or amperage), set the clock, set the duration and intensity of the preheat, and finally, set the timeout of the display.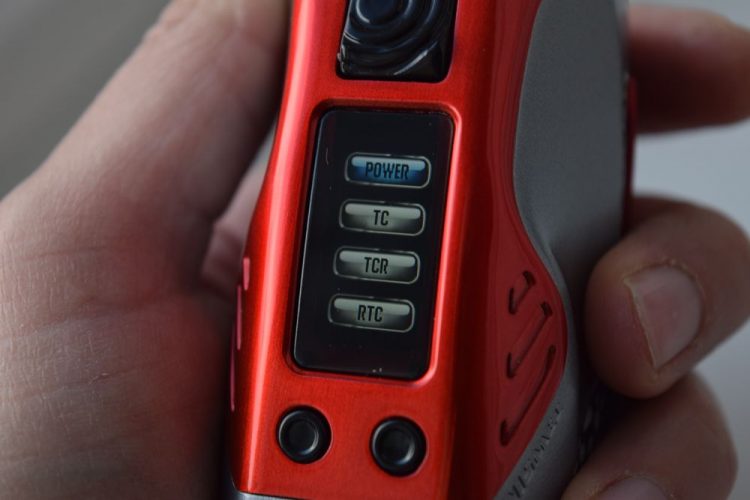 In Info, you can check the voltage of the three batteries, as well as the versions of the hardware and firmware.
That's about all there is to talk about here. It's a very simple menu with an even simpler navigation system, although I will say that I wish it had a custom curves mode as well. But, who knows, maybe Wismec will add that option in a future firmware update.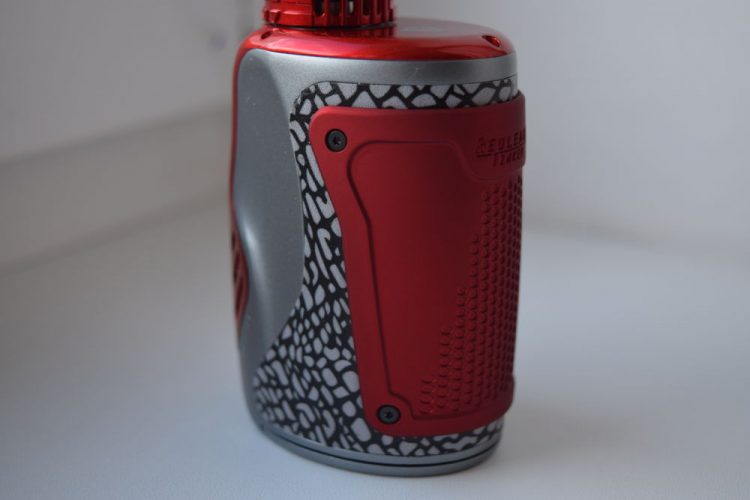 Battery Life and Performance
Obviously, battery life is one of, if not the greatest strength of the Reuleaux Tinker. It is a three-battery mod after all, so you can definitely expect it to last you at least an entire day. I personally get around a day and a half, on average, using three Sony VTC5A batteries, vaping at around 85W. However, your experience may vary depending on what capacity batteries you are using, set power output and how much you vape. One thing is for sure, though – you can expect the Reuleaux Tinker to last more than any dual-18650 device, or dual 21700 battery mod, for that mater.
Performance-wise, the Tinker is a beast! This thing has an official max. output of 300W, which is kind of insane. Does it really do 300W? Maybe, in certain conditions, but I for one don't really care about that. The most I vape at is 100W, and that's only rarely, so anything over 100W doesn't really matter. But, if you're into cloud-chasing or just enjoy a smouldering-hot vape, this thing will give you what you need.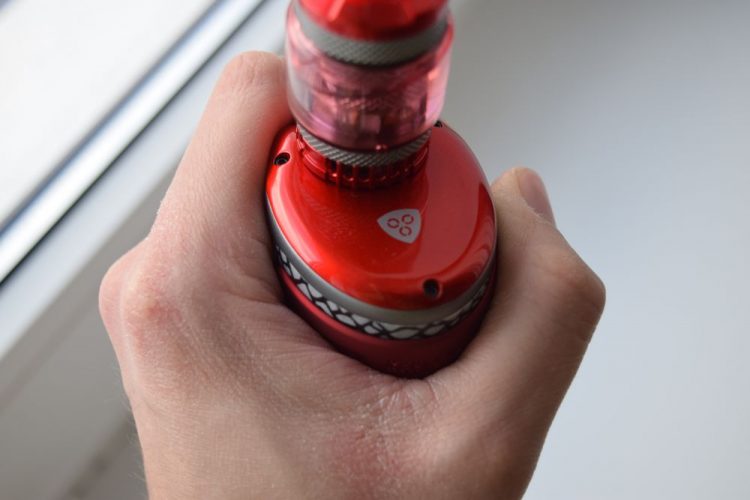 I've used the Reuleaux Tinker in wattage mode only, as I don't enjoy temperature control, so I can't really comment on that, but as far as pure power goes, it's pretty darn impressive. I don't know exactly what chip Wismec used for this mod, but what I can tell you is that it fires up the battery almost instantly. The power ramp up is crazy fast as well; you can hear the coil sizzling inside the tank the moment you hit that fire button, and if the innate ramp-up just isn't good enough for you, you can always set the preheat to whatever intensity and duration you like.
In the 10 days I've been using the Reuleaux Tinker for I've encountered no major issues, but I did notice  a few of minor problems. First, the mod appears to be reading resistances a little bit off. For example, the coil-heads  for the Column tank are rated at 0.15Ω, but the Tinker seems to think they are both  0.17Ω. However, after screwing the tank onto the Druga Foxy and the VooPoo Vmate, it turned out that they were in fact 0.15Ω  coil-heads. So the Tinker appears to be a bit confused, although I will say that an 0.02Ω difference really isn't that big of a deal.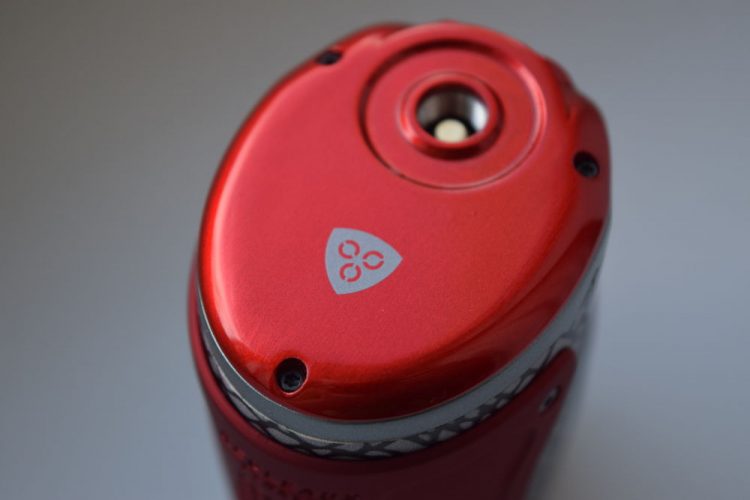 The second issue I noticed, and this isn't so much of a fault as it is an oversight by Wismec, is the 300W default power in temperature control. So the first time you go into that mode, it automatically sets the power to 300W, which doesn't make any sense. Why not set it to a more reasonable level instead of the max power output?
Lastly, increasing and decreasing the wattage/temperature on the Reuleaux Tinker is really slow, and it's made even worse by the fact that it doesn't round-robin. It takes about 30 seconds to go from 1W to 300W, and you then have to spend another 30 seconds lowering the power, because it won't automatically jump back to the lowest power setting once you reach 300W.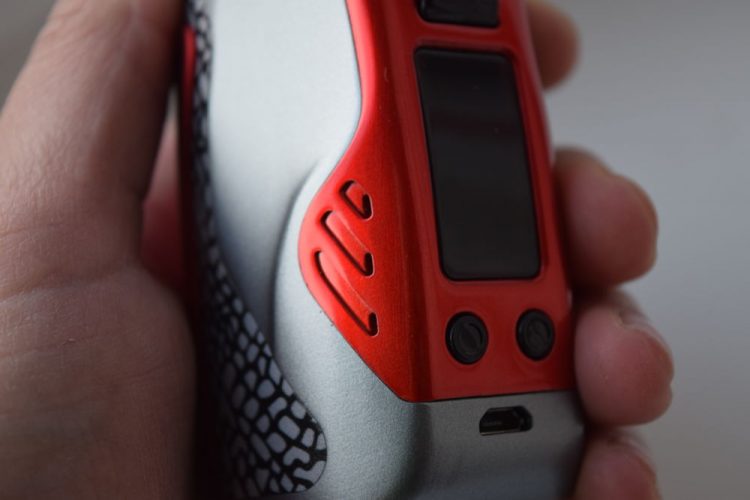 The Tank
The Column tank is a 25mm sub-ohm mesh tank that holds up to 6.5ml of e-liquid. Wismec advertises it as a 28mm tank, which is technically correct, but only if you measure it around the bubble glass section. At the base, this is a 25mm atomizer.
This tank really isn't all that special. There's nothing wrong with it, but it doesn't bring anything new to the table either. It's just a run-of-the-mill sub-ohm tank featuring single mesh coils. I would say it's average in terms of both flavor and vapor production, which is exactly what you should expect from a tank bundled up in a kit like this.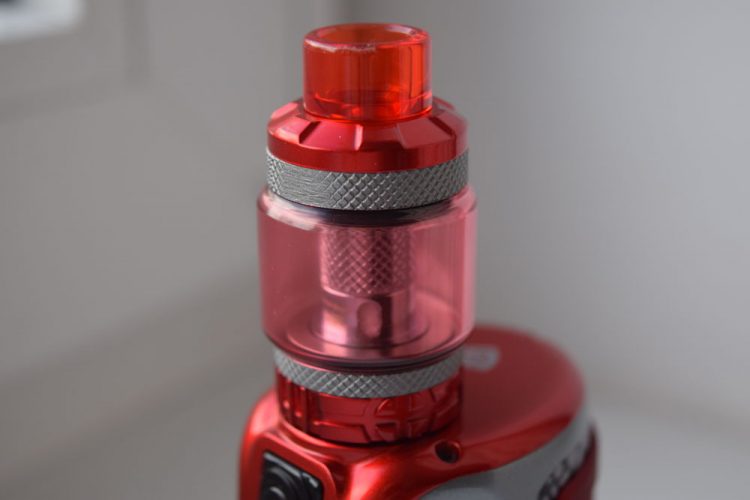 The Column features top filling, but keep in mind that it uses one of those push-to-slide types of top-caps, and you'll have to remove the translucent 810 drip tip in order to access the fill port. That's a bit weird, to be honest, as I've seen this type of top cap on several other tanks in the past, like the Advken Manta RTA or the FreeMax Mesh Pro, but none of them required me to take off the drip tip just to fill them.
The two bottom airflow slots are massive and have stoppers on both sides. Vaping with both slots wide open makes the tank very noisy and the vape way too airy for my taste. Even halfway closed, the slots allow too much air to get in, so I found that at my sweet spot of 85W, keeping the air slots just a quarter open is ideal.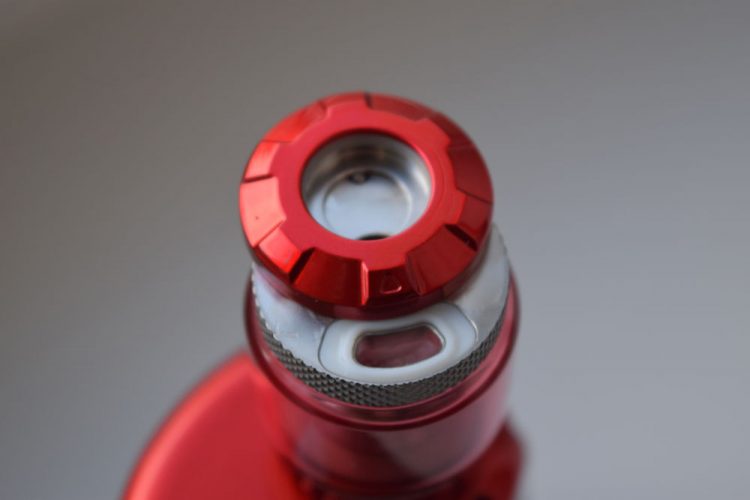 The two coil-heads that come with this tank feature single mesh coils which do a decent job of bringing out the flavor of the e-liquid. They don't come close to the triple mesh coils of the FreeMax Mesh Pro, but compared to regular wire coils, they are really good. Vapor production depends on what power output you have set on your mod, but at 85W, you can blow some sick clouds.
Conlclusion
The Wismec Reuleaux Tinker isn't the kind of mod I'd take with me everywhere. It might be more ergonomic than the company's previous three-battery devices, but it's still bulkier and heavier than most of the mods I've used. That said, it's nice to have a round the house, if only for the kind of battery life you get out of it. Not having to worry about recharging the batteries for a day and a half or two is great, plus the performance is not too shabby either.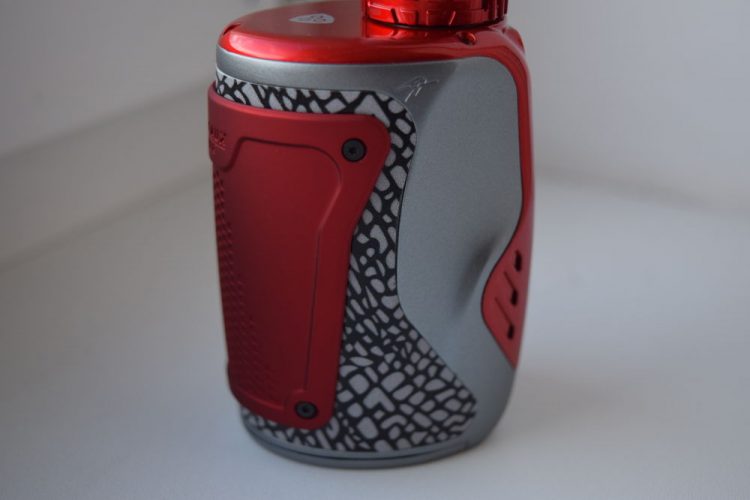 I'm not going to comment on the design of the Reuleaux Tinker or what inspired it, as it doesn't really interest me, but as far as the quality of the mod itself and its performance, the new Tinker is a worthy addition to the now-famous Reuleaux series.
This Reuleaux Tinker kit was sent to me directly from Wismec, for the purpose of this review.