Smoant Vikii Pod Review
After launching the Ladon advanced box mod and the new Pasito 2 pod mod, Smoant is going back to basics with a rudimentary pod system called the Vikii. It's a 10W output device with a simple plastic body and refillable pods that's designed to be simple to use and reproduce the tight draw that smokers and ex-smokers crave. Let's have a look:
Smoant Vikii Packaging and Presentation
The new Smoant Vikii vape pod comes in a very small and flimsy cardboard box with a transparent plastic window to the device inside. On the back, we have a list on contents, some contact information and a scratch and check authenticity sticker.
Inside the box, we have a little plastic tray for the Vikii and the included micro-USB charger, and underneath that we have the user manual and quality control card. That's about all there is to talk about here, and that's a shame, because I would have really liked to see a second pod included. One just doesn't cut it, especially with a product aimed at beginners, as it's very easy to dry-burn a pod if you don't know what you are doing.
Smoant Vikii Design and Build Quality
In terms of form factor, the Vikii is your classic pod system, featuring an oval shape with a flattened mouthpiece on the tinted removable pod and a tine LED indicator. It's very similar to many other vape pods we've reviewed in the past, like the Vaporesso Osmall, Vladdin Rio or Renova Zero.
The Vikii weighs only 24.5 grams, which is extremely light, even for a compact vape pod. Smoant managed to achieve this negligible weight by using a PCTG (basically plastic) body, which could be a problem for some people. It does feel a bit cheap in the hand, compared to other pod systems, but at least it really is cheap to, selling for around $14 at the time of this writing.
Design-wise, there really isn't that much to say about this thing, there are some aesthetic patterns going on both sides, which also improve grip, there is a tiny Smoant logo sticker near the bottom, and a tiny LED battery indicator, but other than that, this is a very simplistic device.
The pods a tinted and hold up to 2ml of e-liquid. To refill the pods, you have to unplug a fill port on the side and make sure you don't spill any juice, because the tinting on the pods is a bit too much and it can be hard to see the e-liquid level inside.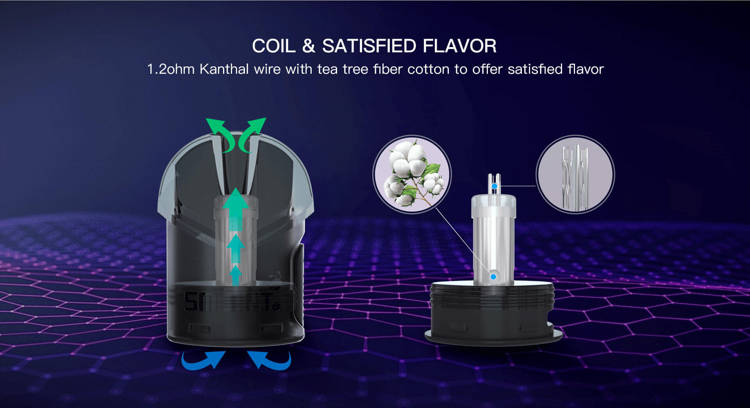 The coil inside the pod is a 1.2Ω small mesh-coil made of kanthal and designed for MTL (mouth-to-lung). The pods attach to the battery body via a pair of large magnets and stay firmly in place, even when shaking the device.
Smoant Vikii Battery Life
Measuring just 86.6mm x 26mm x 15.5mm, the Vikii is a compact pod system, so you really shouldn't be expecting an impressive battery capacity. The built-in battery is only 370mAh, which doesn't sound too good, especially when compared with the battery capacity of modern pod systems, but this is a rudimentary vaping device. The Vaporesso Osmall, which was about the same size, had a 350mAh battery capacity, so that's about all the battery you can squeeze into these very small devices.
The Vikii doesn't have USB-C charging, and frankly it doesn't need it. The good ol' micro-USB port works just fine, and you can recharge you vape pod in about half an hour.
How Does the Smoant Vikii Vape?
Smaont's newest pod system is a very simplistic device, aimed both at smokers looking for an accessible alternative, as well as at casual vapers. But even for a rudimentary vape pod, it works perfectly fine, especially if you like an airy mouth-to-lung draw, or a very tight direct lung draw. Unfortunately, the Vikii doesn't have adjustable airflow control, so you can't adjust the draw to suit your personal taste.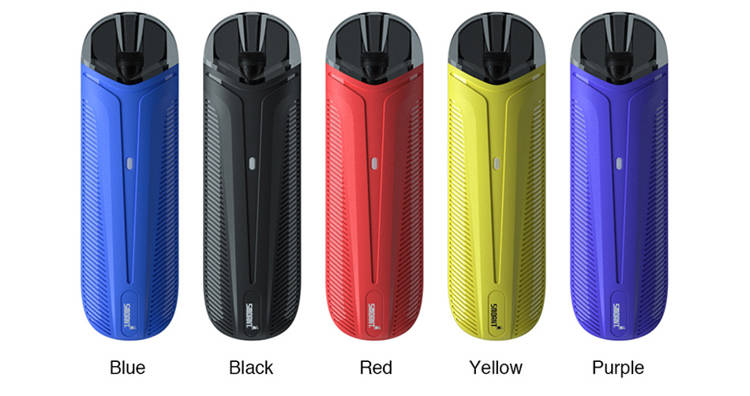 Personally, I would have preferred the draw to be even a bit tighter than it is, but other than that, I can't really fault the Vikii. It works as advertised, it produces a nice, warm vapor, especially when the battery is at least 50 percent charged, and the flavor is actually really nice for a pod.
Smoant claims to be using tree fiber cotton wicking for the built-in coil-head inside the pods; I don't know for sure if that has any impact on the flavor, but the Vikii really does do a great job of bringing out the e-liquid's flavor.
Conclusion
The Smoant Vikii isn't the world's most advanced vape pod; in fact it's probably the opposite of that, and that's a good thing. We don't all need the newest and coolest features, some of us just want a simple things that does what we want out of the box, and that's where this product shines. It's a small, light and easy to use vape pod that works fairly well. At a price point of under $15, you can't really ask for much more than that.
The Smoant Vikii was sent to me directly by Smoant, for the purpose of this review.
Pros
compact
lightweight
extremely cheap
good MTL performance
Cons
can feel cheap
low battery capacity
no airflow control