SMOK R80 TC Micro One Review
After a very successful 2015, which saw the release of popular devices like the X Cube 2 and X Cube Mini mods and the TFV4 sub-ohm tank, Chinese manufacturer SMOK seems determined not to rest on its laurels, but instead keep the momentum going with even more impressive products. Their latest offering, the R80 TC Micro One starter kit, is a complete package designed to make advanced vaping accessible to even the most inexperienced users.
The R80 TC Micro One comes in the usual black cardboard box with the SMOK logo on top, and includes a powerful 80 W temperature control mod, the micro version of the tried-and-true TFV4 tank, a couple of coil heads, a USB cable that can be used for charging and updating the device, a replacement XL glass tube for the tank, an extension adapter, a SMOK vape band, user manual and a bunch of spare parts. This is definitely one of the most generous starter kits I have ever reviewed, but this is something I've come to expect from SMOK. The Chinese company has been upping its game with each new release, and judging by the positive feedback from the vaping community, they are reaping their just rewards.
With other advanced mods, like the X Cube 2 or Koopor Plus, you not only need to buy and charge batteries separately, but you need to have a tank or RBA in order to start vaping. With the R80 starter kit, all you need is some e-liquid and you're good to go. This is just like the eGo-style starter kits of old that we all transitioned to from cigalikes, only infinitely more powerful. Frankly, apart from the Vaporesso Target 75 VTC, I can't think of a simpler, more streamlined way to experience stellar vaping performance.
If you think the R80 looks very familiar – I know I did – that's because its designed is very similar to the SMOK M80, a previous generation device from the same manufacturer. They made a few minor changes on the new unit, but they still look very similar. The way I see it, the R80 is a refined, updated version of the M80 with a temperature control feature that actually works the way it's supposed to.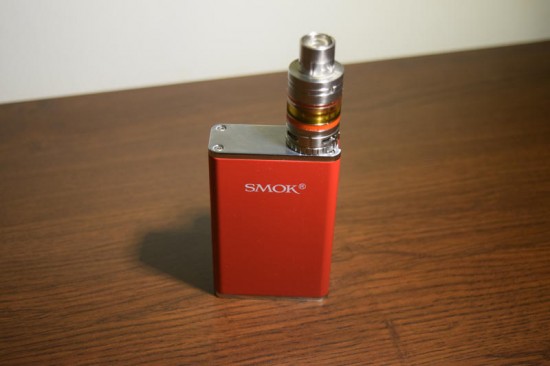 At 85 x 55 x 22 mm, the SMOK R80 is considerably smaller than the gigantic X Cube 2, but similar in size to the X Cube Mini. It's a little bit shorter, but wider than its not-so-distant cousin and feels just as sturdy in your hand, despite the softer rubberized paint finish. It's just the right size, if you ask me, making it easy to carry both in hand or in an average-size pocket.
On the top and bottom of the device we have some nice stainless steel plates that go very well with the stainless steel micro TFV4, and on one of the sides we have the exact same buttons of the old M80 – a large fire button and two '+' and '-' buttons, as well as a small OLED display and a 'Reset' button. On the bottom, we have some vent holes and a micro-USB port that can be used both for charging the 4000 mAh internal battery and to update the device.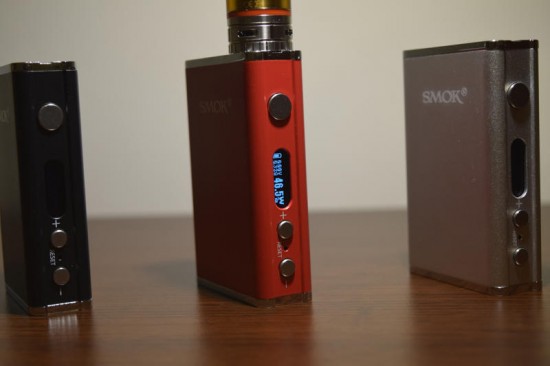 The internal battery is actually one of the most useful features of the R80 mod, especially for beginners. You no longer need to buy look for and purchase external high-drain batteries separately, as the mod comes with a pretty big one built in. Charging is also easier, since it doesn't require an external charger, and from my experience, it's considerably faster. The unit I used most during the two week testing period leading to this review went from completely empty to fully charged in about one hour, which is about six hours less than it takes me to recharge my LG HG2 INR 3000 mAh batteries on a Nitecore D4 charger. Yes, those have a higher mAh rating, but still, the time difference is ridiculous.
Battery life varies according to wattage settings and how much you vape, but I reckon it should last the average vaper at least a day. And even if it doesn't, an hour of charging really isn't long at all.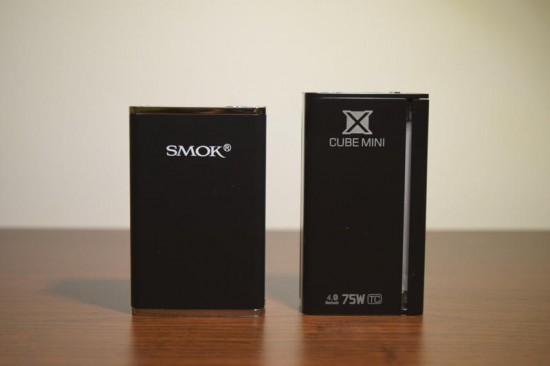 There are a few things SMOK could have done better, like take button rattling seriously, as a lot of users find that very annoying, and add a slightly larger display, but all in all, the R80 is a great looking device with a quality feel. To be honest, of the four R80 units I received for this review, three of them had rattling buttons, while the fourth made no annoying sounds, but these are all samples, so maybe the Chinese company will pay more attention to this problem on the units they ship to retailers. And as for the OLED display, I have to mention that while it resembles the ones on the Koopor Mini and Koopor Plus, it is considerably brighter, so they are making improvements.
I'm not going to get into too much detail about the menu and button combinations of the R80 as these are the same or very similar to other SMOK mods, such as the X Cube Mini or Koopor Plus. They do take a bit of getting used to if you haven't used SMOK products before, but otherwise they should look very familiar. If you're looking for more in depth information on this particular topic, check out any of my previous SMOK reviews and you'll probably find what you're looking for.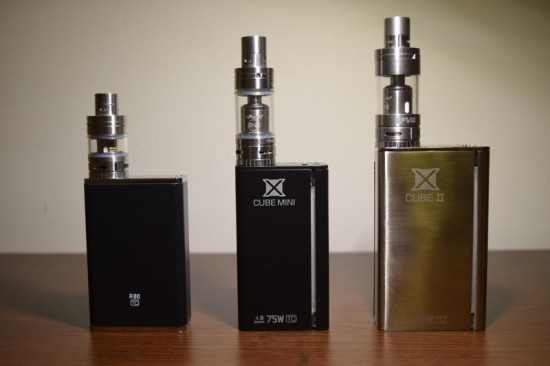 Suffice it to say that the SMOK R80 comes with most of the features the Chinese company has built into its other recently released advanced devices. You have the various vaping modes, ranging from 'Min' to 'Max', which allow you to customize your vaping experience, coil type selection, coil resistance lock, temperature coefficient resistance settings, as well as various other goodies. The menu is feature rich for sure, but the great part is that you don't need to mess with all the settings if you don't want to. You can just screw on the tank, set the right wattage or temperature and you're good to go.
While the R80 may not be SMOK's most powerful mod to date, it packs enough of a punch to satisfy all but the most extreme cloud-chasers. It has a maximum wattage output of 80 watts, while in temperature mode it can be set between 200°F-600°F/100°C-315°C. Supported coil resistances range from 0.01-3.0 ohms in wattage mode and 0.06-3.0 ohms in temperature mode.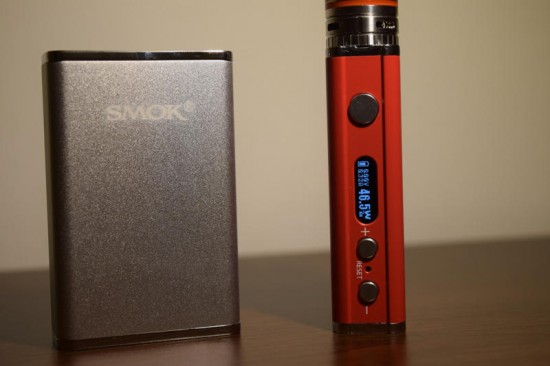 I've never really been a big fan of temperature control, to be honest, though I recognize that that appear to be the way vaping is going these days. But if you're into TC, you'll be glad to hear that the SMOK R80 supports nickel titanium and stainless steel coils, with the option to add support for any other materials in the future, via the upgrade port on the bottom.
As I mentioned before, unlike the old M80, the SMOK R80 actually works very well in temperature control mode. All the right coefficients for the various supported materials are preset, but you have the option to alter those settings should you be using different material grades.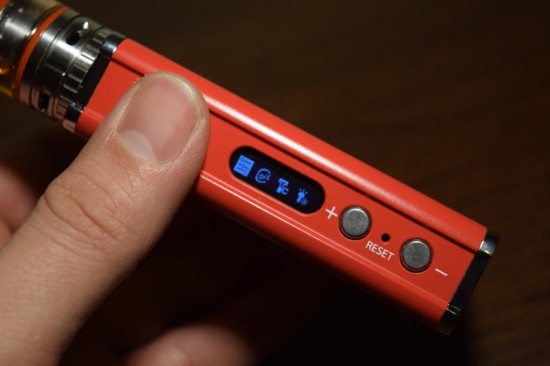 Lastly, the thing I really liked about this mod, compared to other SMOK devices I reviewed in the past was that there was no firing delay. The X Cube Mini had a horrendous delay that had to be fixed through a firmware update, but the R80 fires almost instantly right out of the box. SMOK appears to be learning from its previous mistakes, and that's a big plus in my book.
The R80 TC mod is an important of the SMOK Micro One starter kit, but the other essential component is not too shabby either. The tank included in this package may be a micro version of the TFV4 sub-ohm tank, but it performs almost as well as it big brother.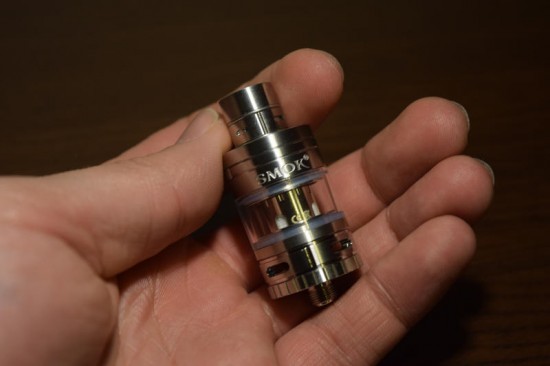 But first let's talk a bit about the size and design of this little beast. At just 22 mm in diameter/ 51 mm in length and weighing 69 g, the micro TFV4 is considerably smaller than SMOK's original TFV4 tank (24.5mm x 73.5 mm, 92 g) and even the TFV4 Mini (22 mm x 73.5 mm, 85 g). The coils for the micro version are also significantly smaller, as you can see in the photos, but I can tell you that that has very little impact on performance.
Design-wise, the micro TFV4 is just a slightly more compact version of the TFV4 Mini tank. It has the same four adjustable airflow holes on the base, the exact same top filling system that I fell in love with on the original TFV4, and the proprietary double-layered airflow control drip tip. It's basically a radically scaled-down version of the SMOK TFV4 tank with a barely noticeable compromise on performance.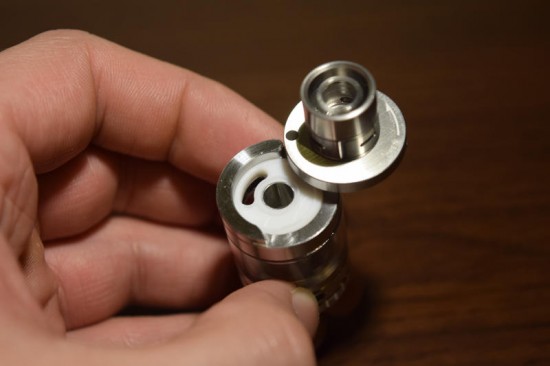 Out of the box, the micro TFV4 can hold a maximum of 2.5 ml of e-liquid, which may be ok for most other tanks, but not for a thirsty monster like this. Unfortunately, the micro TFV4 tank shares the appetite for juice of its two bigger brothers. While the juice doesn't vaporize as fast with these smaller size coil heads, the level still drops unusually fast after just a few hits, especially at over 60 watts. The original TFV4 can hold 5 ml of e-liquid, while the Mini has a capacity of 3.5 ml. The 2.5 ml of the micro is really pushing it. Luckily SMOK has us covered.
For those vapers who find the TFV4 and TFV4 Mini too big – and there are a quite a few – the 2.5 ml micro version may be just the right size, but if you're willing to deal with a bigger tank for an extra milliliter of e-liquid, you can use the tank extension adapter included in the Micro One kit. All you have to do is take the tank apart, swap the stock glass tube with the XL replacement (also included in the kit) and attach the extension to the top part of the tank before putting it all back together. Now you basically have a TFV4 Mini, which is awesome.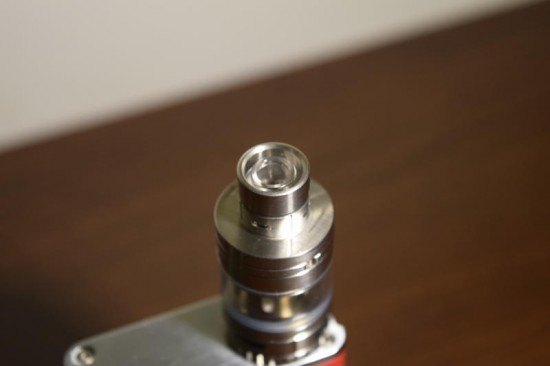 Refilling this bad boy is quick and easy thanks to the innovative top-filling system. Just push the top of the tank to the left to loosen the hinge and reveal the large silicone gasket sealing up the e-liquid. Then take a dropper or a syringe and add juice through the large hole in the gasket (not the air duct in the center!). Then slide back the top of the tank until it snaps into place and you're done.
You'll have a tough time finding a tank with more airflow options than the TFV4 family. Just like the two previous releases, the micro TFV4 features four large adjustable holes on the base, and four adjustable airflow holes on the drip tip. These last ones actually serve a purpose on powerful mods like the 160 W X Cube 2 or 200 W Koopor Plus, but not on the 80 W R80. Vapor tends to get really hot at over 100 watts, so sliding open these drip tip holes lets in air that cools the mouthpiece, but at lower wattages they just make the vape airier, something I don't particularly care for. I prefer to keep these closed, but it's nice to know they're there to fiddle with, I guess.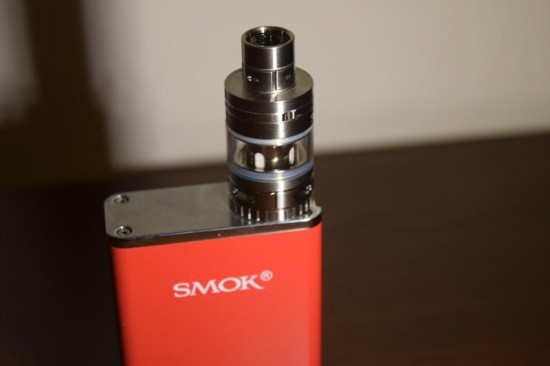 The Micro One starter kit also comes with two different coil heads – one 0.30Ω kanthal clapton coil head (preinstalled in the tank) for wattage mode, and an 0.25Ω stainless steel dual coil head that can be used both in wattage and temperature mode. Both perform exceptionally well, producing clouds of warm vapor as well as clear flavor, but in case you prefer a cooler vape that's all about the flavor, SMOK actually offers two different sets of coil heads to choose from with the Micro One kit. The two mentioned above are the sub-ohm set, but you can opt for the flavor edition – a 1.8Ω MTL (Mouth to Lung) coil head and a 1.2Ω MTL coil head. I didn't get a chance to try these, and I much prefer sub-ohm coils, but if you're into cooler vapes or mouth to lung vaping,  you should definitely try them.
If you're familiar with TFV4 tanks, you already know about the RBA tanks they usually come with. These are great if you like to do you're own coil builds, or if you want to take advantage of the tanks without spending a fortune on the expensive SMOK coil heads. The micro version also has an RBA deck available, but it's not included in the Micro One kit, so you have to spend a little extra to buy it separately. SMOK were kind enough to send it to me for this review, and I personally love it. It's really small, but if you've used RDA's before, changing the coils should be a breeze. It really should save you a lot of money in the long run, but if you don't like getting your hands dirty and money's no object, the coils work great as well. The thing to take away from all this is that you have a lot of options, and knowing SMOK, new ones should be available very soon.
The coils for the micro TFV4 are much, much smaller than those for the regular and mini TFV4, but as I said before, they are very similar in terms of performance. The vapor production is not as insane as on the other two tanks, but then again, the coils don't consume as much juice either. Don't get me wrong, the micro TFV4 is still a thirsty beast, compared to other tanks, it's just not as bad as its larger brothers. So if you're looking for TFV4 level vapor production, but looking to save some juice, the Micro One kit is a great alternative.
All in all, I was very impressed with the SMOK Micro One starter kit. Both the R80 TC mod and the micro TFV4 sub-ohm tank are great additions to the fast-growing SMOK family, and the fact that they come as a complete package really should make it very appealing to casual vapers looking to get a taste of advanced vaping. And if the build-quality and performance of the Micro One starter kit aren't enough to impress you, the price surely will. You can get now buy the kit for as little as 59.99, which is basically a steal. I, for one, can't think of a better alternative for this kind of starter kit, if you can, please let me know.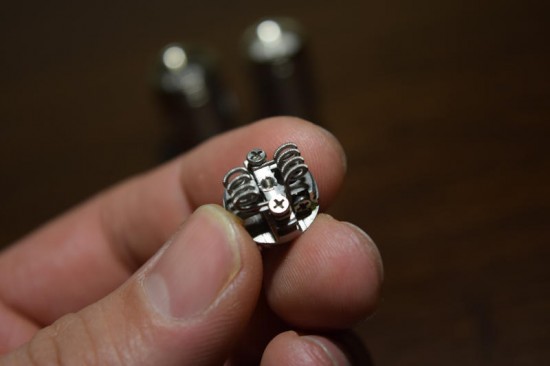 SMOK vaping gear was already much cheaper than the competition, but they're really pushing the envelope with the Micro One starter kit. If they keep this up, they'll probably be giving stuff away for free soon. In all seriousness though, if you're in the market for an advanced vaping setup that includes everything you need minus the liquid, I highly recommend you consider the SMOK Micro One.