The Milkman E-Liquid Review
The Milkman is a premium e-liquid line from a company called The Vaping Rabbit. Although it currently consists of only two flavors – The Milkman and Churrios – they are some of the most popular on the market right now, and as someone who loves milky creamy vapes, I just had to try them.
The first thing that drew me into coughing up over $40 for two 30 ml bottles of The Milkman was the clever marketing. The labeling is simple yet elegant, but the true stroke of genius was packaging the bottles in miniature milk cartons that fit the theme of this juice perfectly. Normally, I would give The Vaping Rabbit people two thumbs up for packaging and design, it's by far the best I've seen of the dozens of premium e-juices I've tried so far, if not for one annoying detail – the opaque plastic bottles.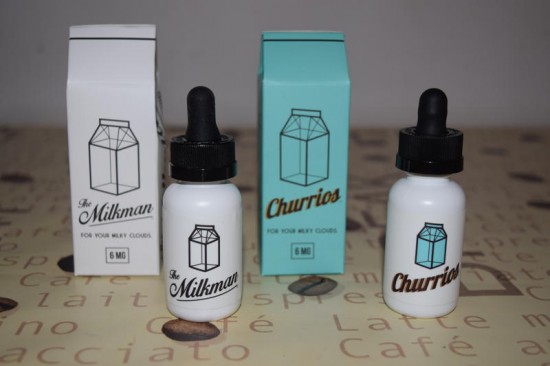 The fact that they used cheap plastic instead of the regular glass ones used by most premium e-liquid makers is really not that big of a deal for me (although they could have went all out by using custom-made miniature milk bottles and really blow my mind), but the fact that they are an opaque white really bothers me. There has been some controversy around this subject online with many vapers claiming that The Vaping Rabbit is cheating them by not filling the bottles all they way up. The company has cleared everything up and even posted a video which shows the bottles actually contain 30 ml of e-liquid.
But that's not bothers me. I have a problem with the fact that I can't see the level of juice in the bottle. Is there enough left to justify replacing the coil head on my thirsty TFV4 tank, or should I vape what's left in an RDA? Is the juice going to last me through the day, or do I need to take another bottle to work with me? You never know with these opaque bottles, and I find that extremely annoying. The white finish may look good, but in terms of practicality, it sucks.
The bottle may be an immaculate white, but the juice itself – both flavors – is actually a dark amber color. The Milkman is a MAX VG line (99% vegetable glycerin), so it's thicker than most other e-liquids I've tried. I usually don't have a problem with that, since I only vape in RDAs and high-performance tanks these day, both of which can handle thick e-juices. But both the Milkman and and Churrios proved to be highly efficient coil and wicking killers.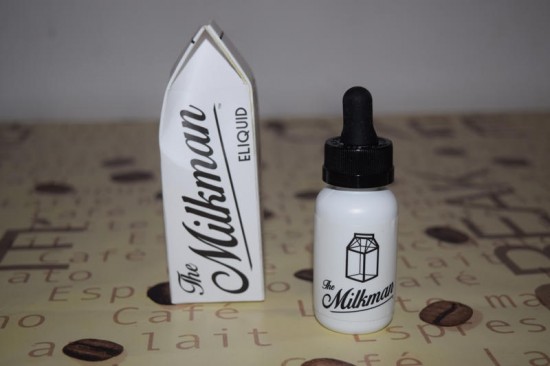 I've vaped more e-liquids than I can remember, but I don't recall ever having to clean the coils of my RDA and rewick them twice in one day because they became unusable. But that's exactly what happened when using The Milkman. Yes, it's a very thick VG-heavy juice, but still, coils gunked up after a few dozen draws and wicks became charred black in a few hours. I've vaped MAX VG before and never had that happen, not even close. It had to be something other than VG obliterating my builds. So I did a bit of online research and found this Reddit thread that suggest sweeteners are to blame for the rapid destruction of coils and wicks.
Whatever the reason, The Milkman is going to eat through your coils and cotton with ease. What's worse is that all the gunk buildup affects the taste of the juice as well, so even if the dark color of the wicks doesn't put you off, the funny, slightly burnt taste will force you to clean and rewick the coils.
But even this kind of problem can be overlooked if the flavors are really worth it, right? The Milkman is easily among the most hyped juice line on the market today, so I was definitely excited to give these two flavors a try. Let's see what all the hype is about, shall we: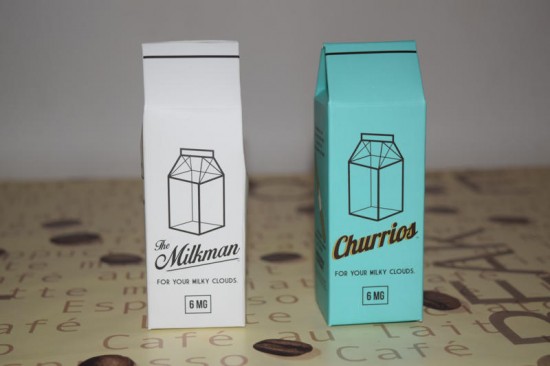 The Milkman – With a name like The Milkman, packaging reminiscent of a milk carton and immaculate white bottles, I was expecting this juice to taste like fresh, creamy milk. As usual, I didn't read the description of the flavor profile beforehand, otherwise I would  have known that it is actually supposed to taste like "a warm, toasted fruit tart, thrown it into a blender with a dollop of delicious vanilla bean ice cream and a splash of fresh milk".
Not what I expected, but still pretty delicious sounding, and after taking a whiff of the juice bottle, I could swear they had nailed the flavors. I got vanilla custard, cream and a discrete hint of sweet strawberry. Should taste pretty good, right?
However, The Milkman doesn't taste the way it smells. It just tastes weird, to be honest. I can't even properly describe it, it's just weird and creamy. On the inhale, I get a creamy vanilla popcorn taste (is that even a thing?), and on the exhale I get a bit of that sweet strawberry, but definitely nothing like a pop tart. It is unique, but in this case, I wouldn't say that is a good thing. I don't hate it, but I can't say I'd recommend it either. It's just a funny 'meh' kind of flavor.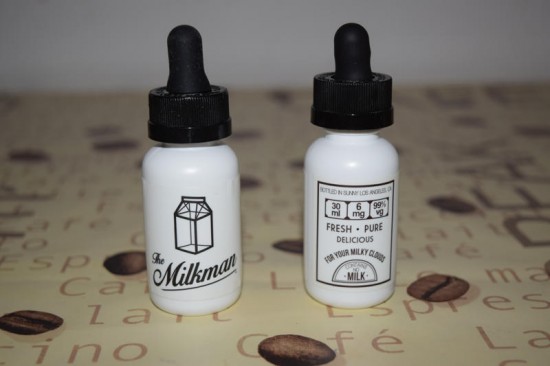 I was more than a bit disappointed with The Milkman, because I really wanted to love it. I tried letting it steep, vaping it both at high and low wattages, in a tank and in an RDA, and though the strength of the flavor varied somewhat, the taste remained the same, unfortunately.
You probably noticed I didn't mention any milk, but that's because I didn't really get any milky taste, like that of the awesome Cuttwood Unicorn Milk. It's just a creamy, vanilla custard that might pass for milk for someone who hasn't tried anything better, but I'm not as easily fooled as I once was when it comes to flavors.
Churrios – churros – the popular Mexican carnival treat – sprinkled with sugar and cinnamon and doused in milk. Yet another delicious-sounding flavor I had my hopes up about. Luckily, this one didn't disappoint.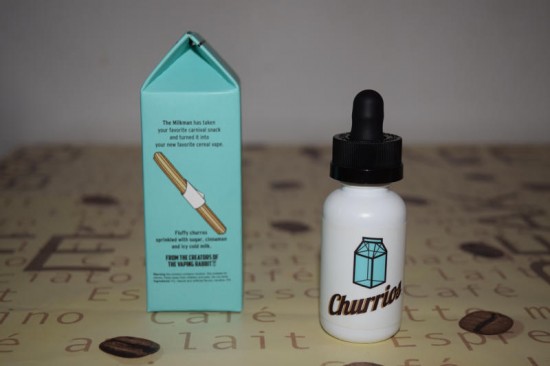 Despite the fact that the milk in this juice was still a creamy vanilla custard, the taste of churros sprinkled with cinnamon was spot on. Somehow, The Vaping Rabbit mixologists managed to not only give this concoction that characteristic doughy taste of churros, but also got the cinnamon just right. It's not that peppery, harsh cinnamon that hits like a truck, but rather a smooth, flavorful taste that complements this e-liquid beautifully.
I found the flavors in Churrios really well balanced, with the cinnamon coming in strong on the inhale, and the cereal/doughy taste, vanilla and a milder cinnamon dominating the exhale. The milk is still nowhere to be found, but at least you get everything else they mention in the description.
Churrios may not be one of my favorite vapes, but it's tastier and more flavorful than The Milkman, that's for sure.
The throat hit I got from both of these was surprisingly strong for 6 mg/ml nicotine strength, which was surprising for a 99% VG juice, but the creaminess made it a bit easier to bear. I recommend starting with 3 mg/ml, if you prefer a more subtle throat hit. Vapor production is what you would expect from a MAX VG e-liquid – thick clouds of vapor with every draw, so at least it has that going for it.
As I mentioned, I used a couple of setups while testing The Milkman – a dual Clapton coil (Ω0.2) in the Nixon RDA on the Koopor Plus, and a 1.8Ω MTL coil head in the TFV4 Micro on the SMOK R80.
So would I recommend The Milkman and Churrios? No, I just couldn't do that. While I don't hate The Milkman, it's just not my cup of tea, and definitely not as milky as the packaging and marketing make it out to be. Churrios is better, but also lacking in the milk department. The price point of $18 (I overpaid because I bought it from a UK shop) would be ok for a premium e-juice, if I actually liked the flavors, but since they're just average, it doesn't really make any difference.
Bottom line, The Milkman is not a terribly bad e-liquid, but as far as I am concerned, it just doesn't live up to the hype.