Vapor4Life Vapor Zeus Review
Vapor4Life has a great reputation in the vaping community. The family-owned company run by Steve Milin is known for offering its clients high-quality electronic cigarettes, as well as a variety of cartomizers and e-liquid flavors to suit every taste. It was this desire to cater to vapers' growing needs that sparked the idea for the Vapor Zeus, a vaporizer unique to Vapor4Life designed to deliver the performance of a high-end mod only without the hassle and necessary tweaking. I've been wanting to review the V4L Vapor Zeus ever since it came out, last April, and now I finally got my chance. Let's see if it's every bit as impressive as everyone seems to think it is.
A Look at the Contents
The Vapor Zeus comes in a large sturdy box inscribed with Vapor4Life's new "WOW Vapor" logo. Apart from all the usual marketing blurb and warnings, the box also features a message from Steve Milin himself, a short version of his life story, going from a heavy smoker to an electronic cigarette maker trying to help people have a better life for themselves. It's a nice touch that sets the company apart from the competition and that helps V4L better connect with its customer base. Overall, the packaging choice is one of the best I've seen throughout my experience as an e-cigarette reviewer.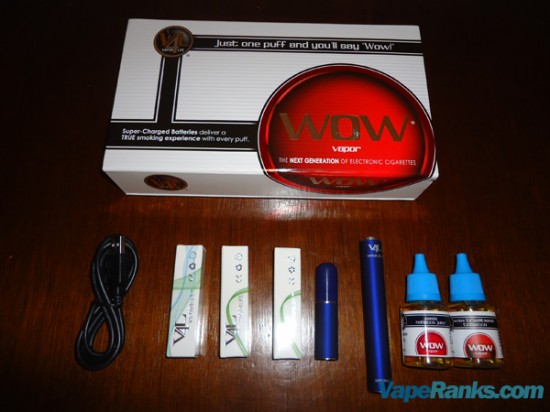 One of the things that have made Vapor4Life so popular with vapers, is their extensive customization options. The contents of the kit can vary considerably, depending on your taste and budget. I for one received the large automatic version of the Vapor Zeus, which included a huge 1,300 mAh battery, three V4L proprietary "smileomizers" – custom cigar-like cartomizer with a capacity to hold up to 6 ml. of e-liquid – a USB charging cable, a wall adapter and two 30 ml. bottle of tobacco juice. I should point out that the kit was sent to me specifically for review purposes, so they included an extra smileomizer and e-liquid bottle. The basic kit comes with just with just two refillable cartridges and one e-liquid bottle, but you can add as many extras as you like at an additional cost.
The first thing you're bound to notice about the Zeus is its large size. It's simply huge. It's so big I'm having trouble referring to it as an electronic cigarette, especially since it looks so much like one of those giant Cuban cigars. However, it's not particularly heavy for its size and actually feels great in your hand. Let's just say that if you enjoyed puffing on cigars in your smoking days, you'll appreciate the Vapor Zeus even more.
Design-wise, this vaporizer is fairly simple. It's a two piece unit, with a large battery and smileomizer, both featuring a nice rubberized finish that looks good and ensures a great grip. The smileomizer has a silicone tip that you can bite on when you have your hands full, giving the user a more realistic cigar smoking experience. The bottom end of the battery houses a mini USB port for charging and turning the vaporizer into a useful pass-through to keep your mind off battery life while working on a PC or laptop.
Battery Life and Overall Performance
When I first opened the box and saw there was only one battery included, I was pretty disappointed. Starter kits usually come with two batteries, thus allowing users to keep vaping whenever one of them runs out of power and needs a recharge. But after using the Vapor Zeus for a few days I realized one battery is really all you need. The 1,300 mAh  XL battery would last for at least two days of heavy vaping, and working on the computer on a daily basis, I always plugged it in and used it as a pass-through, while it charged. I let it die a couple of times just to see how long it would last, but otherwise had no problems with it going out in the worst possible moment.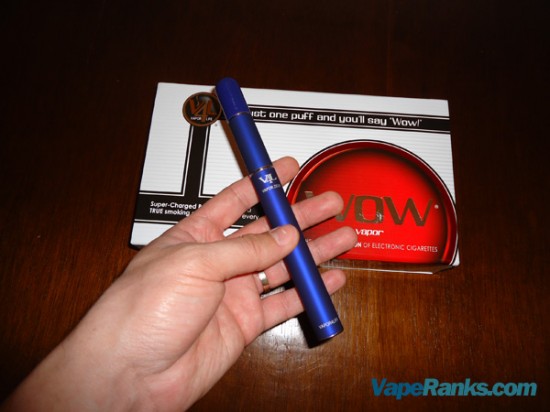 But there is more than just great battery life to these Vapor Zeus batteries. The switch, for example, I thought was simply phenomenal. The slightest draw would activate it, rewarding you with a mouthful of vapor. I actually tested this feature extensively, trying to draw as gently as I could on the silicone mouth piece, just to see if it would activate. It always did. I've had some pretty disappointing experiences with automatic batteries in the past, where I had to really put my lungs to work to get a tiny bit of vapor out of an e-cigarette, simply because the battery needed a lot of drag to switch on. The Vapor Zeus is nothing like that, it's a responsive device that works flawlessly every time.
Performance wise, it's also worth mentioning that Vapor Zeus batteries are regulated at 5 volts, considerably higher than the industry standard of 3.7 volts. The high resistance smileomizers (2.5 Ohms) are also of great quality, allowing numerous refiles before having to be replaced. All day vaping at 5 volts, with high capacity cartomizers that seem to last forever, all in a simple easy to use set up – what more can a casual vaper ask for?
I also have to give two thumbs up for the included pass-through feature. i can't begin to tell you how big a fan i am of this system. Sitting in front of the computer every day, there's nothing easier than plugging in the USB cable and hooking up my Zeus to the PC to enjoy my favorite e-liquid without worrying about battery life. One thing they should have added though is a cap for the mini USB port, like many pass-through eGo batteries have, as with it exposed like this, it's just inviting gunk and lint to settle in.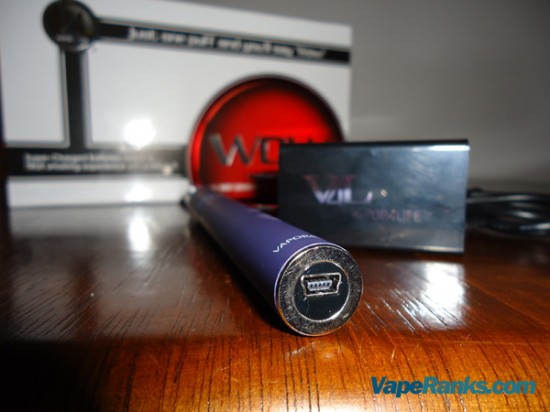 Overall, I couldn't be happier with the performance of the Vapor Zeus. Steve Milin and his team reportedly worked on the Zeus for years, trying to replicate the performance of complicated high-end mods minus the hassle of tweaking,and it's fair to say they've hit it out of the ballpark with this awesome vaporizer.
Vapor Production
Total white out. That's probably the best way to describe the huge amount of vapor the Zeus puts out. Think steam engine, disco smoke machine, that kind of stuff. It doesn't even matter if you're using straight PG or VG juice, you'll be more than pleased with the clouds of vapor you get from the Vapor Zeus. I actually tried both types of e-liquid with the Zeus before putting this into my review, and both vaped incredibly well.
Another thing worth mentioning is that Vapor4Life have done a great job of regulating their batteries so you as a user never really notice any difference in vapor production from when the battery is fully charged to when it's about to run out of power. The voltage output is almost exactly the same, so you get the same great vaping experience every time you take a toot. That's something many brands brag about, but that's very hard to find in real life, at least outside the mod range of vaporizers.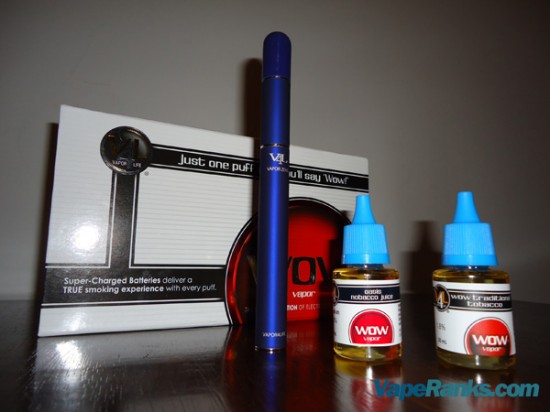 If there's one negative I can point out in this department, although it doesn't really have to do with vapor production in particular, is that you never know when the Vapor Zeus is going to die on you. One moment you're puffing a great cloud of vapor, and the next you're getting absolutely nothing. This thing vapes like a dream, but when it goes, it's gone. There's no LED light flashing to signal the need for recharging, like on most cigalikes and eGos, so you just have to figure it out for yourself.
E-Liquids, Flavors and Clearomizers
The Vapor Zeus smileomizers are basically large cartomizers designed specifically for this device. They have a KR808 connection, so theoretically they are compatible with other such devices. However, you're going to need a battery that delivers about the same voltage as the Vapor Zeus ones, to really get the best out of them. The mouth tip, on the other hand is a completely different story. If you feel the chewable silicone cover is too big and uncomfortable, you can just remove it, and you're left with a simple metal tube to suck on. This isn't as comfortable as a pawn-style drip tip, and unfortunately it can't be replaced, because V4L made it so nothing else fits on the smileomizer. I for one had no problem with the silicone mouthpiece, on the contrary, I though it was pretty cool idea.
The filling of these smileomizers is different from the usual polyfill on regular cartomizers. It has more of a sponge-like texture, but it does a great job of holding large quantities of juice. One thing I learned the hard way with them, though, is that you have to let them suck in the e-liquid a bit longer than normal cartomizers. Unfortunately, I managed to ruin two of the four smileomizers I received, because I tried using them too soon after filling them up. The five minutes I usually gave cartos just weren't enough with these, and they filled my mouth with a disgusting burnt taste. I had to through them out, because there's not getting rid of that burnt taste, no matter how much e-liquid you add after that. So make sure to allow at least 15 minutes before using the Vapor Zeus, after you've filled the smileomizers. After having wasted two perfectly good ones, I just placed the others on a paper towel and overdid the filling, just to make sure they're nice and full.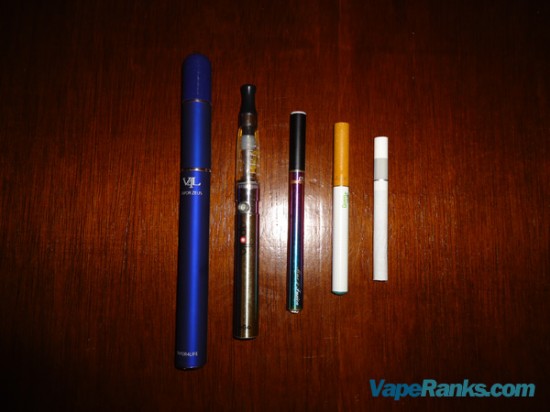 The WOW e-liquid sold by Vapor4Life is unfortunately the weakest link in the whole Vapor Zeus package. I received the Tobacco Nobacco and Traditional Tobacco e-liquids, and neither of them managed to please my taste buds. They're not the worst tobacco juices I've ever tried, but they're also nothing to write home about. Luckily, Vapor4Life has such a wide range of flavors to choose from, you're bound to find something you like, so the mediocre tobacco juices are really no reason not to give the Vapor Zeus a try.
Conclusion 
The Vapor4Life Vapor Zeus is an amazing electronic cigarette/e-cigar (or whatever you want to call it). The battery lasts forever and works as a pass-through, vapor production is outstanding, and for an automatic e-cigarette it's as responsive as any vaper could ever hope. And best of all, it's incredibly easy to use, making it a great choice even for total newbies. That said, its large size is sure to deter some people from even considering it as their next vaporizer, and the $94.95 price tag makes the XL version of the Vapor Zeus one of the priciest e-cigs on the market. I for one think it's definitely worth it, though.
The Good
great battery life
outstanding vapor production
very responsive automatic version
mod level performance in a simple to use system
high voltage batteries
pass-through functionality
multiple customization options
The Bad
large size
pricey
no LED indicators for recharging